On May 3rd this year we hosted a little after hours party at the store to celebrate some big milestones. This year marked 38 years for our business in Berkeley, but also 100 years for my family in the California textile industry. And on top of this anniversary, we also launched our newly updated website, a venture over a year in the making. Thank you to everyone who attended and for those of you who weren't able to make it, we could feel you there in spirit!
On behalf of my father, my team, and family, we want to thank you for helping us celebrate our 38th anniversary in Berkeley and 100 years of my family selling fabric in California!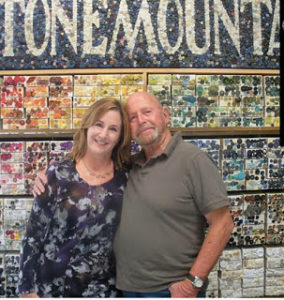 Years ago, we couldn't imagine the kind of connection we have now with so many makers in our area and around the world. Our creativity has brought us together via the internet and social media. It's so much fun to share our fabrics and inspiration with folks around the globe. To see you sharing your makes out there makes us feel like we're more than the "well known secret" that we have for so many years.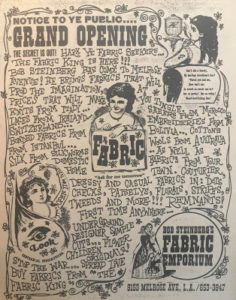 Did you know that our name Stonemountain & Daughter is a nod to our lineage with my great grandfather and grandfathers' business, Steinberg & Sons, est. 1919 in Los Angeles? Steinberg translates to Stonemountain and what a perfect partnership it has made. I am including some photos below of my dad's first store in 1967, Bob Steinberg's Fabric Emporium on Melrose in Hollywood. The first all natural fabric store serving a new generation of hippies and the hip. I loved being in that store as a little girl. It was magic and the fabric bug bit me hard!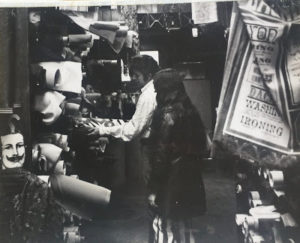 With so many fabric stores now out of business, it makes what we do and how we do it that much more important. It also makes your support that much more important, it sustains us! For so many years now, my father and I have been talking about the year 2019 and wondering what it would take to keep our business going to reach 100 years for our family. I am so happy to be sharing such a milestone with you!
In 1981, my father and I began working together when he moved his Pacific Grove store to our current location. We began with 1,000 square feet, where our current Fashion Room is now. We have dedicated our lives to growing and being the best fabric store we could be and to serve fabric lovers locally, nationally, and even globally!
Well, we made it! And now we are at the beginning of something new!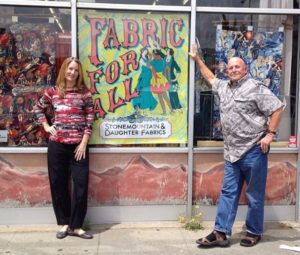 There is a new story happening – people are sewing garments again! Our online business and our Berkeley brick & mortar store are thriving. My father speaks of our store as an old world fabric store for the new age. This couldn't be more true than it is right now. Our business has always been based on vision and possibility and we can't wait to see what's next for our store and our community.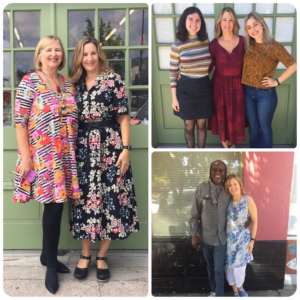 A wise woman recently told me that, 'We cannot become ourselves by ourselves.' I see this is true for our store, too. Stonemountain & Daughter couldn't be who she is without everyone in our community – past, present, and future. I am so grateful to my close team, the folks that have worked here along the way, our community, teachers, pattern makers, customers and sewists here and around the world.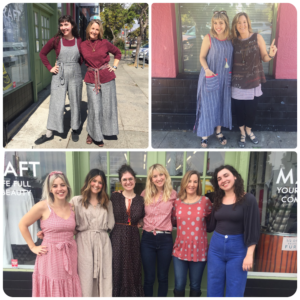 Another big contributor to this new movement is the amazing indie pattern designers, both local and around the world, who inspire us all. Visit our website to shop our full collection of patterns. I want to extend a special thanks to Janet from Decades of Style, Sonya from 100 Acts of Sewing, and Chelsea from Friday Patterns for being a big part of our party, each with a trunk show and raffle prizes.
We are also so lucky to be surrounded by our growing community of sewing schools (see our full list here) These schools are play a huge part in the new story for our industry. Together we are partnering to support students and makers in all their projects!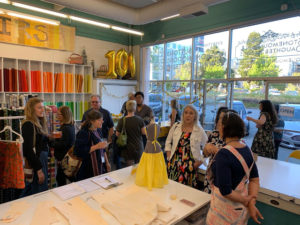 Here are our local schools that came to celebrate with us:
Sewing Lessons in Redwood City
To top off our guest list, we were also graced with an amazing trunk show of quilts by Alethea Ballard and her students!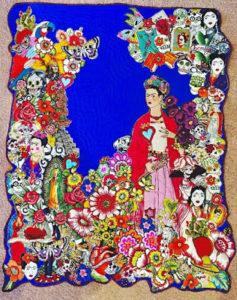 I am so fortunate to work with an innovative and dedicated team of experienced sales associates, social media, and management team. We are dedicated to bringing our community the best fabric and patterns, along with the resources and knowledge to sew whatever you can dream! With this next generation of makers and sewists igniting, I am blown away by the growing community who shares our passion. Stonemountain & Daughter Fabrics is a Downtown Berkeley landmark and sanctuary for makers. But this is a great time to be a fabric lover not just in Berkeley, but anywhere!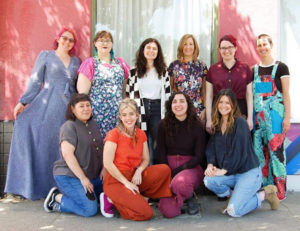 Cheers and Happy Sewing!
Suzan
#fabriclady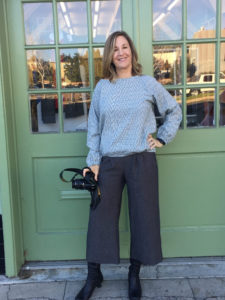 Enjoy these photos from the party!