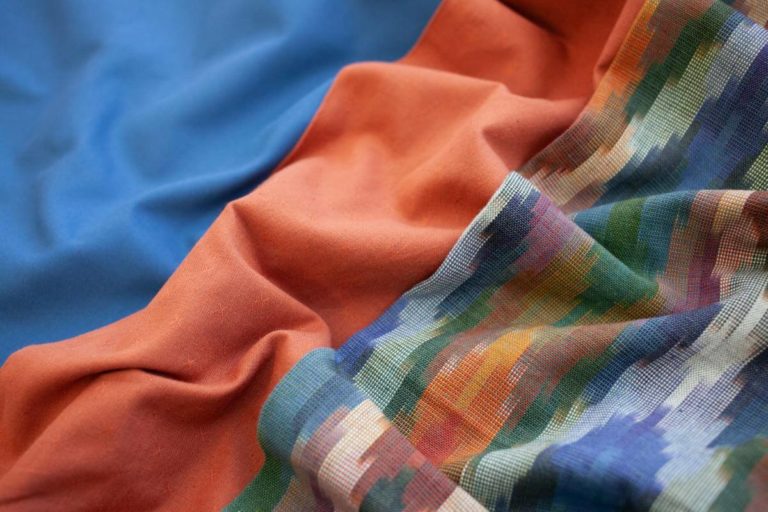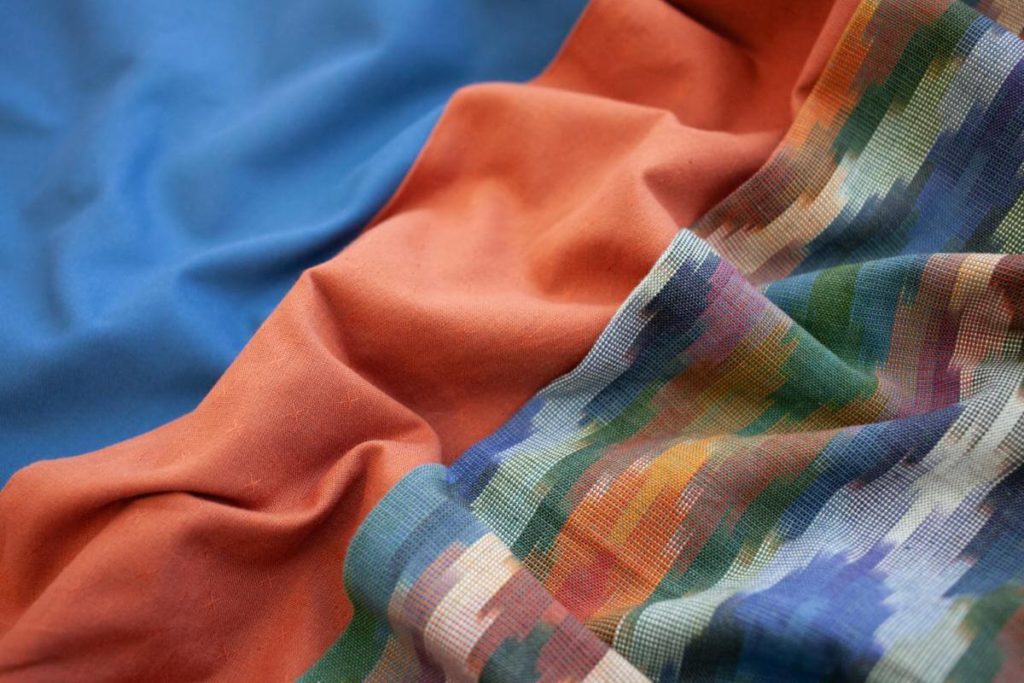 We get lots of questions about pre-washing fabric yardage and how to care for garments made with our fabrics. While we try to include washing instructions in our product descriptions, they aren't provided by all manufacturers, and fabrics that we receive as deadstock come with very little information at all. It can be a bit of a mystery, but don't worry—we're here to help! We have compiled our best advice for pre-washing and caring for a variety of the fabrics we sell. In general, it is always a good idea to pretreat your fabric as you will launder the finished garment—that way, there will be no surprises. Let's get started:
Make a test swatch. As a general rule, we advise that you always wash a test swatch of your fabric before you do anything else with it. Measure and cut out a 4 x 4 inch piece of fabric so that you can evaluate any shrinking or stretching that may occur. Wash and dry the swatch separately using the method and temperature you plan to use to launder the finished garment. Iron the swatch if desired. Once fully laundered, assess your fabric to see if any change has occurred (e.g. If there was a sheen before, how does it look now? Is the color just as vibrant, or has it dulled? Have the colors bled? Do you like the result?).
Prevent fraying. If you are prewashing yardage of a woven fabric, we recommend that you serge or zigzag stitch the cut edges to avoid fraying. 
Choose a gentle detergent. In order to preserve your handmade garments, we recommend that you use a gentle laundry detergent and cool water. For especially delicate fabrics, a non-rinsing detergent like Soak is a fantastic option. For general laundry, we prefer to use a free & clear detergent that is gentle for skin as well as fabric. We don't recommend using Woolite as it has bleach in it, which can change the color of the fabric. 
When is it best to dry clean? If your garment is extremely fragile, or includes leather, fur, or delicate beading, dry cleaning is the way to go. Dry cleaning is the best way to clean garments like wool coats and blazers—just once per season can be enough. Dry cleaning is also best if you want to preserve the sheen of something (like a silk charmeuse; agitation in the wash dulls the finish).
What about blends? If your fabric contains more than one fiber, we recommend that you err on the side of caution and wash it according to the most delicate fiber in the fabric. For example, if your fabric is a cotton/silk blend, we'd wash it according to what's best for silk.
Beware the dryer. For all fabrics, it is the hot dryer that is the most destructive to the life and feel of the fibers and the garment. The agitation of wet fabrics can cause pilling and weaken fibers, limiting the garment's life. If you decide to use a dryer, we recommend that you do so sparingly and use a lower temperature. One great drying technique for most fabrics is to lay or hang the yardage to dry; when it is nearly completely dry, throw it in your dryer for the last 5 minutes of a drying cycle to activate its softness and limit wrinkles.  
Here is the specific care we recommend for different types of fabric: 
SPECIAL FINISHES
Water-Repellent fabrics: Many of these fabrics can be ironed on low heat. We suggest that you use a pressing cloth if you are ironing the coated (water repellent) side. Test a small scrap of fabric first, since all irons can be a little bit different!
Waxed Canvas: Spot clean waxed canvas with a damp cloth and gentle detergent with cool water—never use heat, as it will melt the wax. Finger press seams using the warmth of your hands, or use a seam roller.
Oilcloth: Wipe with a damp cloth and dish soap; rinse and air dry.
RAYONS
Rayon (Viscose, Cupro, etc.): We recommend that you preshrink your fabric by washing it on cold and tumble drying on medium heat—after that, you can wash your finished garment on delicate and hang it to dry. If your iron has a cotton setting, set your iron temperature slightly below that setting—it will work well for fusing your interfacing and pressing your seams during sewing. We also recommend using steam when pressing. It's always a good idea to test the settings on your iron with your swatch to make sure it's not going to damage your fabric.
Bemberg Lining: This 100% rayon fabric should be dry cleaned only.
Viscose/silk blend: Prewash your fabric on cold/gentle in the washing machine and dry it on medium heat for the initial wash only. Going forward, when you launder the garment, you should wash it cold/gentle and hang it to dry.
SILKS
Silk Charmeuse and Crepe: Many silks can be washed if you want the washed look. If you do not want the "sandwashed" look, then dry cleaning is recommended. Silk Charmeuse (Satin) will especially change in its look and feel, which may or may not appeal to you. Test, test, test before throwing your investment in the sink or washer.
Silk Noil: For best results, and to preserve color and drape, dry clean your silk noil. If you choose to wash silk noil in your washing machine, take precautions to avoid color fading and streaking: wash silk noil separately in cold water with a gentle detergent (do not use Woolite), do not use a garment bag, and remove from the washing machine promptly. Always hang to dry. From our silk noil product description: "To keep your silk noil as close as possible to its original condition, we recommend dry cleaning. However, silk noil is also the most washable silk! Washed raw silk has a beautiful, soft, lived-in texture. You can hand wash or use a gentle machine wash cycle. Be sure to use a detergent without bleach, such as Soak Wash, because bleach will break down silk fibers. Hang dry or lay flat to dry. Please note that darker colors may fade more quickly with washing. Silk Noil gets softer and softer with each washing."
Amour Vert Silk Crepe de Chine: Great news! Since Amour Vert Crepe de Chine is sandwashed as part of its processing, you can definitely handwash this fabric (and the garments you make with it) in cool water with a gentle detergent. We would recommend that you dry it flat or hang it to dry. 
LINENS
Linen is another fiber that can wash well if properly done. If you do not want the washed look (it will change in its feel and appearance from the yardage you purchase), then dry clean your fabric. Otherwise, there are a few different options for washing your linen yardage. In general, we recommend that you machine wash cold and tumble dry low. To make linen wrinkle less, follow these instructions from Sandra Betzina:
Before washing, iron the fabric with the hottest, driest iron possible. Machine wash in hot water and tumble dry on high heat. Remove only when completely dry. This method will result in shrinkage, but small, soft folds will replace the hard creases usually associated with linen. 
Linen can shrink up to about 5% – 10% in general, so we recommend purchasing an extra 1/8 yard for every yard just to be safe.  It's always safest to pre-test a swatch!
Hokkoh Linen Poppies: For this special fabric, we suggest hand wash and line dry. If you prefer to use a washing machine, we recommend testing a small swatch in cool water in the machine's most gentle cycle.
WOOLS
In general, we recommend dry cleaning all wools unless you are going for a washed look. Both agitation and heat cause wool fibers to cling closer to one another, causing shrinkage, pilling, and felting. Furthermore, the stain-fighting chemicals in standard laundry detergents can break down wool fibers over time. Wool has been around for much longer than dry cleaners, so if you want to be able to wash wool at home, test a swatch with Soak or another wool-safe detergent (not Woolite) in cool water, and always avoid the dryer.
COTTONS
Cotton fibers shrink when washed with warm or hot water, so we recommend washing all cotton fabrics in cold water. Here are some cotton substrates that require special attention:
Double Gauze: This fabric is made of two loosely-woven layers of cotton tacked together, so with that in mind, it should be washed on a delicate cycle. If your double gauze has a crinkly texture, treat it gently after washing and drying—iron lightly to preserve these natural wrinkles. 
Quilted Double Gauze: Because quilted double gauze is cotton, it does shrink when washed and dried, although it doesn't crinkle too much. We recommend washing it on cold and machine drying the fabric on a low temperature.
Corduroy: Machine wash cold and tumble dry low. When drying corduroy, we like to remove it 10 minutes before it is completely dry, and allow it to air dry. This helps prevent the corduroy pile from flattening in the dryer. When ironing, do so from the wrong side so as not to iron the pile flat.
Ikat: These fabrics are made by hand, and do not use some of the colorfasting techniques that commercially produced fabrics use. Therefore, there will be more dye that washes out of this fabric. Using a delicate soap like Soak, hand wash your fabric in cold water and line dry. If you have time to prewash the fabric a couple of times, you should be able to remove most of the excess dye—this will avoid damaging other garments in your wardrobe should you wash them together later.
KNITS
What is the fiber content of your knit fabric? Consulting the woven fabric care guidelines for your fabric's fiber content is a great way to start!
You can generally tumble dry knits on low, but if you choose to air dry your knits, always lay your fabric flat. Knits, especially drapey jerseys such as rayon and polyester, can stretch out of shape if you hang them to dry.
If your knit is mostly synthetic fiber, such as a 4-way stretch polyester or nylon, you do not need to prewash your fabric—these fibers do not shrink in the wash. However, if you want to test for color bleeding or just want to ensure that your fabric is clean before sewing, go right ahead and prewash it! When you do, we still recommend washing cold and tumble drying on low.
HAPPY SEWING!
We hope this guide has taken some of the mystery out of pre-washing your fabric and caring for your treasured handmade garments. Now you have all the information you'll need to keep them looking great for years to come. We can't emphasize it enough: washing a test swatch is the only way to determine the absolute best washing method for your specific fabric—don't skip that step! If you have questions about caring for a type of fabric we may have omitted, please let us know—we'd love to continue adding to this resource.