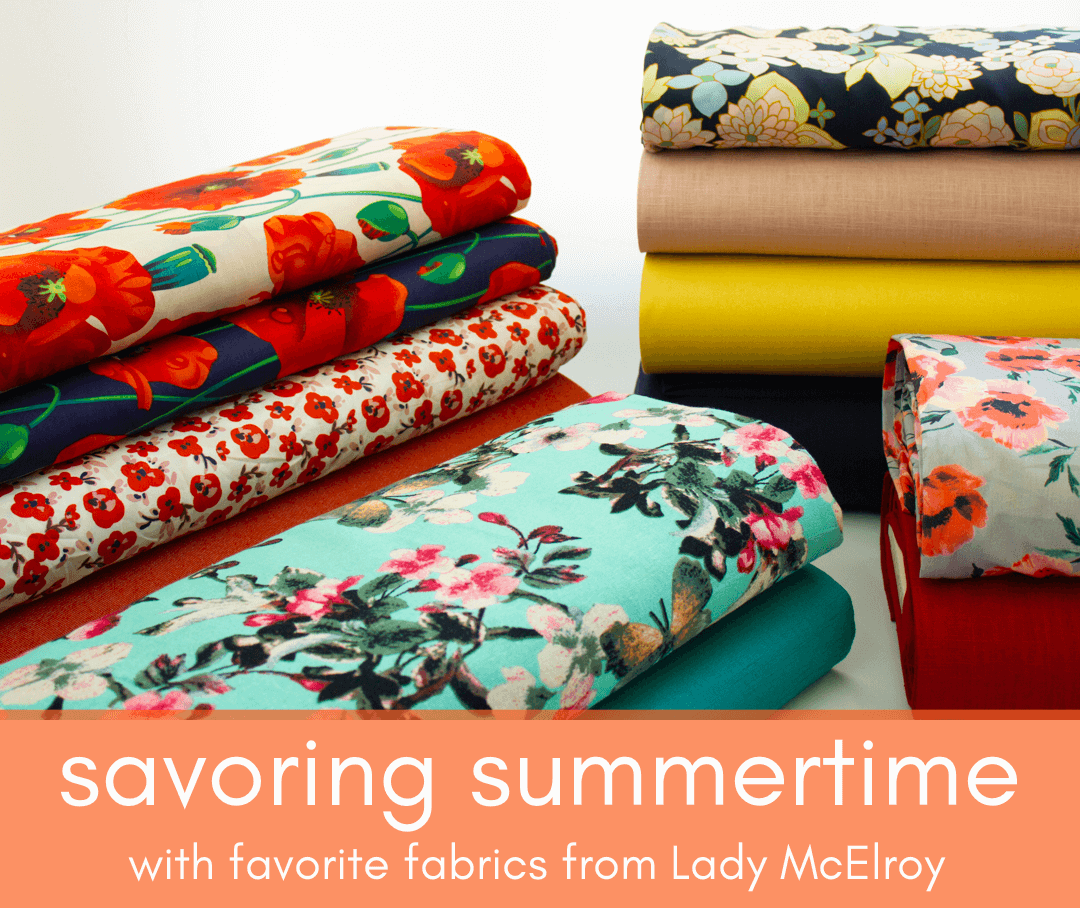 If you're headed back to the office or the classroom in the coming weeks, why not bring the colors and florals of summer back with you… with beautiful, colorful fabric! Lady McElroy is one of our most beloved fabric lines, one that has become a staple of the Stonemountain & Daughter experience. We import these high-quality fabrics directly from England, we delight in incorporating them into our own wardrobes, and we love to see all the beautiful things that sewists make with them! Lady McElroy is best known for their unique, contemporary fashion prints, and many of them happen to be gorgeous florals that capture the essence of summer perfectly. Today we're highlighting some of these beautiful Lady McElroy fabrics that are perfect for wearing right now and for keeping the feeling of summer with you throughout the year.

This cheerful, orange stretch denim is neither too heavy nor too light—in fact, it's the perfect weight for a pair of Magic Pants or an Ava Skirt to wear this summer, autumn, and beyond! The orange denim picks up the highlights in these poppy-print cotton lawns, which will look fantastic as the Nicks Blouse and the Beatrix Top.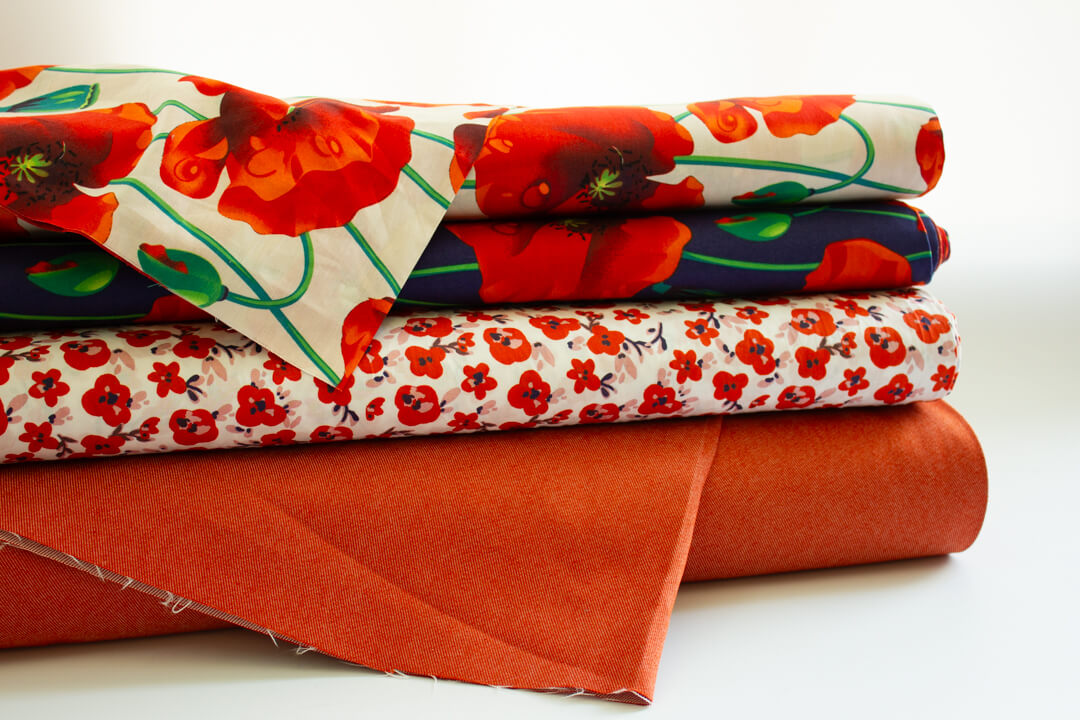 While pastels traditionally have a spring-and-summer vibe, you can absolutely make them a part of your multi-season look! This navy and pastel mod floral has inspired a fun group of fabrics—the silk will make a lovely, simple Strata Top, which we'll wear with a pair of pink linen Meriam Trousers and a crisp, yellow twill Canton Moto Jacket. For another outfit option, we'll also add an Elysian Bodysuit made of organic cotton/spandex knit—so versatile!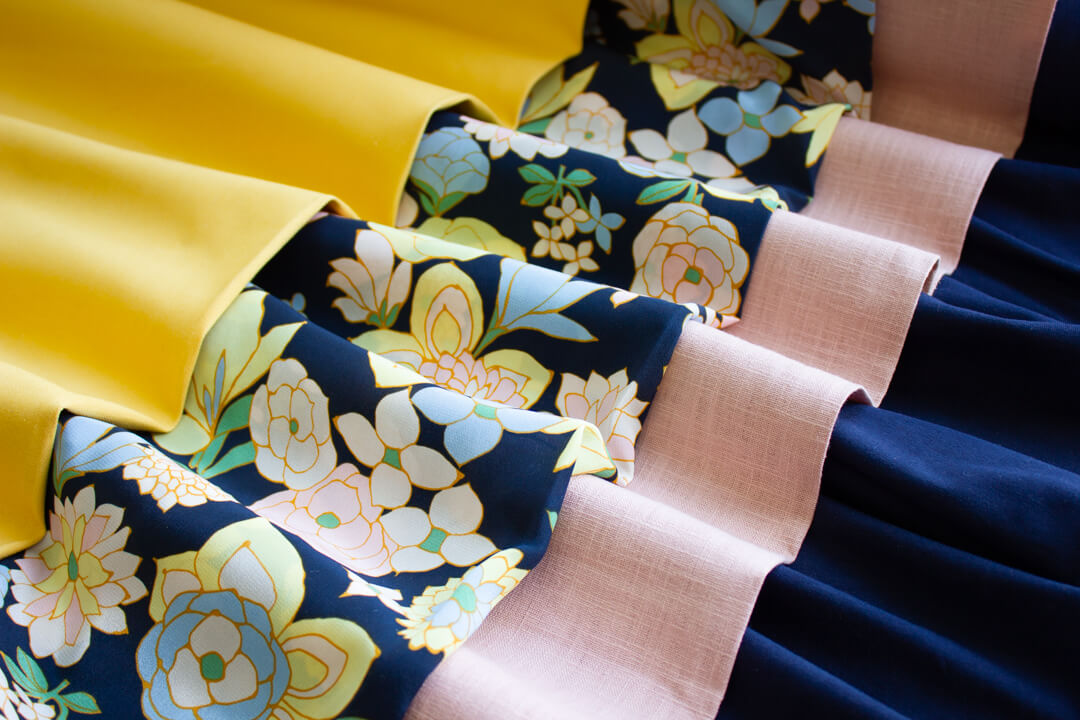 We love a summertime dress that can make the transition to become a cool weather favorite! To create the perfect multi-season dress, we'll choose a pattern like the Hughes Dress, the Hinterland Dress, or the Ashling Dress, and pair with a great fabric choice like cotton, linen, or a blend of the two. These pairings are great for warmer weather, and as the seasons change, they can be layered with a bodysuit, a sweater, and leggings as needed.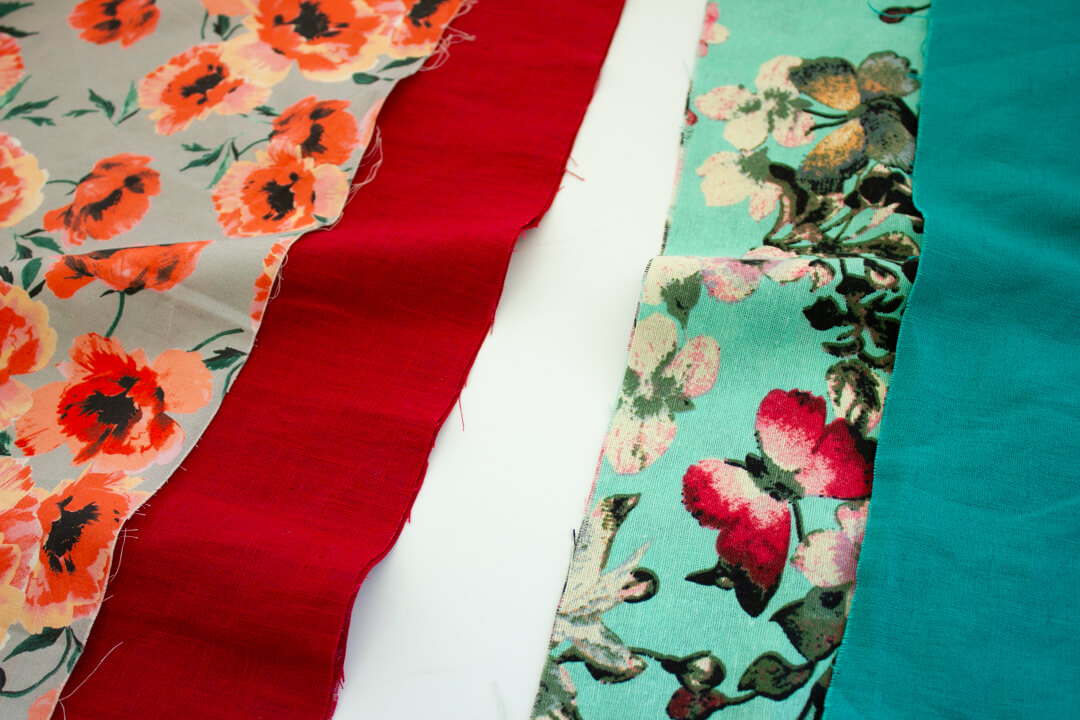 We always tell you how much we love Lady McElroy fabrics, and now we're getting ready to show you the amazing pieces the team has made with them—that's right, the Stonemountain Spotlight is back! We gave our staff three yards of their favorite Lady McElroy fabric and asked them to make anything they want using a pattern from our collection. If you love Lady McElroy fabrics as much as we do, you'll definitely want to tune in soon for lots of sewing inspiration! Are you ready for a little sneak peek before our big Spotlight launch in a few weeks? 
Stonemountain owner Suzan has already finished her Spotlight garment, a Sew Liberated Strata Top made out of beautiful Lady McElroy rayon challis. We love that the Strata's simple silhouette allows this beautiful print to really shine! The Strata is a quick sew and a great wardrobe addition—wear it on its own in warm weather, or layer with a cozy sweater for autumn!