As Halloween creeps ever closer, you're probably just about to get started on your costume! We love planning and sewing something new, but it can feel like a lot of time and materials invested in a novelty garment. This year we're planning our costumes around pieces we'll be able to wear as part of our everyday wardrobe all year long! We shared some great costume plans last week, and today we're back with another batch of ideas for you!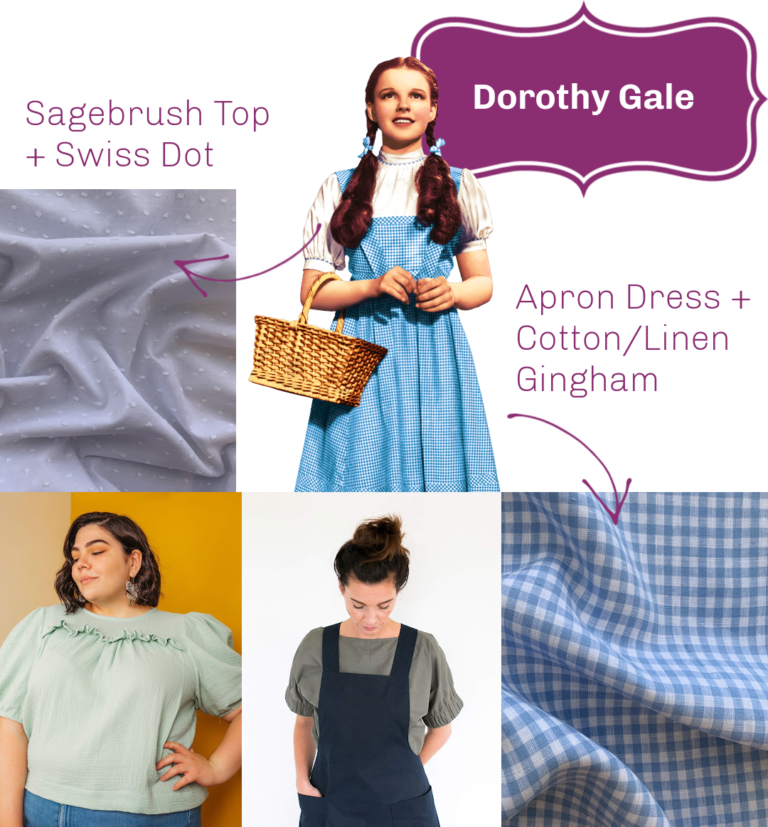 The Wizard of Oz has inspired so many great costumes over the years! We're so excited to make our own Dorothy costume out of separates we'll happily wear as part of our everyday wardrobe. The Assembly Line's Apron Dress is perfect in crisp cotton/linen gingham, and we'll pair it with a Sagebrush Top in a delicate swiss dot. Don't forget the ruby slippers!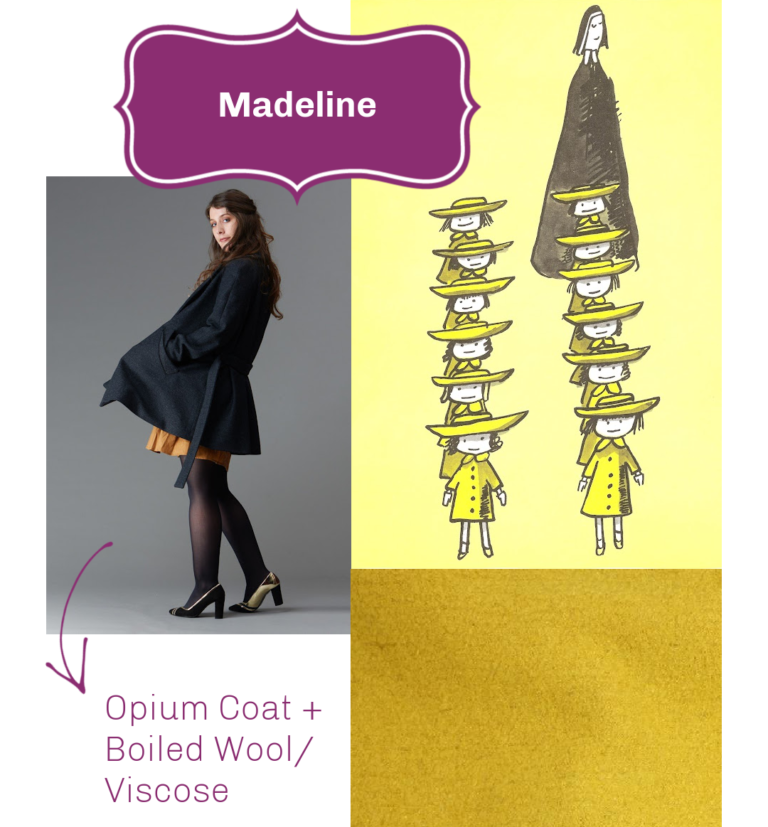 Our next costume inspiration is the character Madeline from the beloved children's books by author Ludwig Bemelmans. Madeline is a young girl in boarding school in 1930s Paris, and we love the Opium Coat in citrus boiled wool/viscose to emulate her classic look.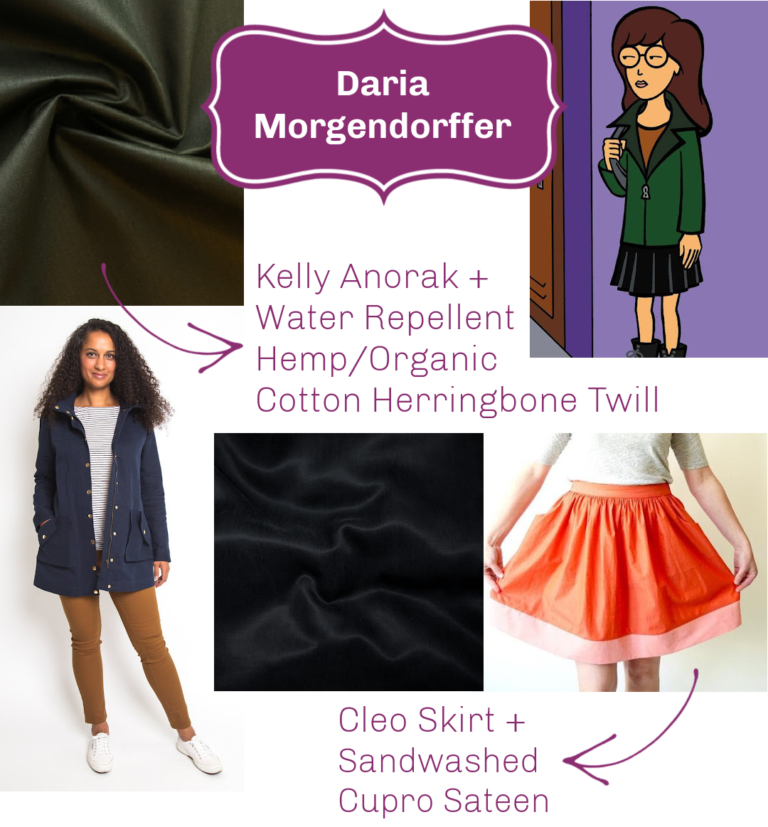 She'd probably prefer keeping a low profile, but if we're talking about iconic 90s cartoon characters, we have to mention Daria. Dress up as this jaded teenager in a Kelly Anorak (make yours in water-repellent herringbone twill and you'll be all set for the rainy season), and pair it with a Cleo Skirt in sandwashed cupro sateen. For best results, wear with combat boots, of course!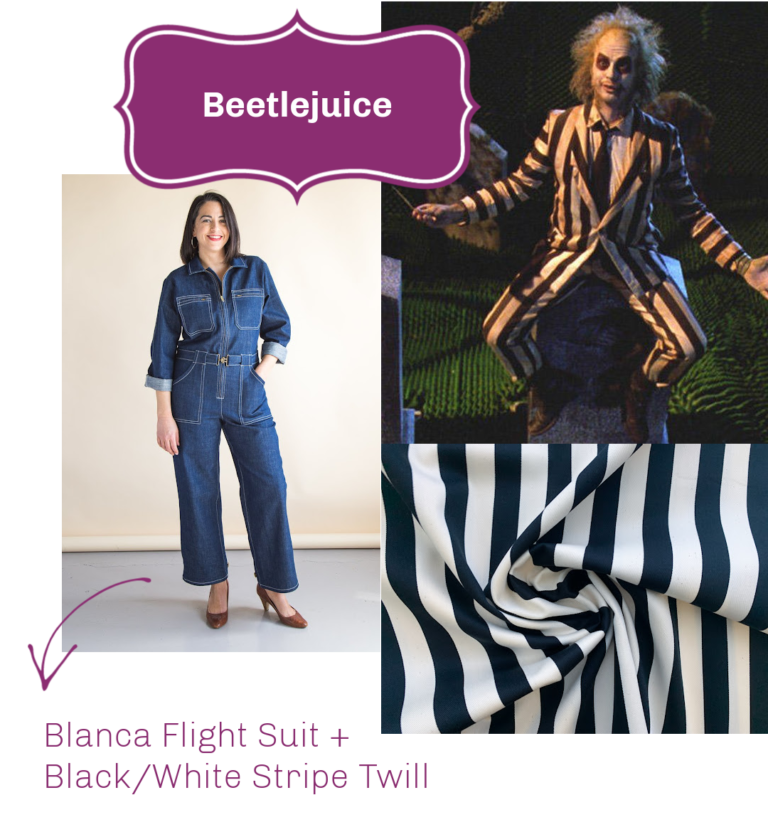 For our creative take on the (frankly, gross) ghost Beetlejuice, we'll use this fantastic striped Japanese twill to make an incredible Blanca Flight Suit we'll want to wear all year round (accessorized differently, of course!). If you're feeling especially ambitious and want to make a 2-piece suit for your costume, we'd recommend starting with the Heather Blazer and Hollywood Trousers.
Super supplies
Need some basic supplies for your costume? We've got you covered! Cotton-spandex knits, swimwear knits, and acrylic felt are some of our all-time favorite costume supplies, because they're so versatile. Acrylic felt is useful for just about any costume or accessory, and we love that it is so easy for all ages to use! Felt can be cut with scissors and sewn or glued into shape. Our felt is sold by the yard, so it's great for large and small projects! While we always love cotton-spandex knits for comfortable wardrobe basics, they are especially useful for creating leggings and tees or even a unitard in the exact color you need for your costume. For advanced costume-makers, cotton-spandex knits and swimwear knits are also great for adding lightweight dimension: sewing and stuffing these knits can help you create soft sculptural forms to add exciting detail to your costume!