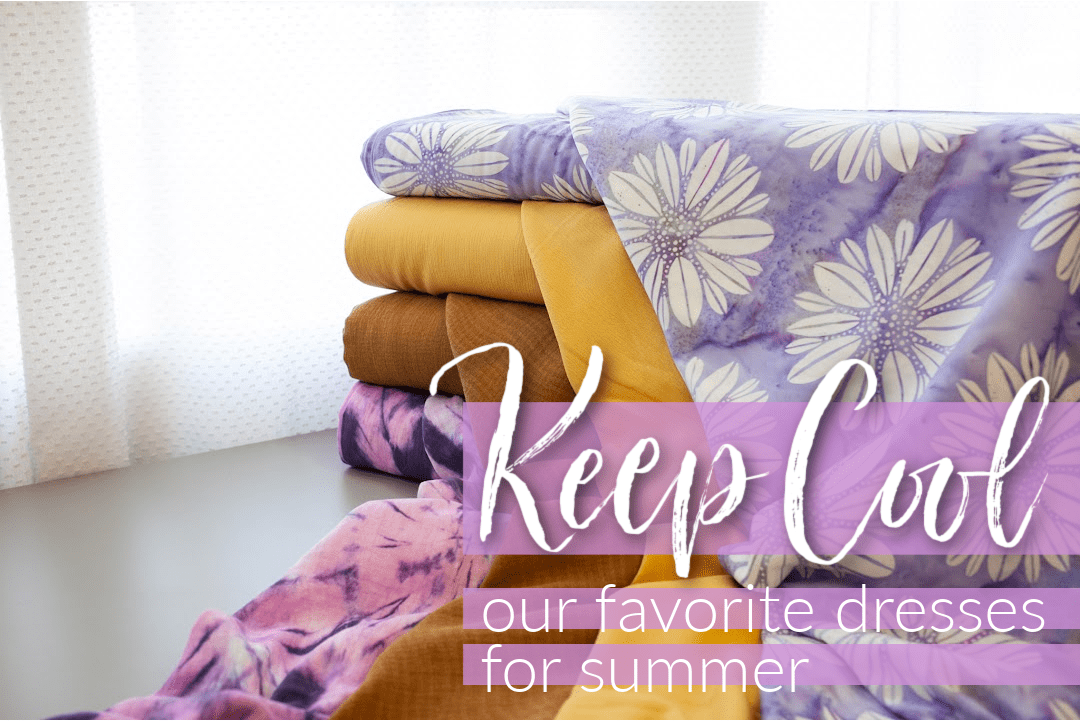 After a day of record heat in the Bay Area, we're already planning what to wear the next time the temperature rises. At the top of our list? Summer dresses, of course! When we're trying to stay cool and look great, a loose, flowy dress is the perfect way to beat the heat.
When you're trying to stay cool, fabric choices are key! You'll want to select lightweight, flowing fabrics like rayon challis or a gauze (in cotton, rayon, or a fiber blend) for airy summer garments like Marcel or the Charlie Caftan.

Whether you choose a solid or a print, a 
woven rayon fabric
 makes a super wearable summer dress. Woven from cellulose fibers (cellulose is derived from wool pulp and other plant material), rayon is breathable and cool to the touch—talk about perfect for hot, humid weather! You'll never wilt in a 
Celestia
 or 
Holyoke
 made of one of these lovely rayons.

Silk is a gorgeous fabric for garments like 
TLC Caftan
. Our 
deadstock silk crepe de chine from Amour Vert
 is as light as a breeze and makes a beautiful 
and
 practical choice for summer garments—because these silks have a sandwashed matte finish, dresses made from them are washable! We recommend hand washing these silks in cool water with a gentle, bleach-free detergent and drying them flat (and always test wash a swatch before you start your project!).

We're in love with these 
rayon jersey knits
! This fabric is incredibly soft with a lovely drape and a little bit of spandex for great stretch recovery. When you're looking for a summer dress that keeps you cool 
and 
feels as comfy as your favorite t-shirt, these knits are a total dream! We'll pair these knits with patterns like 
Pembroke
 or 
Westcliff
 for pretty summer style.