For this final week of Me Made May, we're ending the month of sewing reflection with an eye to the future. Although every day might not be a sewing day (and we're ok with that!), we're always finding inspiration for things we'd like to work on in the future. This week we asked the Stonemountain & Daughter staff, What does the future of sewing look like for you? What projects are you working on?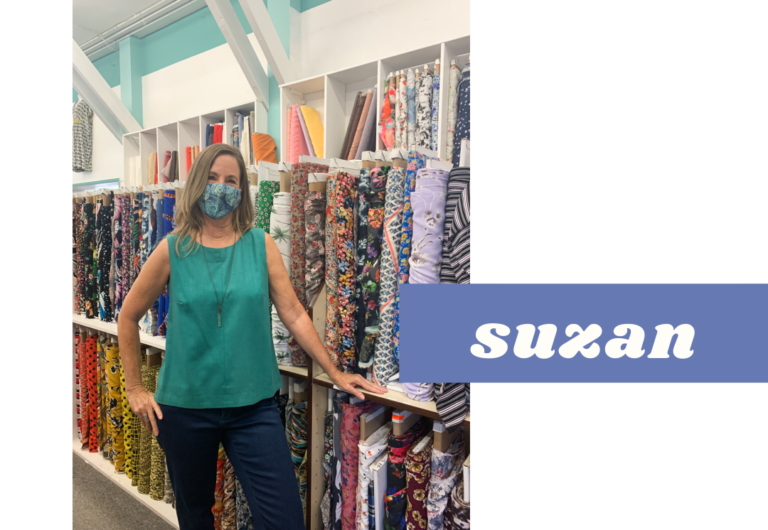 Suzan wears a Grainline Hadley in Silk Noil with Deer + Doe Safran Pants in stretch denim
Suzan says, "I am currently working on sewing the buttons on the Cami Dress by Pauline Alice that was completed at the beginning of shutdown. It's way past time and I want to wear it soon. Besides that my energy will be working with my team here at the Mountain to get our store open to in-person shopping later this summer!"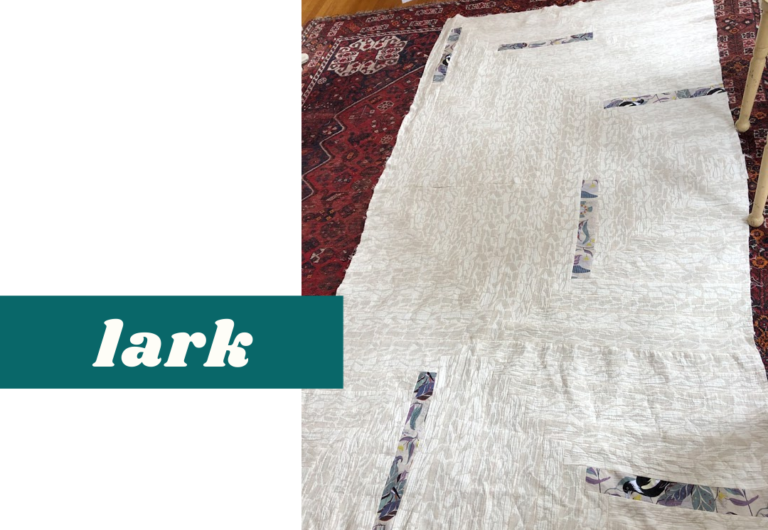 Lark says, "My dad is a woodworker and built me a new bed frame, so I decided I needed a new quilt! I'm making a queen-sized quilt using the Jacquard Shapes Oatmeal."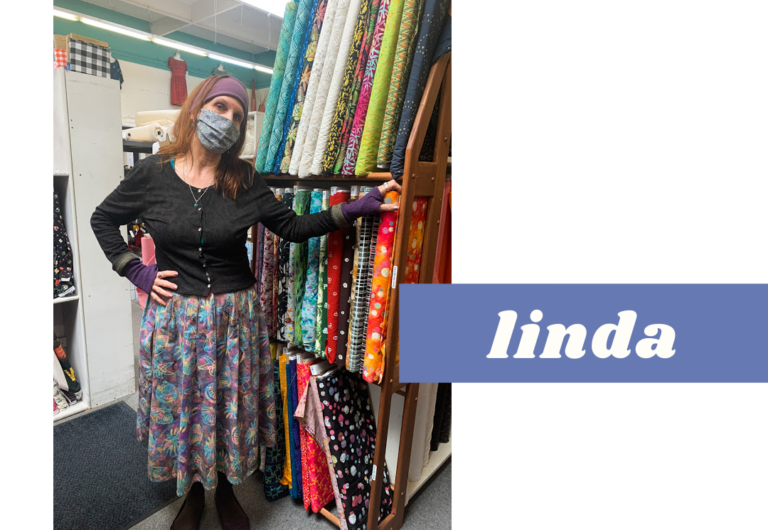 Linda wears a self-drafted skirt in batik, wool/viscose gloves, and a sweatshirt fleece headband.
Linda says, "I'm currently working on a Crescent Tote from Noodlehead as a gift for my great-niece."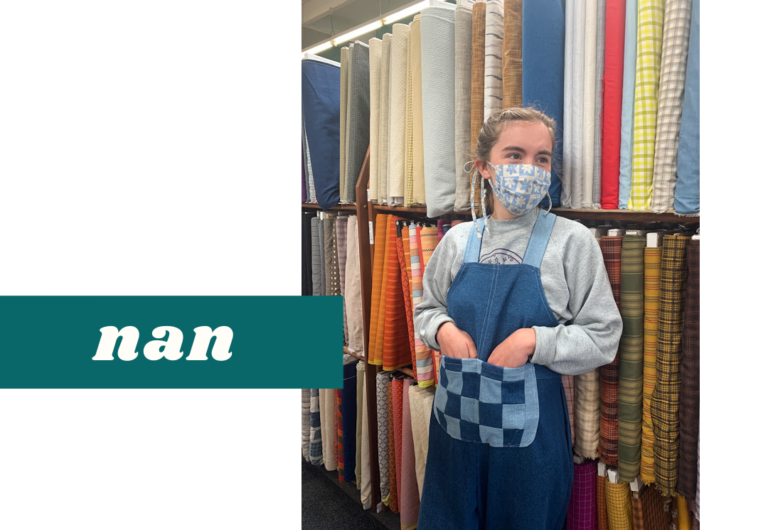 Nan wears Sew Liberated Otis Overalls
Nan says, "My goal this year is to not buy any new clothes and make them instead. I have a lot to learn sewing-wise, so I'm looking at each new piece I make as a step in the process of becoming a sewing master."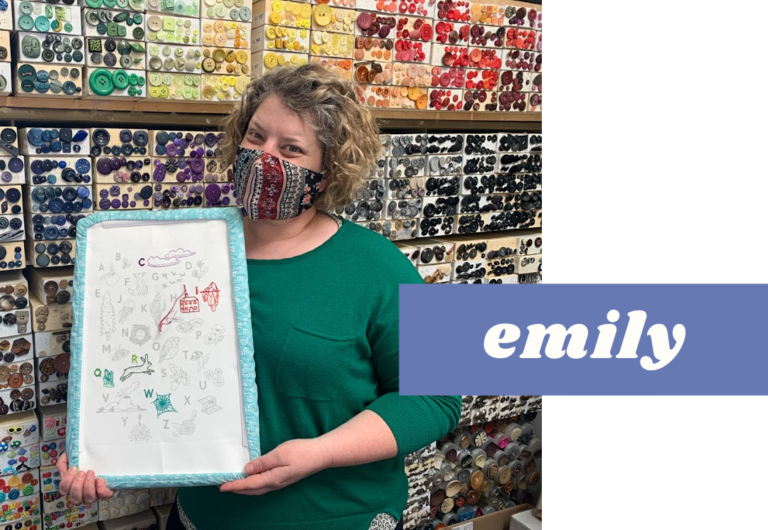 Emily says, "My machines are tied up with work I'm doing for other people, so I'm spending my crafting time working on an alphabet embroidery sampler from Lark Rising and learning new techniques along the way!"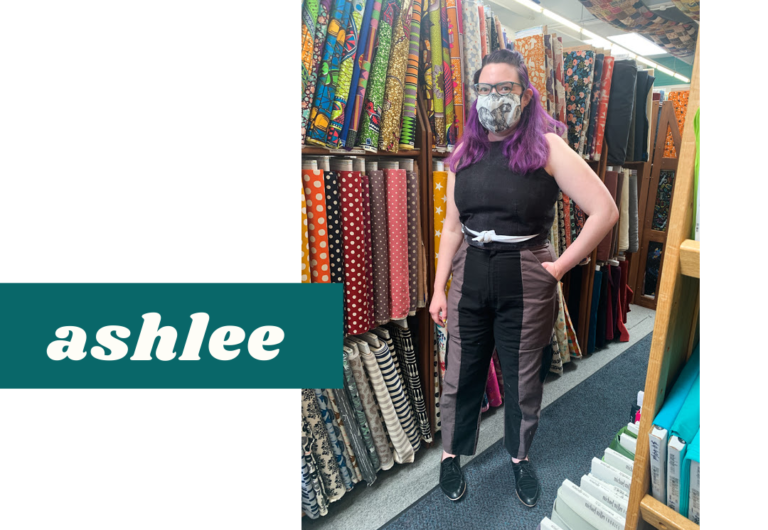 Ashlee wears a Sophie Hines Axis Tank and Deer & Doe Acajou Pants
Ashlee says, "I've been watching a lot of CosTube (costuming YouTube) and I've been inspired to try my hand at historical sewing. I'm planning to make a half-scale Regency Era costume just for the fun of it!"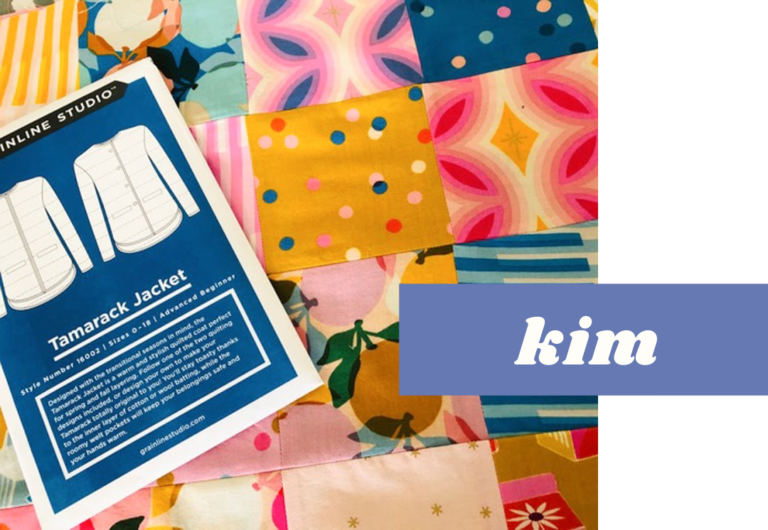 Kim says, "I was inspired by the quilted jacket that Käthe wears and wanted to create one of my very own. It is totally out of my comfort zone to make something like this, but so far it has been so much fun. I'm making my own patchwork fabric from a Ruby Star Society fat quarter bundle for a new Tamarack Jacket from Grainline."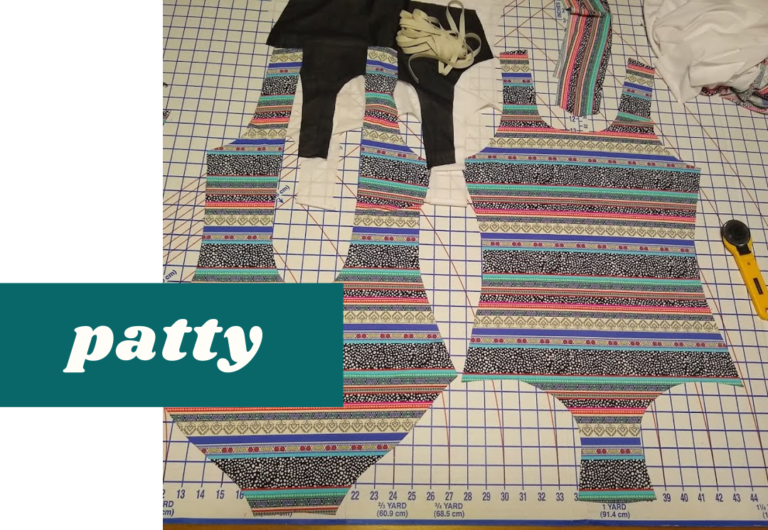 Patty says,"I cut out a Megan Nielsen Cottesloe swimsuit this afternoon—I'm doing View A, which is the one with the low back and ties. All of the fabric and elastic came from the store: swimsuit fabric, some white swimsuit lining, black shaper mesh for the shelf bra (white would probably have made more sense, but I had some black in my stash left over from another project) and rubber swimwear elastic. I'm really looking forward to putting this together…and wearing it!"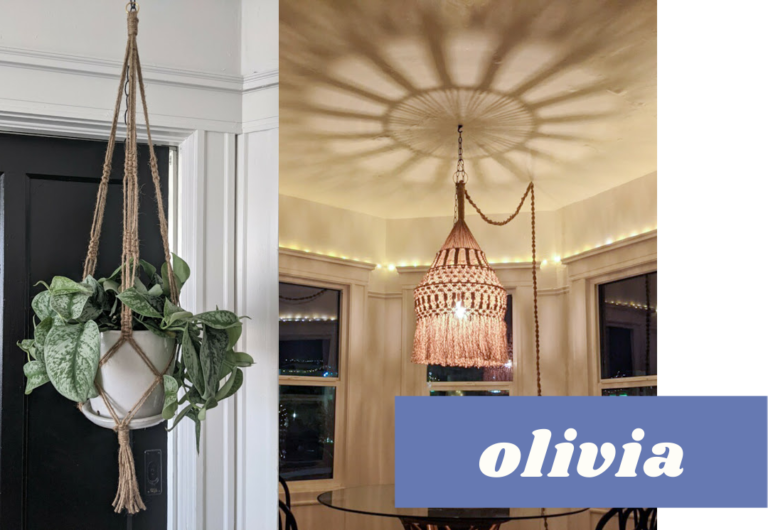 Olivia says, "I have a bunch of sewing projects that I'm simultaneously working on, but lately I've been really excited about doing macrame. I just finished this lantern and I have a bunch of twine leftover, so I've been making a bunch of hanging plant holders."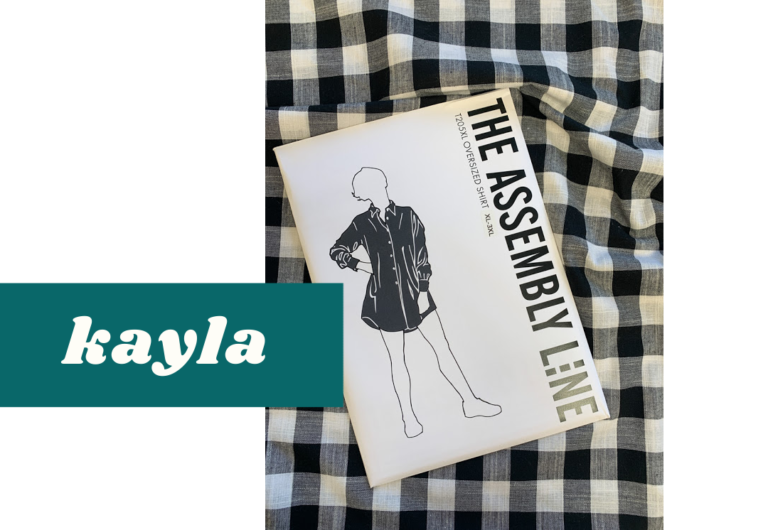 Kayla says, "I've been on the hunt for the perfect button-down top, so I've got my eye on this Oversized Shirt from The Assembly Line in a black and white gingham."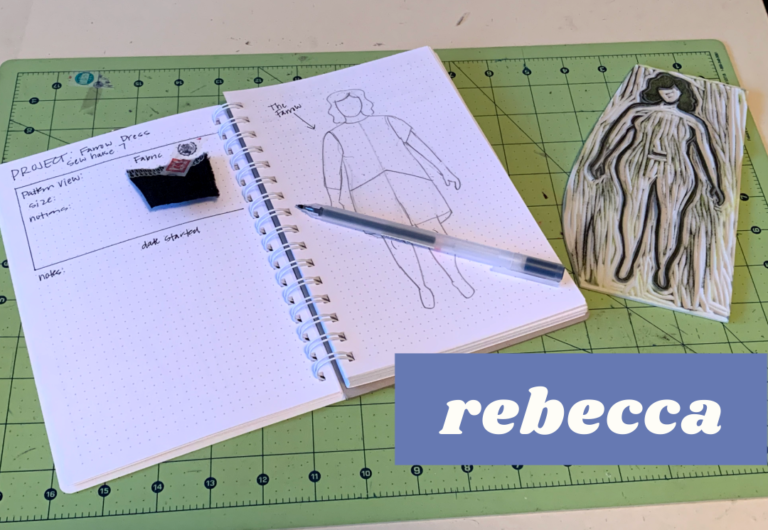 Rebecca has a Grainline Farrow on her list for future sewing. Rebecca says, "I have a lot of patterns that I collected during quarantine, but never found the enthusiasm to actually make them. I'm hoping to get back to sewing soon, but meanwhile I've been jotting down my inspiration and ideas in a sewing project journal. On one page I include the name of the pattern I want to make along with the size and notions I'll need. I also make space for a fabric swatch and notes. On the opposite page, I stamp a block print of a croquis and sketch the garment over it. Recording this information in a journal really helps me keep track of ideas and lets me look back on past projects."
We hope you've enjoyed this month-long peek into our Me Made May! You can find past installments (and continued inspiration) archived on our blog, and we're always sharing new makes on our Instagram @stonemountainfabric. Not matter the month, we'd always love to see what you're sewing—tag #stonemountainfabric to share what you've been working on!