We couldn't have predicted how our sewing practices might have changed since Me Made May 2020, but we've all noticed that we're doing things differently these days. This week we're asking the Stonemountain staff: How has the past year of quarantine affected your sewing? Whether we're sewing more or sewing less, everyone had something to say about their sewing habits (and, as always, we have some of our favorite Me Made garments to share):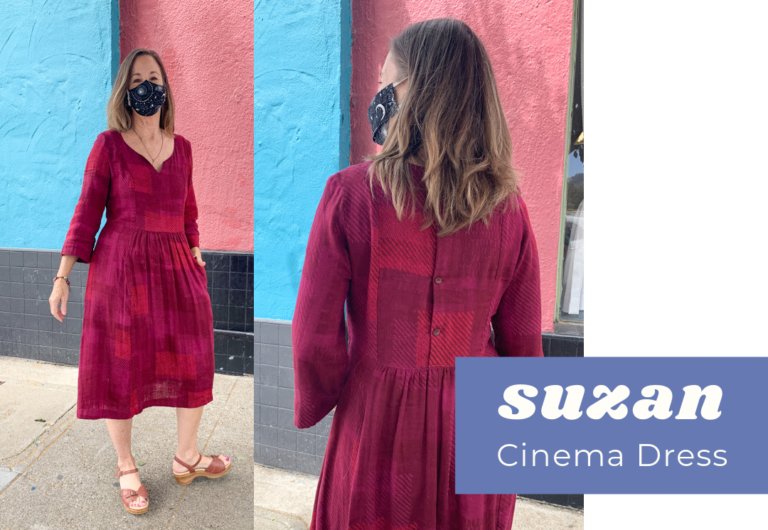 Suzan wears the Liesl + Co Cinema Dress in cotton rayon double gauze from Japan
Suzan says: "I've been so focused on keeping the store going that I haven't had time to sew—and working from home meant losing the boundary between working and sewing. Even though I lost my sew-jo, I've been able to enjoy my older handmade pieces with fresh eyes, and I've realized that I don't always need to add new pieces to make my wardrobe feel special."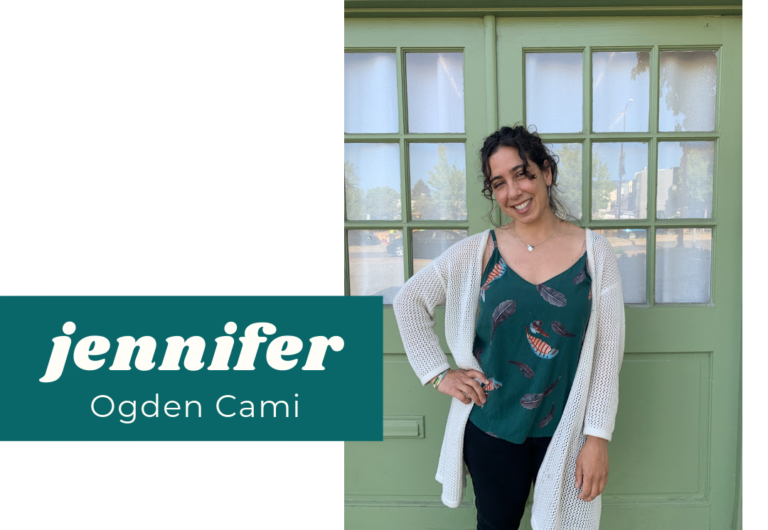 Jennifer wears the True Bias Ogden Cami in rayon challis
Jennifer says: "I've had more time at home to sew, and because I started working here during quarantine, I've been even more inspired to sew being surrounded by beautiful fabrics all day long. I've definitely been sewing more comfortable loungewear than I used to."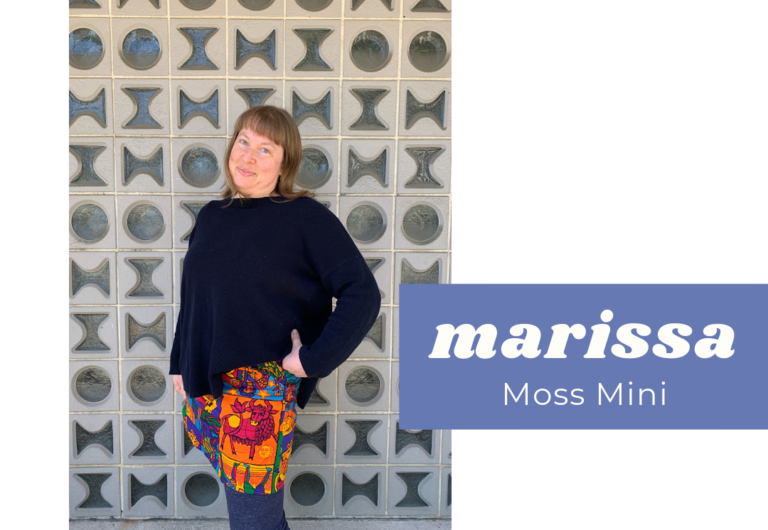 Marissa wears a Grainline Moss Mini made from a vintage canvas tapestry (from her dad's teenage bedroom in the 60s)
Marissa says: "Before 2020 I would usually sew in a designated studio space. Staying close to home this past year meant incorporating my sewing setup into the household flow. It has been so nice to be able to just get up and sew, but it isn't ideal for big projects like quilts that require undisturbed space. The cat really wants to be involved!"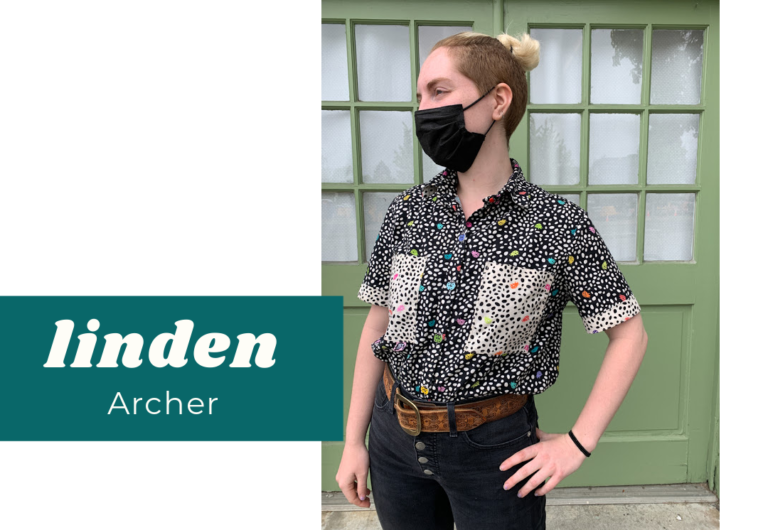 Linden wears a Grainline Archer in quilting cotton
Linden says: "This year I got a lot more invested in my sewing. I had more time to challenge myself with more complex patterns, and I learned how to sew button-up shirts and pants. I also got into the mask-selling game and learned about batch sewing."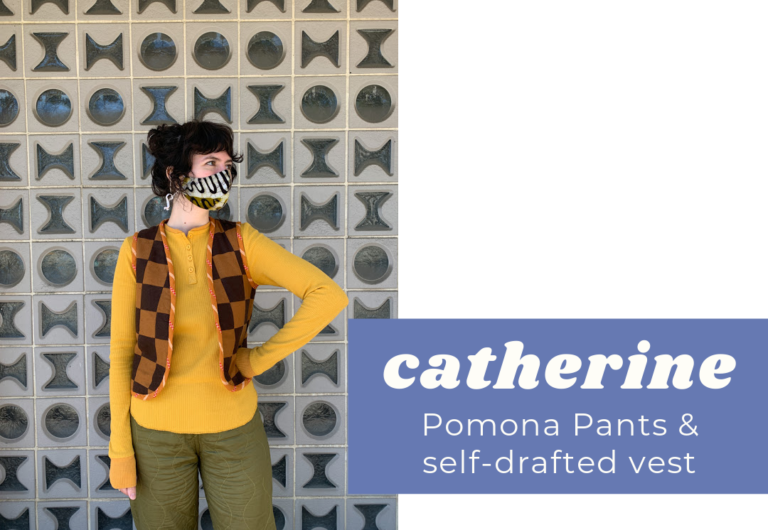 Catherine wears Pomona Pants in washed cotton poplin and a self-drafted vest in silk noil
Catherine says: "I've been more tired this year, so I've been sewing less than I used to. But the things I have sewn have been more comfortable and practical and less frivolous."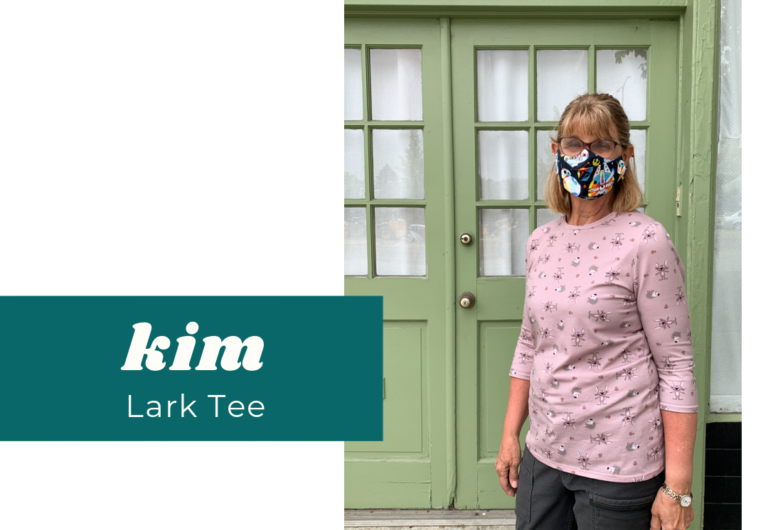 Kim wears a Grainline Lark in Avalana Cotton/Spandex Jersey
Kim says: "I did LOTS of sewing this year—I made over 2000 face masks to sell and to donate to my community. I also made lots of clothes for me, working my way through last year's MMM stash."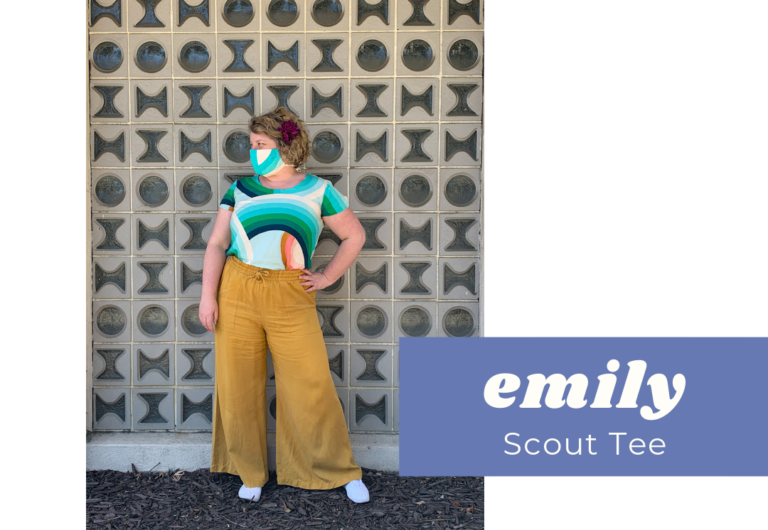 Emily wears a Grainline Scout Tee in Ruby Star rayon
Emily says: "I spent a lot of this last year sewing for others—mostly face masks, but also some quilts and accessories to sell at craft fairs. I finally got back to sewing for myself when I started roller skating and wanted some fun outfits for that. Sequin jumpsuit, anyone?"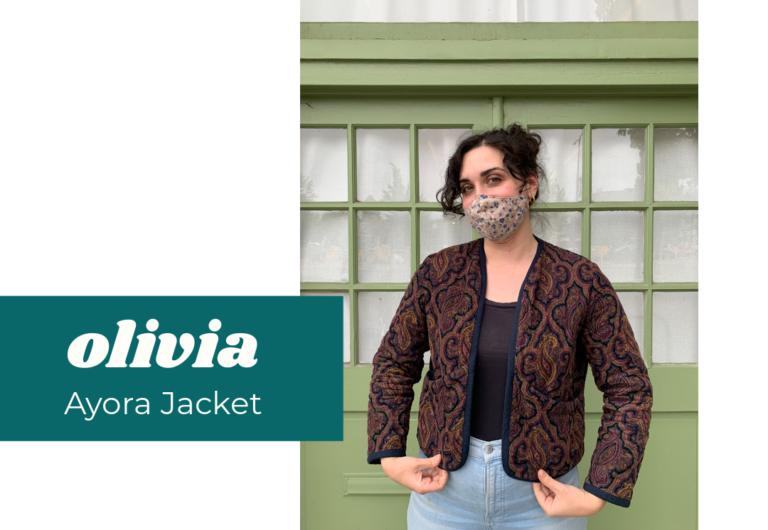 Olivia wears a Pauline Alice Ayora Jacket made of Japanese paisley pinwale corduroy, lined with Favorite Cotton and a Friday Pattern Co. Adrienne blouse
Olivia says: "I haven't felt super motivated, so I've been sewing simpler patterns that I can finish quickly and have a sense of completion. This jacket is the most complex garment I've sewn in a while and it felt good to take on more of a challenge."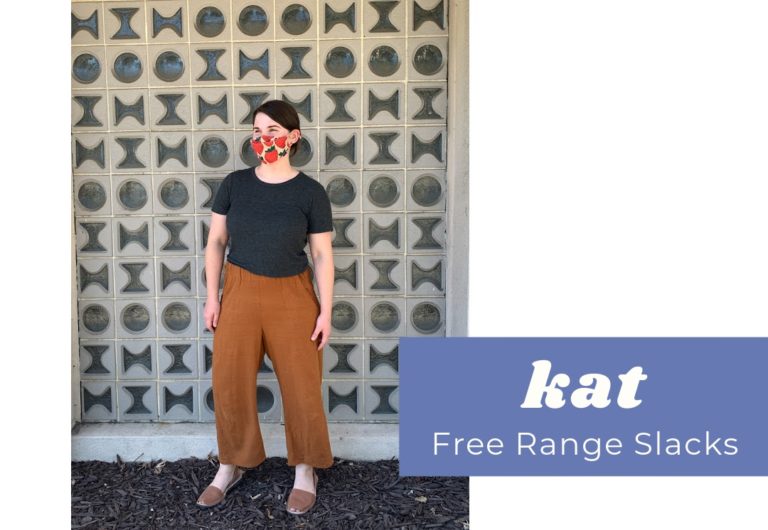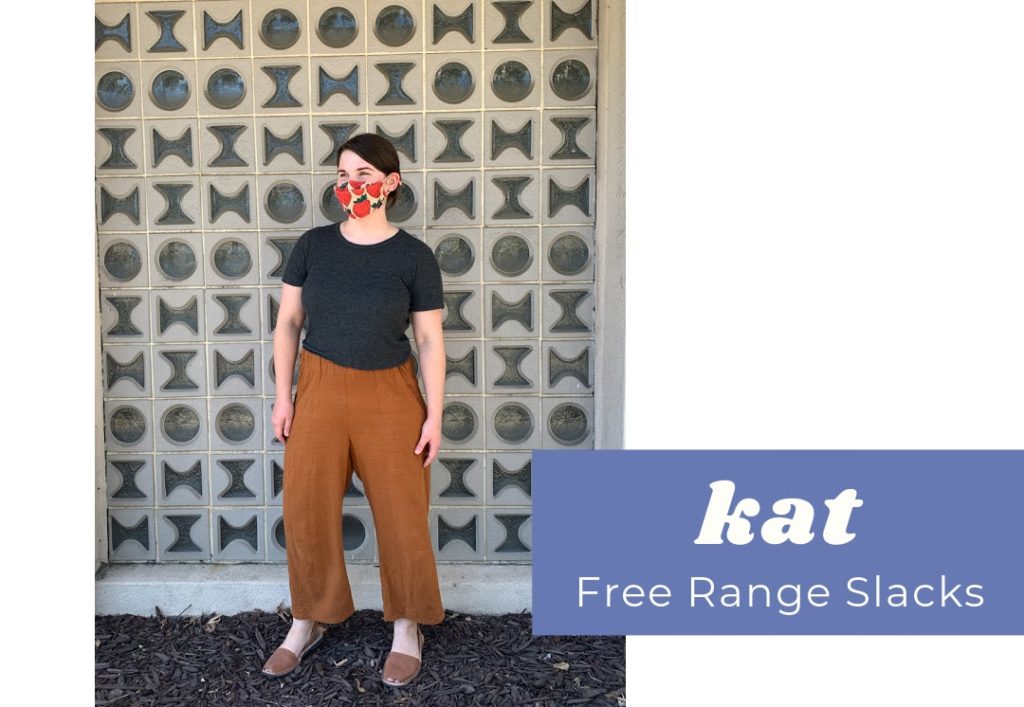 Kat wears the Sew House 7 Free Range Slacks in a cotton/linen blend
Kat says: "Because of quarantine, I didn't have access to my sewing machine for 6 months (it was at another house), so I spent that time filling the void with other creative outlets. Once I got my machine back, I worked back into my sewing routine by starting off with a few face masks."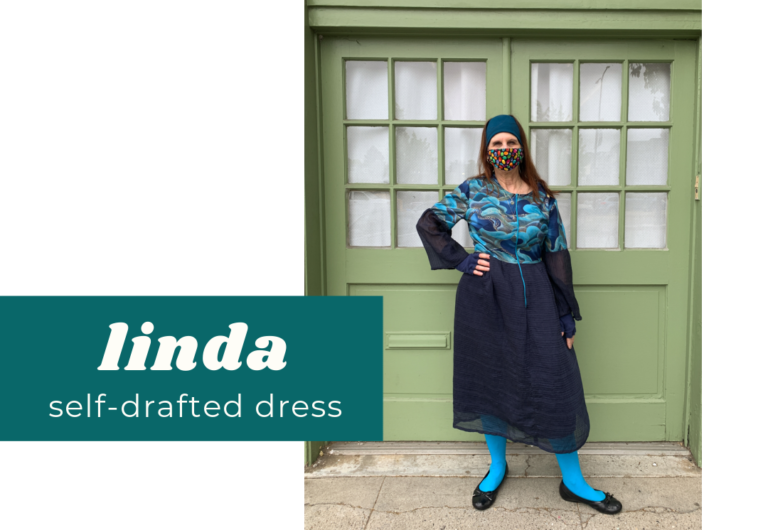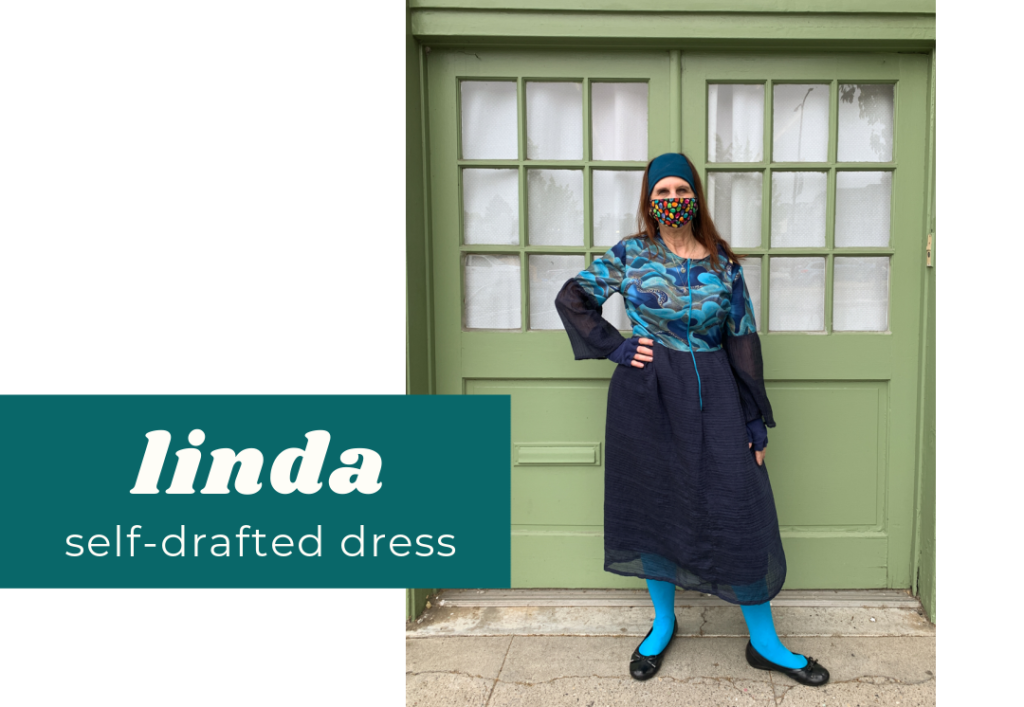 Linda wears a self-drafted dress in rayon plisse and quilting cotton
Linda says: "I didn't notice much of a change in my sewing this last year—I was still sewing for clients and got to do some home decor sewing for myself."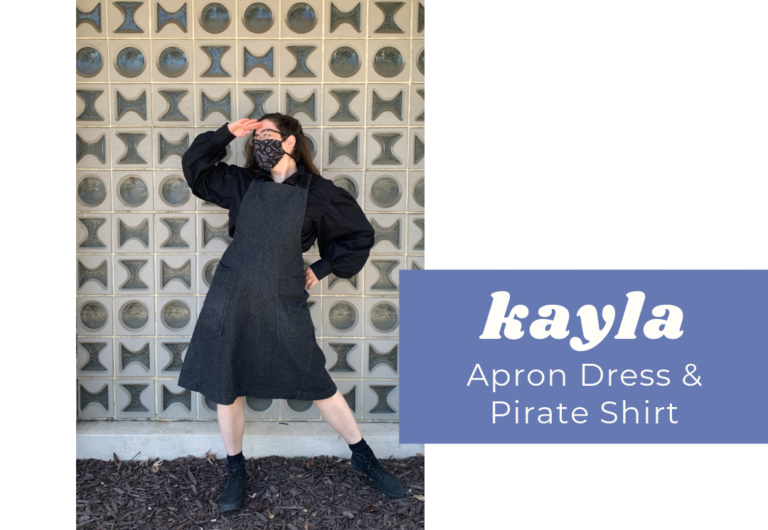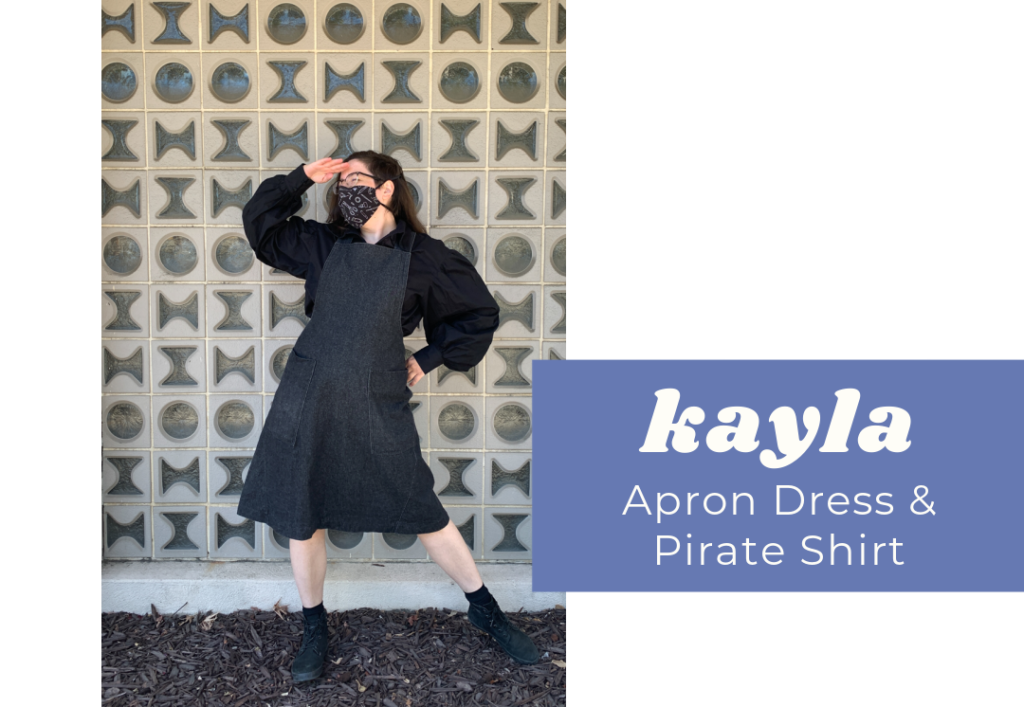 Kayla wears the Assembly Line Apron Dress in washed denim and a pirate costume shirt from Butterick in cotton voile
Kayla says: "I spent the first part of quarantine sewing face masks, and then I took a break from sewing before starting again to make Christmas presents."
We hope you enjoyed this week's installment of our Me Made May blog! There's still one week left of Me Made May, so look for our final feature next week.