If you're going to start working on a quilt project, you're going to need the right tools! We've rounded up the quilting essentials that you'll want to keep on hand for projects large and small. Build your own quilt-making kit and you'll always be prepared when inspiration strikes!
Next you'll want to consider your fabric options. Quilting cottons are lightweight, tightly woven fabrics, a bit heavier than cotton sheeting, and available in solids and prints. For solids, explore the entire rainbows of colors of Kona Cotton and Cotton Couture we carry. For prints, an entire world of quilting cotton awaits!
We carry over hundreds of quilting cotton prints (not to mention quilting-weight Japanese fabrics!), so to avoid overwhelm, a little strategy is needed. We like to look at the first few pages of quilting cottons to see the recent arrivals, and then it's all about exploring the categories in the website's left column. We also like to use the search function to search for particular imagery in quilting fabric. For instance, if you search "cat quilting cotton" you'll get all our cute kitty prints!
We sell most of our quilting cotton by the yard, but we also offer random assortments of fat quarters. What's a fat quarter? It is a half-yard length of fabric cut in half on its midpoint, generating a 18 x 22 inch "fat quarter yard" of fabric. Fat quarters are popular with quilters due to the greater variety of shapes that can be cut from them as opposed to a quarter-yard strip of fabric. We like them because they are perfectly sized for all kinds of small projects!
Batting is the fluffy fiber that gives a quilt its warmth and loft. We stock battings by the yard in a few different fiber combinations, and because it can be confusing to try to compare them, we have created a batting reference chart: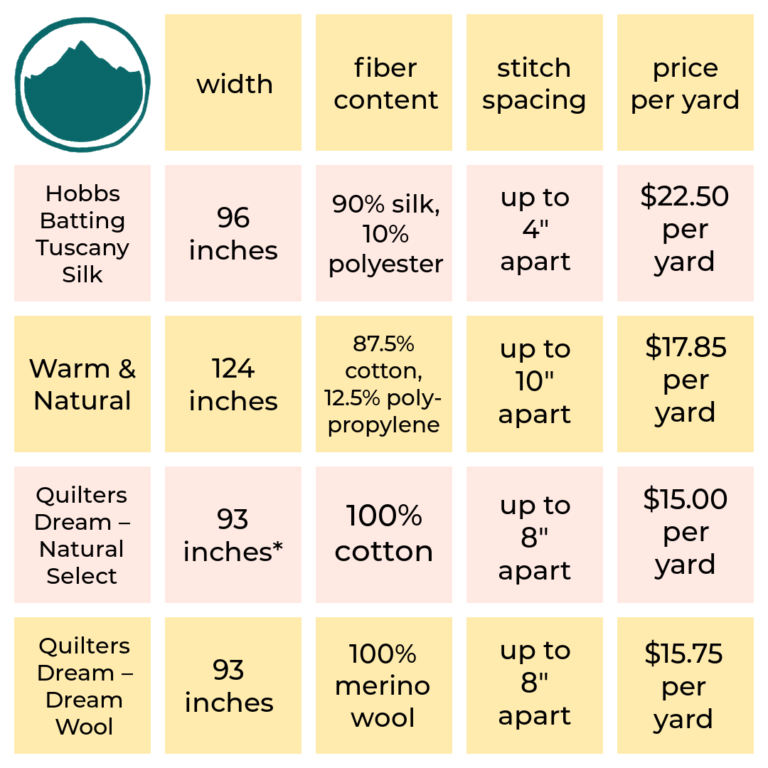 * In addition to selling Quilters Dream batting by the yard, we also carry an assortment of packaged, pre-cut sizes, including bed sizes Crib through King, to accommodate a variety of specific projects. shop batting pre-cuts
P.S. Quilting cotton is for more than just quilts! It can also be used for face masks, home accessories like pillow cases, and garments such as dresses, skirts, button-down shirts, and children's clothes. Some of our favorite apparel patterns for sewists of all skill levels are also perfect for quilting cotton—check out the clothing patterns by 100 Acts of Sewing!