Rayon is one of our favorite fibers because it always has a beautiful drape whether it's a knit or a woven. It's often soft, usually lightweight, and relatively easy to care for – but what is it exactly? And what about those other fibers like viscose, tencel, cupro, and modal? Rayon is one of the most misunderstood fibers, so we want to demystify some of the misconceptions and confusing terms that surround this great fabric!
So What is Rayon?
Rayon is the catchall term for fabric made from regenerated cellulose fiber. Rayon is often mistaken for a synthetic fiber, but it is actually made from wood pulp and other plant materials. It was developed in the early 1900s as an alternative to silk and has since been used in all sorts of applications, from commercial to industrial.
One of the great properties of rayon is that it is cool to the touch. This and its breathability make it a perfect fabric for warm weather. A swingy rayon dress or blouse will help keep you cool and comfortable when it's the middle of July and the humidity is out of control!
Bamboo Rayon
The bamboo plant is a sustainable source of the raw materials used in the production of rayon. We love our bamboo rayon knits because they are incredibly soft, breathe wonderfully and drape beautifully!

Rayon Crepe
Rayon crepe was a very popular choice for dresses and blouses in the 1940s and we love the vintage vibe that these textured fabrics have. Now rayon crepes come in so many colors, prints, and varying levels of "crepiness"!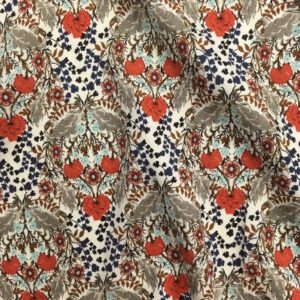 This Italian designer rayon crepe is so pretty! It's called Flower Crown and we have it in both Cream and Navy.
Rayon Challis
Challis is probably the most well-known type of rayon. It's lightweight and fluid, which makes it ideal for drapey blouses, dresses, and skirts. And it comes in so many amazing prints!
Other Rayons
Rayon comes in many other variations as well – it can be textured, sandwashed, sueded, and woven in different ways to change how it drapes and feels. This versatility makes it so perfect for all kinds of garment sewing – you could fill your wardrobe with rayon and not have two of the same garment!


Viscose
Though viscose originated as an alternative method to producing rayon, it now is considered an interchangeable term. "Viscose" is typically used in European countries, which is why our Italian designer rayons are called viscose.
When you're working with a print, it can be best to keep things simple. The Ogden Cami by True Bias is perfect for that!


Tencel
The word tencel is actually a trademarked term for a fiber called lyocell. The manufacturing process for lyocell is slightly different from other rayons and results in very little waste product. This makes tencel/lyocell more sustainable and eco-friendly!
Though tencel can be made into all sorts of different weaves, the type we see most often is twill. Tencel twill is a great bottomweight for making jackets and pants. One thing to note with tencel is that it tends to get shiny when pressed with a hot iron. We recommend turning down the temp and using a pressing cloth.
This Heavy Tencel Twill is the perfect weight for pants and jackets, yet is wonderfully soft and drapey!
Cupro
You may know cupro by its trade name, Bemberg, which is a popular fabric for lining. Cupro (or cupromonium) is the name given to rayon fibers made through a process that uses copper and ammonium. Its slinkiness and slight sheen make it a great alternative to silk.
Modal
What makes modal different from other rayons is that the fibers are designed to be stronger and more resistant to shrinkage. This makes modal easier to care for because it won't shrink as much as other rayons if it gets tumble dried. Both wovens and knits are made from modal and they're always extremely soft!


Sewing with Rayon
Many beginning sewists shy away from rayon because it has a reputation for being difficult to work with. Though it's true that the liquid drape of rayon can make it trickier than cotton, it just takes a little more care. Try Flatter (a starch alternative) to make your rayon easier to handle before cutting. Use weights and a rotary cutter to cut out your pattern, rather than pins and scissors. And don't forget to staystitch your curves after cutting to keep them from getting misshapen!

We know that rayon is super easy to wear, but how easy is it to care for? Rayon used to have a reputation for being dry clean-only, but nearly all modern rayon can be machine washed. However, we recommend keeping it away from the dryer. Rayon tends to shrink and you don't want your lovely summer sun dress to become a micro-mini! If you're not sure how your fabric will react to washing, just test a swatch before throwing your full yardage in the washer.
What do you think about rayon and all its cousins? If you've never sewn with it before, we hope that after reading this you will give rayon a try!