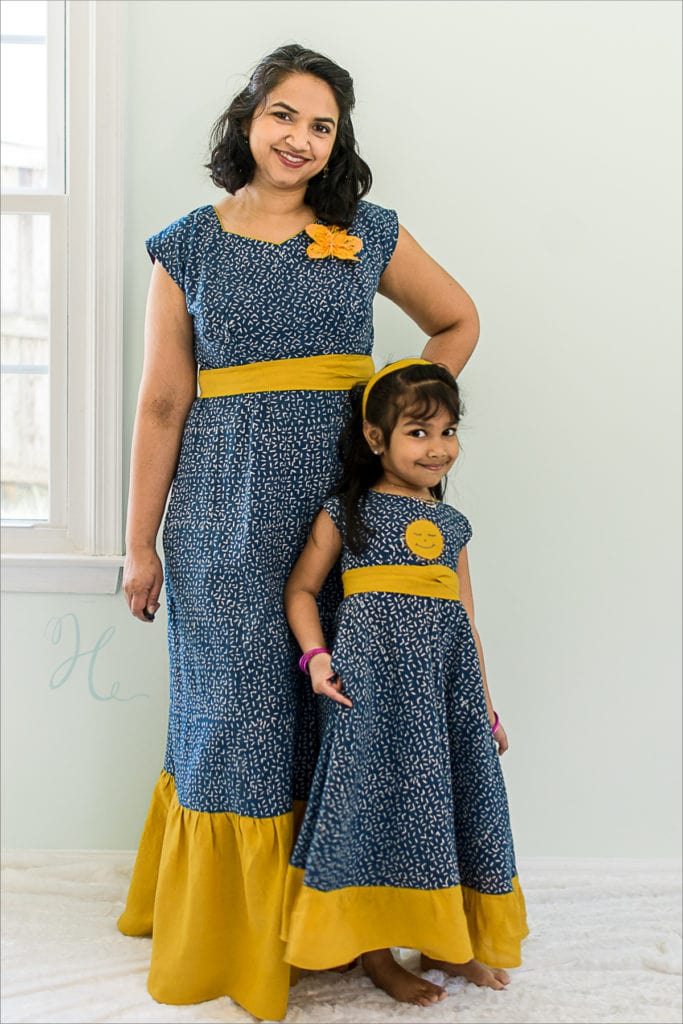 Anjori is an incredible sewist—she's talented, creative, and has great style. We admire her determination to get a great fit on her projects by doing tissue fittings and muslins. Something we should probably all be doing, but don't always have the patience for! We also love Anjori's eye for detail. She often uses trims, combines multiple fabrics in one garment, and adds gorgeous free motion embroidery to her projects.
Anjori's Stonemountain Sewist project shows off all her talents so well! She made a beautifully fitted dress using two very different fabrics, made her daughter a matching dress from the leftovers, and customized both dresses with embroidery.
Why did you choose this fabric?
I am trying to wear more natural fibers that are lightweight to give the drape I'm looking for. I also really like the block prints with all their perfect imperfections. The navy blue, cotton block print from India was the winner. But I also wanted to do a color block with yellow. And I looved this slubbed viscose/linen blend.
What do you especially like about the fabric?
I like the drape, and feel of the fabrics. The cotton is smooth and light. The viscose/linen has raised texture to it that is nice to see and touch. Yes, I do pet fabric, don't you? 🙂
It was great to be able to use all of the fabric too, I literally have tiny scraps of both fabrics. Perfect!
How did you pre-treat/launder the fabric?
In my house, 98% of the clothing has to be able to survive the laundry machines. So, I machined washed and dried both on the delicate cycle (this is my go to cycle anyway). I was careful not to wash them together in case the indigo ran. There was some blue in my color catcher sheet so its a good thing too!
Additional treatment was to spray starch on the viscose/linen to stop it from moving as much.
What pattern did you make?
One of the first dresses I wanted to make, years ago before any real fitting knowledge, was the By Hand London's Anna Dress. I photoshopped the fabric on to the line drawing to see how it would look with the color blocking and ordered the fabrics.
After cutting out my bodice and top skirt pieces, I saw that I had enough fabric to make a dress for my daughter. For her, I chose the Violette Field Threads' Reese dress.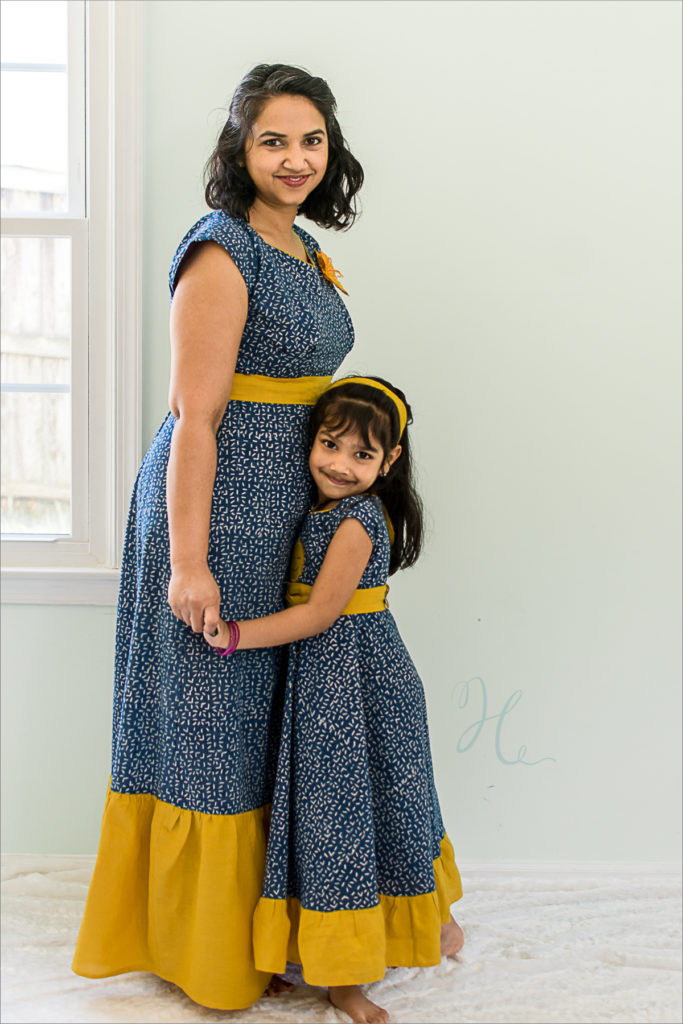 What size did you make?
Anna Dress was size US 10 at bust and US 12 waist down
Reese dress was size 4T
Did you make any modifications?
Anna Dress:
I usually have to make several modifications to get a good fitting bodice.
1) Neckline: Modified to a flattened sweetheart neck
2) Front Neckline: Removed 1″ from – transferring the amount to the pleats
3) Back Neckline: Removed 1″ dart – transferring to waist dart; removed 1 1/2″ from neck using slash and overlap at the arms
4) Sleeves: Shortened by 3/4″, tapering to nothing at armpit; dropped armpit by 1/2″
5) Front Shoulders: Removed 1/4″ at neck, tapering to 3/8″ at arm
6) Back Shoulders: Removed 2 3/8″ height at shoulders
7) Swayback: Removed 2″ from mid back tapering to nothing at side seams; also curving the back seam during a muslin fit
8) Side Seams: stitched at 3/8″ instead of 5/8″
For the skirt, transfered 1/2″ from center front to front side pieces to match the dart placement; removed 1 1/8″ dart from center back piece; and cut the center front with 1″ seam allowance and eased the excess to the bodice. Also, being 5'2″, I had to remove 6″ of height from the skirt.
Reese Dress:
Bodice modified to match the Anna dress. Removed 1″ from center back at neckline, tapered to nothing.
Oh! and pockets to both dresses, of course 😉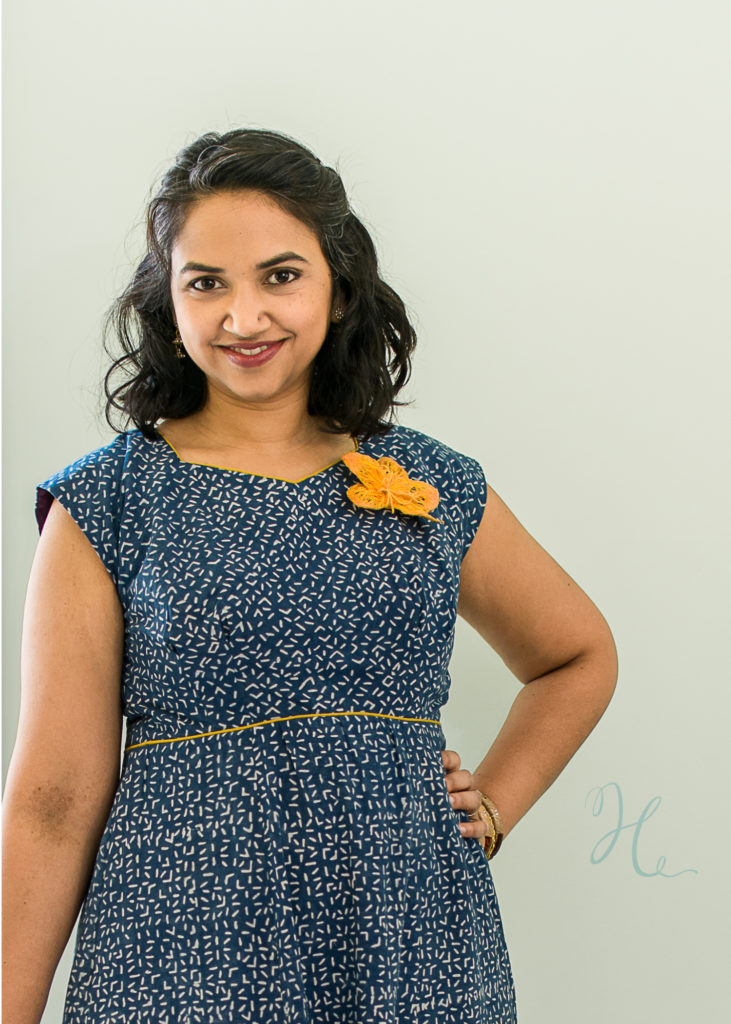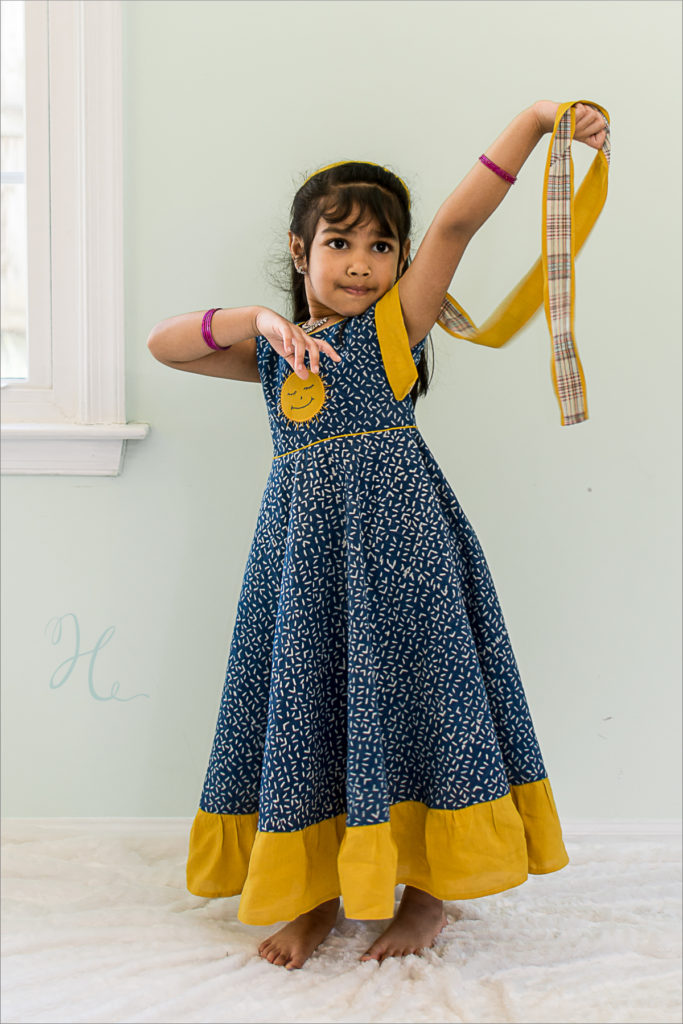 Did you use any special notions or tools for your project?
Bodice was fully lined using this tutorial from Megan Nielsen.
I added piping to the neck and waist. However, I haven't found the right thickness of piping cord so instead, the piping was made from crochet thread overlapped and then zigzagged through the sewing machine. Then I sewed it on using a zipper foot.
For the invisible zipper, I highly recommend getting an invisible zipper foot; makes installing so much easier!
Almost forgot! I used sew-in snap buttons on the removable belts to hold them in place.
Is this garment your typical style? How will it fit into your wardrobe?
I love wearing dresses and maxi dresses are my favorite. So this will fit right in to my wardrobe. I even made a flower brooch using free motion embroidery to go along with the free motion embroidered sun I put on my daughter's version.
What else would you like to share about your project?
I'm happy to be part of the Stonemountain Sewists! And so glad to finally have that dress I have been eyeing for ages! My daughter is also super excited to be twinning with Mama with her new dress.
I've known how to sew for about 10 years now dabbling here and there and doing refashions and alterations. After my daughter was born in 2015 and I was staying home to take care of her, my sewing took off much more. It helped me relax and gave me projects to work on that I could finish in 1-2 weeks as opposed to the human project that was never ending.
This is when I found social media and it changed my sewing for the better. Through Instagram I found that I could do free-motion embroidery and started playing with embroidery on my daughter's clothes. Now in addition to making clothes for my daughter and myself, I now create art and custom family portraits with thread!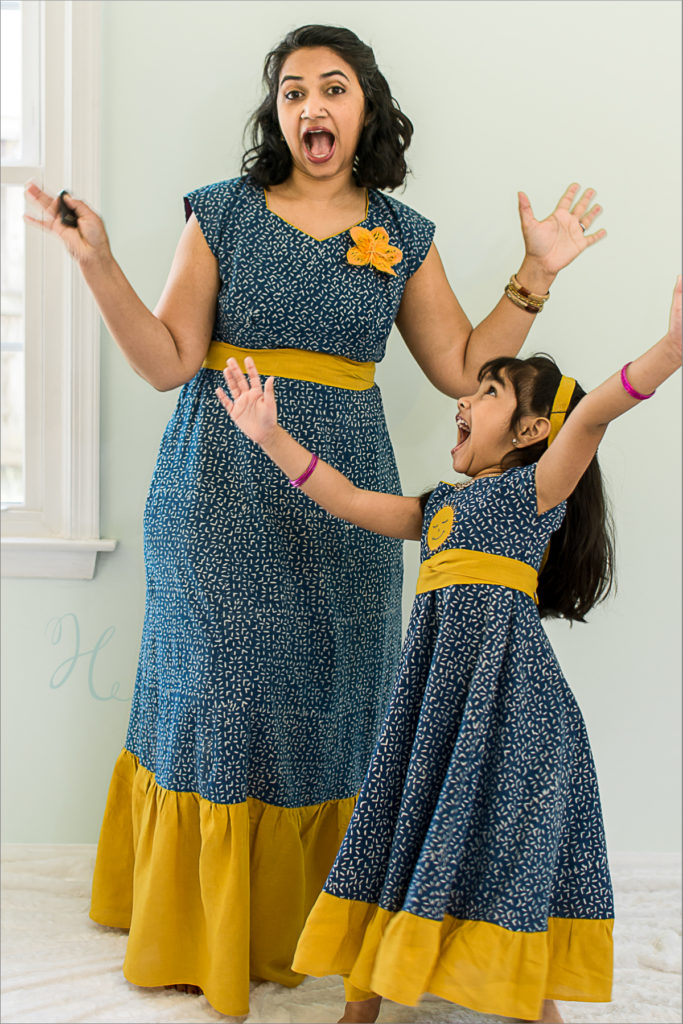 Thank you so much to Anjori for sharing this project with us! You can follow along with more of her makes on her Instagram and blog. And if you're curious to learn more about free motion embroidery, check out her embroidery Instagram and Etsy shop. You can even commission a custom piece for yourself!