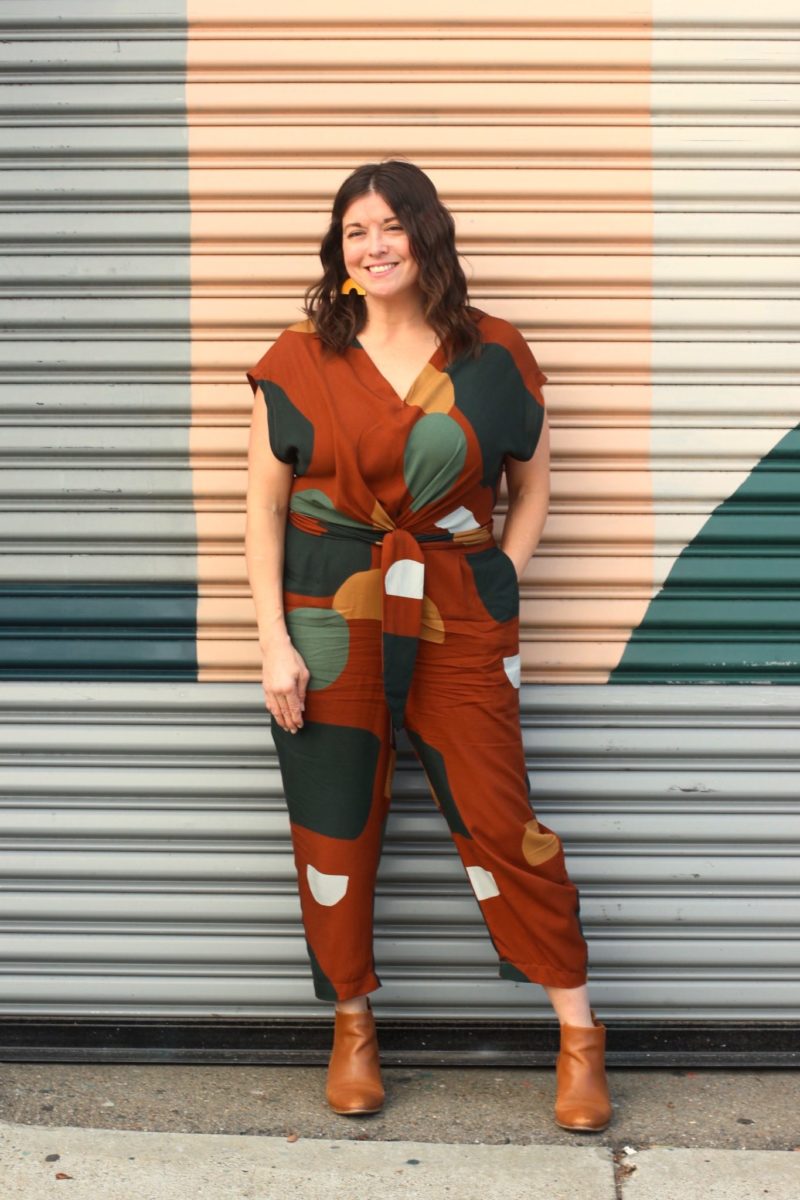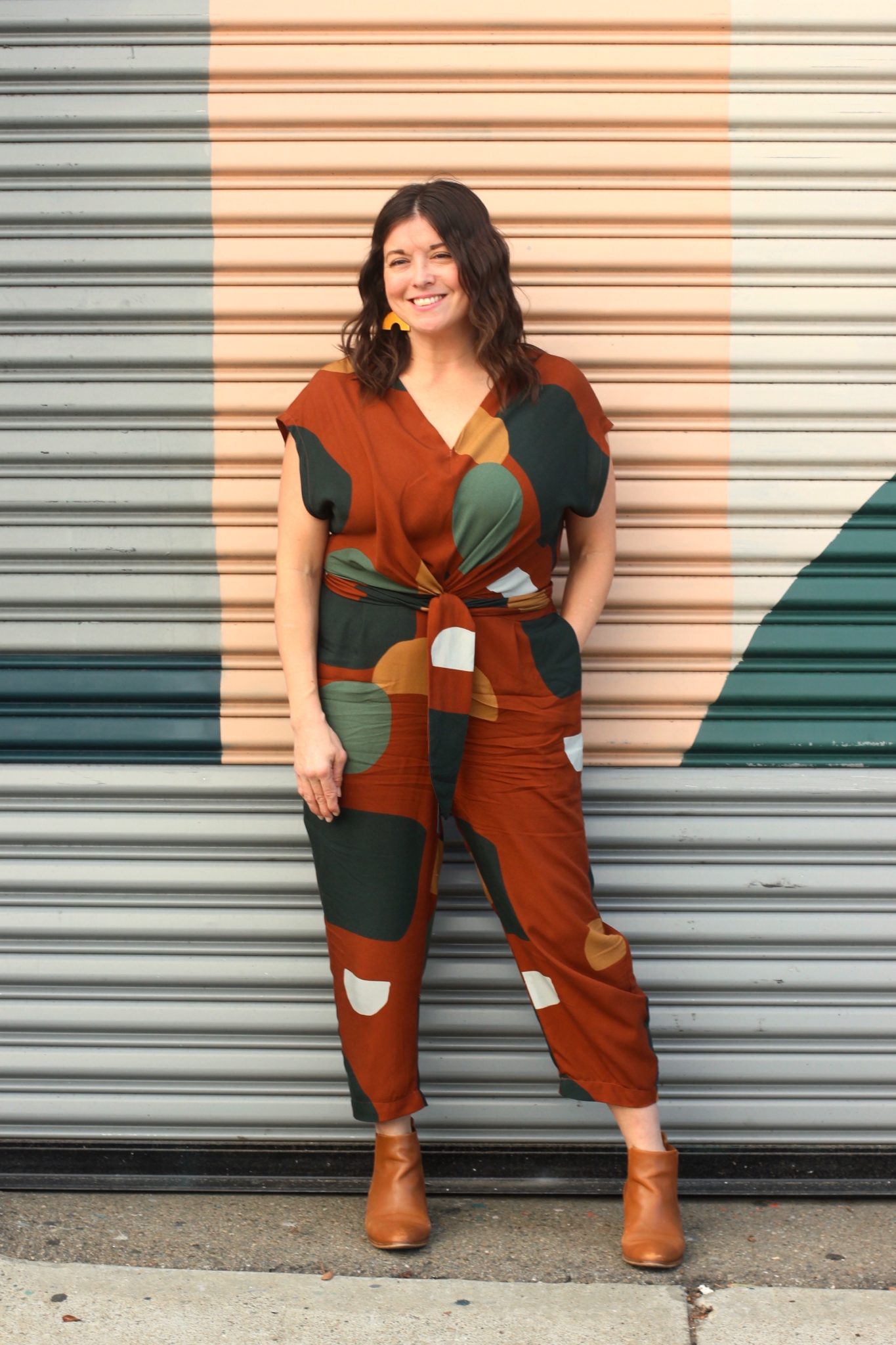 Brandi is one of our biggest style inspirations. Though she only started sewing a little over a year ago, she dove right in and immediately made beautiful garments that fit right in with the rest of her wardrobe. Brandi is a big proponent of slow fashion and is a moderator for Sell Trade Slow Fashion, an online marketplace for ethically made clothing & accessories. We love that she brings the slow fashion ethos to her sewing—she uses natural fibers (a fellow linen lover!) and focuses on longevity rather than following trends. Brandi posts regular #ootd photos on her Instagram and it's great to see her me-made pieces getting well worn and loved.
For her Stonemountain Sewist project Brandi went a little outside her comfort zone and picked a fabric with a big, bold print. This viscose challis by Mind the Maker features large abstract shapes in a gorgeous earthy palette—rust orange, saffron yellow, and spruce green. Fabric like this calls for a simple silhouette to really show it off, and we think Brandi chose perfectly when she decided to make the Pauline Alice Mila Jumpsuit.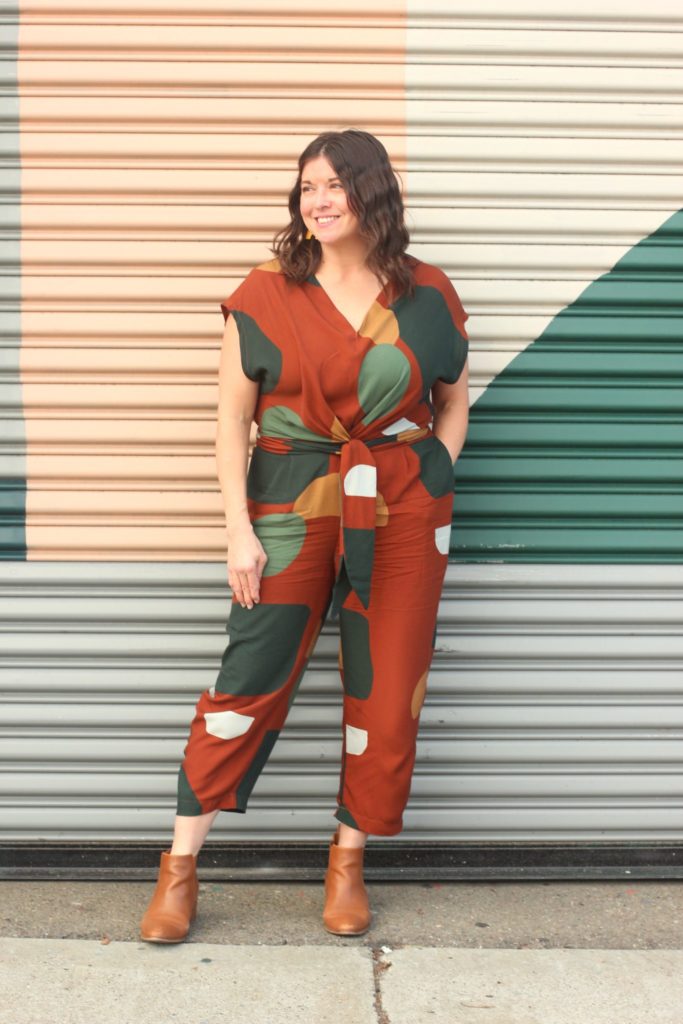 Why did you choose this fabric?
The print and color was too good to pass up! I don't have many prints in my wardrobe but the large format print and colors of this fabric called to me as it mirrors a lot of colors I already have in my closet.
What do you especially like about the fabric?
I love that it's so bold and unique. It pushes me outside of my comfort zone but the color palette still makes it a cohesive part of my wardrobe.
How did you pre-treat/launder the fabric?
I machine washed and hung it dry. I don't work with viscose often so I tried to be as gentle as possible with it given how light and delicate it feels.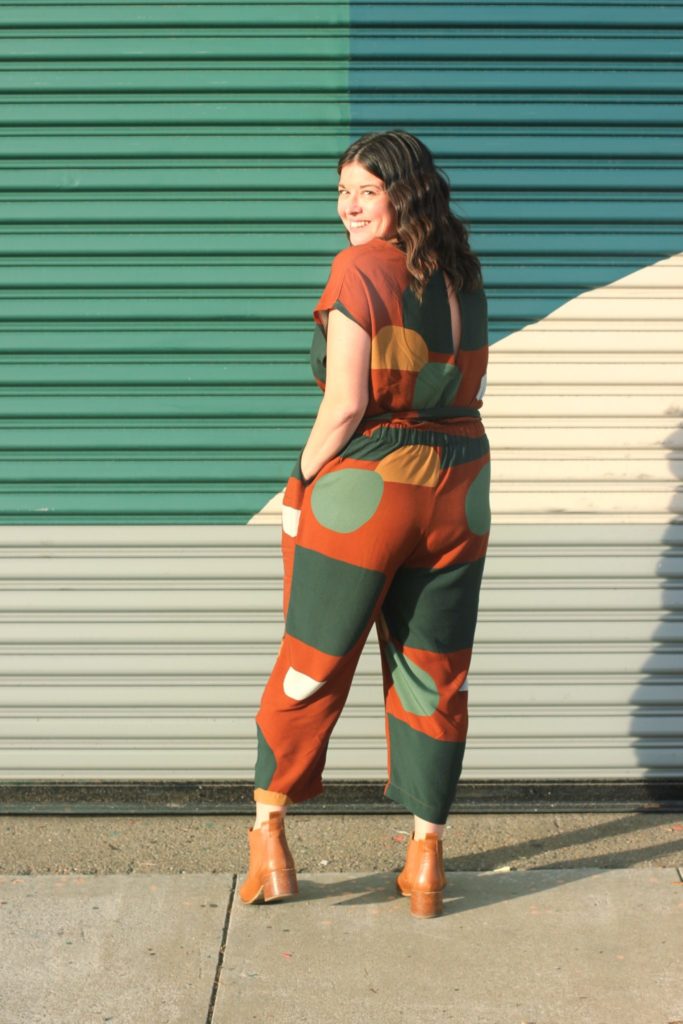 What pattern did you make?
Pauline Alice Patterns' Mila Jumpsuit. I'd been wanting to try my hand at a jumpsuit but I wasn't sure the wrap top on the Zadie would work well on me. When I saw this had an interesting wrap tie detail without the wrap top I was sold!
What size did you make?
I made a 48. I am at the upper end of this size range and my measurements are B: 42″/W: 33″/H: 41″. I really would like to see an improved/extended size range on this pattern as I think it would look so amazing on many body sizes.
Did you make any modifications?
I did. I didn't feel the slim leg on my first toile was really "me" – I liked the look of the leg on the model but that looked roomier. I decided to mashup the balloon-leg of the Style Arc Bob pants. It was my first big pattern hack and I had to do quite a bit of adjustment and walking the seams to make sure the seams were aligned and the same length. The end result is not perfect but I like the leg shape much better. I also cut the back elastic a size up- it still gathers the back nicely but gives me some extra room as I have a pretty square body shape.
Did you use any special notions or tools for your project?
No special tools! There is a nice video tutorial of the dress version of this pattern on Pauline Alice's blog. I also had a few questions along the way that Pauline Alice and @wear4artthou graciously took the time to answer (and check out @wear4artthou's version through the #milajumpsuit hashtag!)
Is this garment your typical style? How will it fit into your wardrobe?
You know, it's not. That's part of the reason I was drawn to it! I usually wear natural fibers (a LOT of linen) and my wardrobe style has jokingly been called "ceramicist with a private income." This jumpsuit feels much more fancy and I hope to wear it to more dressy occasions but I think the print is so fun it can be dressed up or down easily.
What else would you like to share about your project?
I'm so appreciative of Stonemountain for including me. I tried to push out of my comfort zone with this project. It's the first time I've made multiple toiles (3!) to get the fit just right, and I learned new-to-me techniques that I think expanded my knowledge as a sewist. Thanks again so much for the opportunity!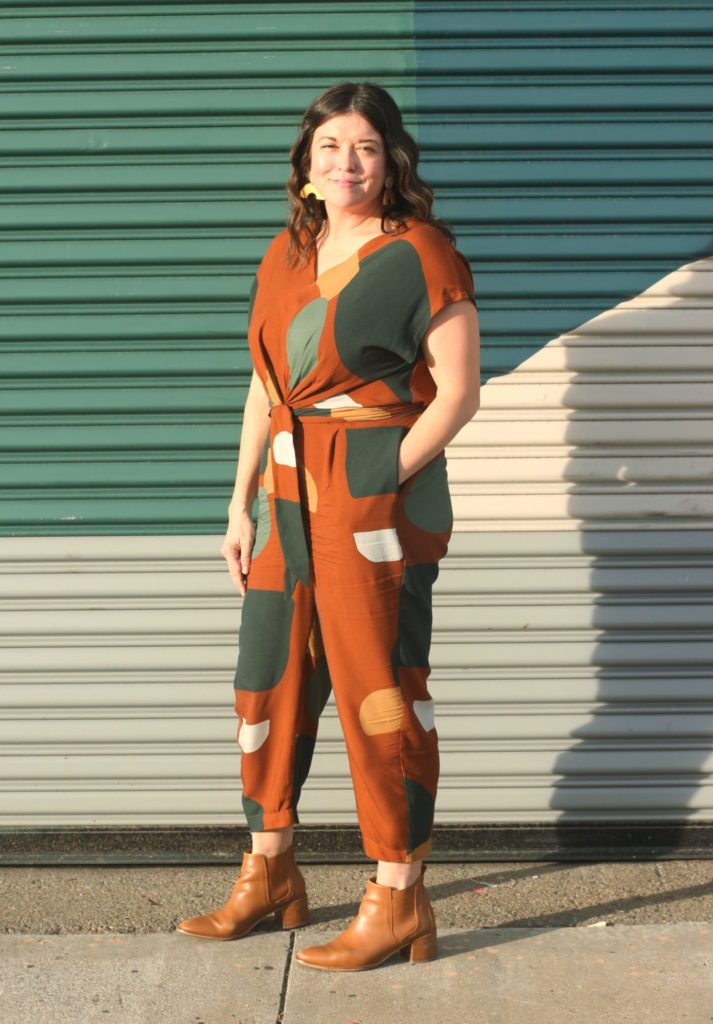 We are so happy that Brandi took this opportunity to try something a little different, because obviously the result is gorgeous! And we completely agree that this jumpsuit can be easily dressed up or down, or layered for different seasons. It's a statement piece, but is so wearable that it would work for everyday.
If you love outfit inspiration, earth tones, and seeing how a sewist seamlessly mixes RTW with their me-mades, then check out Brandi's Instagram. And if you're in the SF Bay Area, then you're definitely going to want to keep an eye on SF Bay Sewcial Club, Brandi's just-launched hub for local garment sewists!