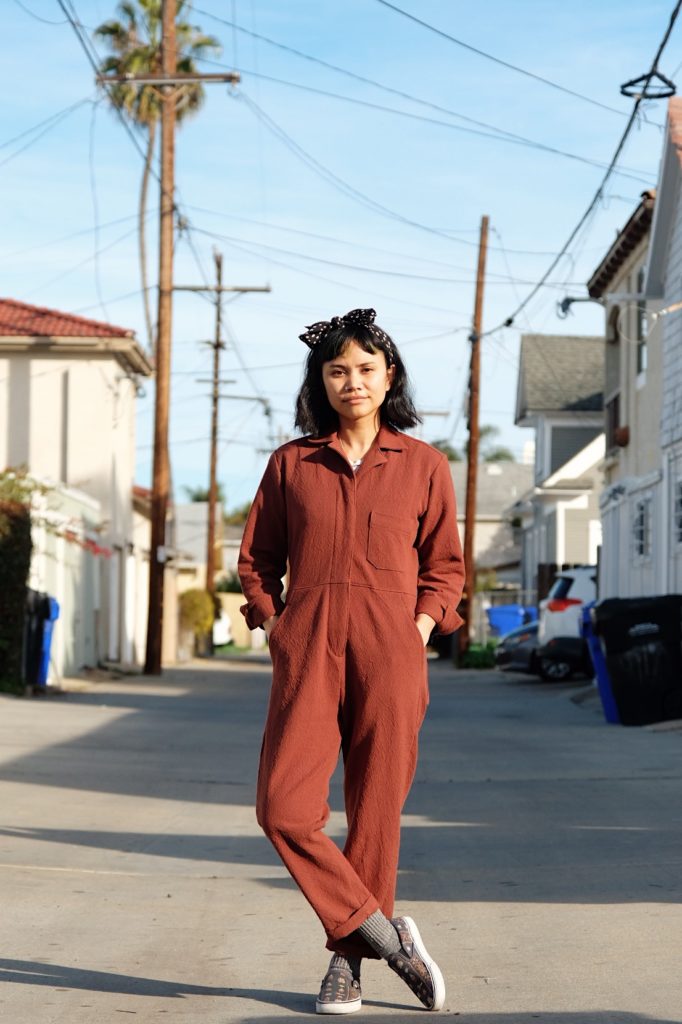 We love following along with what Cheryl is up to on Instagram, because it seems like she's always making something beautiful. She shares her process through gorgeous photography, and she recently started a photo-a-day project, which means we get a daily peek into what else she's up to: bread baking, making music, and finding all the best vegan eats in San Diego!
On the sewing side, Cheryl's makes are often more feminine (dresses, flowy fabrics, and pretty prints) but with occasional menswear-inspired touches like a cool chore coat and pleated trousers. And of course, her new Stonemountain Sewists project—a traditional boilersuit that Cheryl made entirely her own!
We love that Cheryl thought outside the box with her fabric and instead of using a twill or heavy linen, she chose our Heavy Basketweave Cotton. This fabric is a little over 7oz, which makes it a very versatile bottomweight for pants, jackets, and—of course!—jumpsuits. The woven texture makes this fabric much more interesting than your typical solid and the soft hand makes garments feel like they're already perfectly worn-in.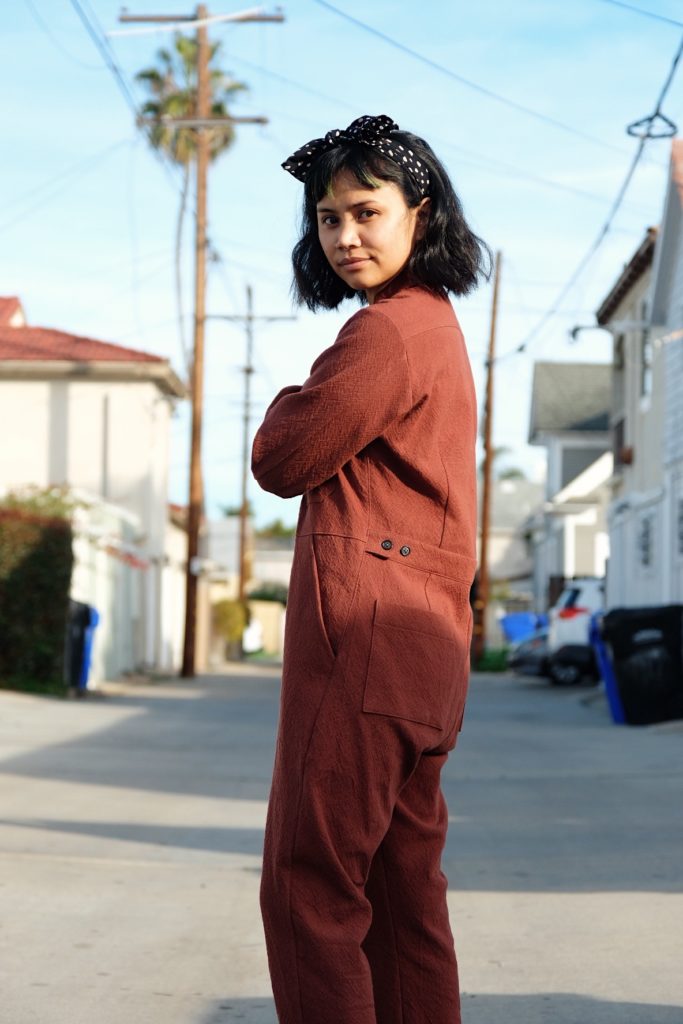 Why did you choose this fabric?
This was a tough one because there were sooo many beautiful fabrics to choose from! Once I knew I wanted to make a boilersuit it came down to texture and weight of the fabric. I chose the Heavy Basketweave Cotton in Mahogany to expand the colors of my wardrobe. I wanted this to be a statement piece without being overly distracting. The pattern also called for a lining and I knew I wanted a fun print, the Lady McElroy "Cobra Corsage" was a no brainer!
What do you especially like about the fabric?
Once I got the fabric in person I fell in love! I'm big on texture and the fabric feels lived in and super comfy—like your favorite pair of jeans that have softened over the years. One of the descriptions says if canvas and linen had a baby, this heavy basketweave cotton would be it!
I've always loved the Lady McElroy designs. I first saw the Cobra Corsage print when I visited the Stonemountain store for the first time on a road trip. I knew I wanted it right away…I just didn't know for what.
How did you pre-treat/launder the fabric?
As per the care instructions online, washed on gentle, tumble dried on low.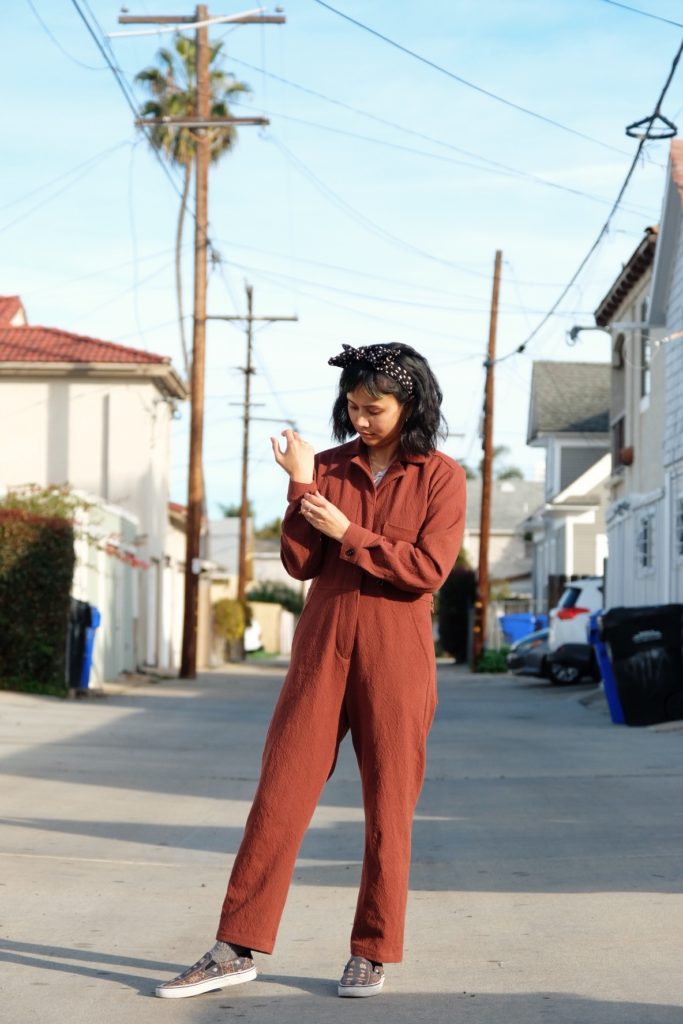 What pattern did you make?
The Thelma Boilersuit by Merchant and Mills
What size did you make?
Size 6 based on the finished garment measurements
Did you make any modifications?
Yes, I wanted to get the fit just right so I ended up sewing 3 muslins! I wanted the waistline to sit closer to my true waist so I shortened the front and back bodice by 2" and added 2" to the front crotch and 1" to back crotch area. I straighten out the hip curve and slimmed the inner leg seam by 3/8". I'm about 5'3 so I shortened the pant length by about 5 inches and the sleeves by 1/2". I also omitted the butt pocket flaps from the original pattern.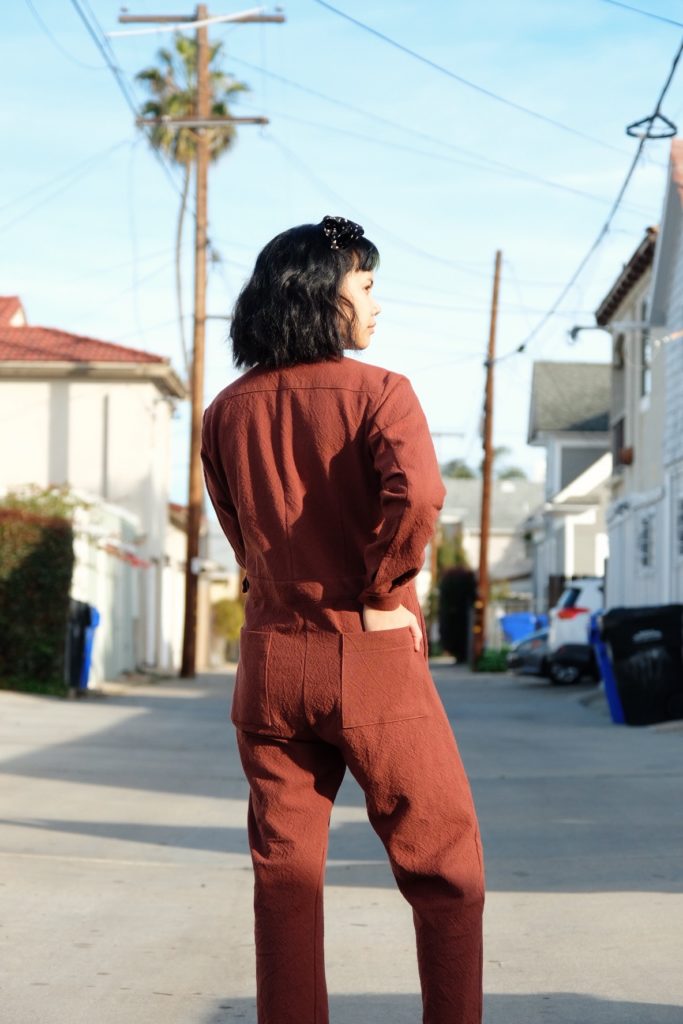 Did you use any special notions or tools for your project?
I used a tailors ham and sleeve roll to help press tricky seams.
Is this garment your typical style? How will it fit into your wardrobe?
I'd like to say so! It's one of those garments that you can dress up or down with the power of accessorizing. Don't want to match together an outfit? Boilersuit. Rosie the Riveter vibes? Boilersuit and bandana. Chic jumpsuit? Boilersuit with cute booties and a belt to cinch the waist!
What else would you like to share about your project?
I didn't know what I wanted to make right away, but I knew since this was falling on my birthday month it had to be something special… I've been seeing more boilersuits/jumpsuits and thought – a birthday suit! :p
I'm usually quick to sew on majority of my projects out of excitement, so I used this time to slow things down and be more mindful with my sewing. I took extra care into fitting which is usually the biggest challenge for me and made 3 mock ups (something I wouldn't normally do).
Stonemountain Fabrics is easily one of my favorite shops so I kinda freaked out that I got to be a part of the Stonemountain Sewists series! Thank you so much for the opportunity (and excuse) to sew and create! <3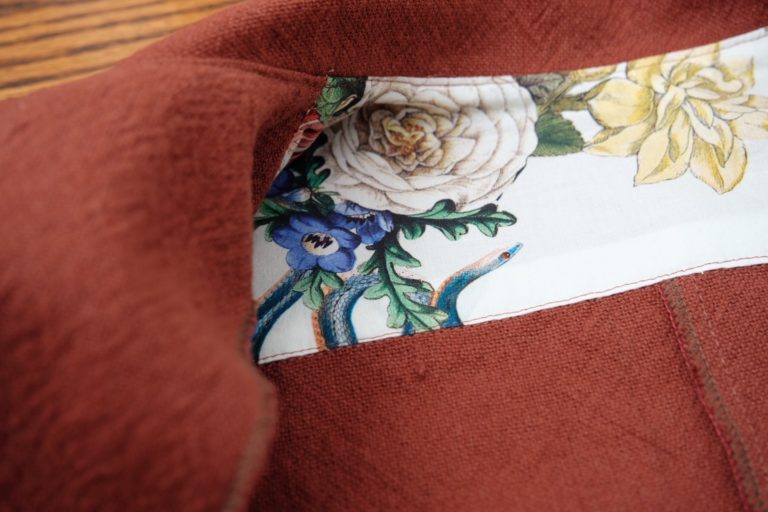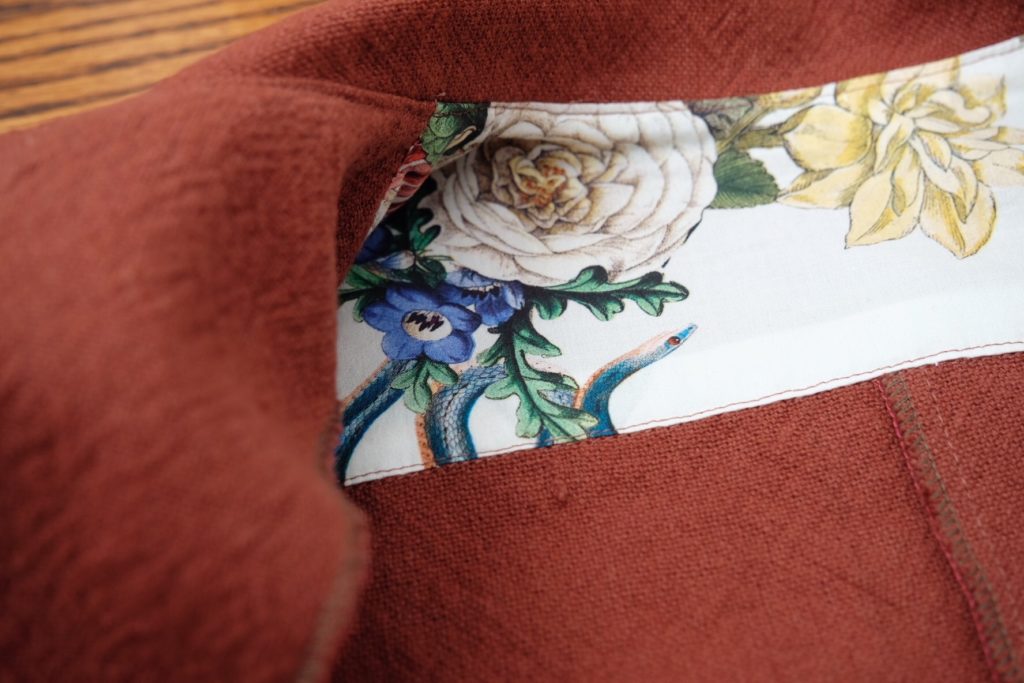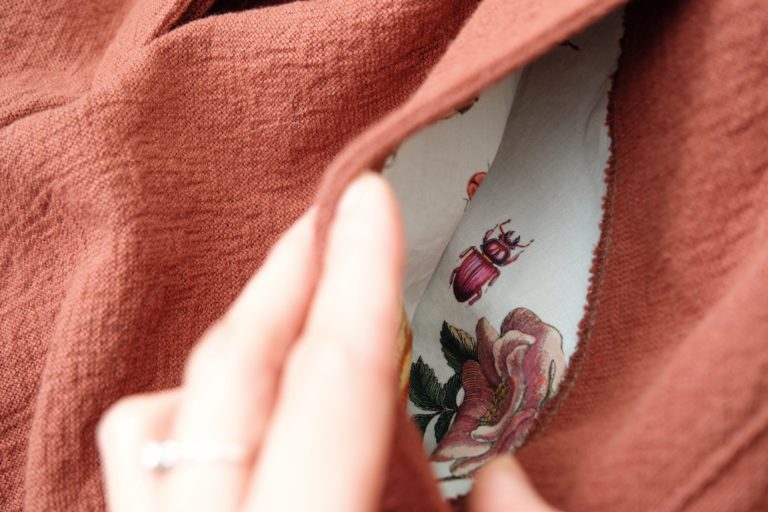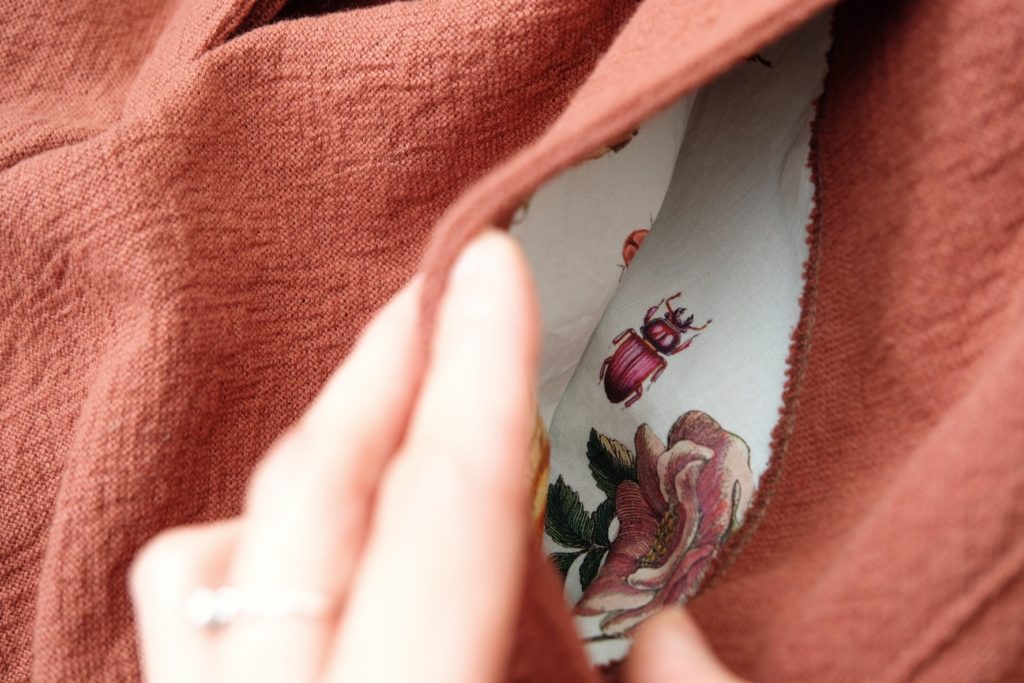 Is it wrong that we now want a boilersuit exactly like this? Cheryl did such an amazing job on this project and she looks so effortlessly cool in her Thelma. At the very least, she has us convinced that we need to make something out of this Heavy Basketweave Cotton—maybe pants and matching jacket?
If you're looking for a daily dose of inspiration and enjoy beautiful, rich photography then you should absolutely follow Cheryl on Instagram. We're excited to see what she makes next!