We'll admit it—we have a major style crush on Ebony. Her wardrobe is the definition of effortless chic and is filled with all our favorite warm neutral hues. And did you know that she is the namesake of the Ebony Tee & Dress pattern by Closet Case?
It seems like there are two kinds of Stonemountain Sewists: those who choose fabric and a pattern that feels very quintessentially "them", and those who use it as an opportunity to go a bit outside their comfort zone. Ebony went the latter route and picked a very bold color for her, which we love!
Ebony chose our Slubbed Viscose/Linen in Chartreuse. This fabric is the best of linen and viscose, all in one fabric. It's drapey, textured, soft, and opaque, which makes it great for all kinds of projects. Ebony used hers to make the Axis Dress from the latest Papercut Patterns collection.
Why did you choose this fabric?
I've been really drawn to this color for a while now, and this project seemed like the perfect opportunity to give it a try. I was a little nervous about my choice when I first got home with it, but the more I worked with this fabric the more I loved it! I tend to wear a lot of neutrals and am generally drawn to a fairly mellow color palette. So, perhaps it's no surprise that this color pairs easily with a lot of what I already like to wear and has added a refreshing pop of color to my closet. I especially love how it looks next to creamy browns, grays, and other greens. I've also been really into sewing with linen blends lately. They're so comfortable to wear, so easy to work with and take care of, and (as is generally true of linen) they make for garments that age beautifully.
What do you especially like about the fabric?
I love the texture of this blended fabric! It's a little cool to the touch and silky, but was still quite easy to handle and manipulate. The linen makes it soft and lofty and gives it an appealingly subtle slub. And the viscose imparts a subtle sheen while balancing out the crispness of the linen to give the fabric a lovely drape. It's definitely easier to sew with than a slinky 100% viscose would be. This fabric isn't so slippery that installing a zipper or sewing darts is challenging, yet it still has enough drape to make for a lovely dress with lots of movement.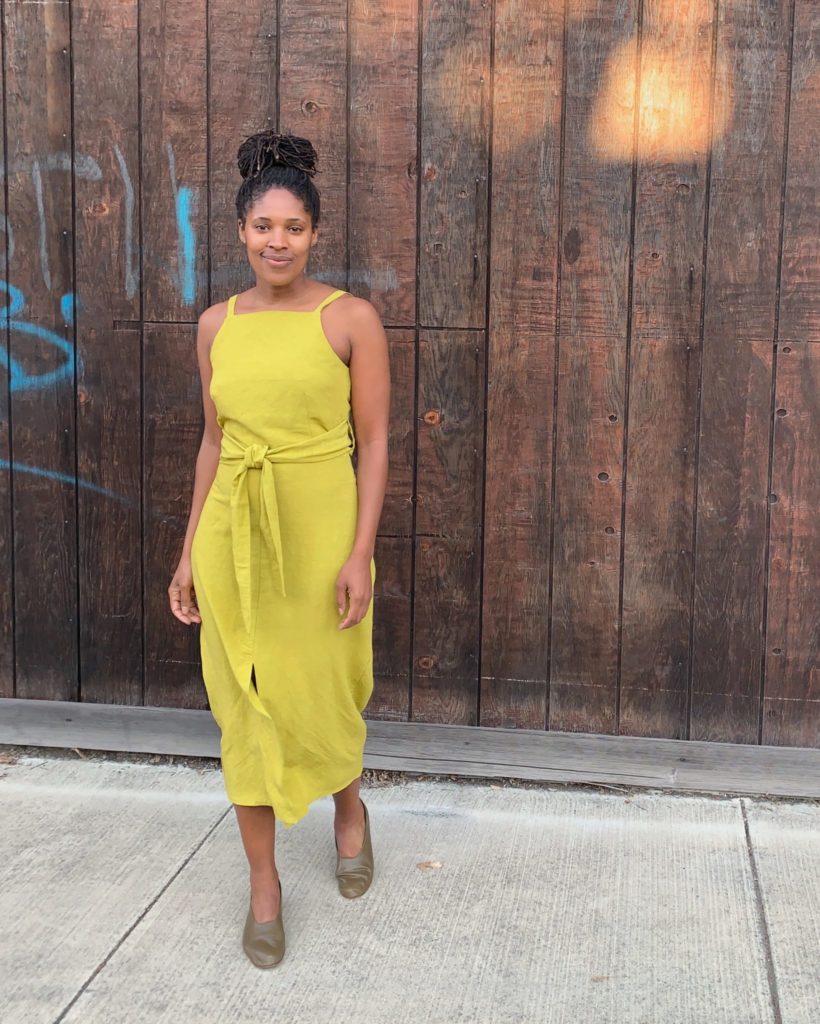 How did you pre-treat/launder the fabric?
I machine washed it (warm) and dried it (medium). I do this to just about every fabric I sew with because I'm a believer in making beautiful clothes that aren't too precious or demanding in terms of care. This fabric softened up nicely in the wash and came out of the drier with the most lovely, gentle crinkle. The crinkle ironed out a bit as I worked through the construction of the dress, so if someone didn't want their fabric crinkly, it's possible to smooth out with a hot, dry iron. But I (obviously) am a fan.
What pattern did you make?
I decided to make the Papercut Patterns Axis dress after seeing it on Stonemountain sales associate Sheng when I came to purchase my fabric. She'd made hers in a navy linen, and I loved how modern and chic she looked.
What size did you make?
I made a 3 on top and graded to a 5 at the hip. However, I ended up taking out quite a bit of ease over the hip, so I might size down to a 4 next time.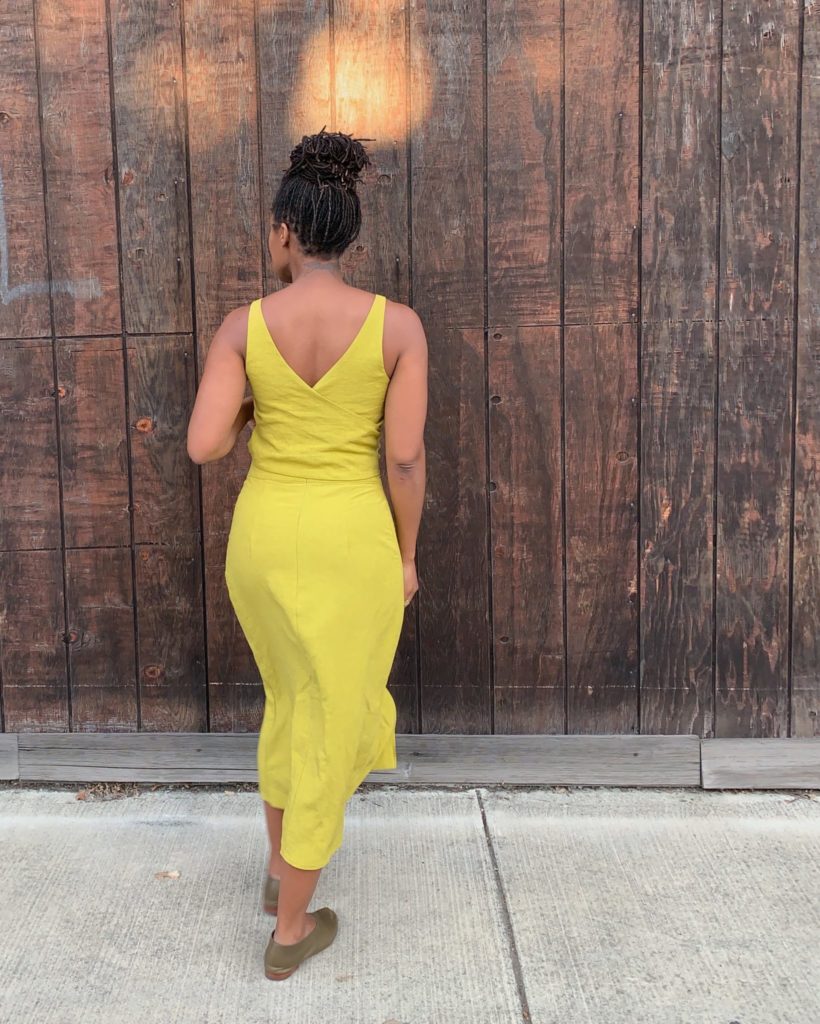 Did you make any modifications?
Sheng mentioned that she'd lowered the neckline and opened up the armsyce on her bodice, so I took the hint and made a toile of the bodice before cutting into my fabric. I ended up taking the neckline down by about an inch, and also opened up the armhole by about 3/4 of an inch. I also added some length to my skirt for a slightly more dramatic midi-length.
Did you use any special notions or tools for your project?
I made the front of the bodice toile out of sewable Swedish tracing paper. This saved me some time as the toile can be easily adjusted and then used as a pattern piece for cutting your fashion fabric. With necklines and arm openings, I find it easiest to just draw a line in right where I want it. Using Swedish tracing paper I was able to draw them in, then try on the adjustments in a few quick steps. It's fast and ensures that none of the specifics get lost in the translation of transferring your changes from muslin back to your pattern piece.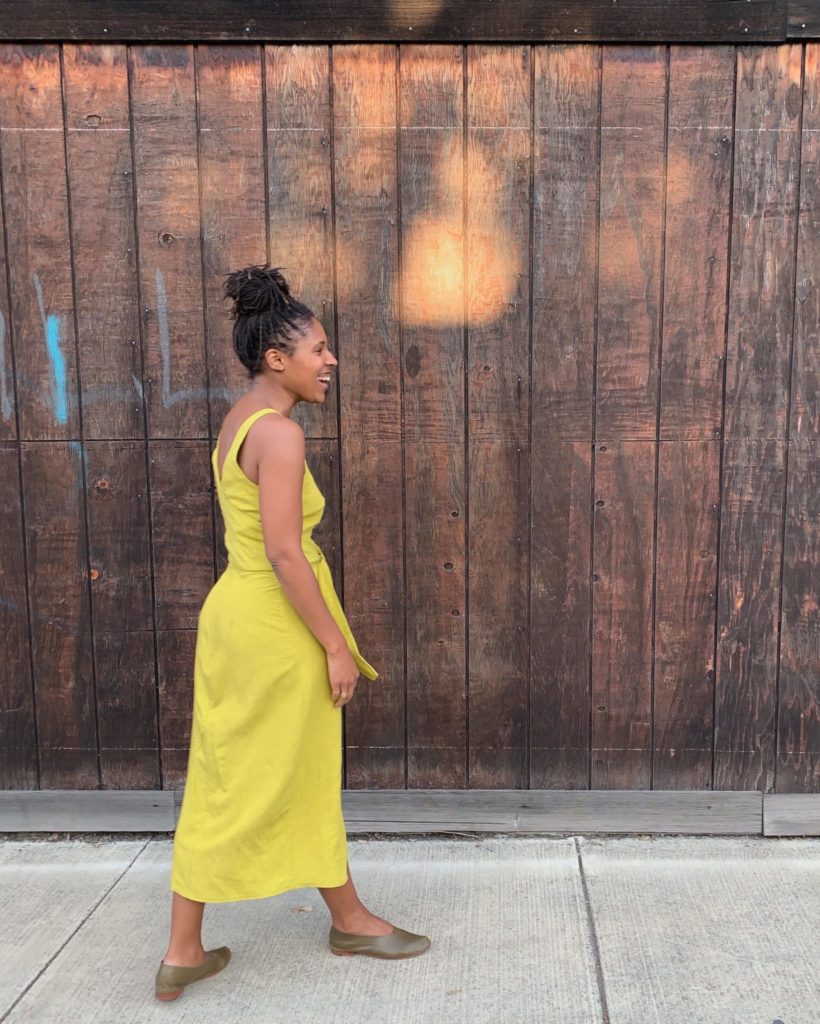 Is this garment your typical style? How will it fit into your wardrobe?
Yeah, this garment feels like me! It's easy to wear with clean, modern lines and some interesting design elements. Maybe it wasn't the most practical choice to make heading into winter, but the heart wants what it wants! I've been experimenting with layering sweaters over it and pairing it with boots. And while I'm not usually one to layer shirts underneath, I suspect this dress will look pretty good layered over a turtleneck.
What else would you like to share about your project?
This project came together pretty quickly and easily, and the finished result is really fun. I can imagine making this pattern again in a heavier weight fabric like denim and adding pockets, which I skipped this time around (shocking, I know) because I thought the fabric was a little too lightweight for them. I'm also thinking of all the things I'd like to use this fabric for in the future! Sorry for gushing, but I can't overemphasize what a joy it was to work with, and I love the personality it brought to the finished garment. Thank you, Stonemountain, for supporting me in making this piece!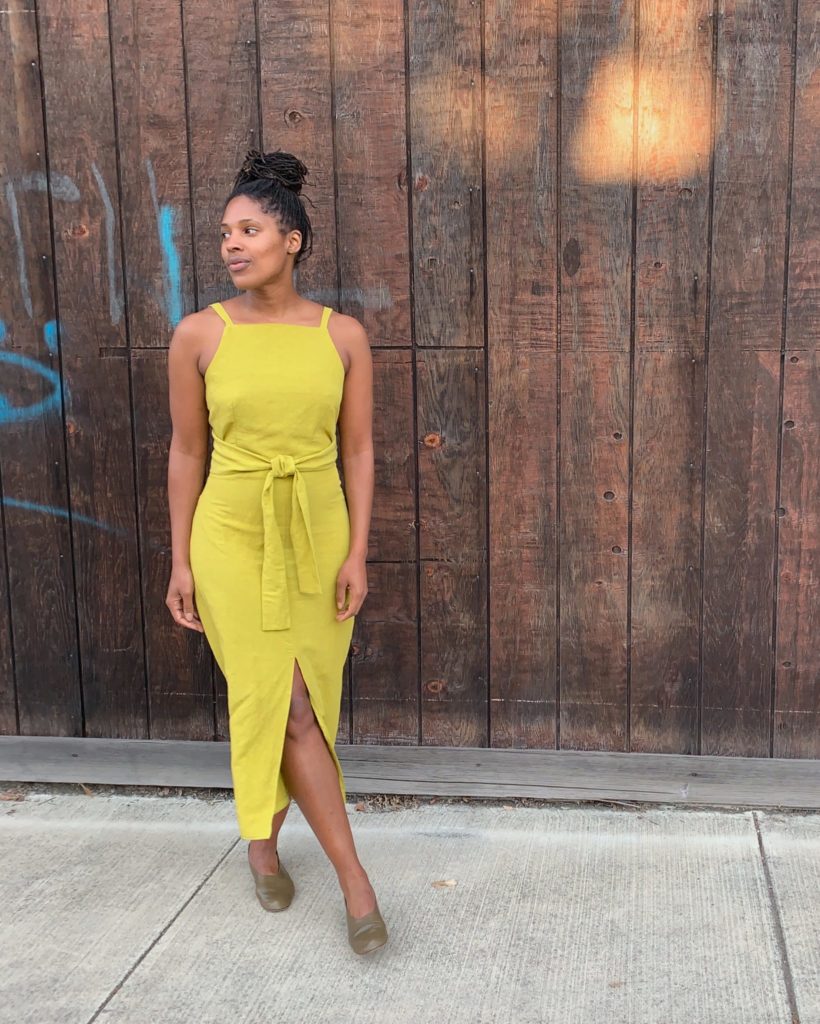 We LOVE this dress on you, Ebony! The color and fit are absolute perfection. Thank you for being part of the Stonemountain Sewists and giving us a peek into your sewing process.
Be sure to check out Ebony on Instagram! And if her enthusiasm for this fabric has piqued your interest, you can view all our colors of Slubbed Viscose/Linen here.