It seems like most makers stick to one hobby, but Julie is not like that. In addition to being an incredible sewist, she knits the most gorgeous garments and accessories. As if that's not impressive enough, she also has a great sense of style that makes all her me-mades blend together beautifully. We love her palette of rich jewel tones, earthy hues, and the pop of a bold black & white pattern. And we admire her dedication to an ethical wardrobe, whether it's her own handmade garments made from natural fibers or thoughtfully purchased RTW pieces.
Julie didn't stray too far from her typical style when she chose our Monaco Linen for a relaxed shirtdress, but she picked a color that wasn't currently represented in her wardrobe: rich, purple/brown Raisin. Monaco Linen is the little sibling to Nevada Linen—it is from the same mill and comes in several of the same colors, but is lighter weight and woven with finer yarns. This gives it a smooth, almost silky hand and light drape. It's ideal for blouses and dresses, but would also work for lightweight pants and jackets.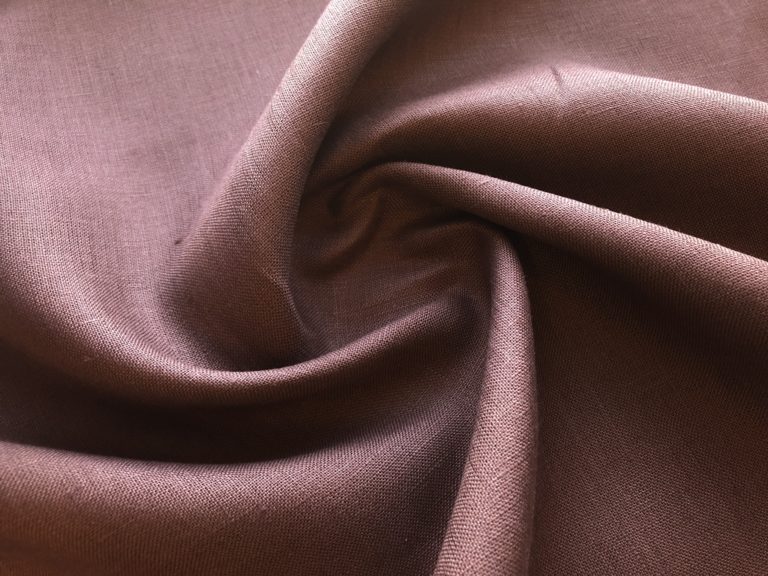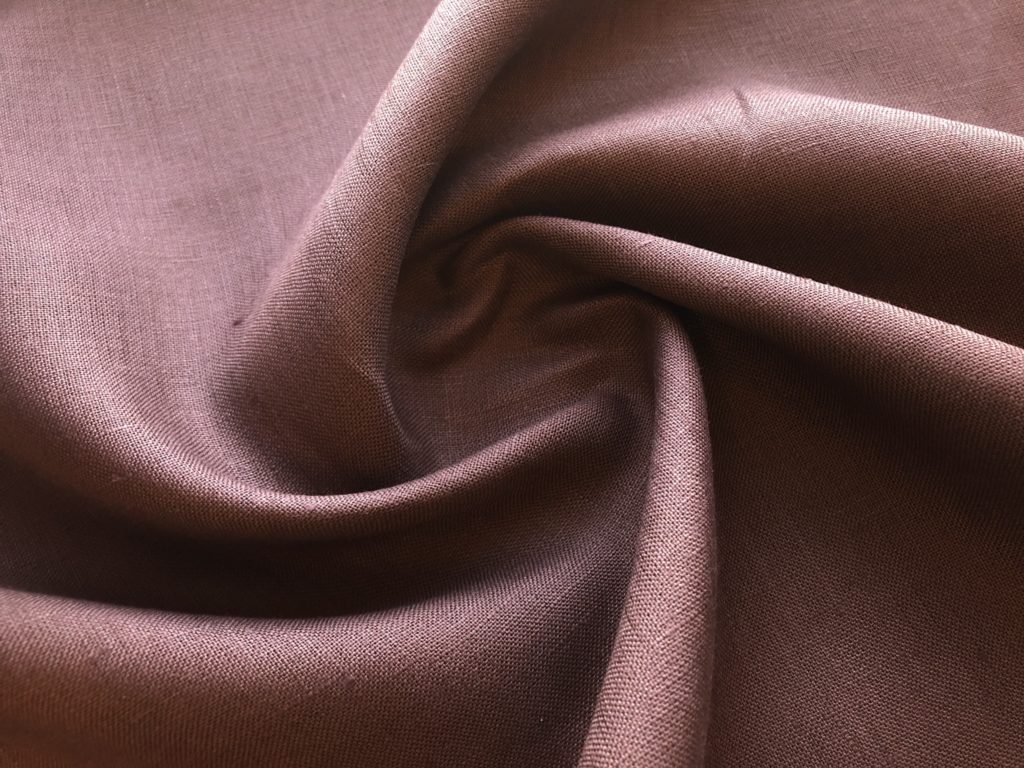 Why did you choose this fabric?
Linen is my absolute favorite fabric to sew with and to wear. I live in Chicago, and the temperature shifts throughout the year can be pretty extreme—from cold, windy, and dry winters to hot and humid summers—but the versatility and breathability of linen makes it perfect for nearly year-round wear here. In the winter, I layer up my linen garments with pants, tights, wool socks, sweaters, and shawls, and in the summer I wear them on their own. I typically sew with medium weight linens (~6-7 oz/yd), but I wanted to try a lightweight linen for this project. This Monaco Linen is 3.83 oz/yd and will be so perfect for late spring through early fall, when it's warm in Chicago.
What do you especially like about the fabric?
I love this linen's gorgeous drape, its super soft hand, and the unusual color. I wear a lot of neutrals (black, white, gray, camel), but when I go for a pop of color, I usually gravitate towards olive, emerald, and forest greens; mustard yellow; and rusty orange. Lately I've found myself wanting to integrate some purple into my wardrobe, and when I got a swatch of this Monaco Linen in Raisin, I fell hard for this color. I love how it ranges from mauve purple to almost-brown depending on the light and the colors with which it is paired.
How did you pre-treat/launder the fabric?
I machine washed the fabric on cold/delicate and dried it on low heat, which is how I wash pretty much all of my clothes. I do hang-dry a lot of my clothes, but I just love how linen garments feel after they've gone through a low-heat dry cycle.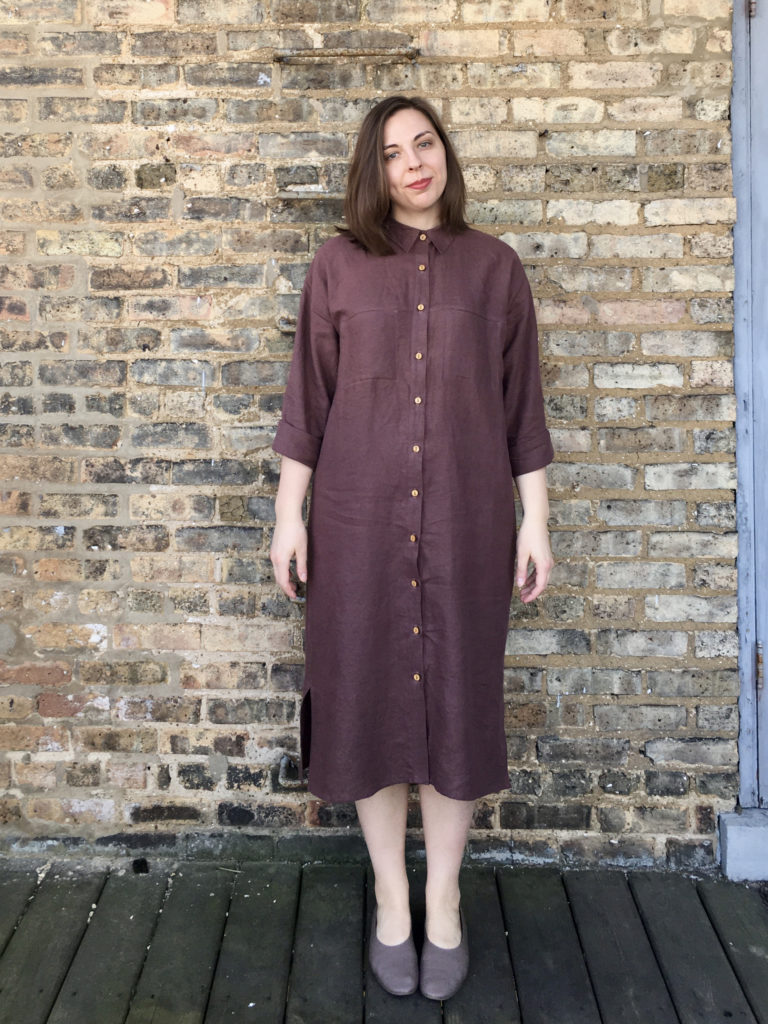 What pattern did you make?
The Olya Shirt Dress by Paper Theory Patterns. This shirt dress been on my to-make list for a long time, but I was needlessly intimidated by the unusual sleeve construction: each sleeve and front yoke is a single piece, so it has no front armhole seams. After making several other button-up shirts over the past year (Archer by Grainline Studio, Blaire by Style Arc, Cornell by Elbe Textiles, and Kalle by Closet Core Patterns), I finally felt ready to tackle the Olya. It was a really fun challenge, and wasn't nearly as difficult as I had imagined it might be.
What size did you make?
I made a size 12 with no modifications. I'm pear-shaped (37″ bust, 30″ waist, and 42″ hips), and Paper Theory's body measurements chart puts me between a 12 and 14 on top and between a 14 and 16 on the bottom. After scoping out other sewists on Instagram who have made this dress and have similar body measurements to mine (thanks to the #measurementsmovement!), and comparing the finished measurements with some dresses in my wardrobe, I ultimately decided to size down to a size 12. I wanted this dress to be roomy enough to wear unbelted without it pulling at my hips, but not so roomy that it would look too weird and billowy when I wear it belted. I'm glad to say I think I've struck that balance!
Did you make any modifications?
I didn't make any modifications to the pattern, but I had to do some creative cutting to eke this dress out of the last 2.25 yards of Monaco Linen Stonemountain had in this color when I placed my order (the suggested yardage for my size is 2.6 yards). I cut everything flat, rearranged the pattern pieces a few times to maximize the available fabric, and determined I'd have to omit the fabric belt and the inside back yoke in order to fit everything else. It wasn't a big deal though because I have brown braided belt that looks great with this color, and I was able to use a cute contrasting gingham scrap from a previous project for the inside back yoke piece. I had considered shortening the sleeves a bit because they are about 2 inches too long for my arms, but 99% of the time I wear my shirt sleeves rolled to 3/4 length anyway so I decided to leave them as-is. I actually like how the bit of extra length means I can roll them a couple of times and the rolled sleeves feel sturdy and stable, not like they're about to unroll on their own as I move around.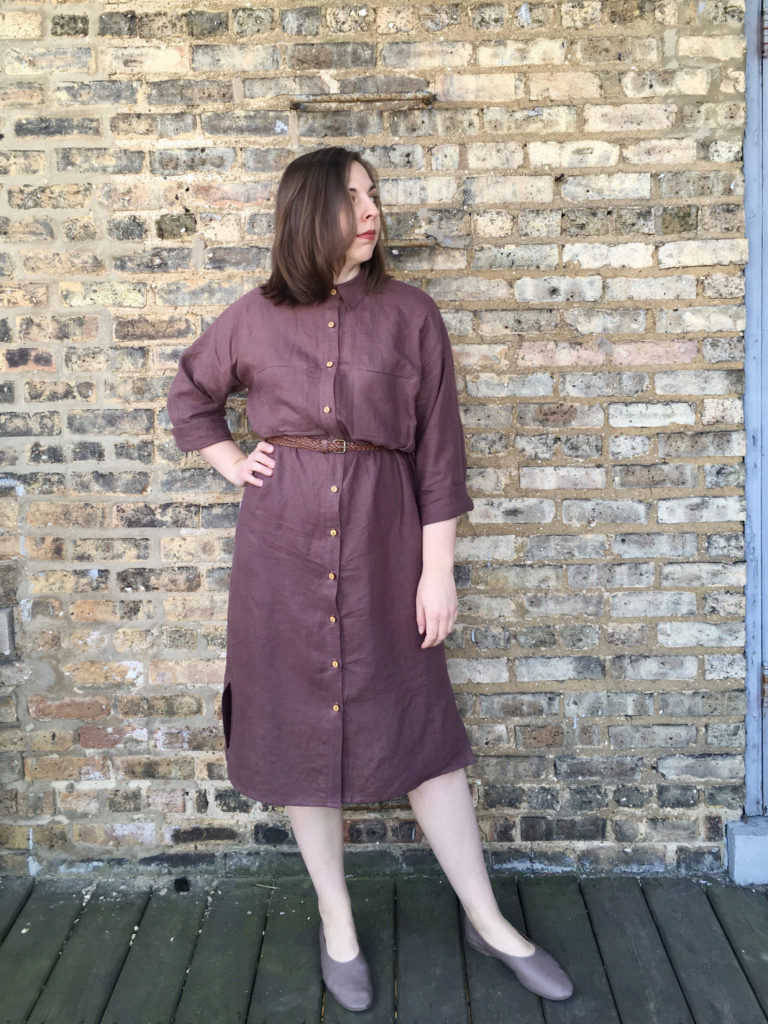 Did you use any special notions or tools for your project?
I chose to incorporate some Arrow Mountain chevron bamboo buttons for this project. I love how the light brown color compliments the purple-brown linen, and how the geometric chevron design adds some additional visual interest when you see the dress up-close.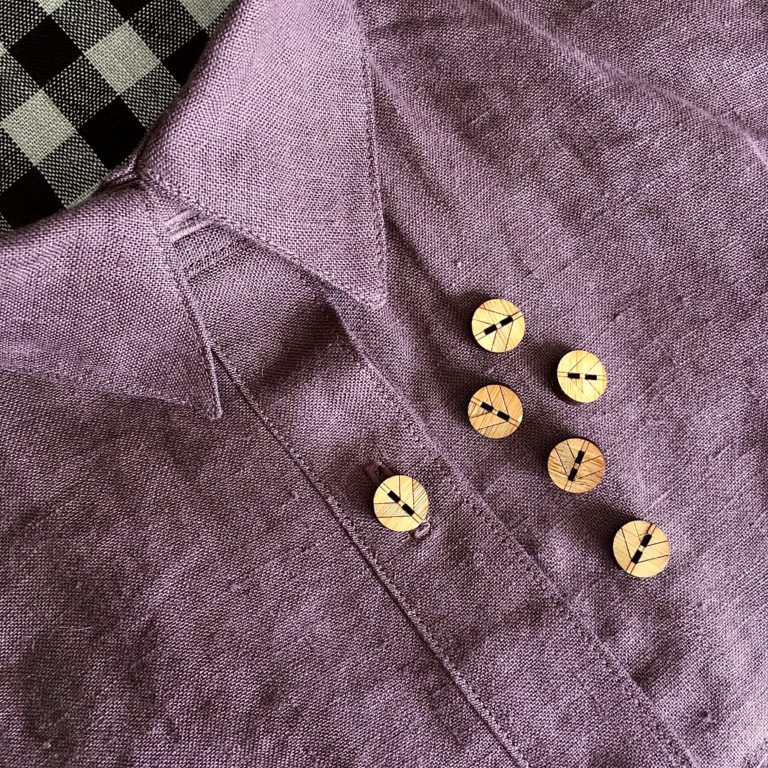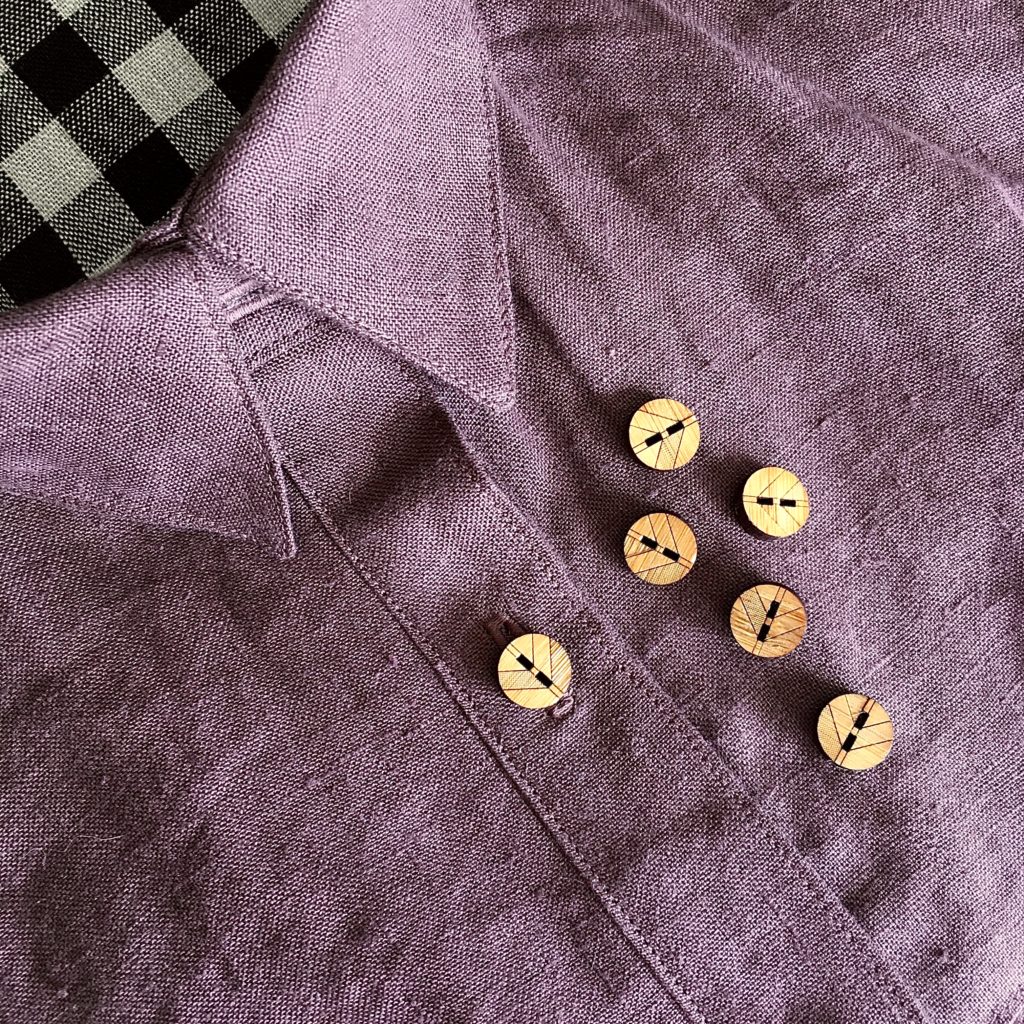 Is this garment your typical style? How will it fit into your wardrobe?
Comfort and versatility are the two most important things I keep in mind when adding new garments to my wardrobe, and this shirt dress checks both of those boxes. The shape and fit definitely falls within my typical style—it's a bit oversized, super wearable, and looks both relaxed and put-together. The purple-brown color is an unusual choice for me, but I love how it goes well with neutrals as well as both cool and warm tones. I'll probably wear this (belted or unbelted) to my office job with flats most of the time, but I've already worn it at home unbelted and layered over cropped jeans with clogs for a more casual look. It would also look great unbuttoned as a long, lightweight duster.
What else would you like to share about your project?
I'm very thankful to have had the chance to participate in the Stonemountain Sewist program alongside many very talented and inspiring sewists, especially in these unsettling times. When I was planning this project in late February, the situation here in the US was very different than it is now due to the rapidly-evolving nature of the coronavirus/COVID-19 pandemic. I had intended to wear this dress during a vacation to Portugal at the end of March, but over the intervening weeks I postponed my trip and have completely transitioned to working from home and practicing social distancing. Working on this project offered me a very welcome temporary distraction, which I was very privileged and thankful to have during this time. I've already worn this Olya shirt dress a few times while working from home and taking periodic walks around my neighborhood and trips to the grocery store, and I've lovingly dubbed it my "social distancing nightgown, but make it fashion" dress! I look forward to wearing it once this pandemic is over, but in the meantime, it's bringing me lots of much-needed comfort and joy.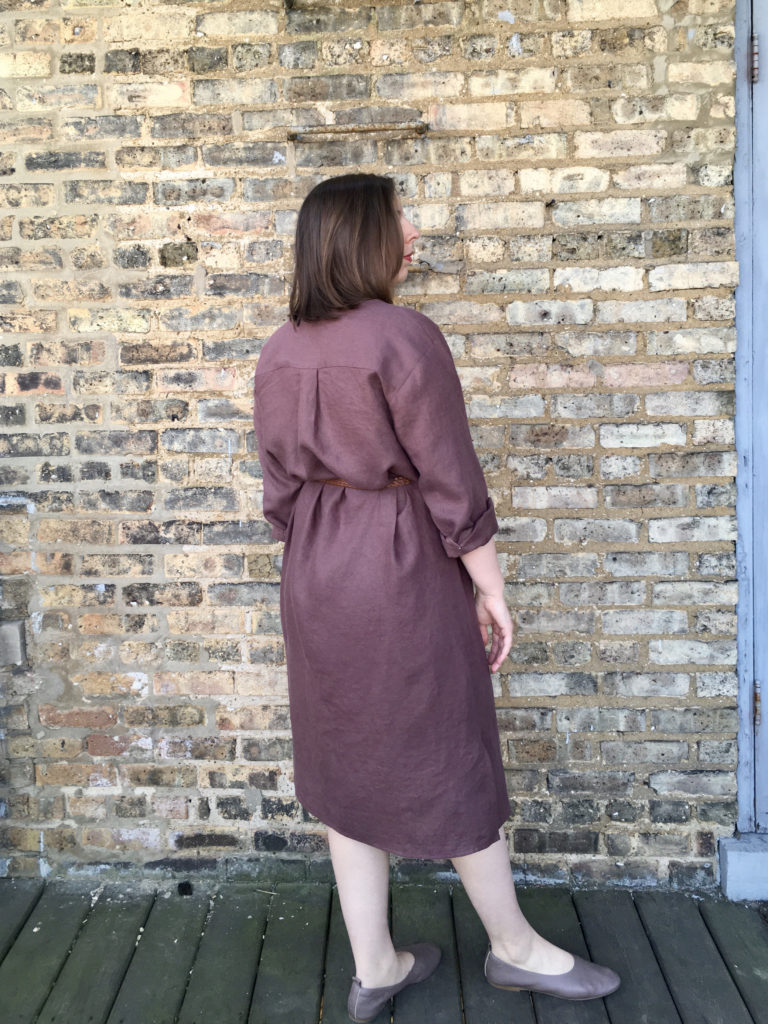 It's been a few months since you made this garment. How has it worked for you in that time?
The Monaco linen was immediately soft after I prewashed it, but it has continued to soften up beautifully and this Olya dress has found its prime place in my wardrobe, just as I suspected it would. I've been continuing to work from home since I made this dress back in March, and it has become one of my most-worn work dresses. The button-up style helps me feel put-together on work days when I have a lot of Zoom meetings, while the lightweight and super-soft linen keeps me feeling ultra comfortable. Perfect secret work-pajamas!
---
Julie, thank you so much for sharing your beautiful shirt dress! We love that it's found a lasting place in your wardrobe and become a staple during quarantimes.
Whether you're a sewist or a knitter (or both!) we highly recommend you check out Julie's Instagram. It's chock-full of inspiring garments and outfit styling. You'll definitely want to take a look if you're into button-up shirts—she's made so many amazing variations!
And if you're reading this before Tuesday, August 25th then you still have time to get this linen (and many others!) at 15% off. Head over to our sale section!