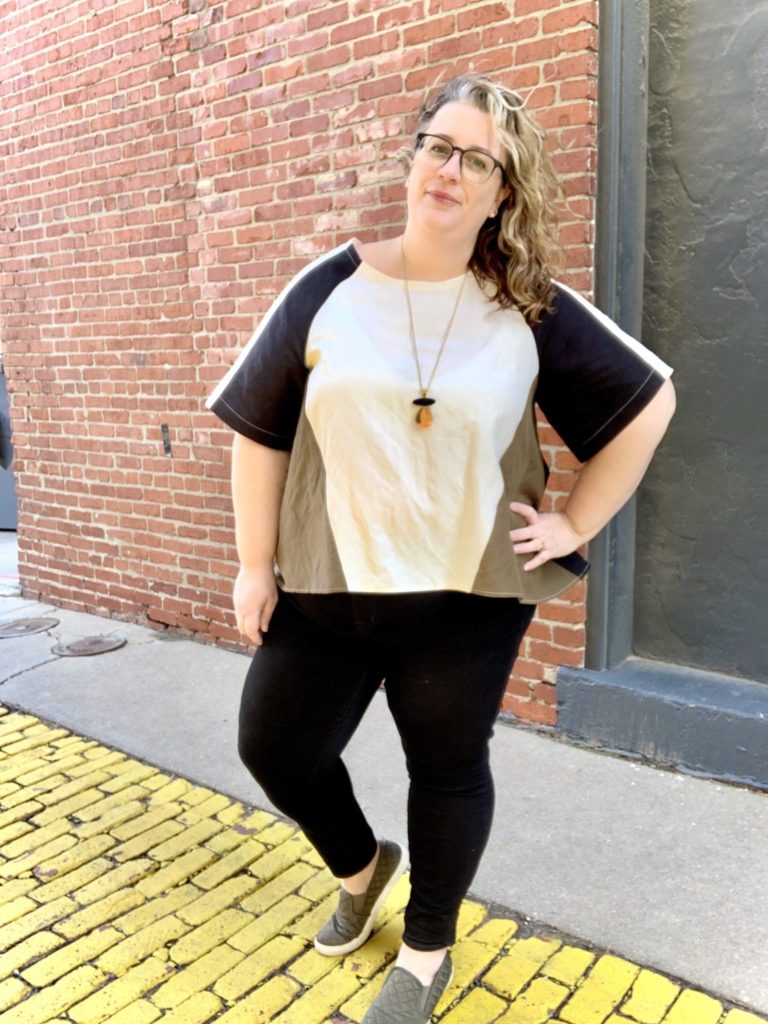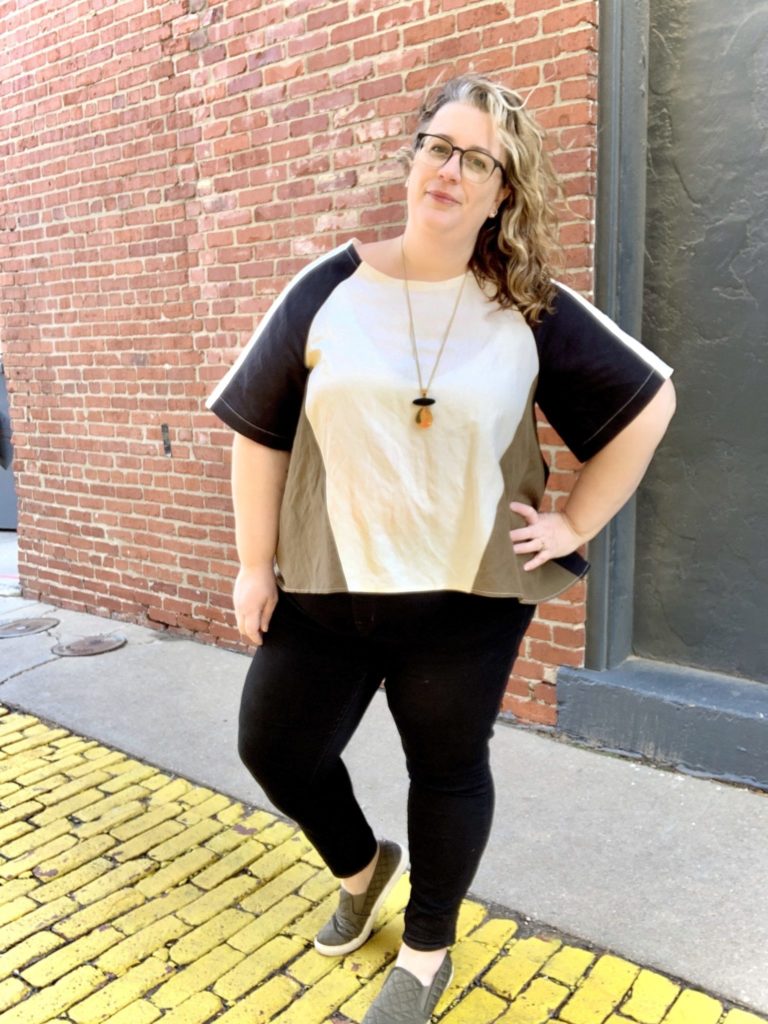 Kristine is one of those sewists who seems to have it really dialed in. She knows what she likes, she knows what she wants to add to her wardrobe, and she knows what she wants to spend her time sewing (which is important when you have both a full-time job and two small children, because sewing time is in short supply!). Kristine's me-made wardrobe is full of color, prints, flowy shapes, and drapey fabric. She's very smart about color, pattern, and how to mix the two. So when we saw that she was planning a color blocked Collins Top, we were definitely excited because we knew she would do an incredible job!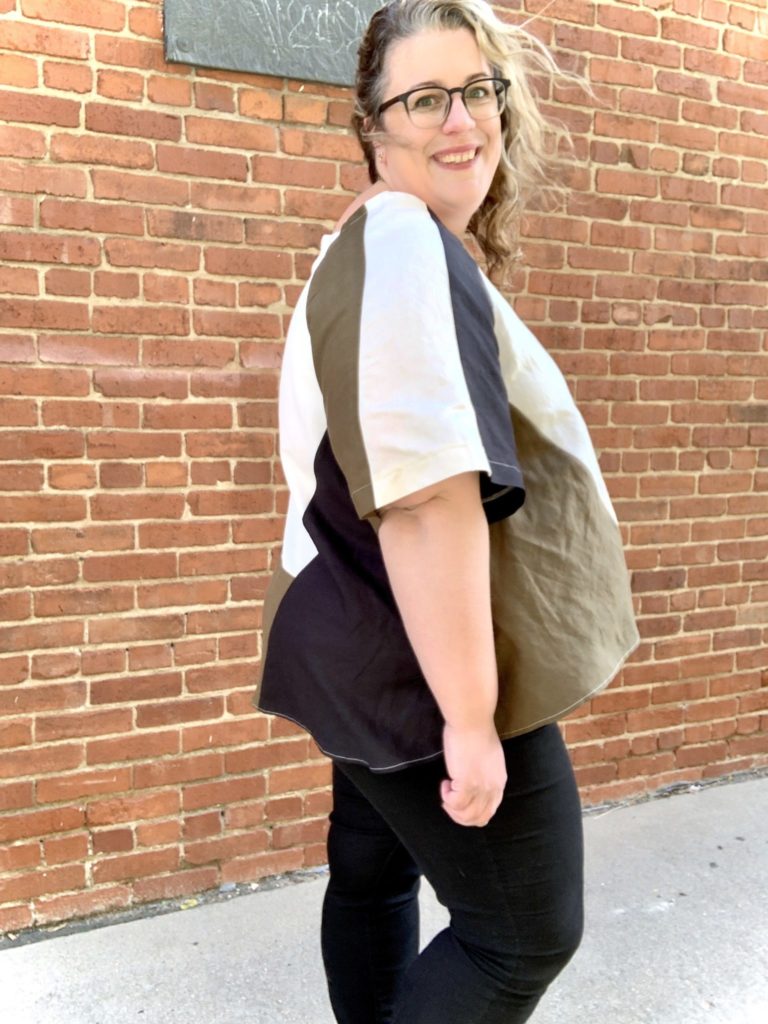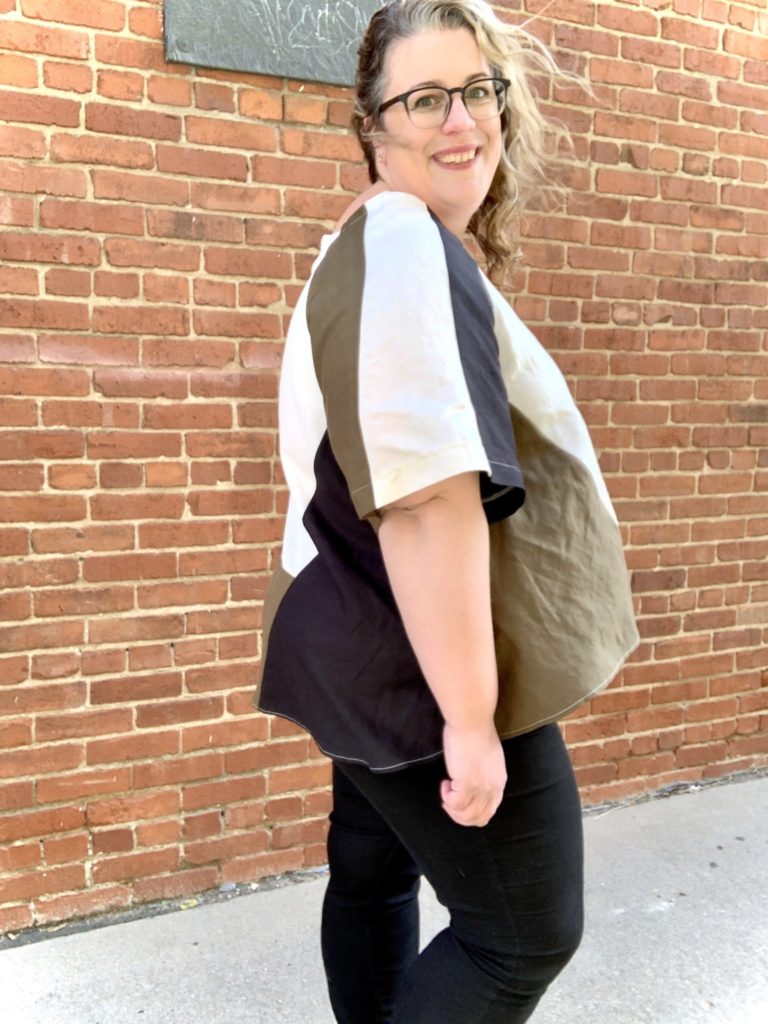 Why did you choose this fabric?
I knew I wanted to do a color blocked design, so I needed something with multiple colorways. I thought the silk would give the linen a little bit of body to work with the volume of the Collins Top. I also wanted something that would look crisp and a little bit luxe.
What do you especially like about the fabric?
This is my first time using a silk-linen blend, and I'm very pleased with both the drape and how it is wearing. I am finding that it wrinkles less than a 100% linen, but still softens with wear. Also, it was very easy to sew! I used French seams for much of my garment, and this fabric behaved beautifully.
How did you pre-treat/launder the fabric?
I pre-washed in cold water using my regular detergent and tumbled dry on low heat. I washed the olive and black colors together with a swatch of the ivory color to see if there was any bleeding, and luckily there was not. This will enable me to machine wash the top post-construction without worry.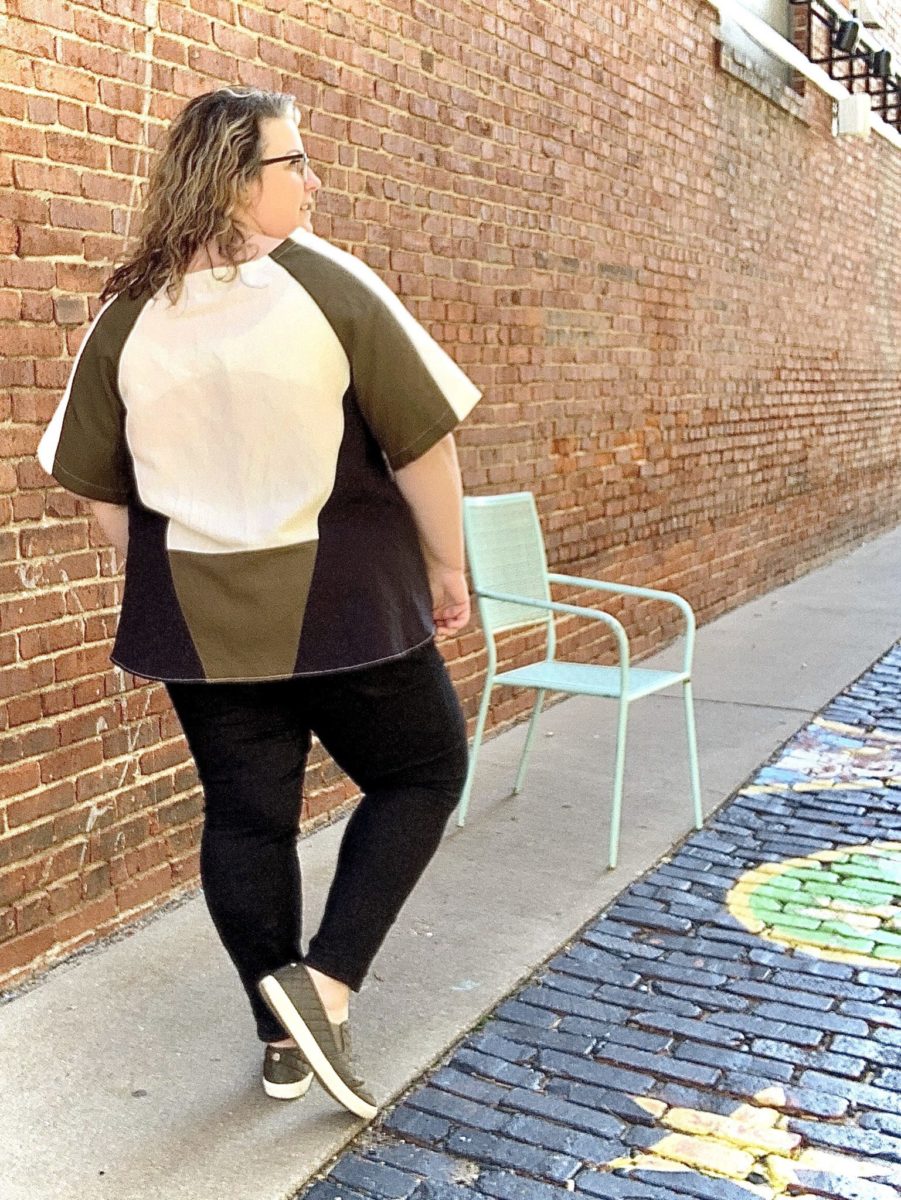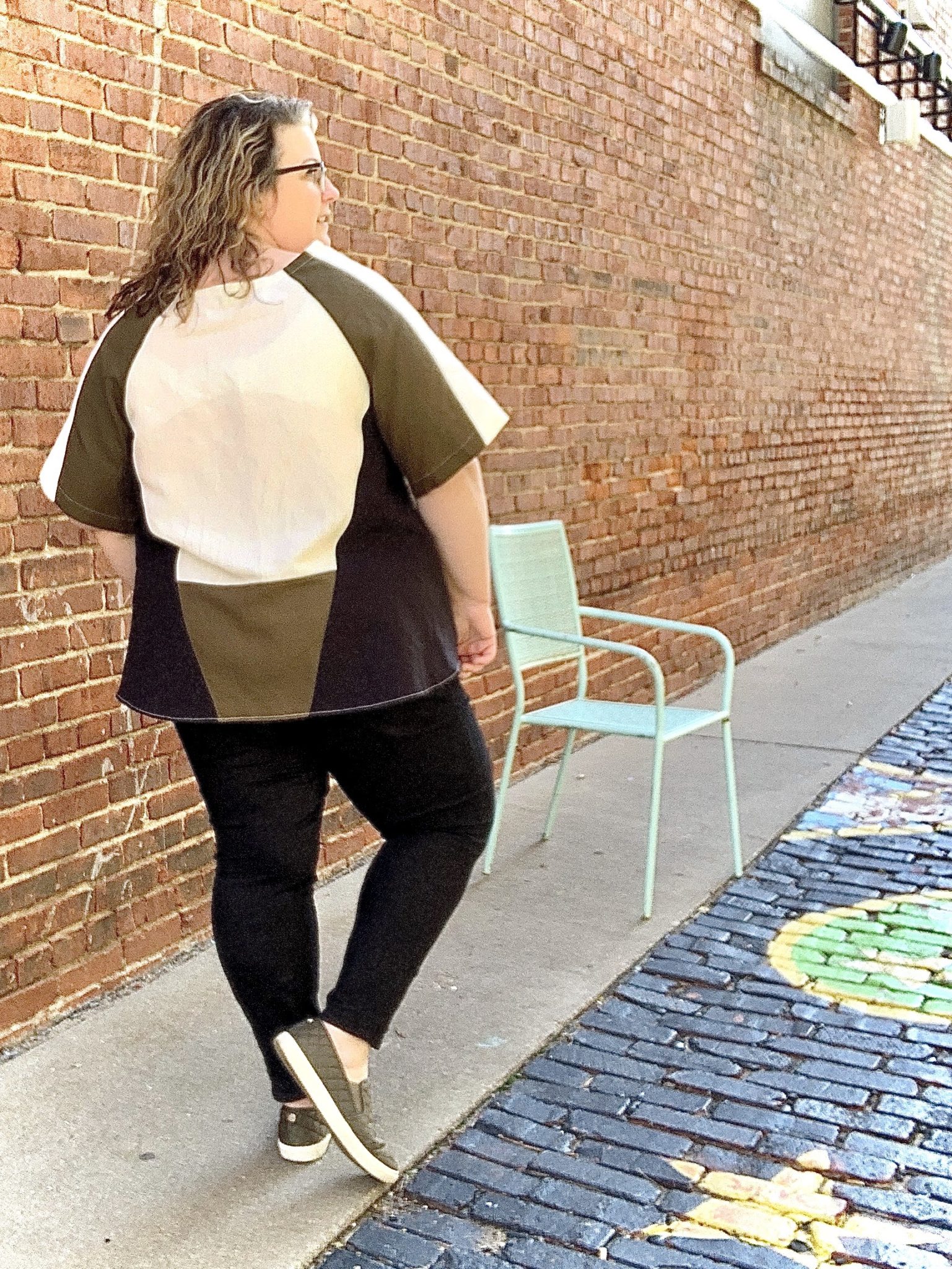 What pattern did you make?
I made the Collins Top by In The Folds. I've made two previous versions of this top, and it's one of my favorite patterns to sew. I especially like that there is a template included with the pattern to use for sketching ideas.
What size did you make?
I sewed a size "I" according to my high bust measurement, which is 46″. My full bust and waist put me in a size "J", but there is plenty of ease in those areas and I wanted a good fit at the shoulders and neckline. Side note: this pattern is excellent if you have fat arms. I made the sleeve with no mods, which is very rare for me!
Did you make any modifications?
I omitted the center back seam and center back neck opening. This top can be pulled on easily without the keyhole opening.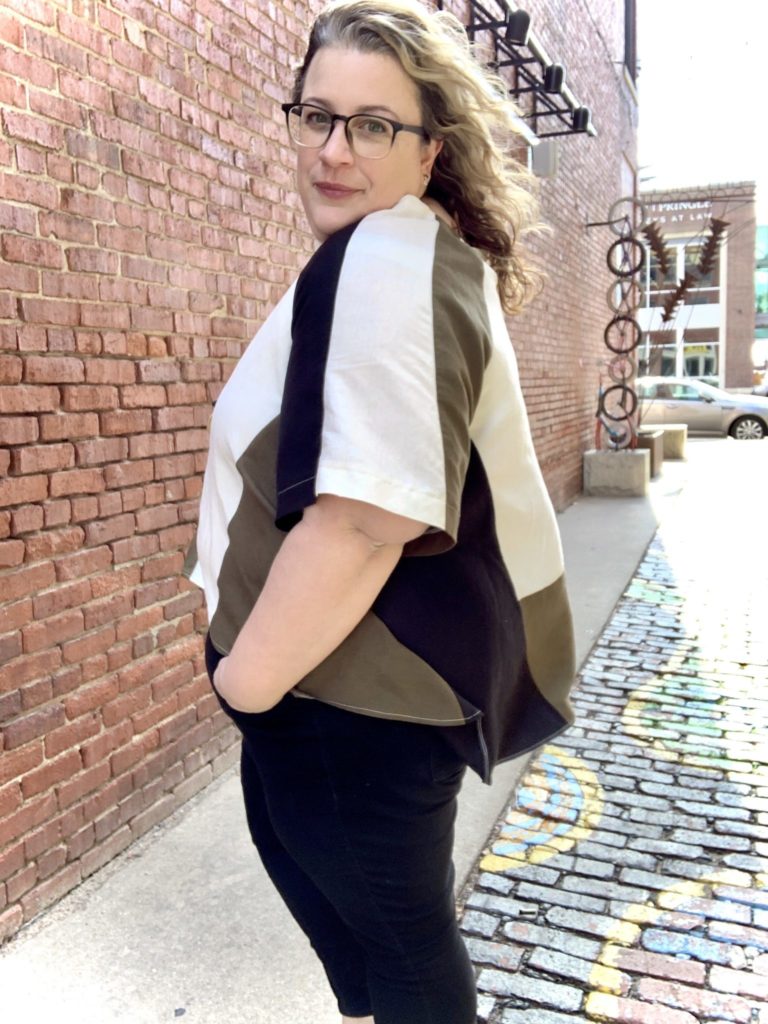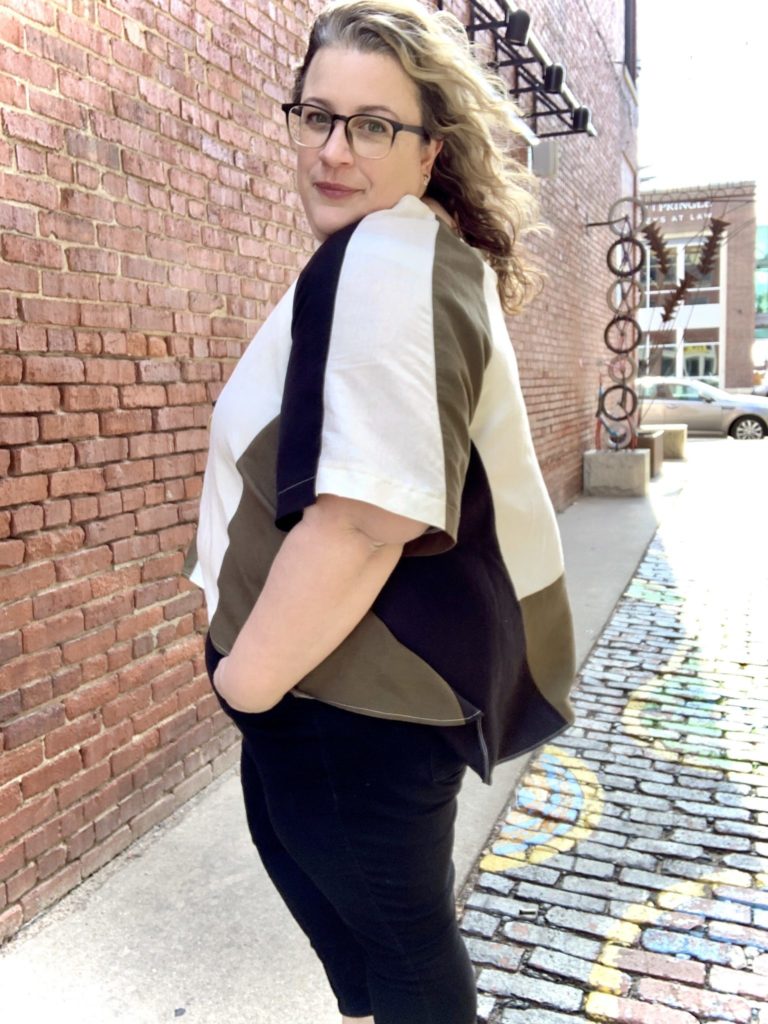 Did you use any special notions or tools for your project?
I did not, none were needed. Just my sewing machine and iron.
Is this garment your typical style? How will it fit into your wardrobe?
Yes, this is my typical style. I am an architect, and although I dress pretty casually day-to-day, I like to wear tops that are a little bit artsy and conversational to work. I feel like I can wear this top to a client meeting or a job site and feel put together and look cool.
What else would you like to share about your project?
I've enjoyed making this top start-to-finish, and I know it will get many years of wear in my wardrobe. Thank you Stonemountain for the opportunity to create something out of your beautiful fabrics!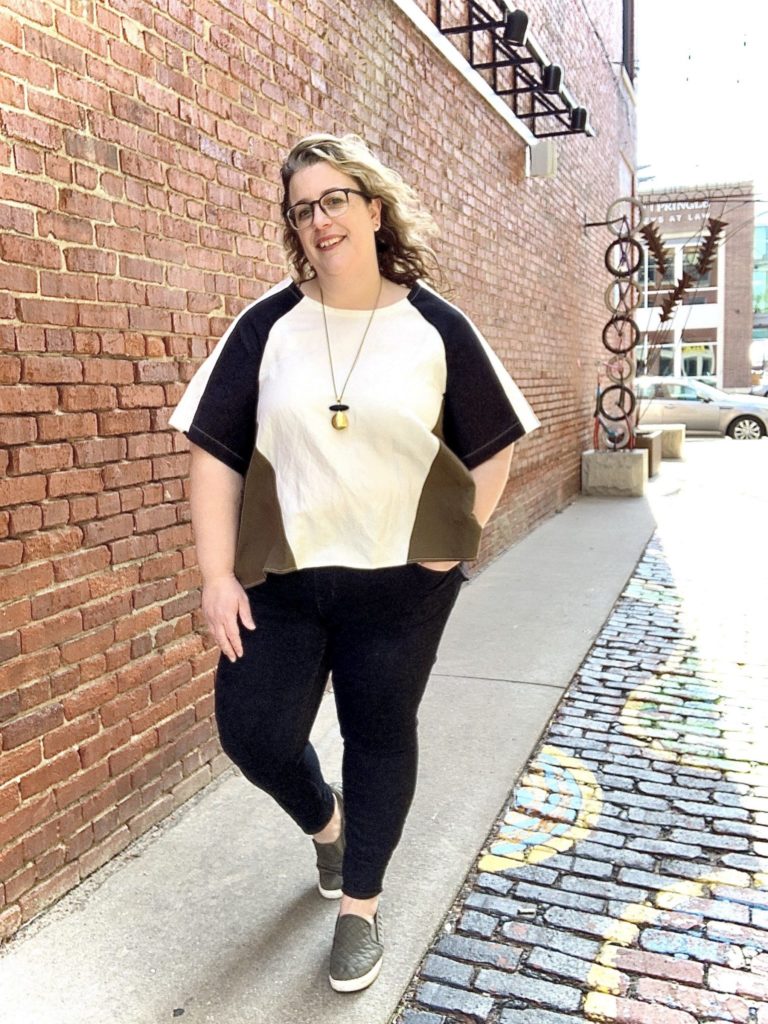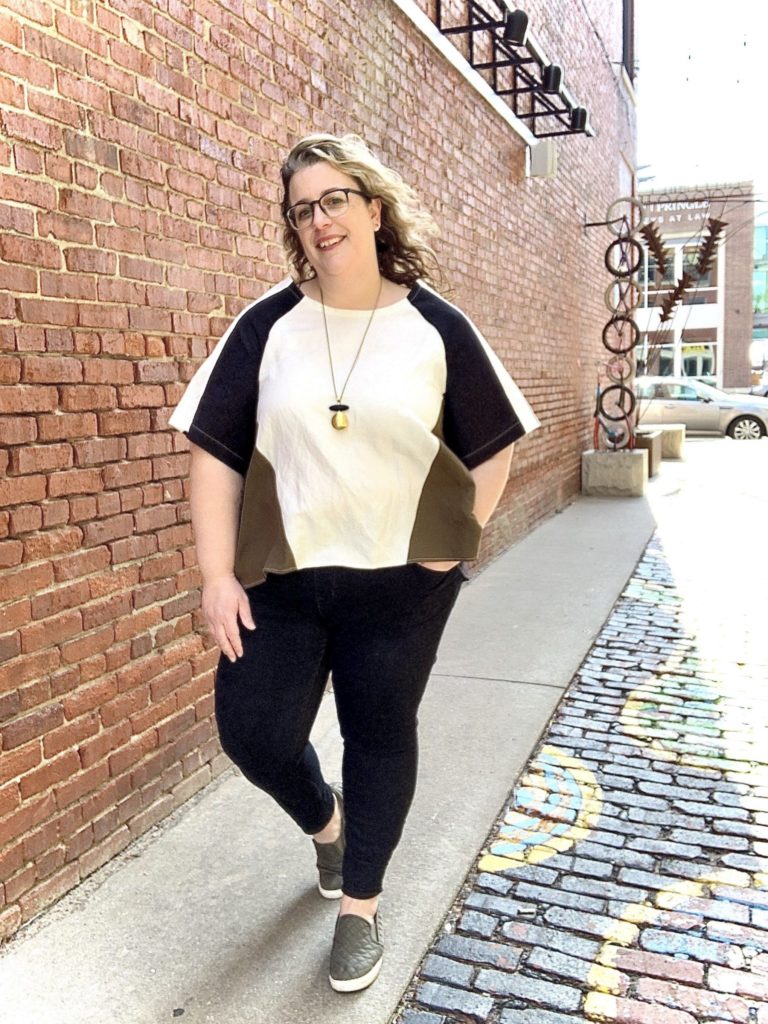 We can't get over how cool this top turned out! It's basically everything you want in a garment—chic, comfortable, easy to wear, made of lovely natural fibers, and machine washable. And we love that such an "architectural" garment is worn by an actual architect.
Kristine, thank you for sharing your gorgeous Stonemountain Sewist project with us! And for showing us how easy it is to style a bold top (we're definitely taking note of this cool sneakers and statement necklace combo). You can find Kristine on Instagram as @kristinesews. Be sure to follow her for loads of inspiration, but be prepared for some serious wardrobe envy!