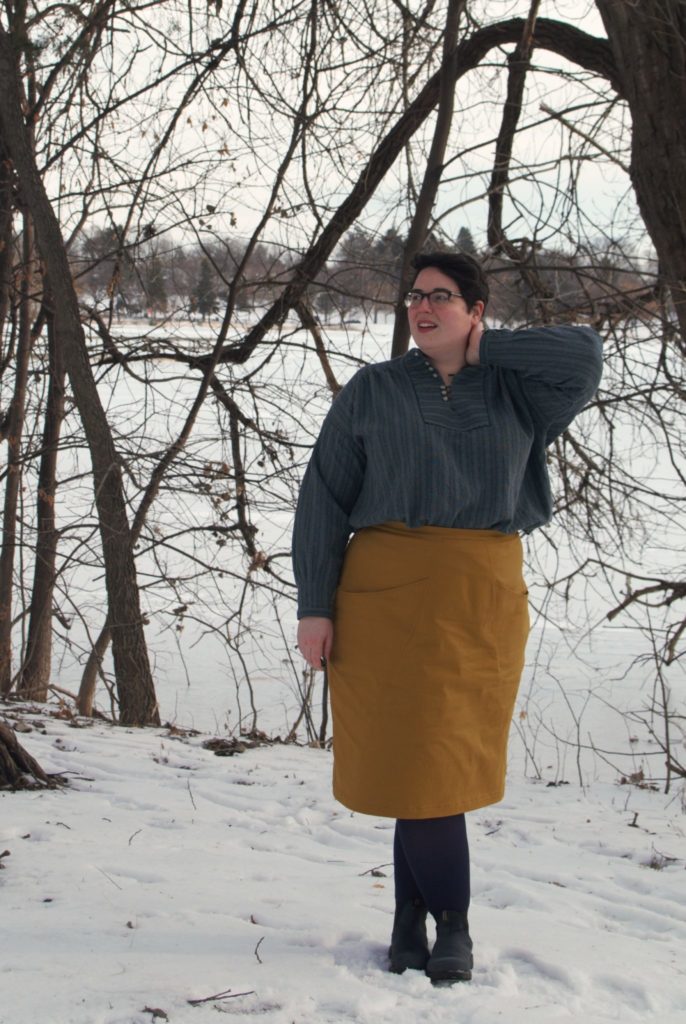 If you don't know already, Shannon is a real gem in the sewing community. We love how she uses sewing to express her full range of style, from dapper vests paired with perfectly tailored shirts to flowy, floral dresses. And in addition to her personal sewing, Shannon also makes clothing for her partner, does beautiful embroidery, and is the founder/coordinator of Sew Queer, an Instagram community space where queer sewists can share, discuss, and meet. Oh, and did we mention that she also recently completed her Phd?!
It's wonderful that several of our Stonemountain Sewists want to make two garments for their project—we love to see how people think about a cohesive outfit while making garments that can be mixed and matched with other pieces. For her outfit, Shannon chose two fabrics that are so versatile they could be considered basics, but they're much more interesting than that! Textured Yarn Dyed Cotton – Lattice – Ocean is a soft, midweight cotton with yarn dyed blue/green/grey color variation and subtle texture. Jetsetter Stretch Twill is a classic stretch woven that would work beautifully for pants, dresses, jackets, and (of course!) skirts.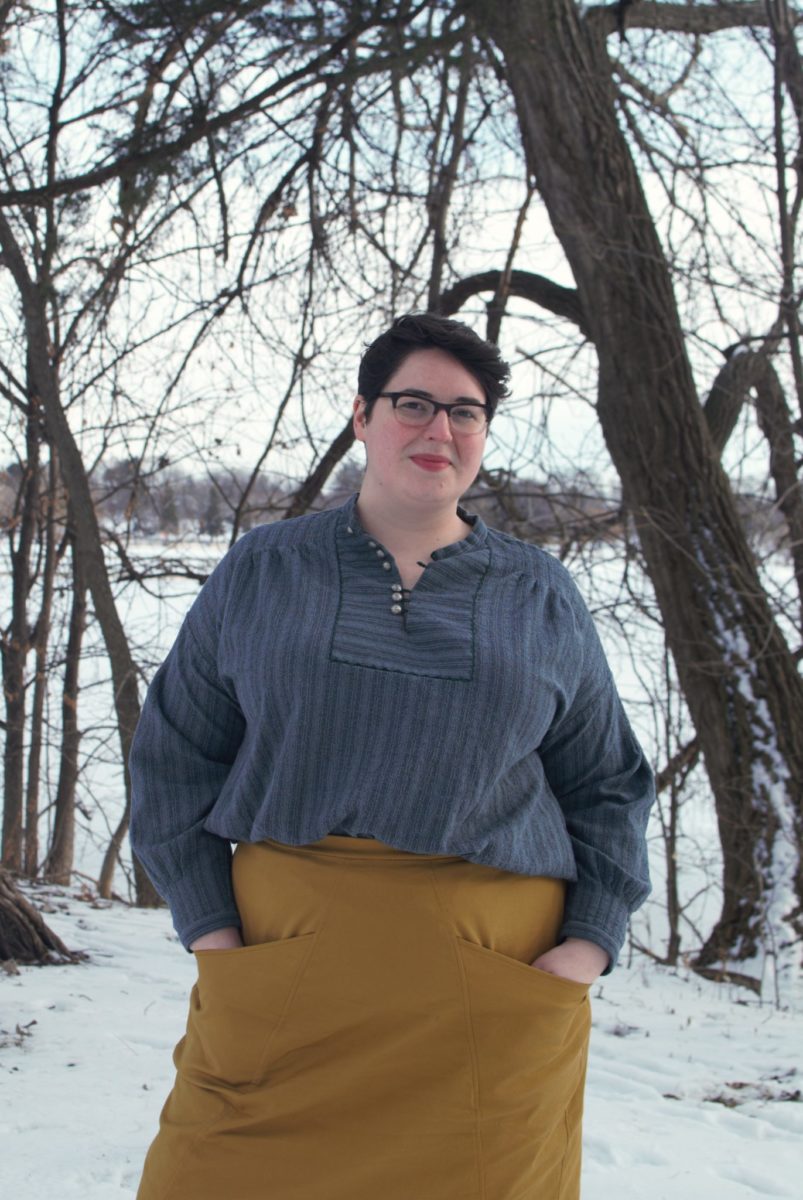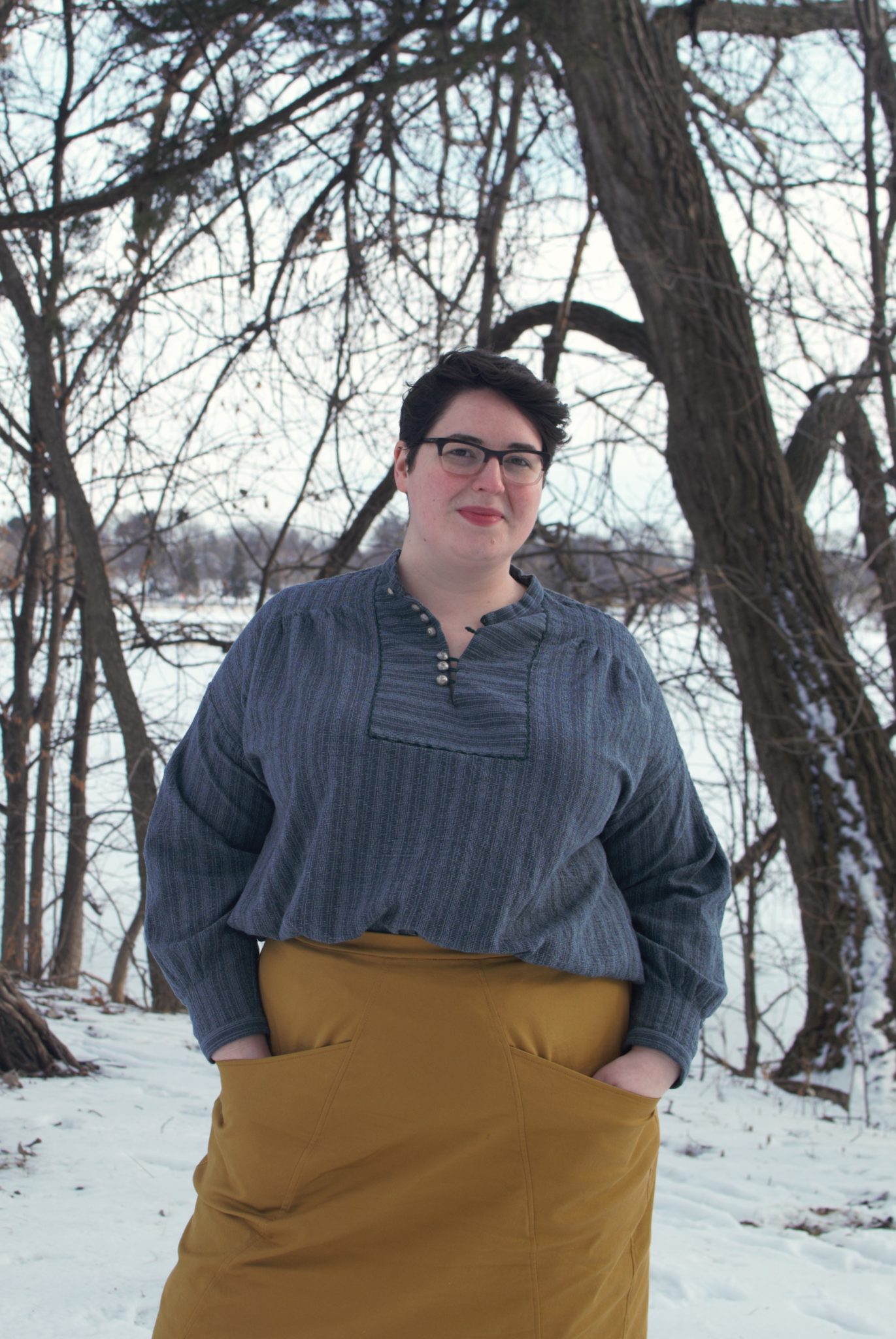 Why did you choose this fabric?
I picked the textured yarn dyed cotton because it had a historical feeling to it, and I knew I wanted to make a top with some vintage details. To go with it, I selected a stretch twill that I knew would be good as a bottom-weight. I'd never worked with stretch twill before so I was excited to try it out!
What do you especially like about the fabric?
The subtle color and variation in texture of the yarn-dyed cotton is beautiful. I like that I could use the reverse side to add an extra difference to details like the front yoke, collar, and cuffs. The color has a beautiful shifting tone that reminds me of the winter ocean. The stretch twill has a slight sheen on the right side that gives it a polished edge.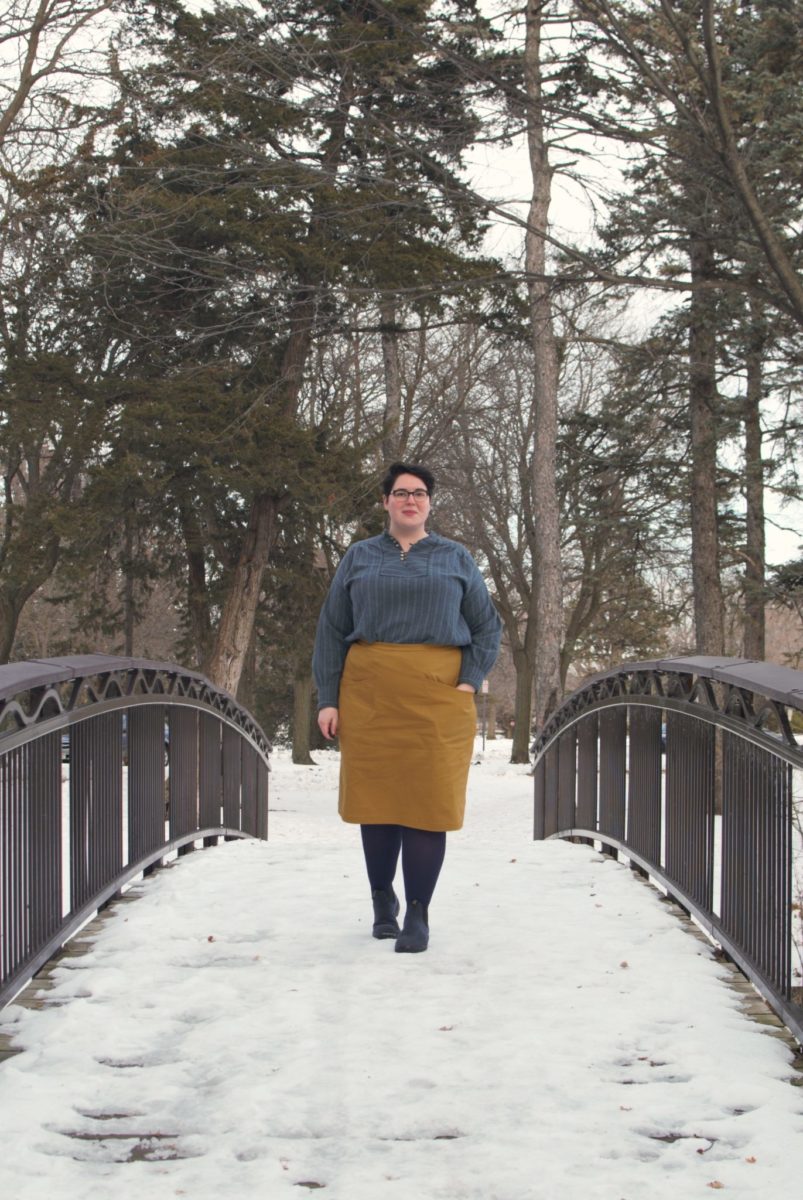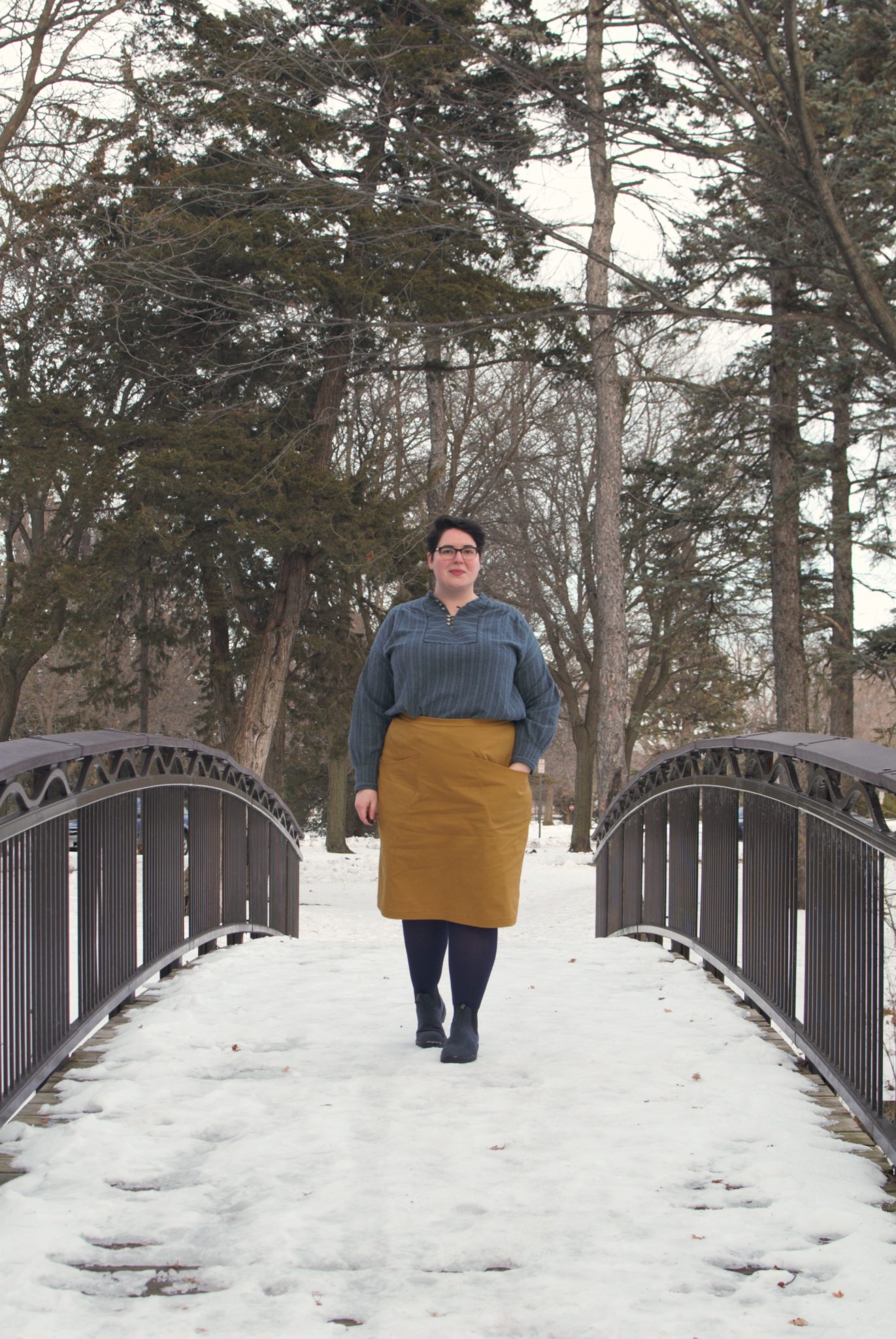 How did you pre-treat/launder the fabric?
I washed both with hot water and dried on high, to shrink as much as possible.
What pattern did you make?
The top is self-drafted and the skirt is the Blueprints for Sewing A-Frame.
What size did you make?
A size 22 at the waist, graded to a 24 at the hips.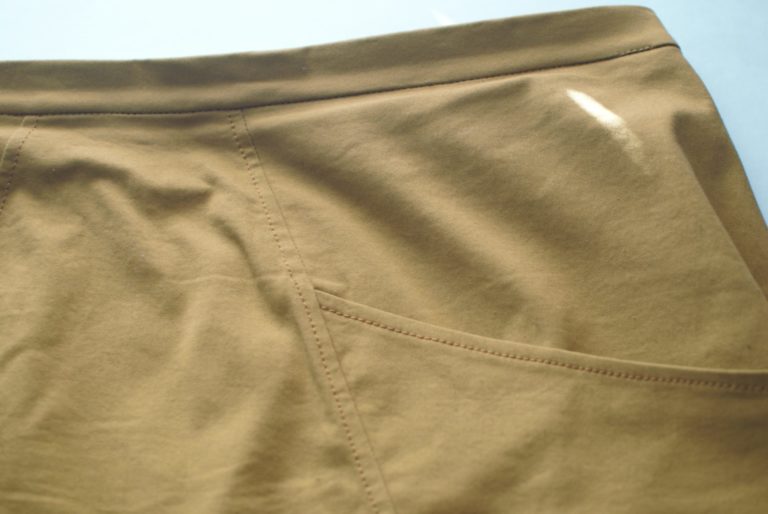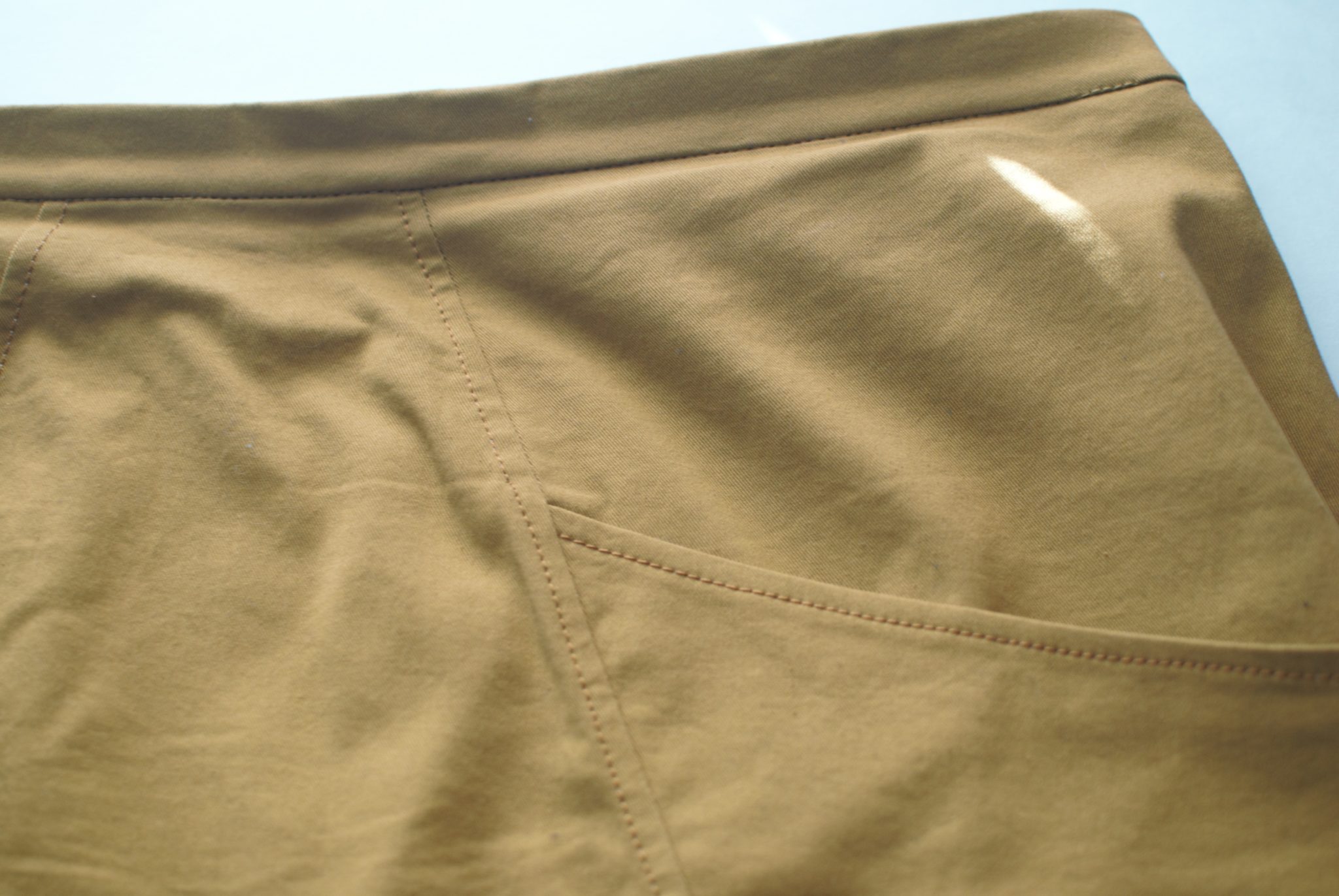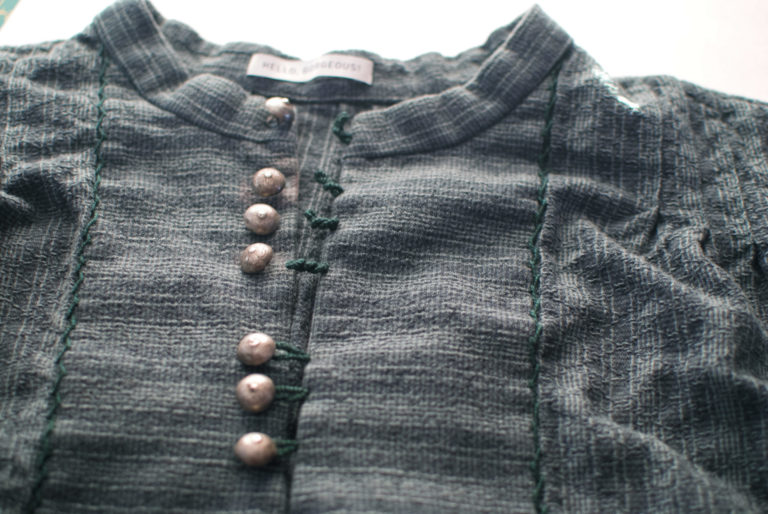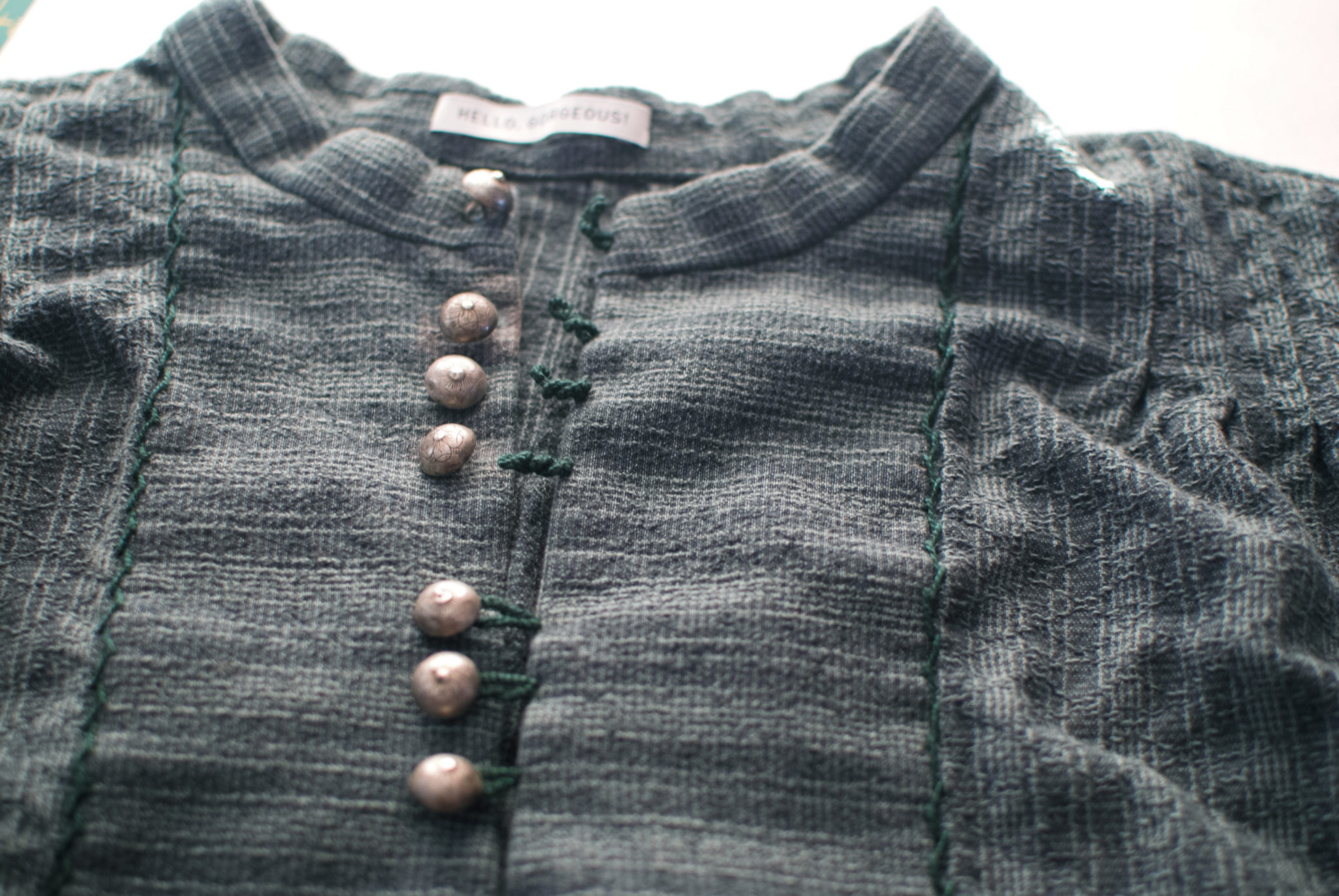 Did you use any special notions or tools for your project?
The buttons on the top are vintage metal shank buttons with hand-etched details. I used perle cotton to work button loops.
Is this garment your typical style? How will it fit into your wardrobe?
I envision the skirt fitting into my work wardrobe very well, and I love that the stretch means it's also comfortable enough to go on adventures in! The top is a little more special. I was inspired by the costuming on the historical TV drama Black Sails and wanted to see if I could work a pirate-inspired top into my everyday wardrobe. I think with these sturdy boots and practical skirt it works quite well!
What else would you like to share about your project?
I really enjoyed taking the time to work on the details of the top. I sewed rows of stitched-edge pleats in multiple places: at the front of the shoulder, the back of the neck, and the top and cuff of each sleeve. The linear pattern of this fabric made it really easy, though! I just followed the lines while pressing and stitching and every pleat came out even.
Using the stripes in a yarn dyed pattern to line up pleats and tucks is genius! If you want to try something similar, check out our yarn dyed & striped fabrics here. You could also use this tip with ginghams & plaids!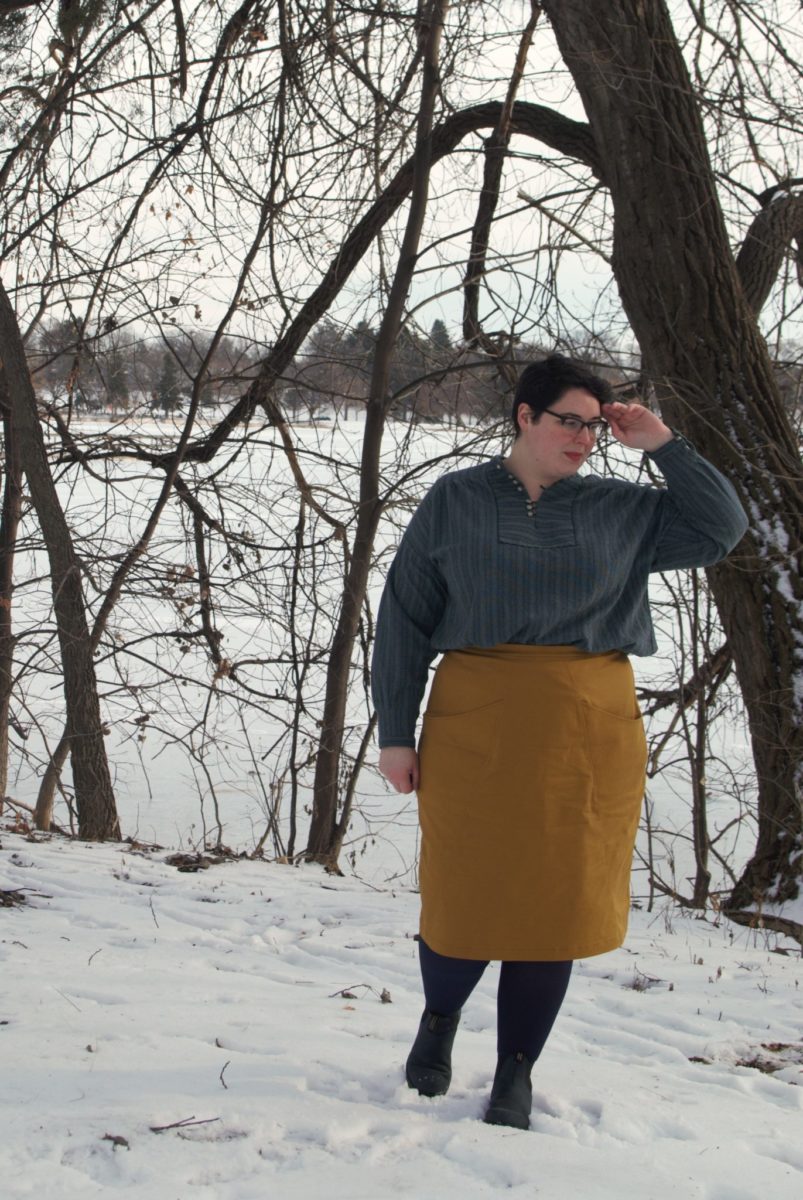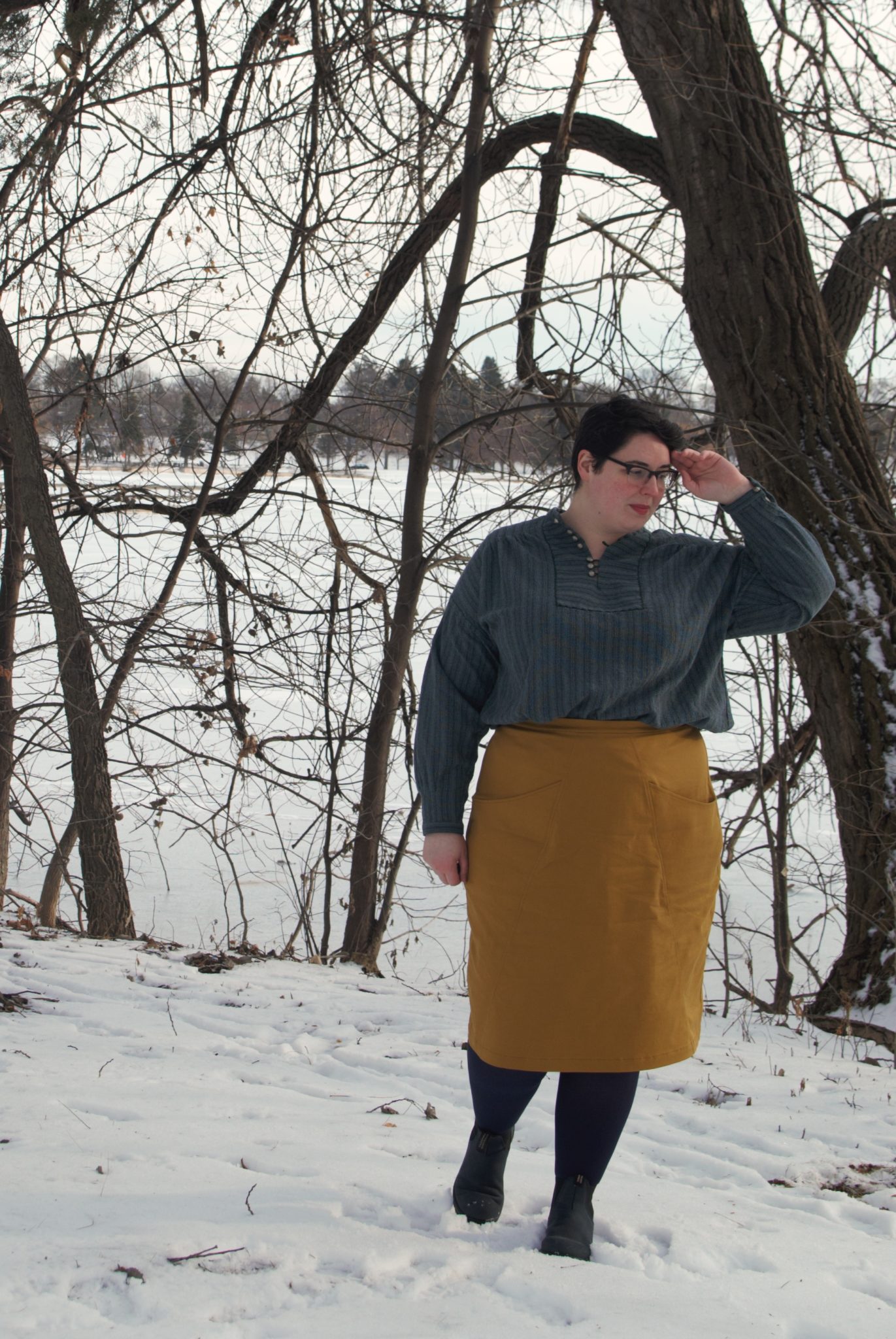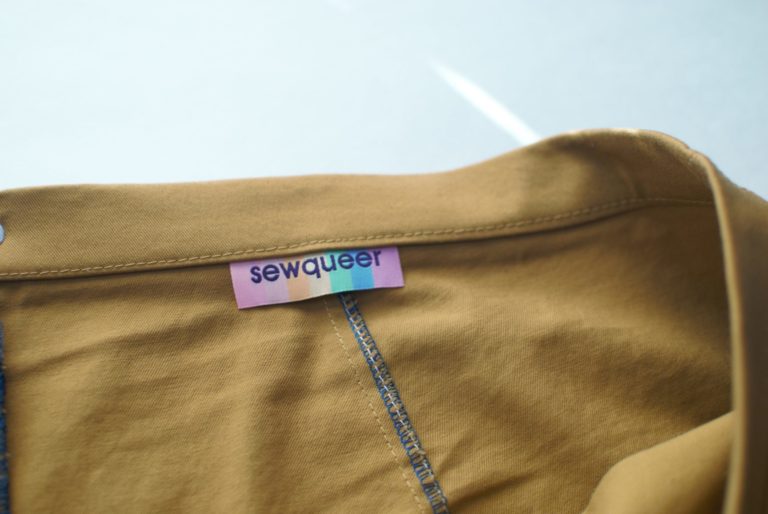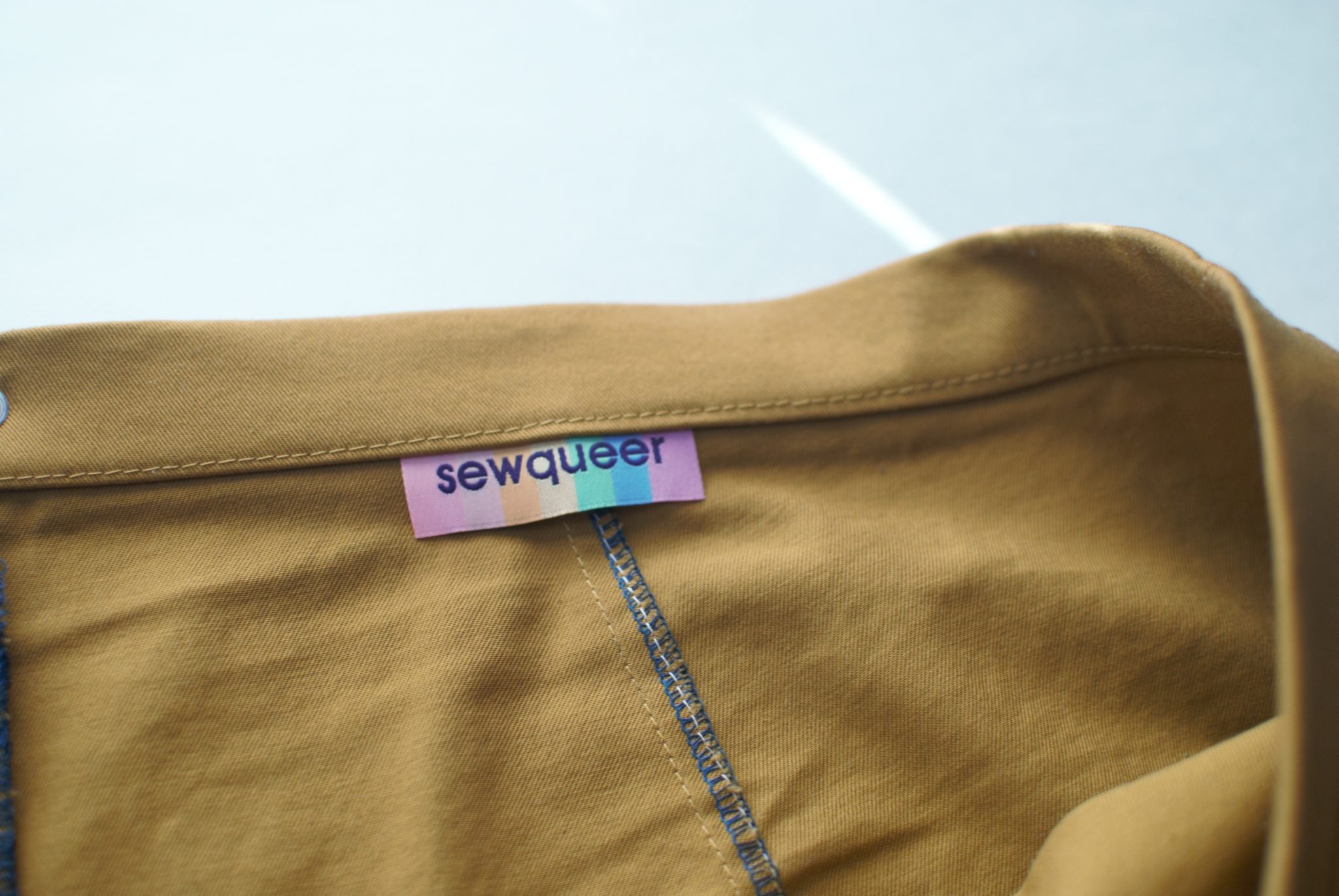 If business-pirate is a thing, then Shannon definitely nailed it! Isn't it amazing that as sewists we can be inspired by almost anything and then take that inspiration and turn it into a beautiful, wearable garment?
Shannon, thank you so much for participating in our Stonemountain Sewists project and for braving the Minnesota snow to take these photos!
Make sure to follow along with Shannon's makes on her Instagram and check out the wonderful community she has fostered on Sew Queer.