For this Stonemountain Spotlight we wanted to highlight our beautiful selection of 100% linen woven fabrics! Staff chose to use some of our most popular qualities like Nevada, Monaco, and Two-Tone linens. We love that linen is so versatile and can be worn year round! It can be used for drapey dresses, flowy tops & even structured bottoms and outerwear. The look and feel of your linen garment can be dramatically changed by how you pre-wash your fabric. Here at Stonemountain & Daughter we love Sandra Betzina's method! Before washing, iron the fabric with the hottest, driest iron possible. Machine wash in hot water and tumble dry on high heat. Remove only when completely dry. This method will result in shrinkage, but small, soft folds will replace the hard creases usually associated with linen. Check out our other blogs about linen here and here.
Starting Thursday August 20th through Monday August 24th save 15% off on select 100% linen wovens!
No coupon needed. Valid while supplies last. Discounts may not be combined or applied retroactively.
Monaco Linen
This light to mid-weight linen has a beautiful soft hand and drape. Three staff members choose to use this wonderful linen quality! You can shop all our Monaco linen colors here.
Olivia
Olivia chose to use our light-midweight Monaco Linen in Olive. She used the Roscoe Dress by True Bias and added a matching belt!
I chopped off the bodice at the waist and added two tiered ruffles. I used view C as a guide for where I wanted the ruffles to hit on my body. I also made a waist tie to wear with the dress (I prefer a cinched in waist).
Olivia made a size 6, which is 2 sizes down from her size on the measurement chart. She pre-washed her linen in hot water and tumble dried on low.
I've been really liking making and wearing garments with a gathered neckline and full sleeves. However, this is my first dress in this style, so I think it will fit a gap in my wardrobe. I imagine wearing this dress out casually and at work.
Natalie
Our resident ruffle lover, Natalie expanded on the Charm Patterns Rita Blouse, and made this fun bright dress. She used Monaco linen in Blush. Here's what Natalie had to say about Monaco Linen;
I really loved working with this linen, the quality is so lovely and the color makes me so happy. I love that the Monaco linen is light without being transparent, it also has beautiful drape and body without being heavy.
She says that a sharp Microtex needle, and good pins helped her keep her linen in place. She pre-washed cold and tumble dried, then pressed with high heat and steam.
This is definitely my style and the technique on the sleeves something I've wanted to try for a while. This is something I can wear to work more casually, but I like that I can also dress it up for any future events. The elastic makes it fitted, but very comfortable.
Marissa
Marissa used the Monaco linen in Olive and made this personalized version of the Collins Top by In the Folds. This pattern is currently on sale! Marissa shares how she created this one of a kind piece;
I prefer prints over solids, so I decided to try linoleum block printing my bay leaf illustration on the fabric. Jen Hewett's book Print Pattern Sew was a great resource for the printing technique and recommended materials. I ended up cutting out the fabric first so that I could print exactly where I wanted the leaves to appear on the shirt. I'm so happy with how it came out!
Marissa choose to finish her Collins Top neckline with Atelier Brunette Viscose Bias Tape and use an Arrow Mountain Button as a closure. Below, Marissa shares her sizing journey;
Based on my high bust measurement, I intended to make size F, but cut out size E by mistake. Much to my surprise, this wound up being an ideal fit! My advice is to consider the finished garment measurements and don't be afraid to size down, especially if your fabric is less structured.
Yarn Dyed Two-Tone Linen
Everyone is in love with our Yarn Dyed Two-Tone Linen! This midweight, mostly opaque linen is yarn dyed, each colorway has two different colored yarns in the warp and weft. Therefore a beautiful iridescent quality is created. You can view all of these magical two-tone linens here.
Linden
Linden decided to create the long version of Friday Pattern's Ilford Jacket using the Yarn Dyed Two-Tone Linen in Rose Gold. Rose Gold is woven with pink and yellow yarns to create this two-tone look. This is what Linden loves about this linen quality;
The two-tone yarn-dyed weave makes the colors feel dynamic and rich. I also love how soft and delicate the fabric becomes after pre-treatment!
Linden made the Ilford Jacket in an XS, and used the Stonemountain method of pre-washing. They used a sewing gauge and Jean-A-Ma-Jig hump jumper to make it over any bulky areas while sewing.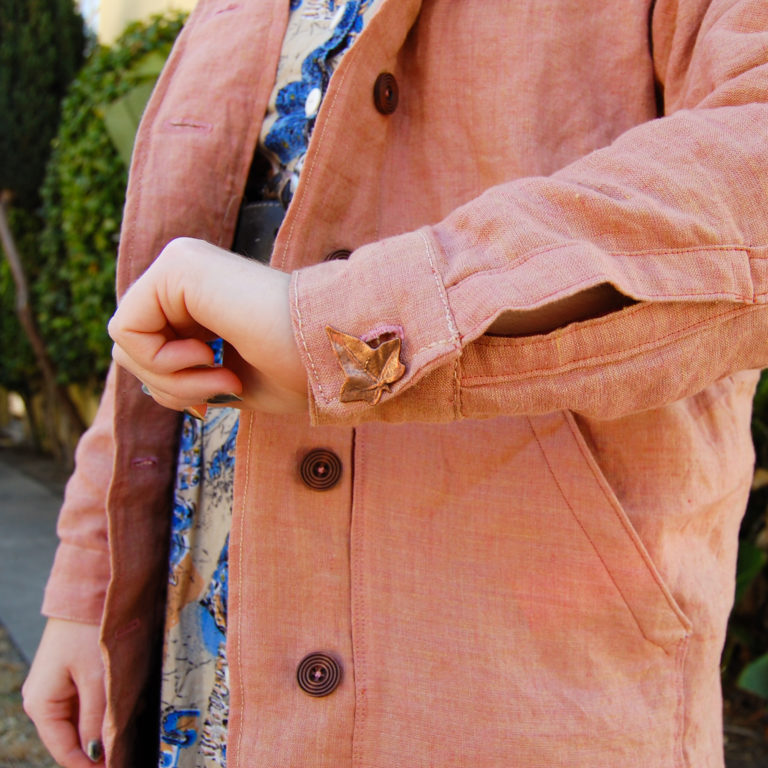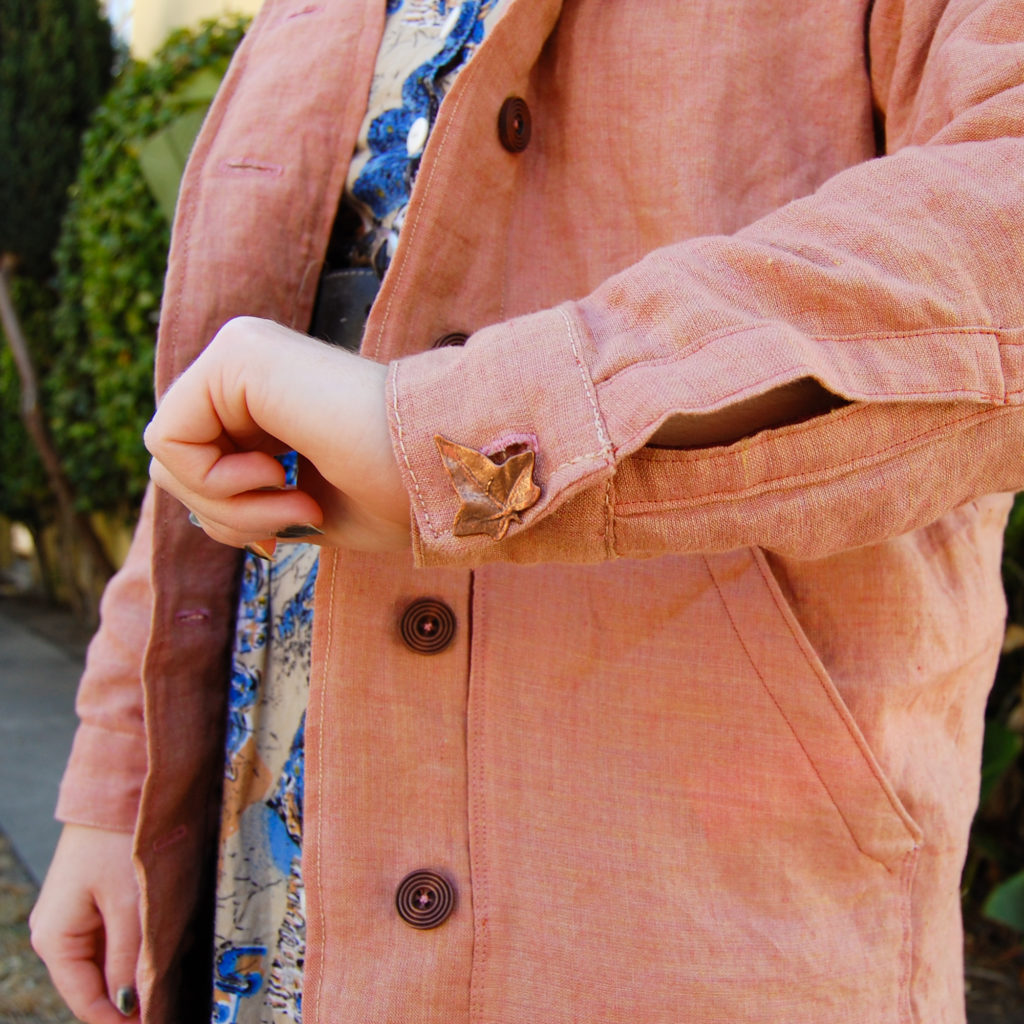 Emiko
Emiko's Sierra Jumpsuit is a wonderful Summer piece! She used the Yarn Dyed Two-Tone Linen in Coral. The bright pink and orange yarns weave together to create this coral hue.
I love that the two tone linen has so many subtle hue shifts as you move around.
Emiko made an XXS, and used the hot iron, hot wash & hot dry pre-wash method. We love that she used a printed quilting cotton to line the in-seam pockets, as well as the bodice.
Anna
Anna made the shorts version of the Closet Core Jenny, in the Yarn Dyed Two-Tone Linen Coffee. The Coffee colorway is created with medium brown and dark brown yarns.
I feel like these shorts definitely fit my style! I was able to incorporate vintage barkcloth from my stash, as well as our Crawford gingham in the details. They feel very vintage inspired and will be easy to incorporate into my wardrobe.
She used a size 18 and treated the linen with the Stonemountain pre-wash method.
I was really excited to try this short pattern and was happy to see that is was pretty true to size! I took 1/4″ out of the center front and center back seams, as well as made the back short a little fuller at the hem.
Ashlee
This is the second Ilford Jacket in our Spotlight, and again you can see how well this linen translates into an outerwear layering piece! Ashlee also used the long version of the Ilford Jacket, but used the Two-Tone Linen in Ash.
I love the two-tone aspect of this linen. It makes the color so much more interesting.
Ashlee didn't have to do any big fit modifications, but she did decide to update the pockets and angle the bottom edges for more interest.
I used the the Stonemountain woven label! I wanted to make sure everyone could enjoy the beautiful label, so instead of putting it inside the garment, I sewed it to the top edge of pocket. It made such a wonderful addition.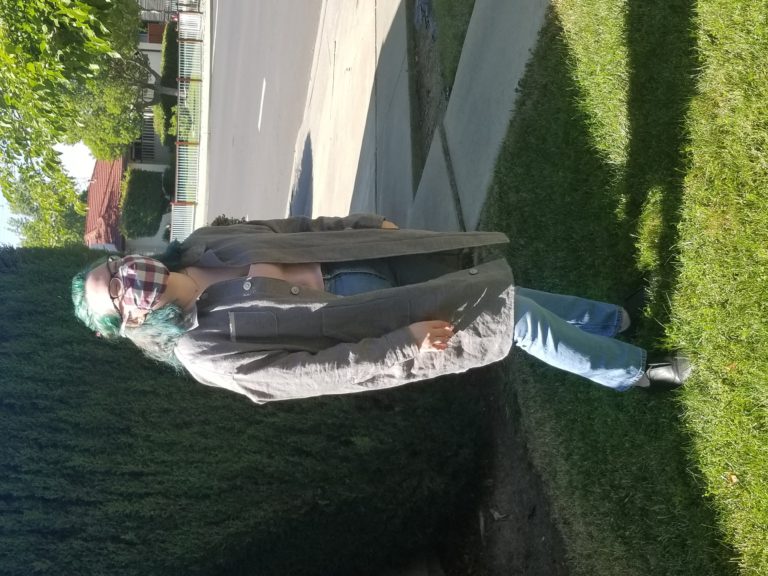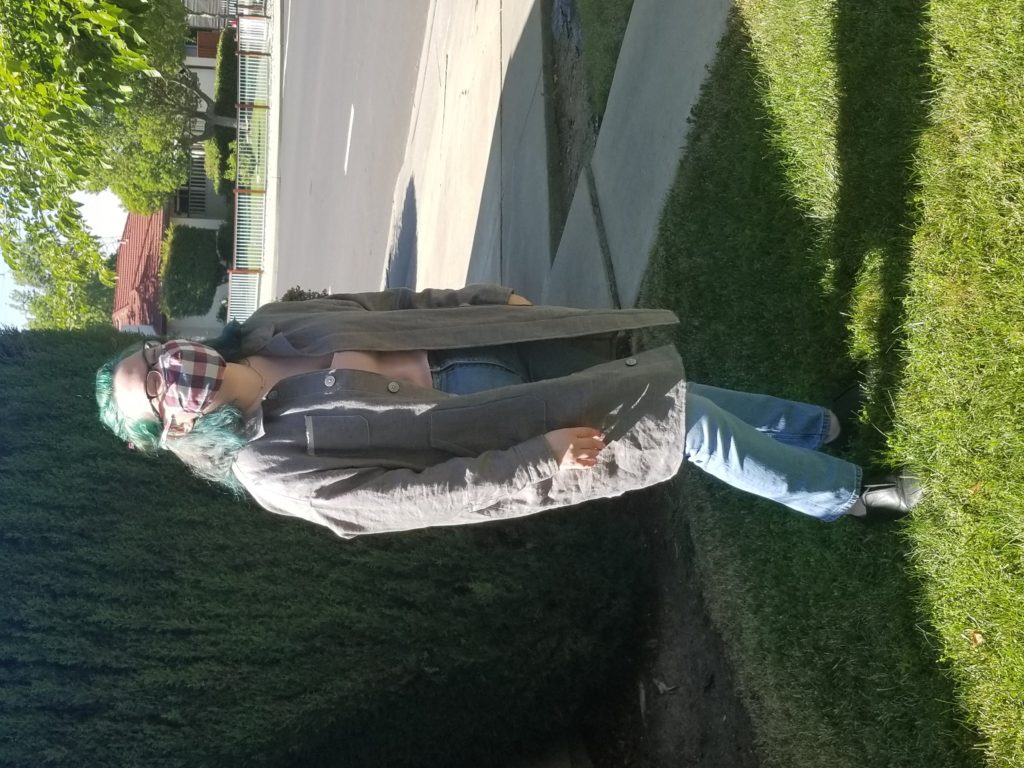 You can shop our Stitch Collective x Stonemountain & Daughter Fabric Woven labels here. 50% of profits from these labels will go to a racial justice organization each month.
Nevada Linen
This mid-heavyweight linen is our go-to, never fails, most popular linen quality. It can be used for so many different garments, because it is perfectly opaque. It comes in a large range of colors all of which you can shop here.
Edgar
For this Stonemountain Spotlight, Edgar made the short sleeve version of the Ilford Jacket in Nevada Tobacco. He used fabric paint to create the black details on his garment!
This garment is my typical style. I love adding fun details to the pieces that I make. I can dress it up or down depending on where I'm going. I chose the color tobacco, which is a color I usually go for.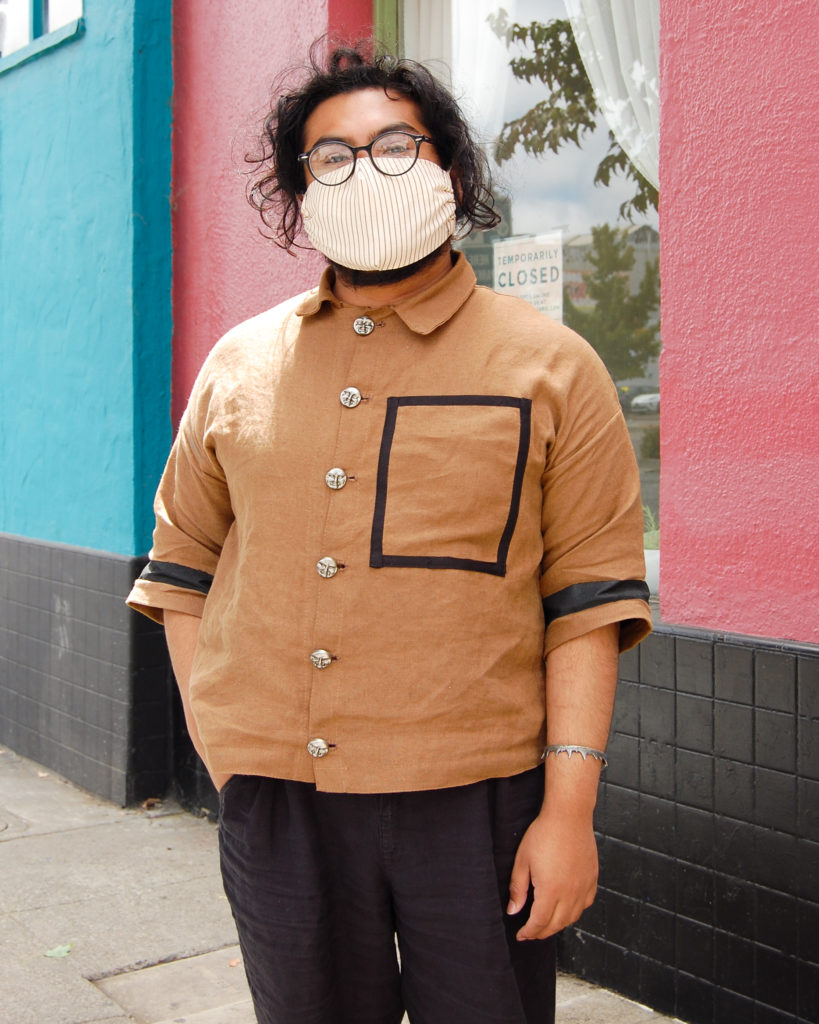 Edgar made his Ilford in a Medium and used the Stonemountain pre-wash method.
Kim
Kim made the Tilly & the Buttons Stevie Tunic. She used the Nevada Linen in Coral. She choose to do fun piecing on the back yoke and sleeve cuff with a printed linen!
Kim made a size 8 and also used the Stonemountain pre-wash method. She was very pleased with how the linen felt after washing.
The linen is more comfortable than I thought it would be. In my mind linen was always a bit stiff and uncomfortable and I prefer my clothes ironed so I was not sure how I would handle the wrinkles, but I have to say that I really love my new dress.
Käthe
Käthe always loves a good overall! This is Käthe's second pair of Closet Core Jenny Overalls, this time she choose to use Nevada Linen in Sapphire.
While my last pair of Jenny's was regulation overall style (jeans buttons on both sides, overall strap hardware) I went a little "fancier" for the linen version: buttons for the straps and a lapped zipper on one side only. It's a nice upgrade. This is my first time working with linen, but definitely not my last. I can see another pair of overalls in a lighter weight in my future.
In terms of sizing, Käthe graded from size 12 bust to a 14 waist and an 11 hip, and narrowed the bib by 1″. She lined the bib and bib pocket, as well as narrowed the leg openings. She pre-washed the fabric with a cold wash and a hot dryer.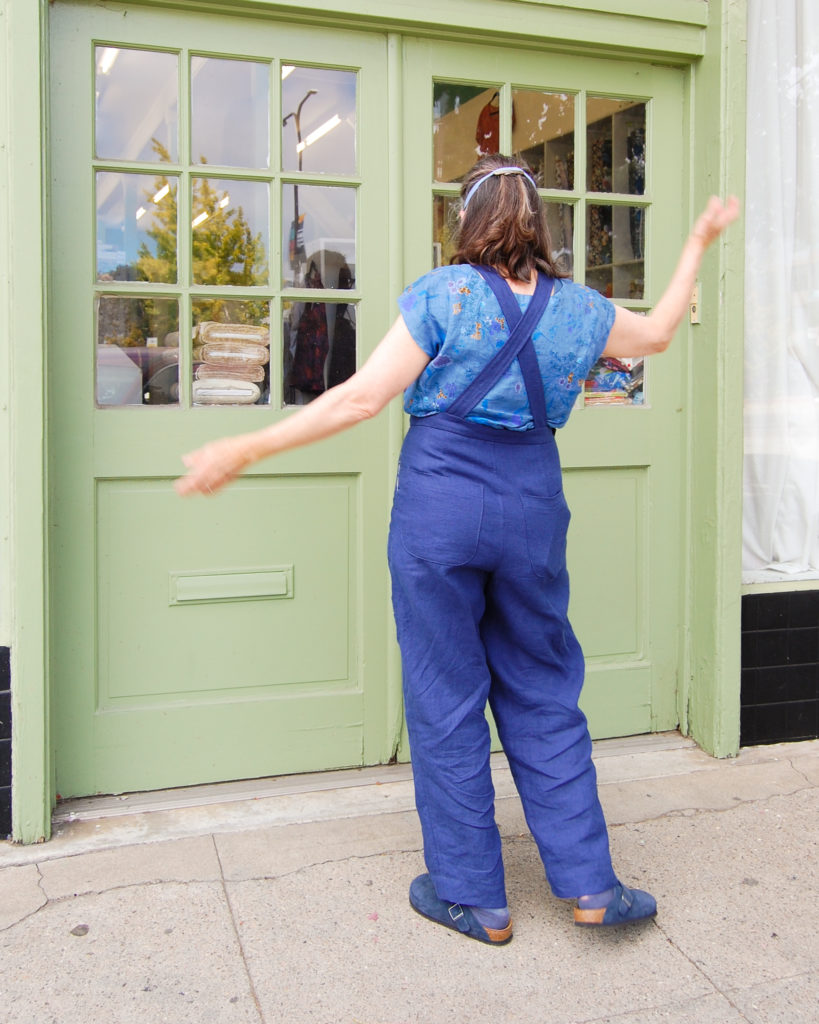 I am all about comfortable clothing. This is my 4th pair of overalls in the last 2 1/2 years. I will wear them to work, to play, to hang around the house and, of course, dancing in the street!
Jen
We're just going to say it, linen overalls are our new favorite thing! Linen turns a workwear garment into something more refined. Jen also used the Closet Core Jenny Overall, but in the cropped version. She used Nevada Linen in Black.
It has the perfect amount of structure and weight for a comfy pair of overalls. It feels substantial enough to be opaque and modest, yet it has a great drape, nice movement, and feels light and soft against my body.
Jen graded from a size 10 at the bust to a size 14 at the hips. She did not have to make any other modifications!
I was shocked I didn't have to make any modifications because this was my first time making a pair of fitted pants for myself and I was anticipating struggling with getting the fit right. I did make a muslin first because I didn't want any fit surprises to pop up after cutting into the beautiful linen.
You can find Jen on Instagram at @theicedyegirls.
Sorrento Linen
This light weight Oek-Tex certified linen has a beautiful drape and cozy soft hand. There is a subtle texture in the weave that creates interest even in a basic color. You can shop all our Sorrento Linen colors here.
Catherine
Catherine hacked the Wiksten Shift Dress and created this long sleeve placket dress with side seam vents. She used Sorrento Linen in Black. This dress is all about the finishings!
Sorrento is pretty shifty, so I used Flatter when working with the bias tape and finishing the hems. It really helped to tame the fabric without making it stiff or sticky. I should remember to use it more often! I prefer French seams, but the side splits make that tricky. This tutorial showed me how to do it and get a clean finish.
Catherine pre-washed her linen in a cold wash and tumble dried on medium.
I made a size two, which is 1-2 sizes smaller than where the size chart puts me. I've made this before and found it very roomy, and I didn't want to be overwhelmed by too much fabric since I was making the long version.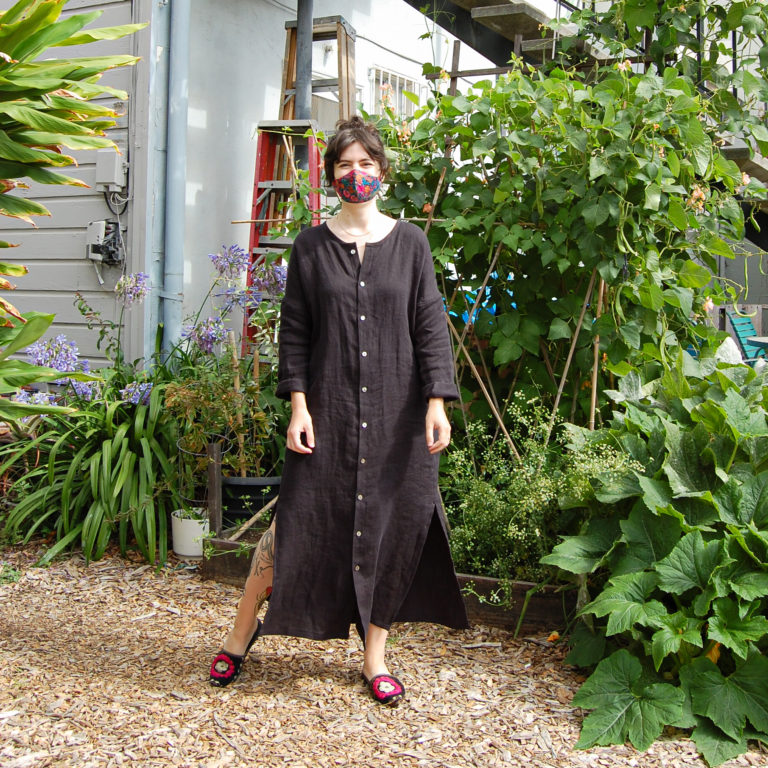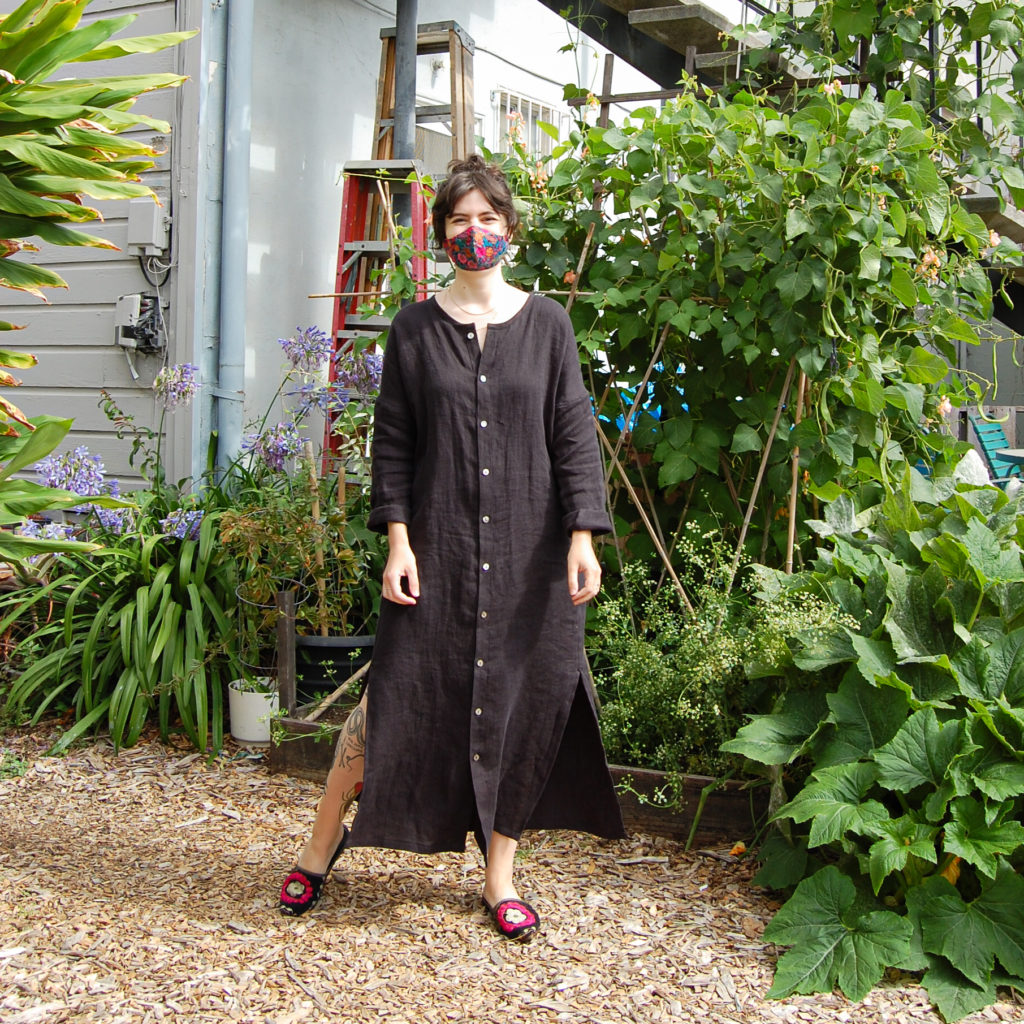 Laundered Linen
This mid-weight linen has a wonderfully soft hand and washed down look and feel. Because of the washed finish, this linen already comes to you textured and supple. You can shop all our Laundered Linen colors here.
Alice
Look at Alice in this romantic version of the Olive Top by Megan Nielson! She used our Laundered Linen in Lichen.
The laundered linen is so soft and dreamy to sew. It feels so homey and elegant at the same time. I hot ironed, then steamed it damp and iron dried it. Not the usual approach, I realize, but I wanted to try it. I plan to cold wash and line dry in the future.
Alice made the Olive top in size 12, and she drafted her own sleeves! This is how Alice achieved the beautiful bell sleeves on her top;
I french seamed the side seams to contain the edges, and I altered the sleeve to a trumpet or bell style. It could probably be done using the sleeve from the Dove Blouse pattern. I basically slashed and splayed the sleeve extension pattern piece, keeping the top of it intact. Then I tried it on and pinned it up to make a kind of high-low effect, trimmed and hemmed.
Positano Linen
This is a beautiful handkerchief weight linen. It is light and slightly sheer. It is the lightest weight linen featured in our spotlight. It's wonderful for breezy summer tops. Our Positano Linen comes in delicate colors which you can shop here.
Patty
Patty made the Archer Shirt by Grainline Studio in a size 10. She used the Positano Linen in Ivory.
I think this was the first time I'd worked with 100% linen and I was surprised how easy it was to work with. It was so easy to shape around curves and it irons so crisply. The linen I chose is really lightweight, but it wasn't as difficult to work with as other lightweight fabrics. I love the slightly uneven weave of this linen.
To pre-wash her fabric Patty washed in warm water and dried on low. She drafted her own pattern pieces for sleeve plackets, instead of the continuous binding at the sleeve hem. She finished her button holes with her vintage Singer buttonhole attachment, and used Atelier Brunette Joy Enamel buttons down the front.
I love button down shirts! I had never sewn the Archer before, but I think it's going to be my new favorite. I'm really happy with this shirt. It's already gotten a lot of use, tucked into a pair of jeans.
Starting Thursday August 20th through Monday August 24th save 15% off on select 100% linen wovens!
No coupon needed. Valid while supplies last. Discounts may not be combined or applied retroactively.