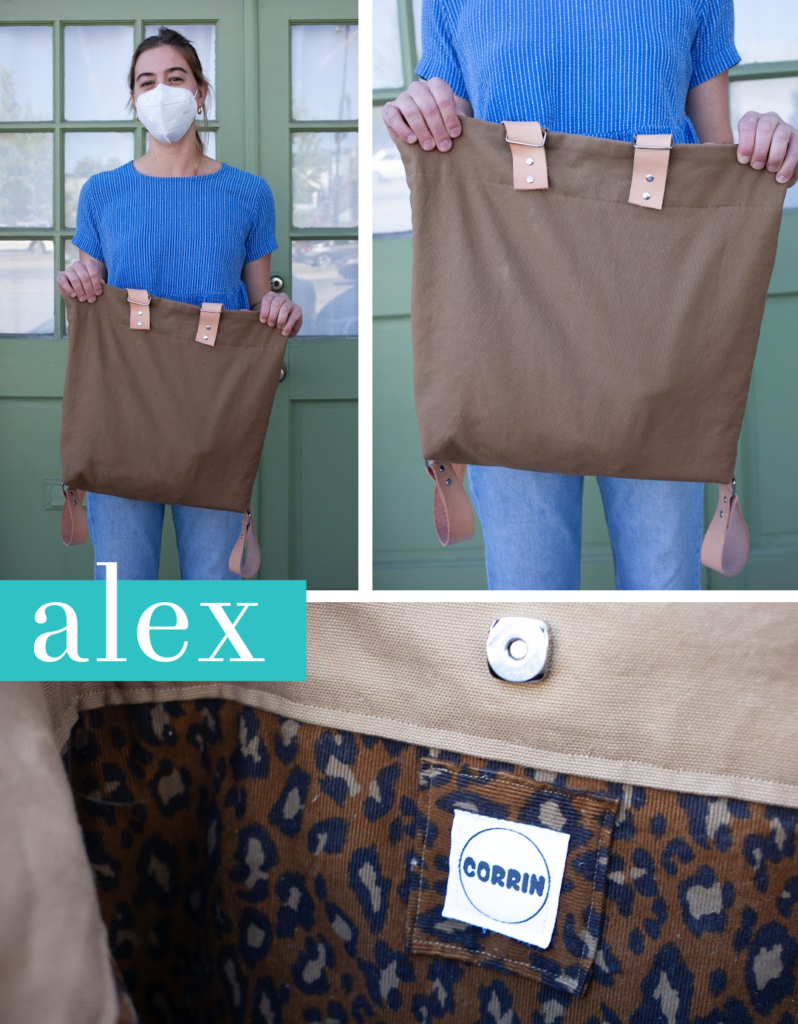 This year, Me Made May inspired us to start a new edition of the Stonemountain Spotlight! For each Spotlight, we choose a specific pattern (or fabric, or sewing technique) and invite the shop staff to each make their own version. We love seeing how everyone interprets the project, adding their own unique style, and we love sharing what everyone has made. This month we each made our own version of The Costermonger Bag by Merchant & Mills, and we were absolutely blown away by the staff's creativity—we're so excited to share our projects with you!
We love that the Costermonger bag pattern is simple, suitable for all skill levels, easy to customize, and that it's super versatile and useful—costermonger is an old British word for a peddler of produce, so this is basically the perfect farmer's market bag! The Costermonger is a quick project that even a beginner sewist can complete in a weekend, so you'll be able to make one in time for your spring and summer adventures.
Alex's bag was inspired by a leopard-print Japanese corduroy. She used Big Sur Canvas for the body of the bag, and the leopard-print corduroy as a striking lining. Alex added leather straps, rivets, and a magnetic snap to customize her bag.


Gillian chose an organic cotton canvas with a beautiful abstact print for her Costermonger. This pastel print reminds us of a summer sunset on the ocean, and we can think of nothing better than filling this bag with books and taking it to the beach!
Priya wanted to make a rugged and reliable Costermonger that would "last forever". Our 14oz Japanese canvas is the heaviest we stock—it makes a super-strong, rigid bag that will definitely hold up to a lot of wear and tear. Priya didn't line her bag, but she finished off the interior seams with our Organic Cotton bias tape for an extra design detail.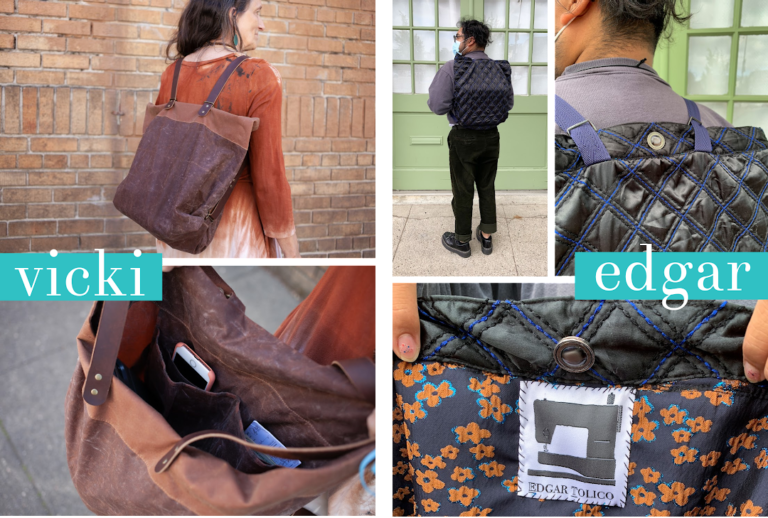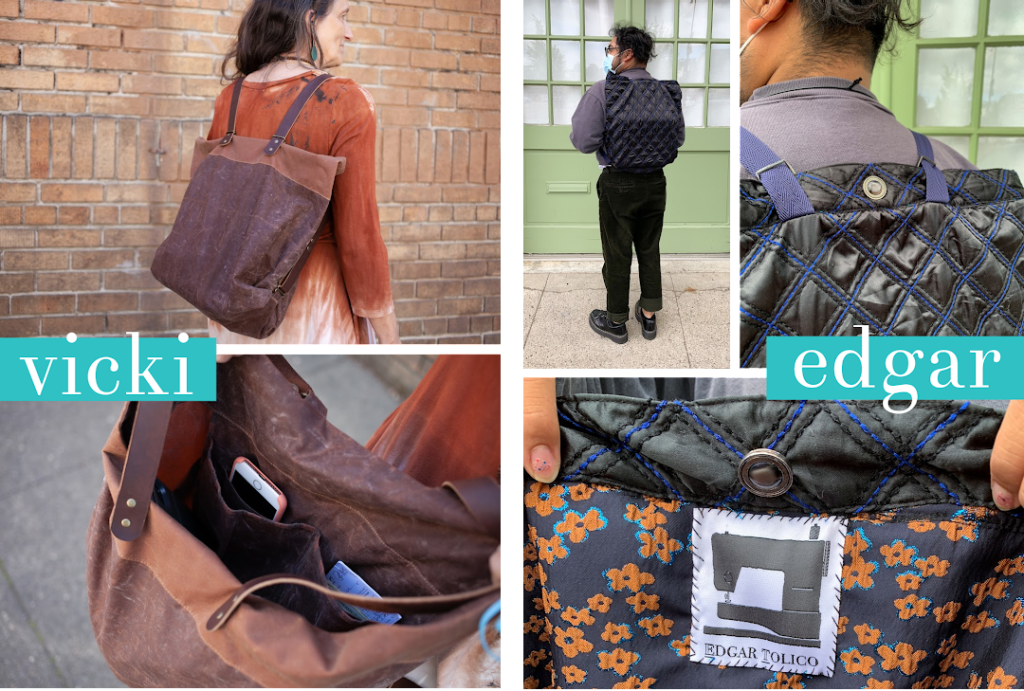 Vicki used waxed canvas for her bag: "It was new to me and I got a chance to figure out how to work with it. I like that it is water repellent." Vicki added pockets and a contrasting band of waxed canvas at the top of the bag. To complete the bag, Vicki attached leather straps with metal rivets, and used a brown and rust yarn-dyed stripe cotton to bind the edges of the pockets and finish the side seams with a mock Hong Kong finish.
Edgar was inspired by vintage Chanel purses while creating this bag. They used a quilted designer deadstock fabric from their stash ("I like the texture of the fabric. Gives the bag a different shape.") for the outside of the bag. Edgar always adds special finishing details to their makes, and this bag features a gorgeous jaquard print lining and a vintage button closure.


Shannon created a Costermonger inspired by her love of 60s florals and vibrant colors. She selected Japanese canvas for the outside of the bag, and lined it with a sherbet-hued Japanese cotton oxford. Shannon cut 60s-inspired daisy shapes out of acrylic felt and attached them to the finished bag. We love the cheerful look of this bag—it's the perfect accessory for Shannon's outfit!
Caroline chose a fruit print Japanese cotton sheeting for her Costermonger. Caroline says: "I love this fabric's fun print and it was nice and soft after washing. Instead of using a heavy fabric, I quilted my fabric before sewing the bag together and bound all the edges with bias tape. I also interfaced the facing to give the top of the bag some structure."


Amy was inspired by a need for a water-repellent bag for her commute. First, she created a muslin out of 10oz cotton canvas duck. She made a second bag out of water repellent hemp/cotton twill lined with 10oz duck. Amy used a printed canvas for pockets and zipper placard, and added a zipper for the main compartment, an exterior pocket, interior pockets, and an internal key clip (she will also add a water bottle sleeve at one end to help the bag stand up when it's full). She changed the straps from backpack style to cross-body. Amy says, "The 10oz duck is sturdy enough for heavy duty use, but soft enough to work with pretty easily. The hemp twill is much lighter than the duck and mostly didn't need the heavier sewing machine needle." Amy will use the hemp twill bag for her commute, and will save her muslin tote for the garden and the farmer's market.
When we announced the Costermonger Spotlight, Diana said, "I've made one of those before!" Diana's been using her own Costermonger (made of waxed canvas) as an everyday bag and travel bag for a while now, so she appreciated the chance to make an updated version. She chose a beautiful, sturdy Japanese Printed Cotton Canvas, which will be a perfect fit for all of her summer travels!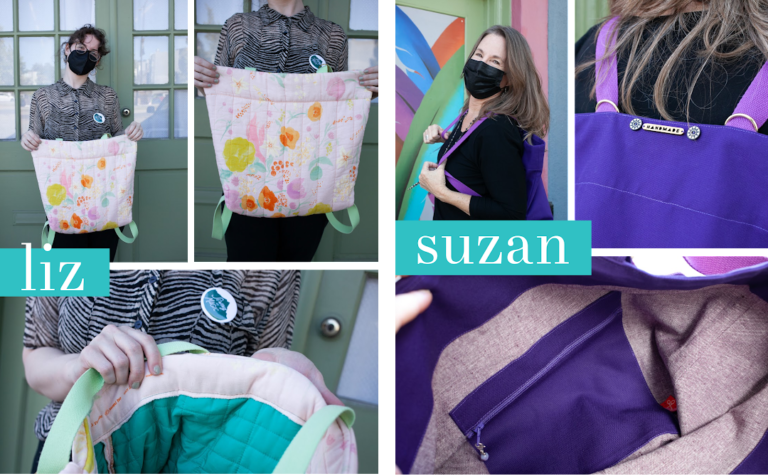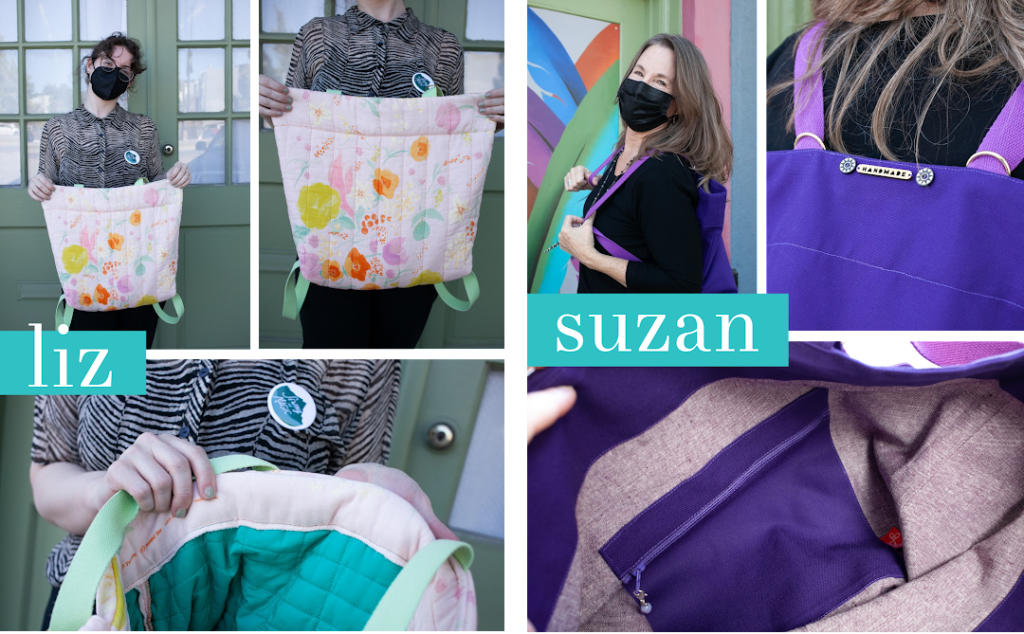 Liz wanted to make a marshmallow-style bag for spring, and discovered that our Nani Iro Quilted Double Gauze was the perfect fabric for this beautiful statement piece. Liz, a master of upcycled fashion, brought her skills into this project by lining it with a thrifted puffer jacket for maximum marshmallow. We can't wait to see how she styles this dreamy bag with her wardrobe!
Suzan chose Big Sur Cotton Canvas in purple for the outside of her bag, with Essex Cotton/Linen for the lining. She added a zipper pouch on the inside and Arrow Mountain buttons on the outside, and used our Sallie Tomato bag hardware for the strap sliders. "It's a wonderful everyday bag that can hold so much! If I did another one, I would add in big pockets on the inside for my water bottle! It would also make a great gift for someone special in your life."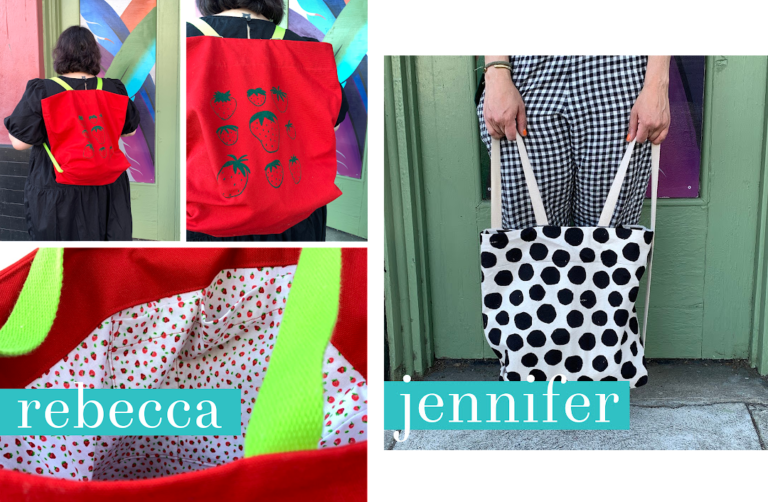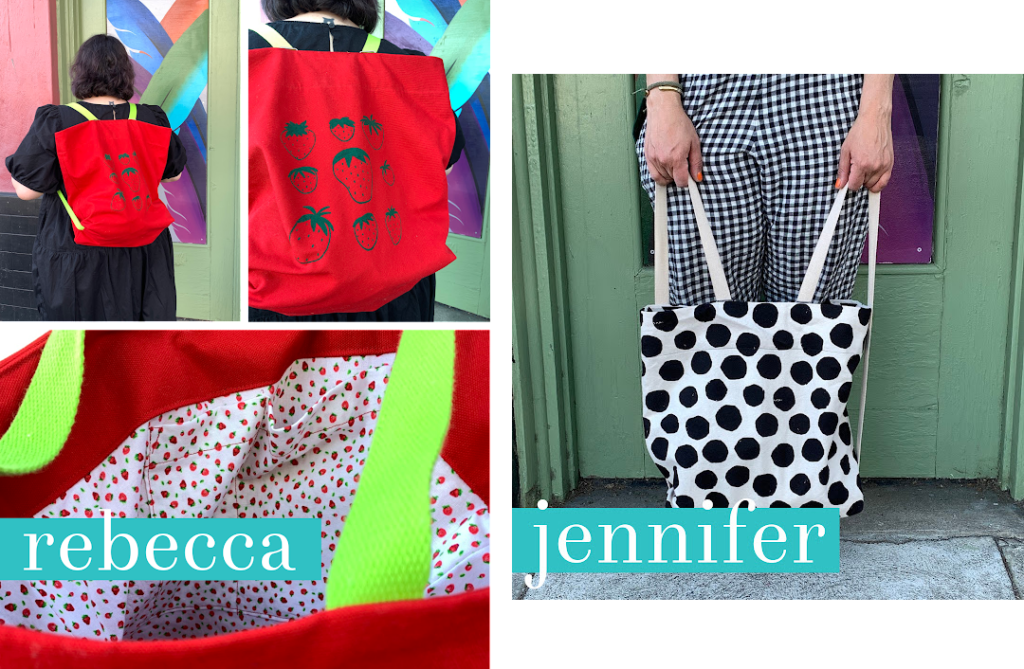 Rebecca made a super-cute strawberry-inspired Costermonger. She used Big Sur Canvas in Red for the outside of her bag, and added a strawberry print lining and a patch pocket on the inside. Rebecca likes that Big Sur is sturdy but not too stiff, and that it made the perfect canvas for the berries she silkscreened on the outside of the bag.
Jennifer used a polka-dot Japanese canvas for her bag: "I wanted a fabric that would be interesting and unique, but would still be neutral enough to coordinate with a variety of colors and styles I already have in my wardrobe, and this fabric fit the bill perfectly! The only modification I made was to bind the interior edges with bias binding in Kona Acid Lime. It adds a fun pop of color to the inside. Next time I make a Costermonger, I will 100% add an interior pocket to the bag for my keys, phone, wallet and chapstick."


Patty always delights us with her sewing innovation! Needing a new bag for her bike, she converted the Costermonger to a pannier that converts to a backpack. She started with our Water-Repellent Hemp/Cotton Twill, added some hardware to make the bag work as a pannier, and added a lining and interior pockets so that she can carry her cell phone and wallet securely. Patty says, "I love it! I think I'm a bag-making convert."
Marissa didn't think she needed a new bag, but her Costermonger has quickly become a daily essential! She chose her favorite color of North Country Cotton Canvas and printed it with a linoleum block print she designed. She added a small zippered pocket and some larger functional pockets to the bag's interior, and lined it with Essex cotton/linen for strength and structure. Marissa thought that wider shoulder straps might be more comfortable, and finds that 1.5-inch cotton webbing works perfectly.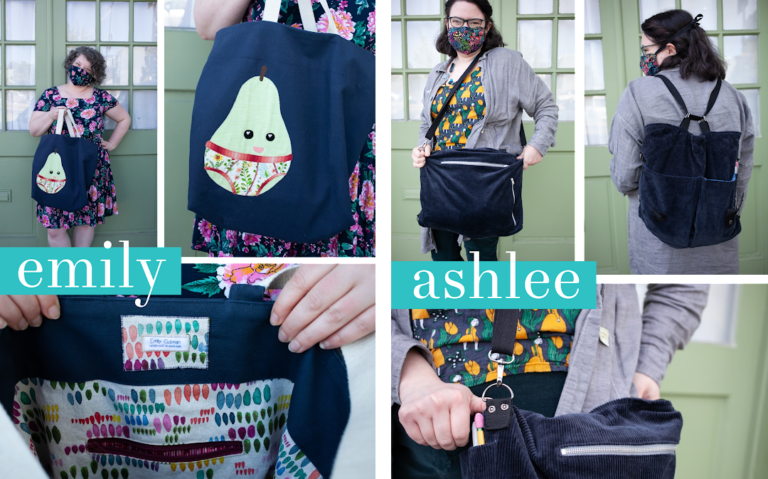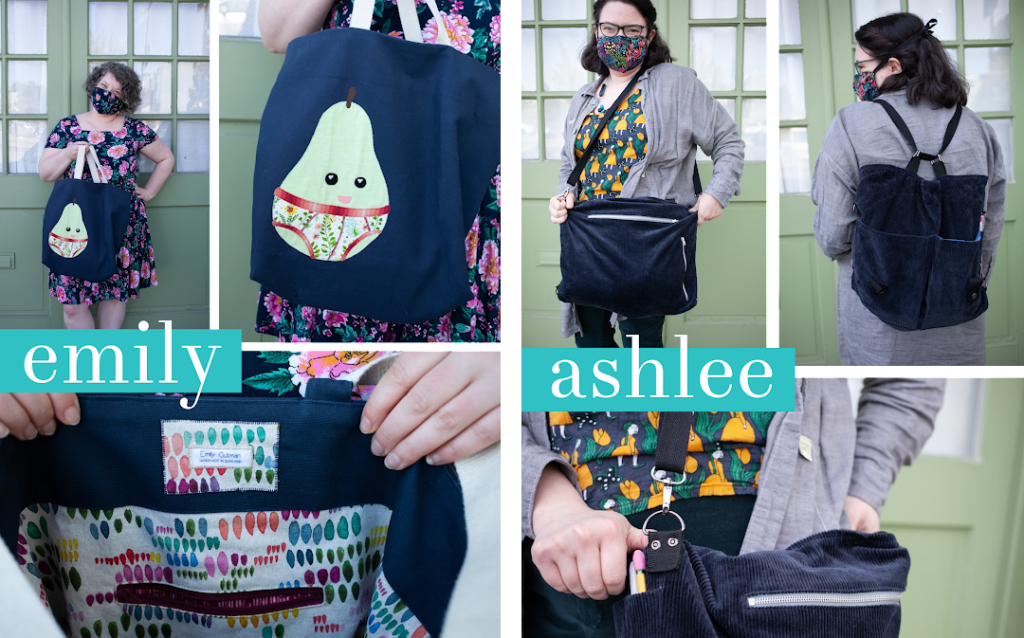 Emily used North Country Cotton Canvas for the outside of her Costermonger. She lined it with quilting cotton, added a welt zipper pocket, and created an adorable pear applique. For the applique, Emily used scraps from her quilting stash and some great finds from our remnant section.
Ashlee's inspiration for her Costermonger? Pockets! "Pockets are necessary to everything, so I want to put several pockets on this bag, inside and out. I also want to play with the strap placement so that it can convert between a messenger bag and backpack, instead of a tote." Ashlee's bag is made out of 8-Wale Cotton/Spandex Corduroy and has a surprise mermen quilting cotton lining.
Feeling inspired? Ready to create your own Costermonger bag? Follow these links for the Costermonger pattern, midweight fabrics, and bag-making supplies—we can't wait to see how yours turns out!