When we started working on this Stonemountain Spotlight a few weeks ago, the weather was warmish and we were filled with anticipation about sewing some new, cozy garments. Most of all, we couldn't wait to see what everyone else would make! It is now mid-November and a bit chilly here in Berkeley. We have been incredibly busy sewing for the past few weeks, and we are so excited to share our creations with you!
So, what did we make? Coats, jackets, and cardigans were the most popular choices. We also created a pullover sweater, a skirt, and even a hat! Everyone found the fabric easy to work with, because it requires no pre-treatment (definitely DO NOT pre-wash in the machine), has a little bit of a stretch, and the edges never fray. Read on for all the details on our makes, and if you're thinking of making your own boiled wool/viscose garment for this winter, you'll definitely want to take a look at our recently-restocked selection for inspiration!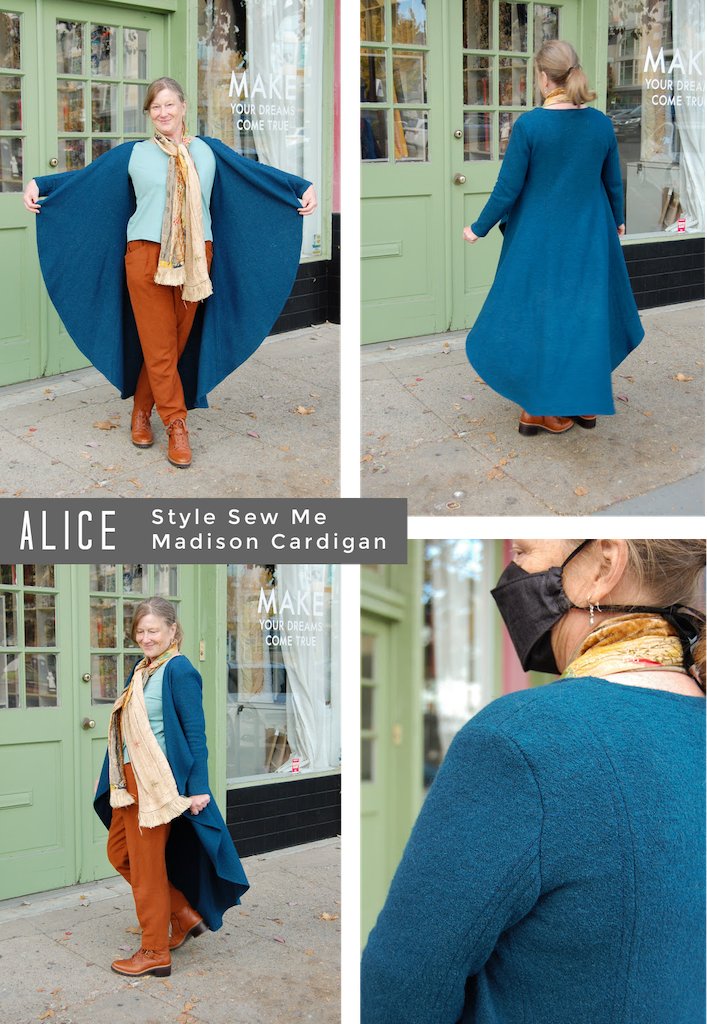 Alice's Madison Cardigan in dark peacock is getting lots of compliments. Alice says: "Cardigans are definitely typical for me, but this one has great drama because of the maxi back length. I'm having fun wearing it with jeans and elbow length t-shirts with boots. I seriously encourage anyone (it's very beginner friendly) to try this pattern with this fabric; they seem made for each other. The drape of the wool/viscose fabric creates a beautiful cascade as you walk along." Alice made the pattern exactly as written, and added a piece of ribbon into the back neckline to hang it and a Stonemountain & Daughter label, "just because it's so cute."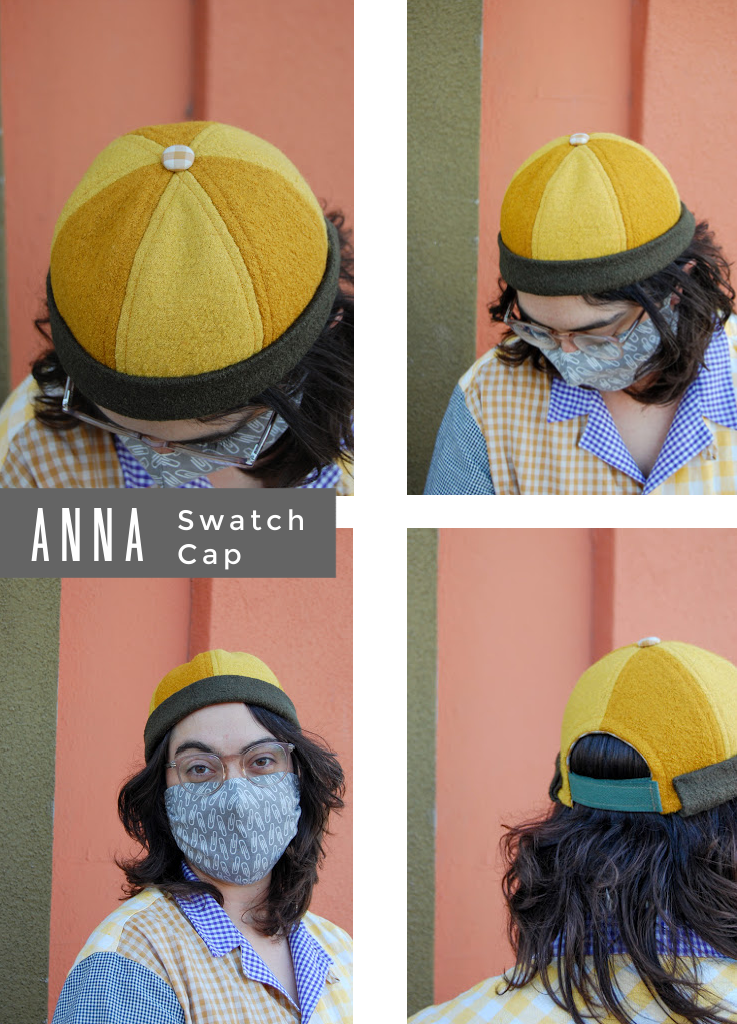 Anna noticed that we didn't currently have any hat patterns in stock, so this Spotlight was the perfect occasion to draft the hat pattern she's had on her mind for a few years now: the Swatch Cap, now available as a Stonemountain & Daughter exclusive PDF pattern! Anna found the boiled wool/viscose ideal for making this hat. She liked that the raw edges didn't fray, and she appreciated that the fabric had a bit of stretch, but retained its shape really well– that's really important for a fitted item like a hat! She used citrus, saffron, and dark olive wool/viscose, but this hat would also be totally great in all one color. It's also a great pattern for woven fabrics of lighter weights, so it is suitable for making hats for every season.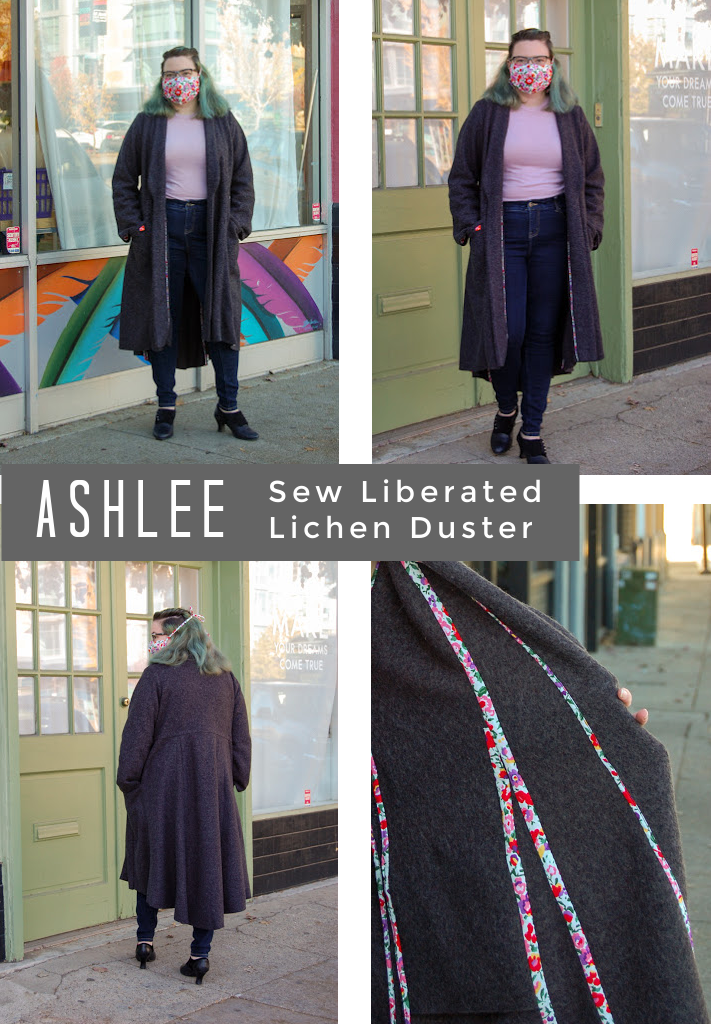 Ashlee couldn't be happier with her dark heathered grey Lichen Duster: "I love this coat. It will be the perfect layer to keep me warm as it starts getting colder. I also feel very confident wearing it because of the way it moves as I walk." Ashlee added a lining to the sleeves to make it easier to slide on, and drafted a backstay to prevent the shoulders from stretching out over time. She used a bias tape maker to create yards and yards of seam binding, and made a matching mask from the same cheerful cotton lawn.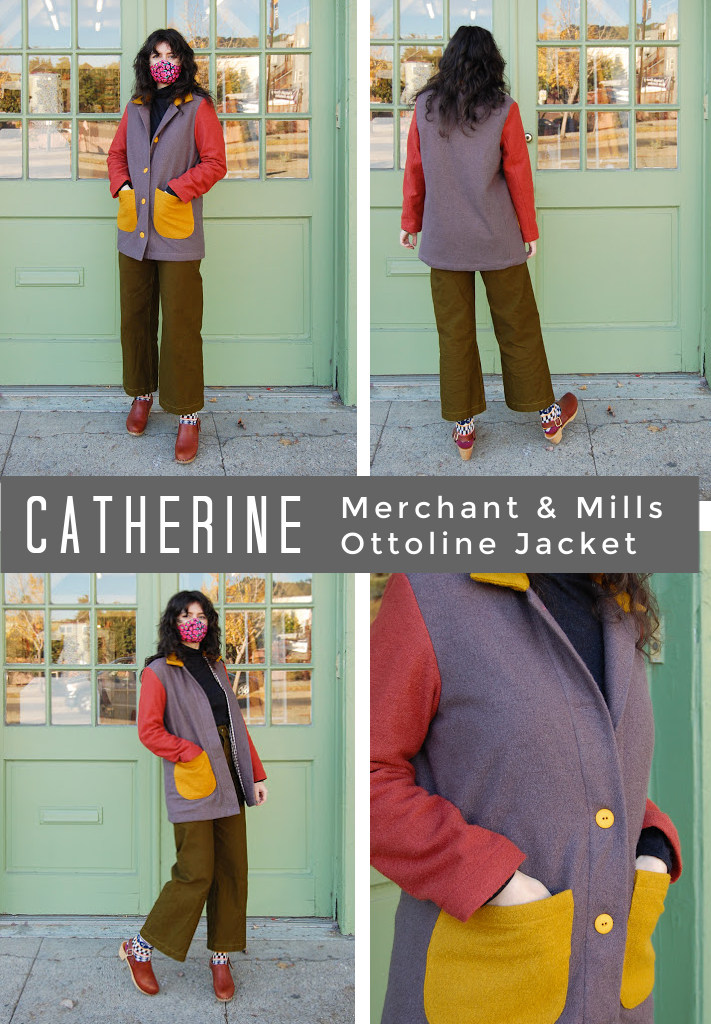 Catherine's colorblocked Ottoline is an autumnal delight! She sewed a size 10, which is a size down from recommended on the size chart, but she has made the pattern before so she knew this fit would be perfect. Additionally, Catherine made several modifications to the jacket: "I lengthened it by five inches, shortened the sleeves by two inches, merged the yoke with the back to make it one continuous piece, skipped the sleeve & hem vents, altered the pockets to be curved, and added a lining." Catherine block fused all of her pieces with Presto interfacing to give the fabric more structure without adding bulk or stiffness. Though the boiled wool/viscose isn't very bulky, she found that a clapper came in handy for making sure things were laying nice and flat.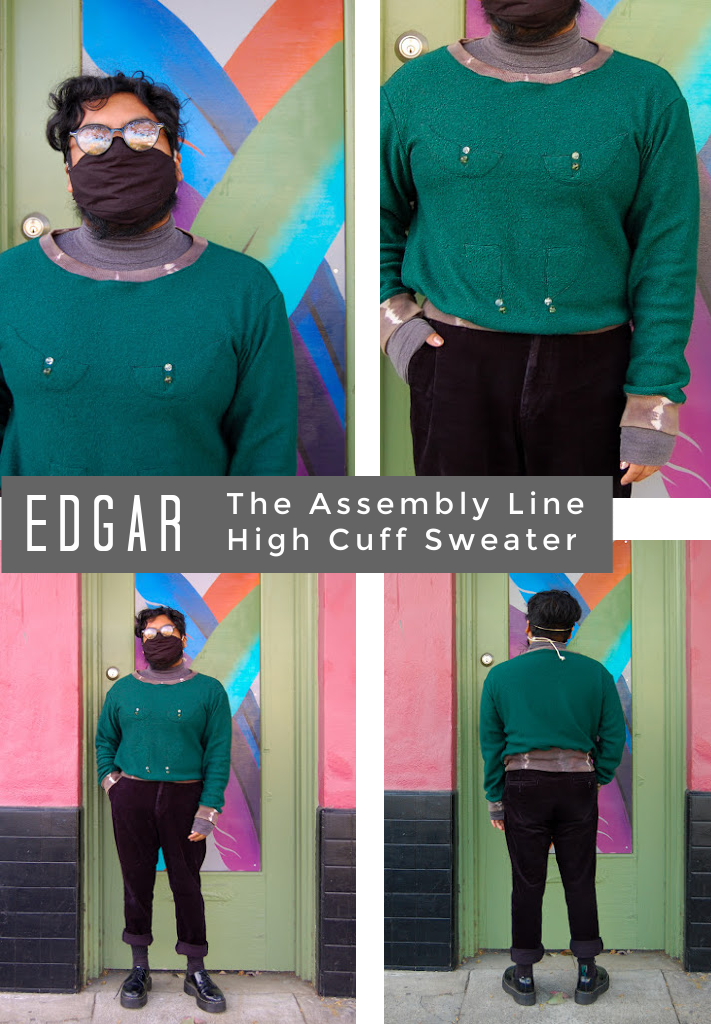 Edgar's High Cuff Sweater is the perfect addition to his fall wardrobe: "The style and cut of the sweater is typically what I go for. I try to pull references from various films and artists– my style is on the intersection of camp and horror. I like to have fun with what I make, I don't take it too seriously!" In order to customize his sweater, Edgar removed the darts, tie-dyed the cotton-bamboo cuff ribbing, and added some applique and buttons to create a spooky face on his striking pine green sweater.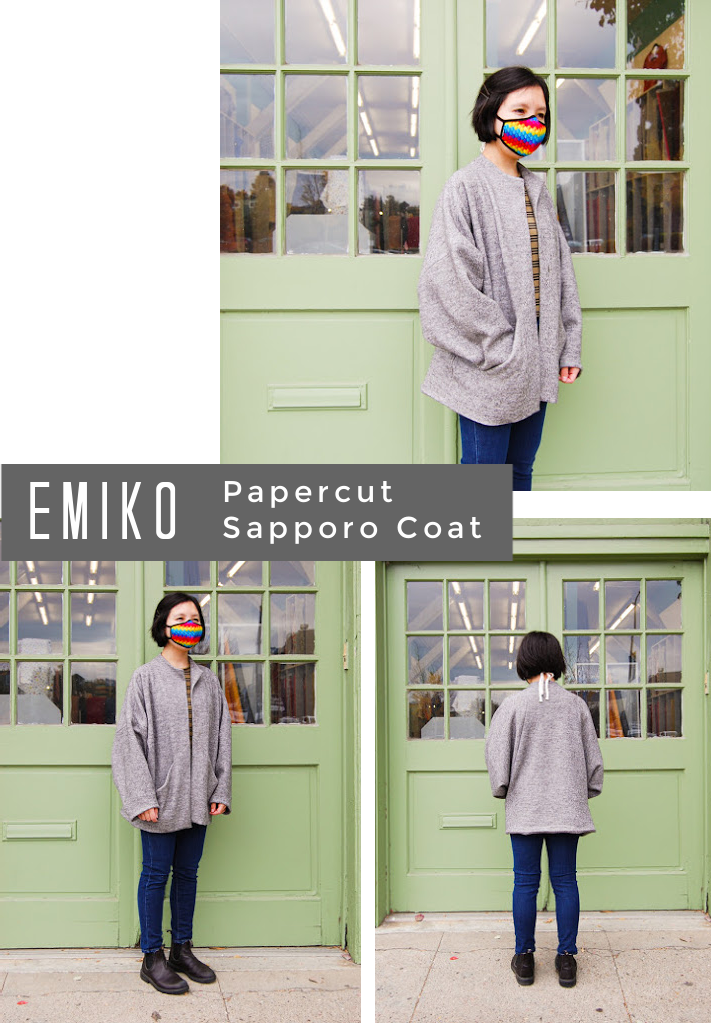 Emiko has fulfilled her goal of creating a Sapporo Coat, and it turned out beautifully. She says: "I have been wanting to make a Sapporo Coat for a long time, but was undecided about what material to use, and was inspired by the beautiful texture of the boiled wool." Emiko will stay cozy in her cocoon-style coat this winter, and since she chose a lovely neutral heathered grey, it will look fantastic with everything in her wardrobe.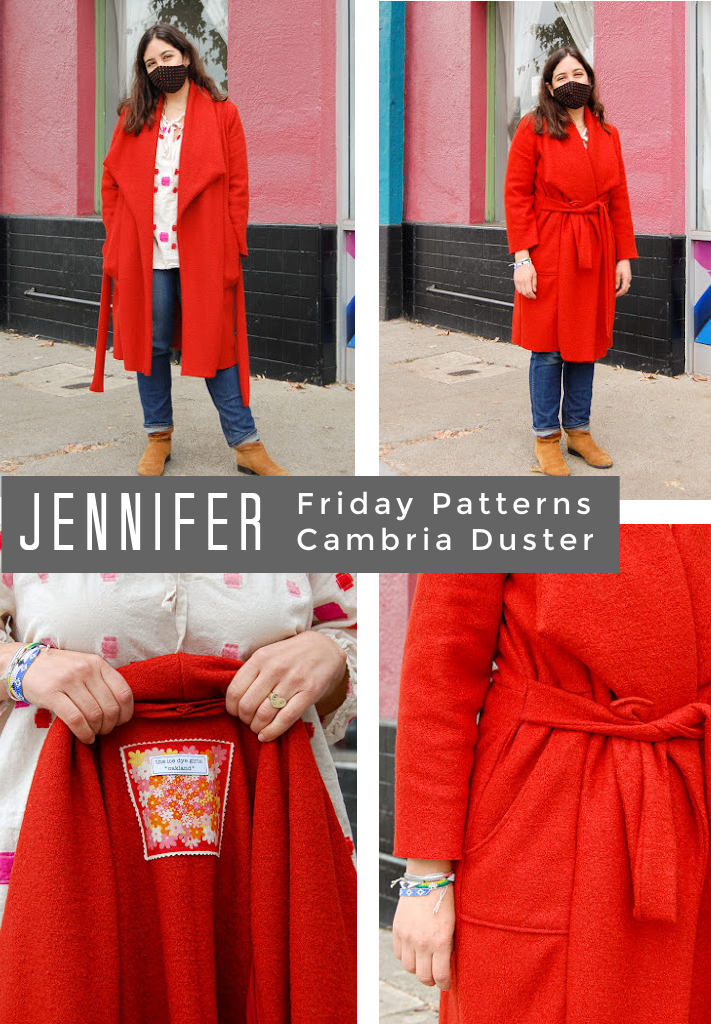 Jennifer loved working with paprika wool/viscose for her Cambria— she loves the gorgeous drape and the weight, which is perfect for a warm but light layer here in the Bay Area. Jennifer made the size medium as written, and shortened the duster by about 12 inches for a perfect fit. She chose a jersey bias tape to finish the seams, but it was difficult to work with and didn't turn out as she had hoped– next time, she will plan to use a more stable woven for the bindings. Jennifer says: "I have already worn it to the grocery store over leggings and sneakers, to work where it kept me warm and comfortable, and to a memorial for a dear family friend where it made me feel instantly pulled together. So I'd say it's a very versatile easy piece to wear!"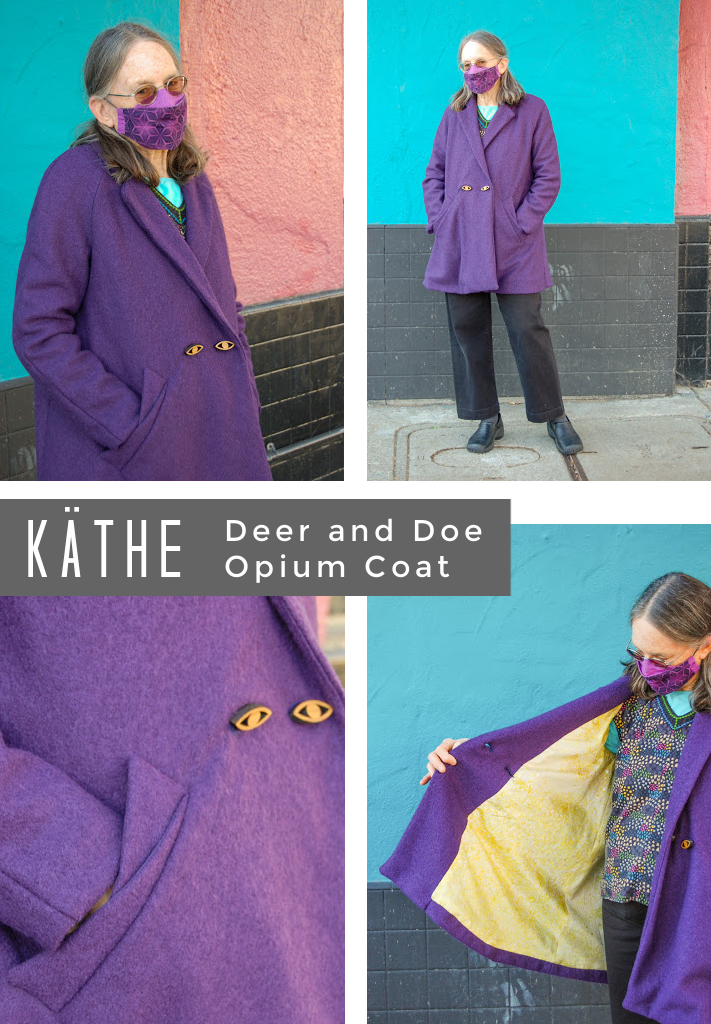 Kathe created a regal purple Opium Coat for winter. She says: "I like the soft, drapey, squishy, nubbly, thick warmth and deep delicious colors. It's a little fancy/upscale for me, but I have been wanting a boiled wool coat for quite some time." Kathe customized her coat by adding Arrow Mountain buttons and a Nani Iro sateen lining. How was the coat construction process? "This was quite a challenge for me, I proceeded from step to step, ever hopeful, led by blind faith that it would look like the picture in the end. And it does! I really wanted to make a cape to honor the Wide Awake Movement and this pattern was the closest I found."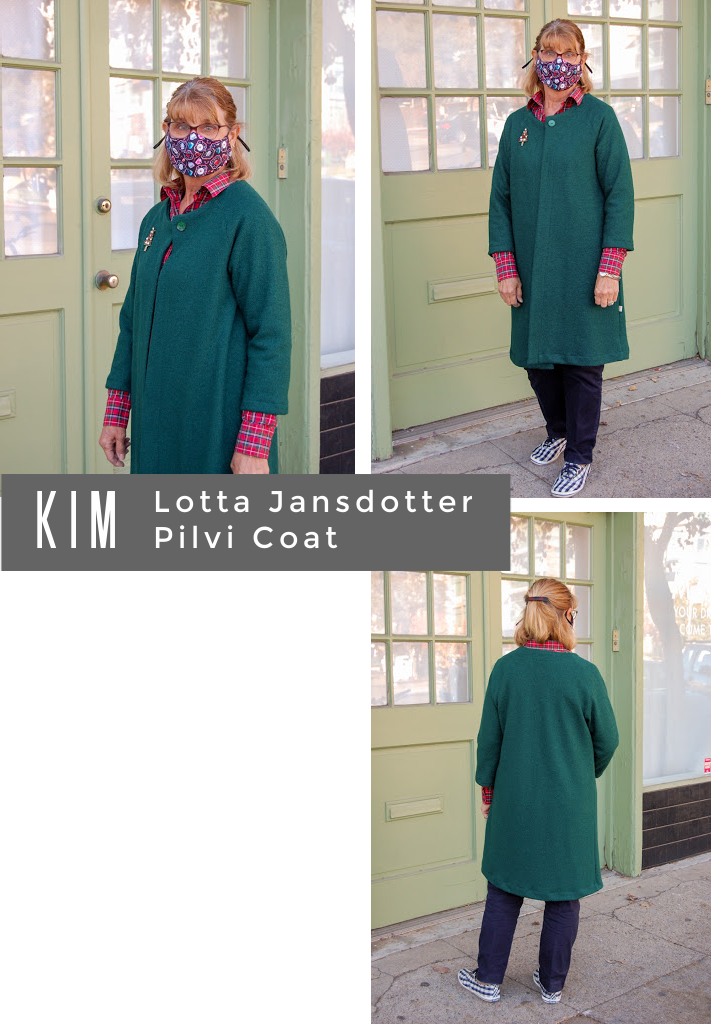 Kim is full of holiday cheer in her beautiful pine green Pilvi coat! She found the fabric easy to work with—it didn't require any pre-treating, she was able to just use it as-is. Kim used her serger for her seams, which really sped up the process of assembling this coat. It's not her typical style, but Kim is so excited to add this to her wardrobe and find occasions to wear it. She's also thinking about making another Pilvi out of a heavy canvas for warmer weather!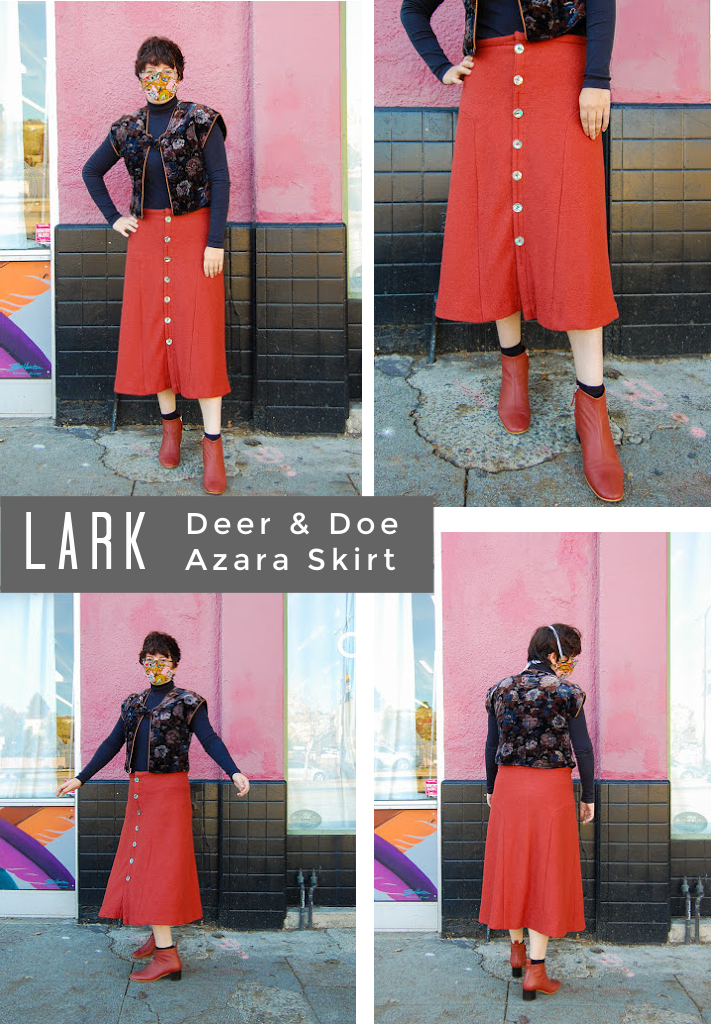 Lark made the Azara skirt in brick with no changes to the pattern, and loved the drape and texture of the boiled wool/viscose fabric. Lark says: "I picked the pattern because I liked the design and I don't have any similar skirts in my wardrobe, so I thought it would be a nice addition. I wore the skirt with a long sleeve turtleneck and a thrifted vintage quilted velvet vest. The skirt will definitely become a staple of my winter and fall wardrobe."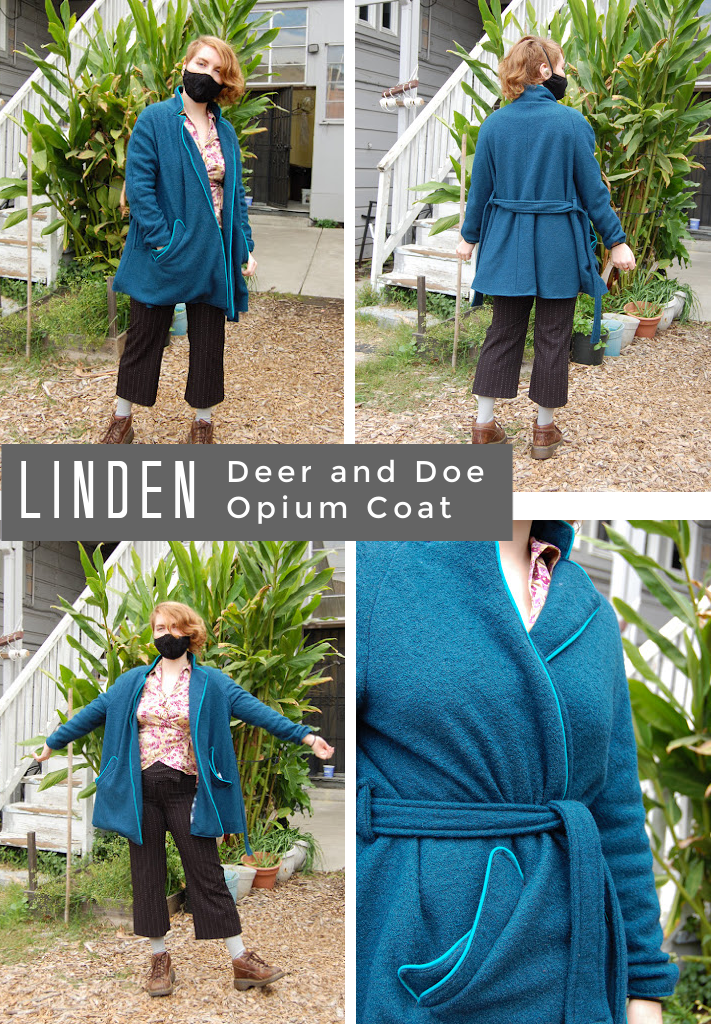 Linden worked with dark peacock wool/viscose and added contrasting piping to the Opium coat for visual interest. Linden says: "This will make for a great fall and spring coat, since the fabric is on the lighter side for coating. The origami welt pockets attracted me to the pattern initially. They looked intimidating, but sewed up painlessly. The shibori-print rayon I used as a lining also fit the garment's vibe perfectly." Well done!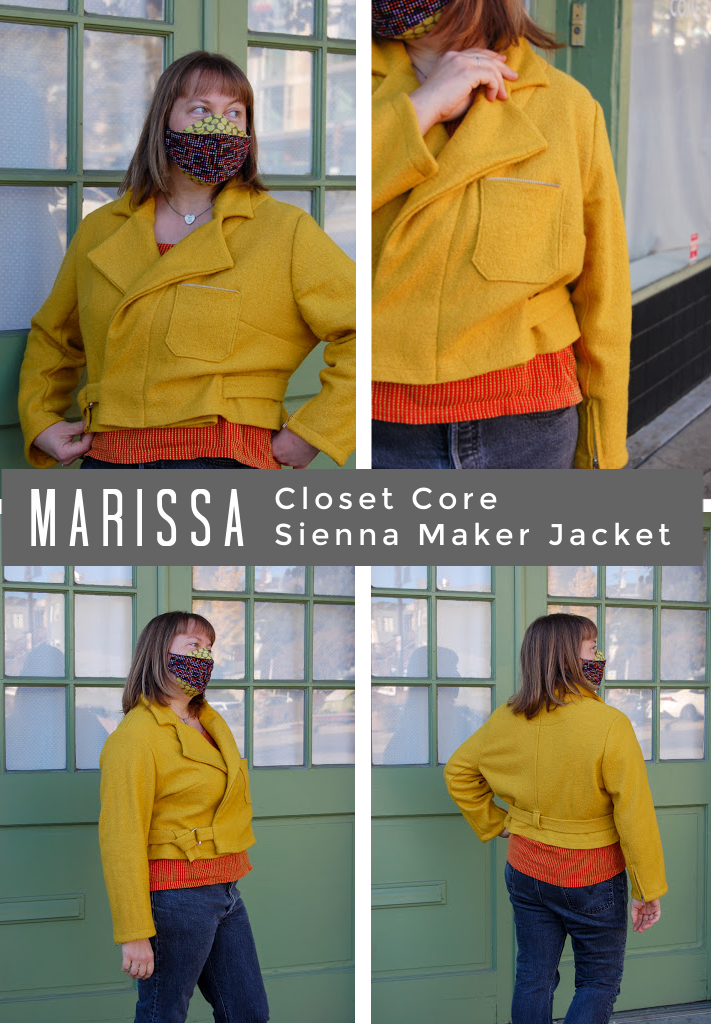 Marissa reimagined the Sienna Maker Jacket as a cropped biker jacket, adding several customizations: "I cropped view A just below the waist, added about an inch of width to the lapels, consulted a helpful tutorial to insert metal zippers in the sleeves, improvised belt loops, and used a row of zipper teeth as a piping detail on the patch pocket." She created her own bias tape to finish the seams and add a pop of pattern to the inside of the unlined citrus jacket. Is it a perfect fit? It sounds like it: "This is totally my style and I'm already planning future outfits around it!"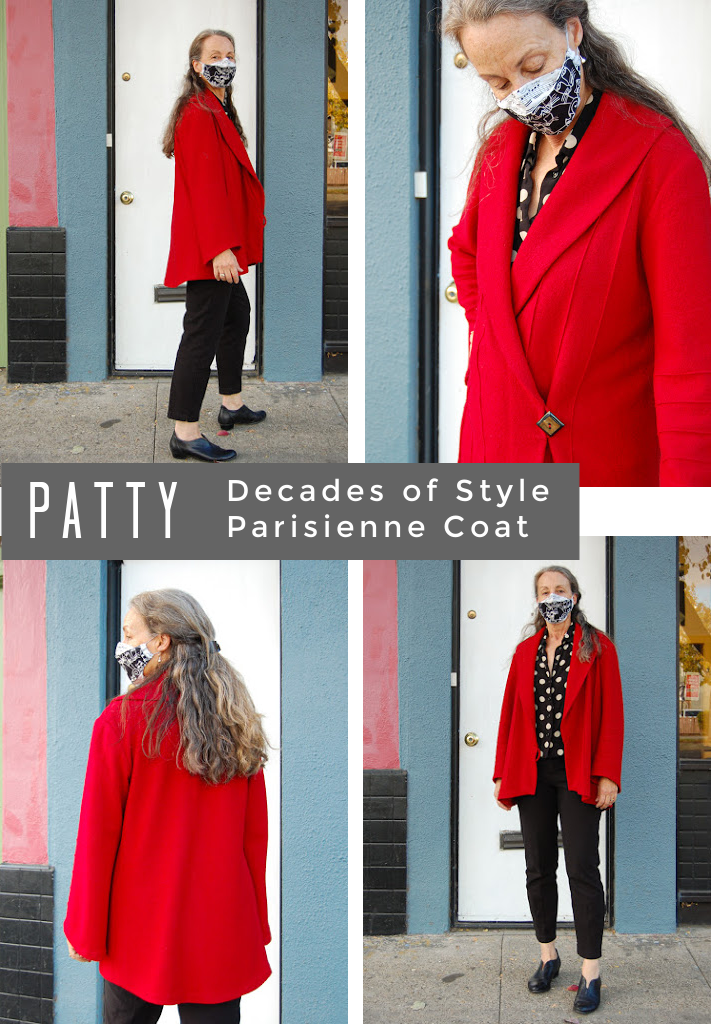 Patty's Parisienne Coat turned out perfectly! Patty says: "This fabric was surprisingly easy to work with. Easing in set-in sleeves, for example, was a cinch because the fabric has so much give. My two absolute favorite things about this fabric, though, are the drape, which made it perfect for this coat pattern, and the amazing colors it comes in. It was really hard to decide which color to use! I'll definitely make this pattern again. Someday when we're able to go out to events again it would be amazing in velvet!" Patty lengthened the coat by 2 inches, and found a pressing cloth and tailor's ham helpful tools for the project.
Thanks to all the Stonemountain & Daughter team members for sharing their beautiful work in this spotlight. If you're sewing along at home, we'd love to see what you're making with boiled wool/viscose now and in the future! Tag us #stonemountainfabric on Instagram.