This Stonemountain Spotlight was our biggest yet with 14 staff members participating! While everyone put their own spin on their makes, we did see some trends emerge in the group, which we will highlight. Trends aside, we were amazed to see how many different ways this fabric can be used. This Wide Bamboo Rib Knit is a truly versatile wardrobe staple, whether you're using it to make dresses, sweaters or tees, dressed up or dressed down.
Starting Saturday, February 15th through February 22nd save 15% off on our full range of Wide Bamboo Rib Knit.
---
The Adrienne Blouse Three Ways
We had three staff members make the Adrienne Blouse from Friday Pattern Company. The Adrienne is a pattern for knits, known for its dramatic sleeves and scoop neckline. Check out how Alice, Ashlee and Catherine made this pattern their own.
Alice
Alice chose to showcase the Pine color of the Wide Bamboo Rib Knit. Its deep color, lovely texture, and beautiful drape are what drew her to this fabric.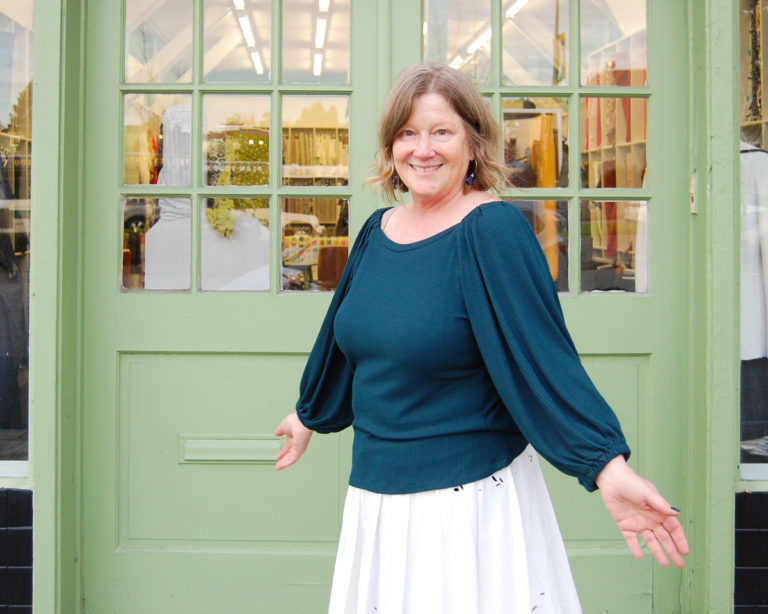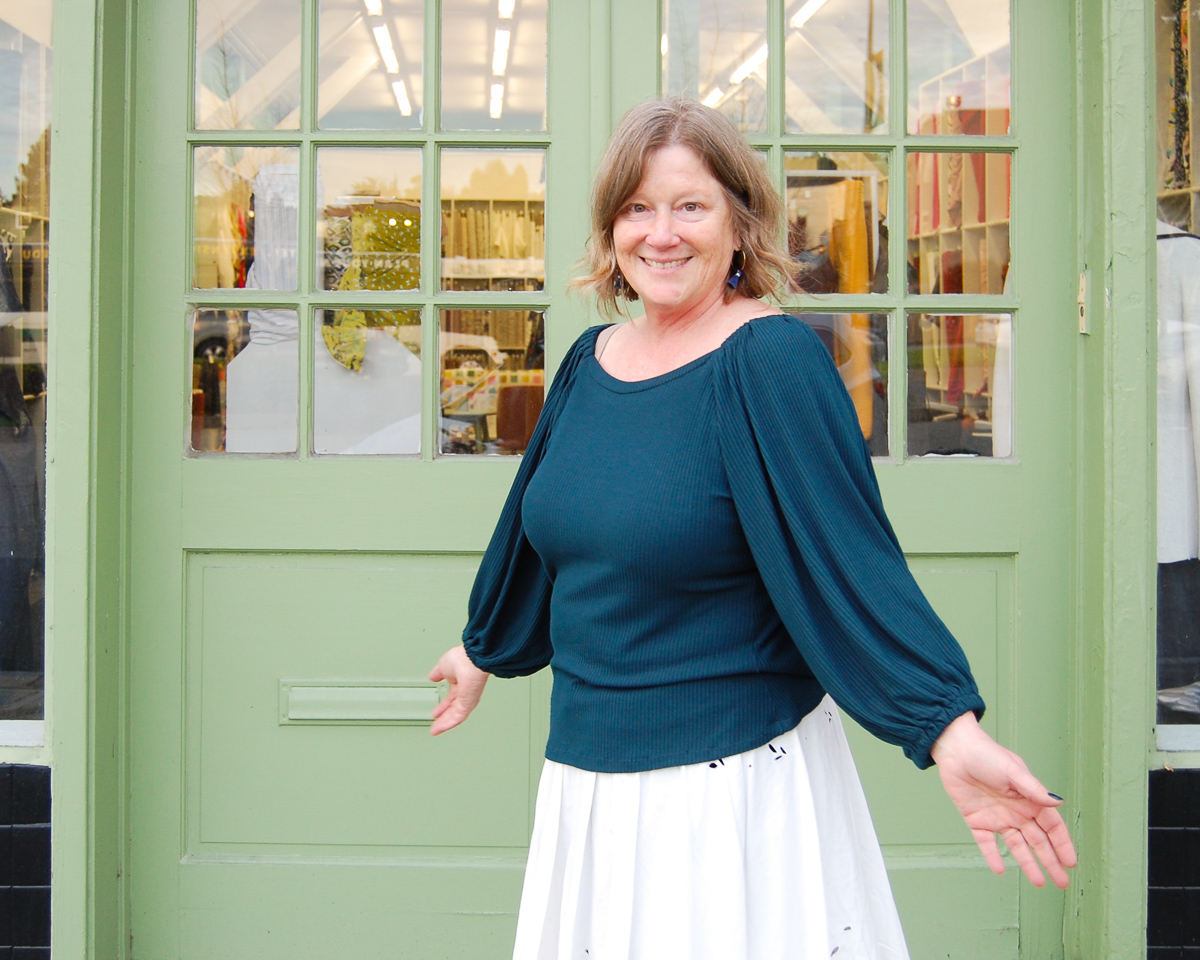 Alice explains how this blouse is a departure from her typical style:
It's different from my usual t-shirt and jean's, it's very feminine and romantic looking.
Alice made the size large, shortened the neckline by 1 inch and transferred that fullness into the bust. She pre-shrunk her fabric in warm water and tumble dried. We think this shirt is great styled with her lace skirt!
---
Ashlee
Ashlee made the Adrienne Blouse by Friday Pattern Company in Redwood. She cut the size large and found that using a walking foot and twin needle were very helpful.
I've been wanting some puff sleeves for a while now, thanks to Anne Shirley Cuthbert. Now I finally have them, and the fabric drapes beautifully for the big billowy sleeves.
We love how she cut the sleeves on the crossgrain to achieve a simple yet interesting visual detail. Great job Ashlee!
---
Catherine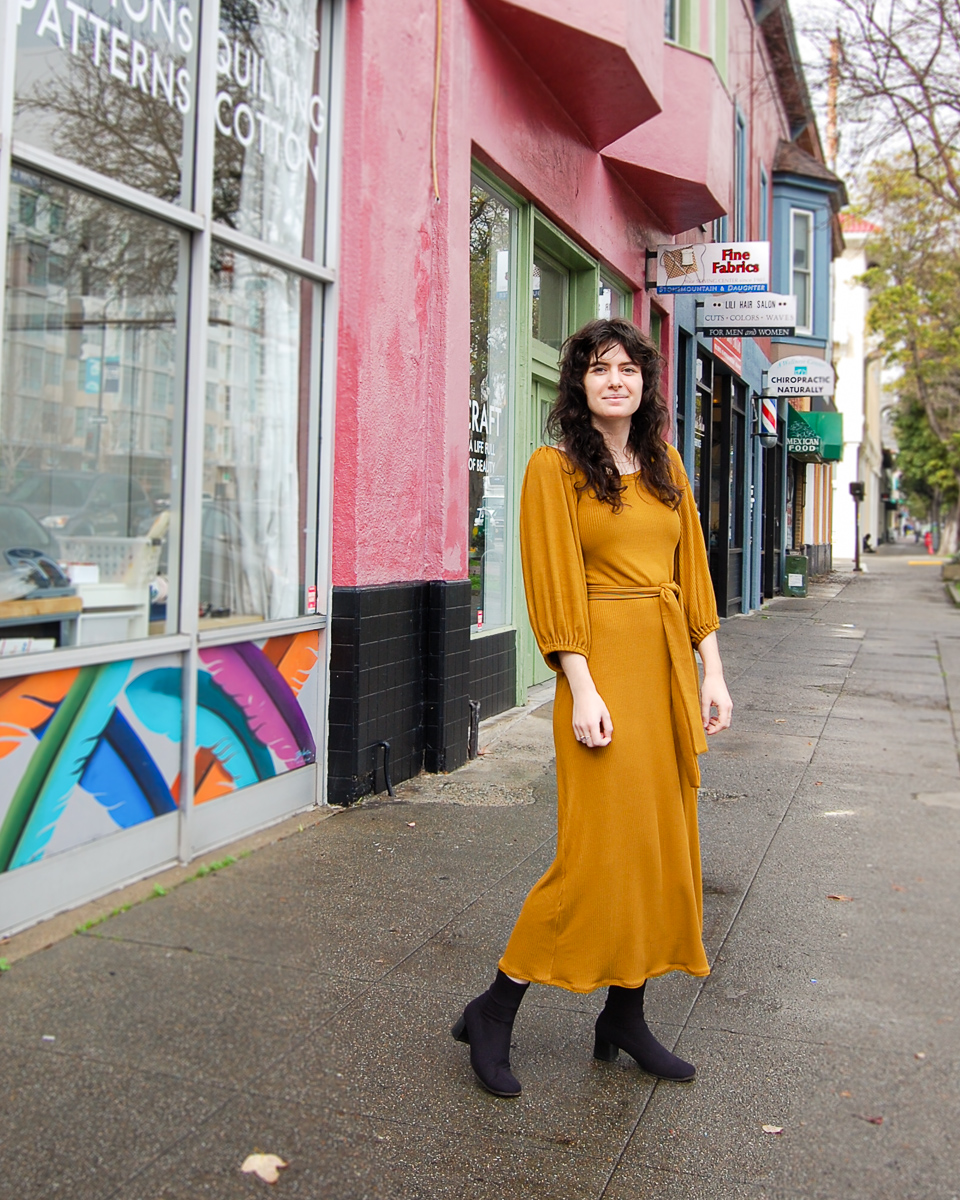 Catherine hacked the Adrienne Blouse by Friday Pattern Company and turned it into a swishy dress. She made it in the color Pollen and sized down to an XS to ensure a close fit in the bodice. This color is tricky to photograph and can look yellow in some lights and more green/brown in others.
I love the color (pukey yellow/greens are my favorite!) and the drape. And though rib knits often feel casual, I think the wide and flat rib in this fabric is a bit more elevated.
Catherine did the following to achieve her romantic Adrienne Blouse-turned-dress:
I lengthened the pattern by whatever my fabric constraints allowed. Instead of altering the pattern piece, I just eyeballed it while cutting the front piece. I then used that cut piece as my pattern for the back, since the front and back patterns are the same. I also added a waist tie. I used a tricot interfacing on the waist tie because I wanted to make sure it kept its shape and didn't fold over. This worked great and I really like the result.
---
A Great Basic: The Nikko Top and Dress by True Bias
As far as we're concerned, The Nikko Top and Dress from True Bias is a total TNT (tried and true) pattern, just ask one of our four staff members who chose to make it in our Wide Bamboo Rib Knit. The mock turtleneck pattern includes options for a top or maxi dress version, with or without sleeves. Read on to learn why Tess, Patty, Liz and Christine love it so much.
Tess
Tess made a True Bias Nikko Top in Black in size 8 with no modifications.
This is the perfect basic for winter! I can see wearing this all the time (I already am), layered under jackets and sweaters. It's a great base layer and if I wore dresses I could see wearing it under a dress for the winter (I just don't really wear dresses). It also looks great on its own as a top! I like that it looks good tucked into high waisted bottoms or untucked. It feels very chic!
We agree! As we kept saying the day Tess wore this outfit: she looks so spy chic!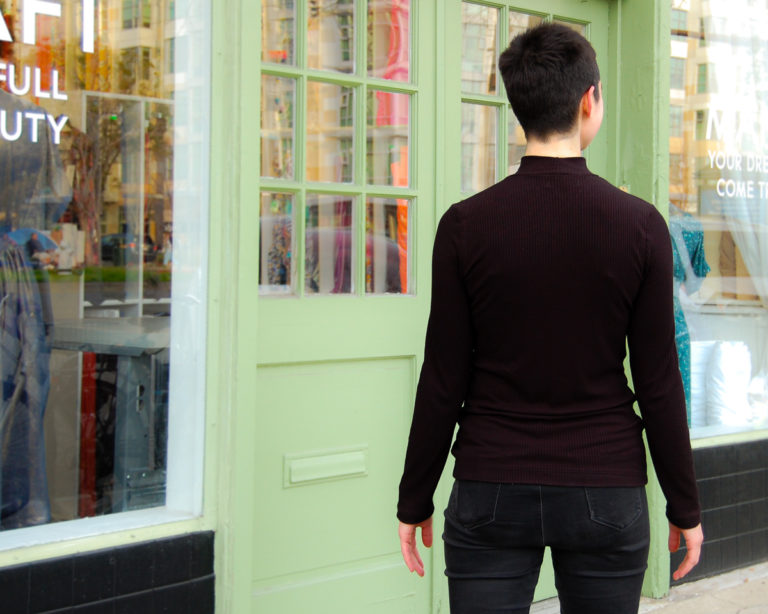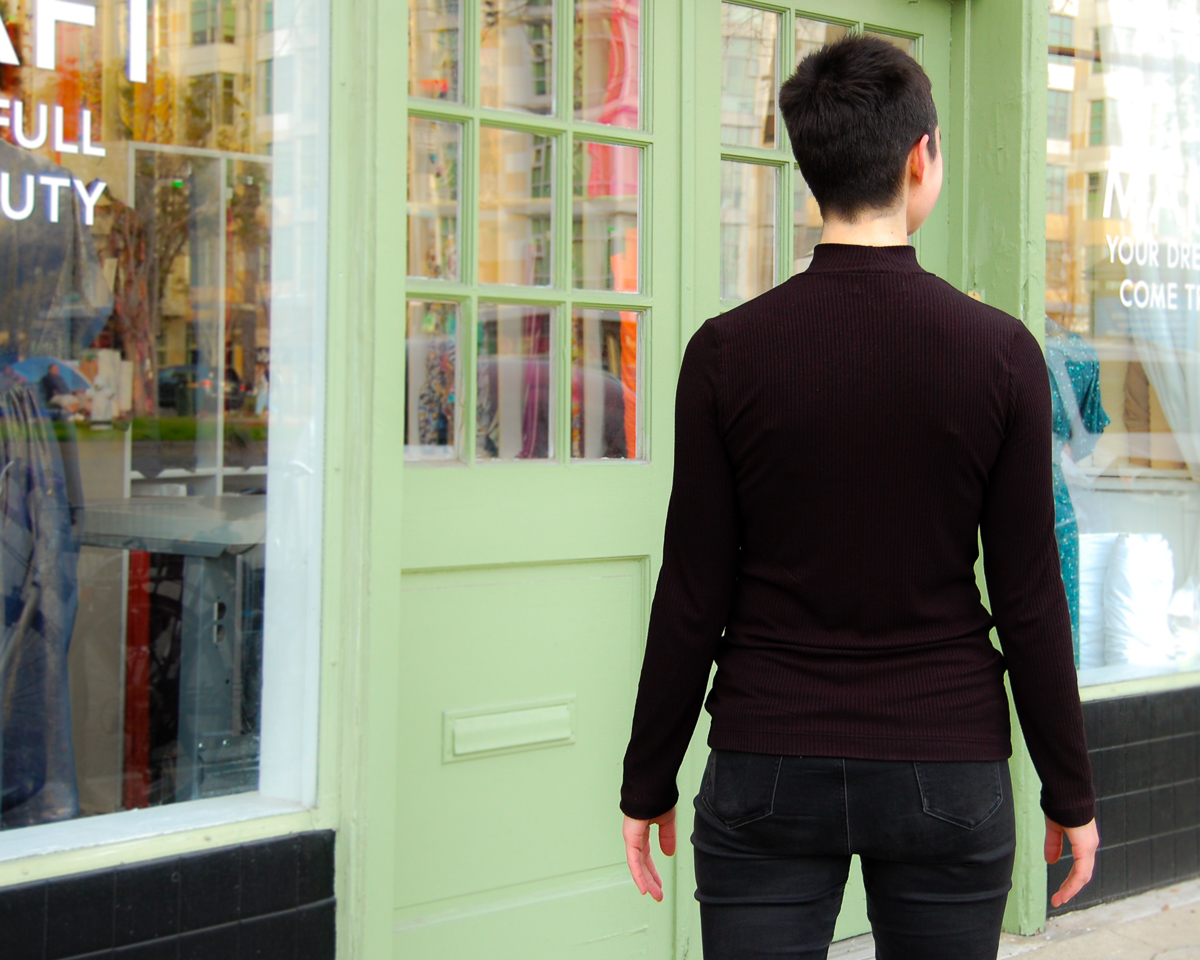 Tess offered some helpful tips for working with Wide Bamboo Rib:
I used a walking foot and a twin needle for the hems. I also stabilized the seams with fusible knit tape, which I made myself by cutting strips of knit interfacing.
---
Patty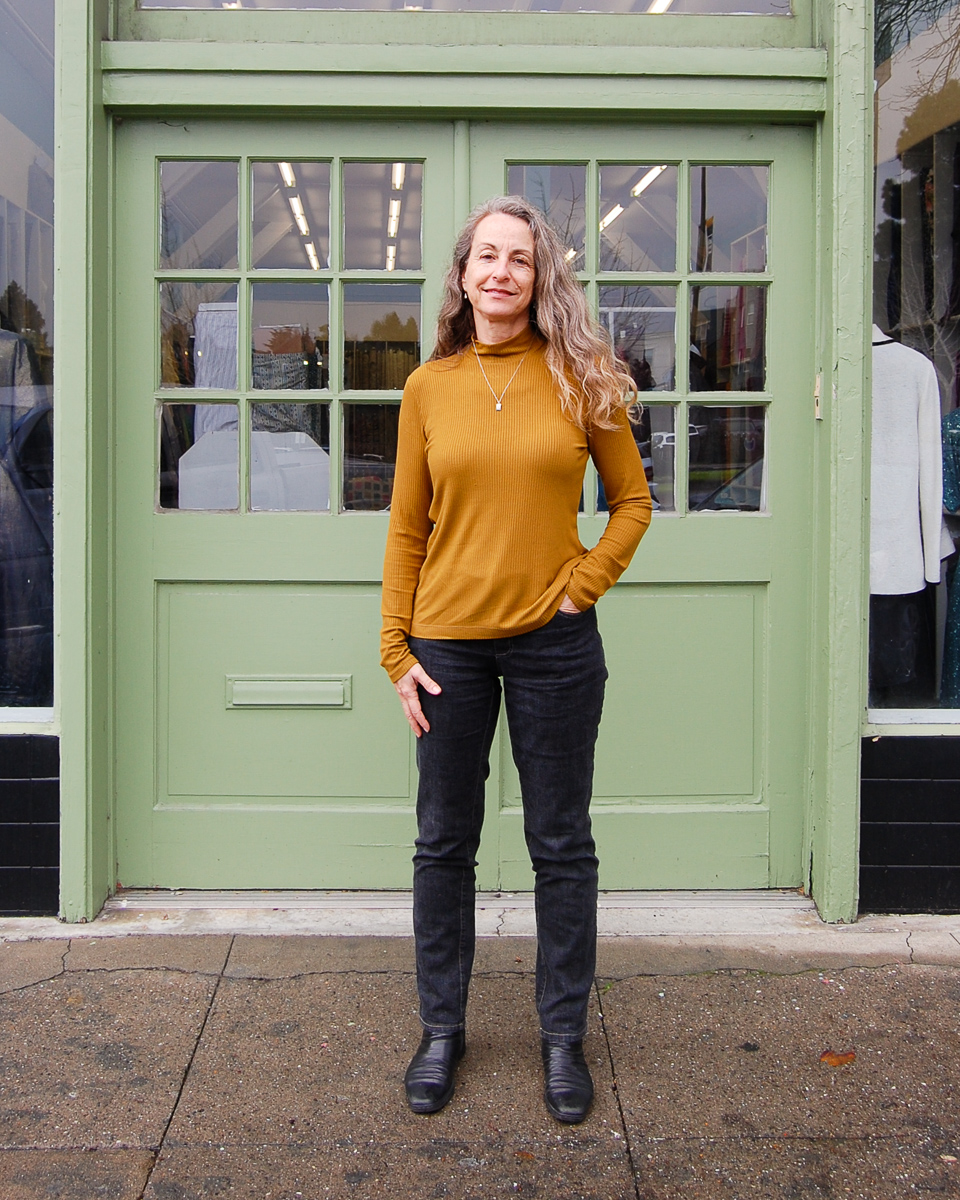 Patty also opted to make a True Bias Nikko Top, but this time in the color Pollen:
I love the color of this fabric! In some lights it's a warm light brown and in others a pale gold, or even slightly olive. The fabric is wonderfully soft and I thought it might be hard to work with but it wasn't. It even presses well. And, it doesn't curl at the edges, so I toyed with leaving the hems raw.
Patty machine washed and dried her fabric before sewing up her Nikko. She made the size 10 with the following modifications:
I took it in almost a half an inch around each armscye because it was too wide at the shoulders. When I make this pattern again I may just make an 8 instead. I think it's a little looser than it's intended to be, though that's probably not a bad thing in this drapey fabric. I also trimmed an inch off the bottom hem (but not the sleeves).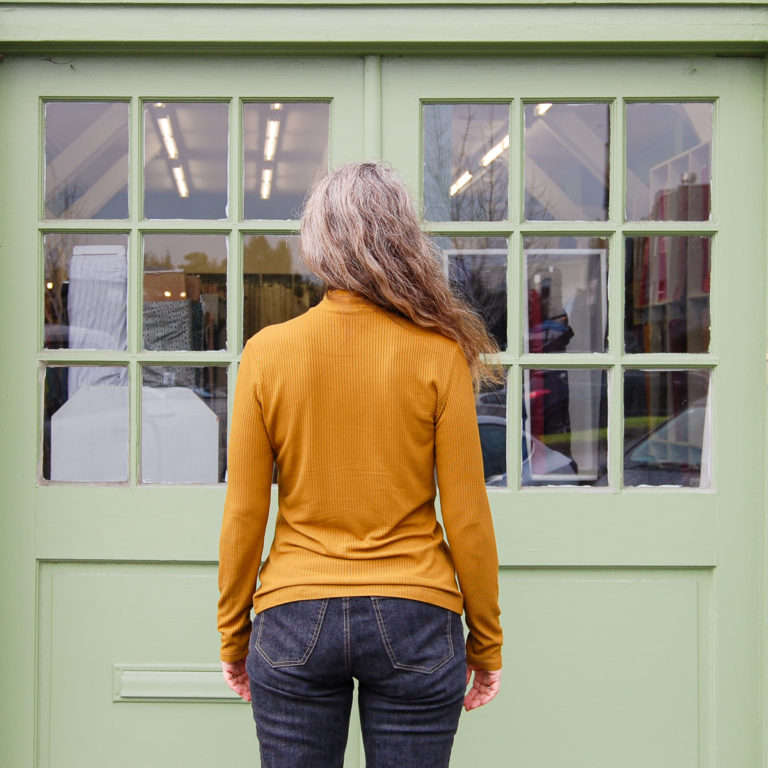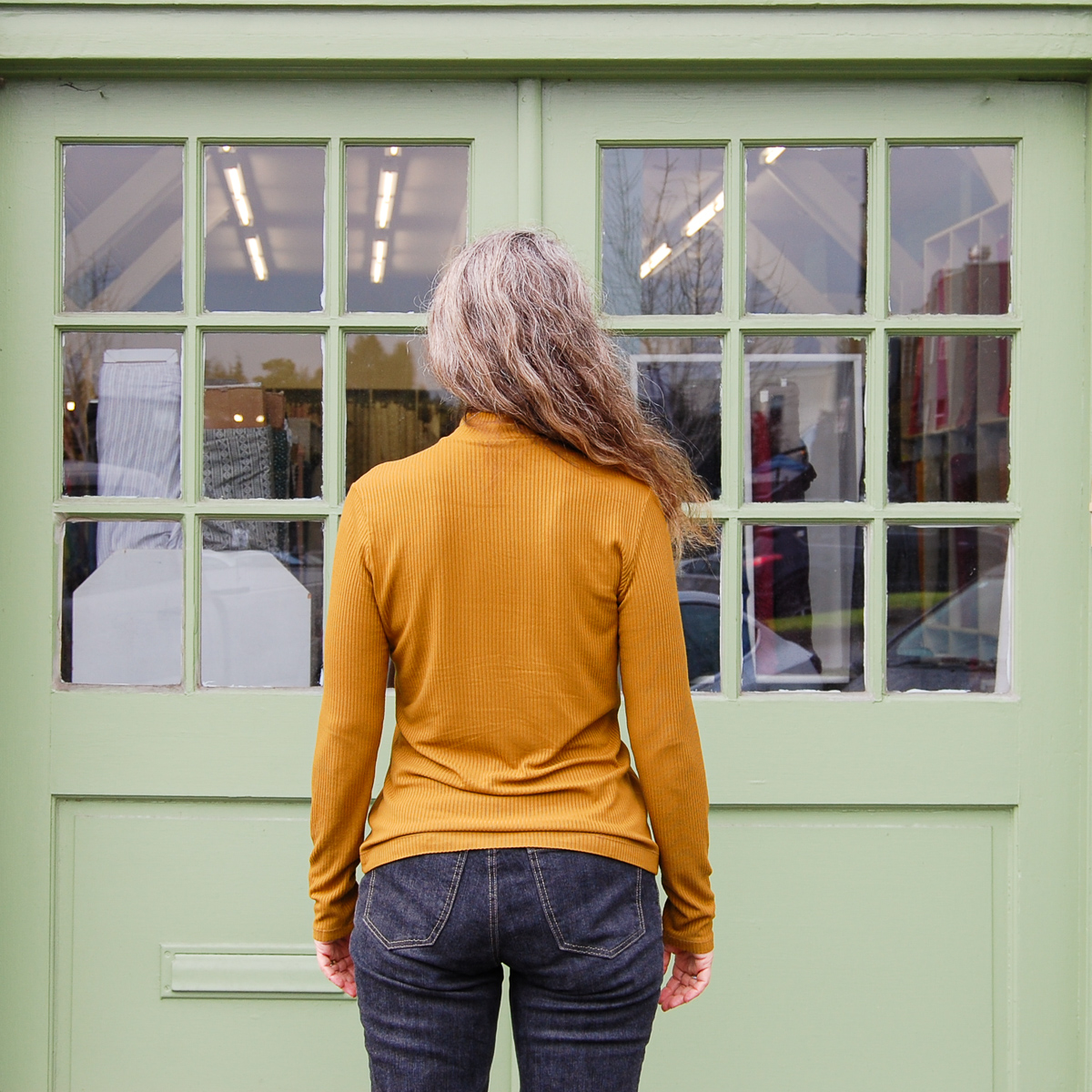 ---
Liz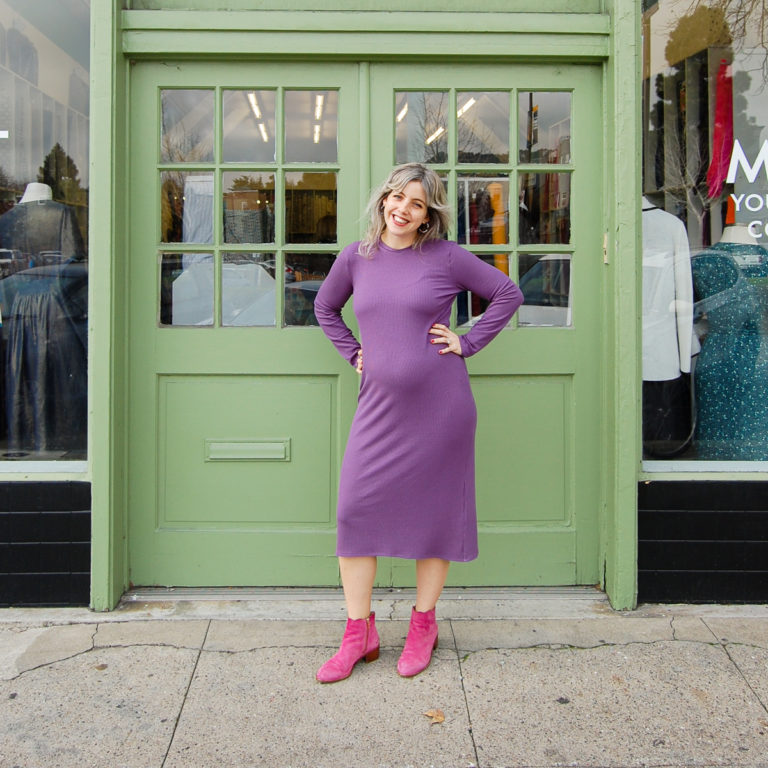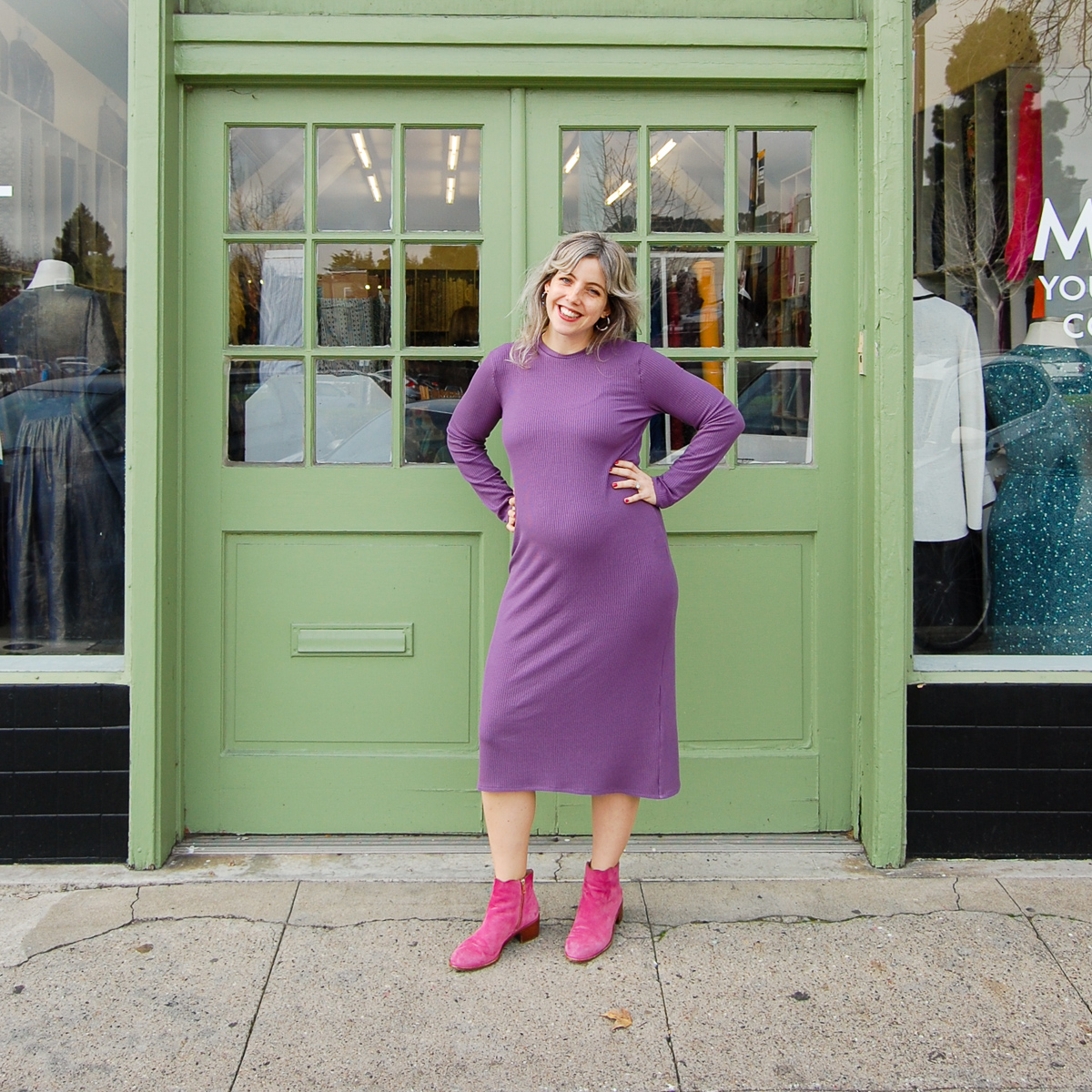 Liz sewed up a modified Nikko Dress by True Bias. She used the color Thistle, a muted, springy purple.
I sized up from my normal size to accommodate my growing bump, which turned out not to be necessary as I ended up taking it in. I dropped the front neckline 1/2 inch and finished with a band. I also omitted the side vents and cut a midi length, which hits below my knees.
Liz found Wonder Tape to be helpful when hemming her dress to keep the knit fabric in place.
It is not my typical style but is so comfy and will be great layered with sweaters and jackets for the rest of winter.
---
Christine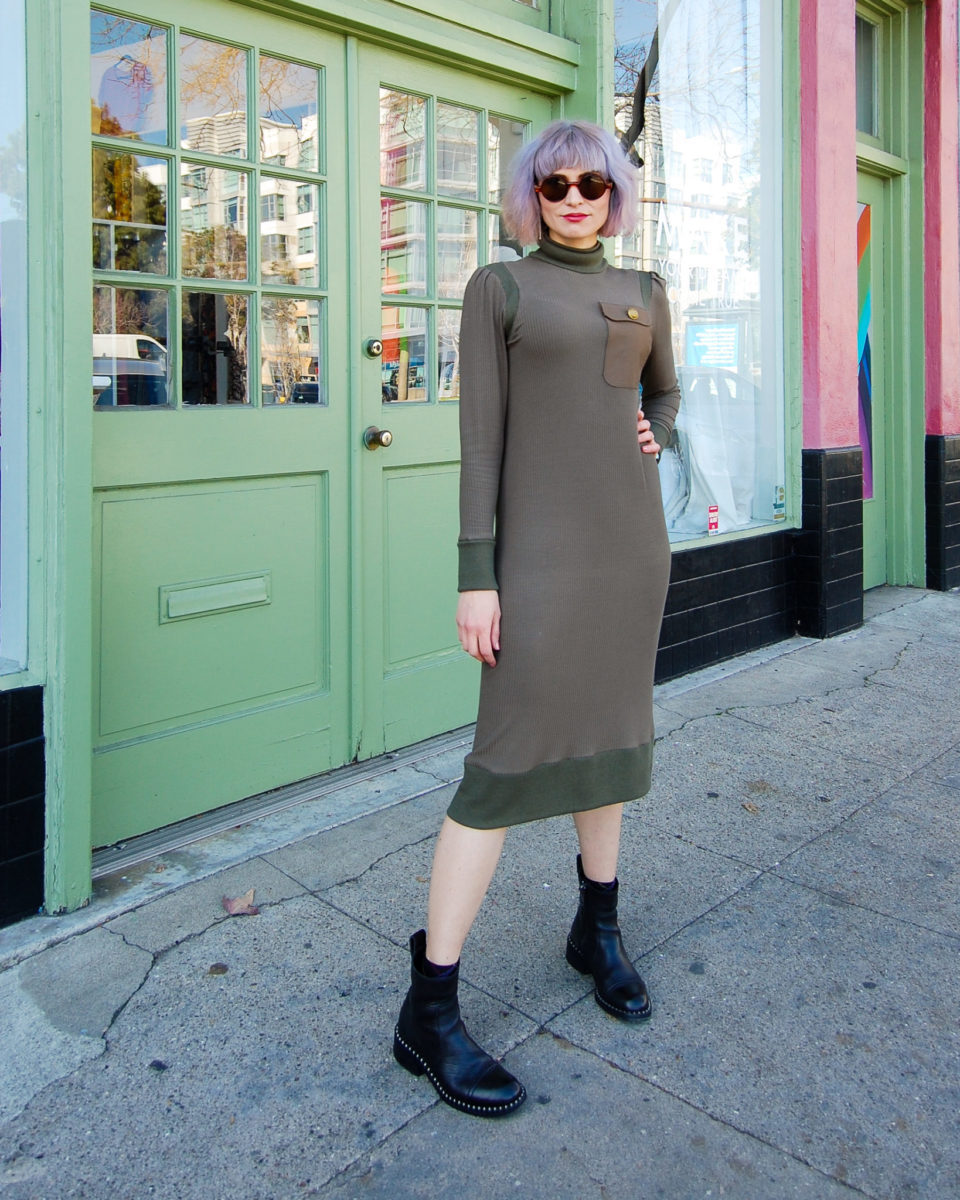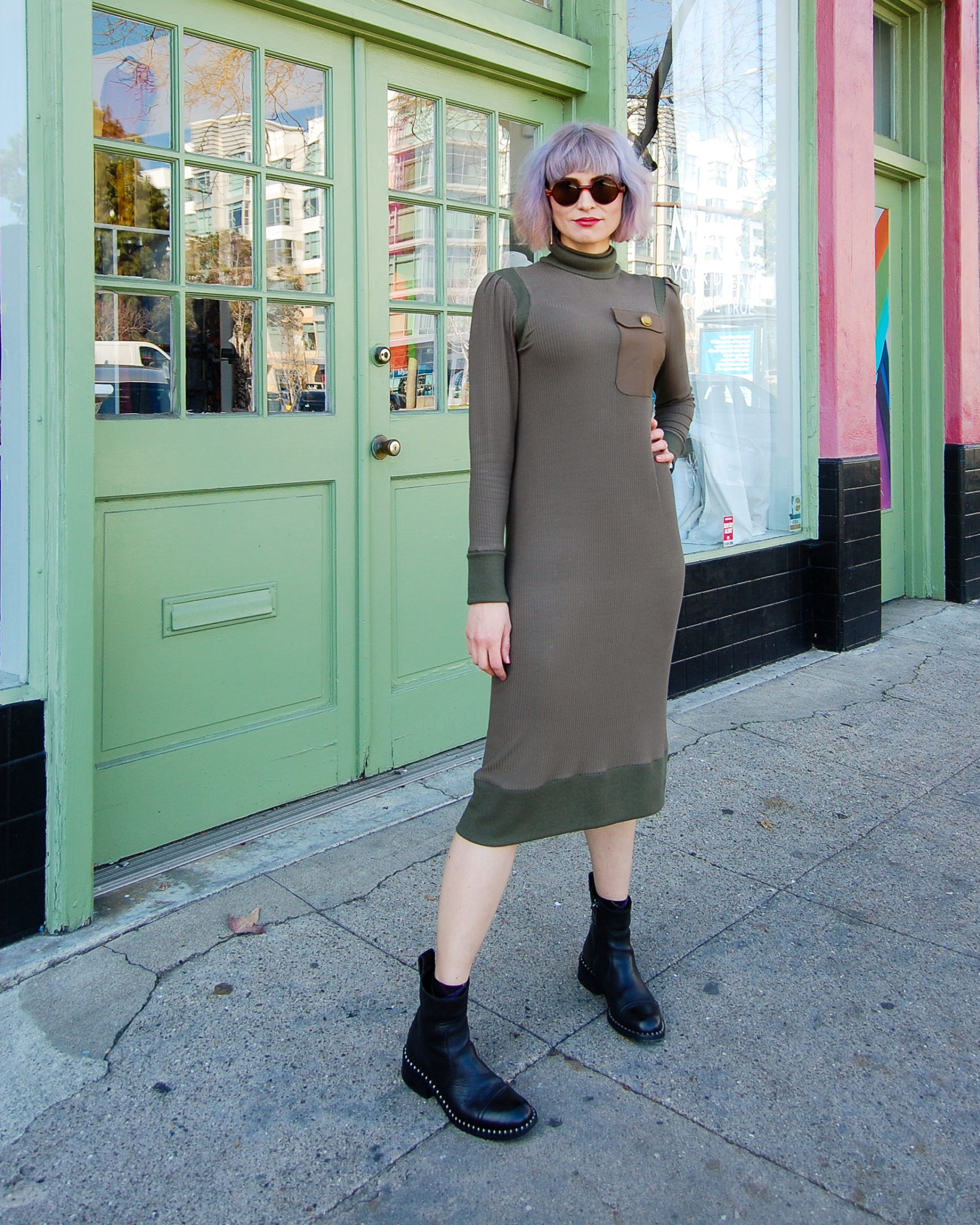 Christine took her Nikko to the next level with her modifications added to the neckline, sleeves and hem. Taking inspiration from military sweaters, she added a chest pocket and patches at the elbows. We love how Christine let the fabric lead her creative choices.
This fabric has incredible drape and hand, which is its biggest draw for me. While this garment is part of my typical style, I will be pairing it with boots and a small black crossbody.
---
A Classic Look: Wrap Dresses and Tops
Whether you go with a dress, top, or bodysuit, the wrap is a classic and elegant style. Check out how Olivia, Tamsin and Natalie used three different patterns to achieve this look.
Olivia
Olivia chose to make the Sew Over It Meredith Dress in the color Copper. She had the following to say about the fabric:
I like how easy it is to work with! As a drapey knit, I thought it would be shifty when cutting out, but that wasn't the case at all! Plus because it's a rib knit the grain is very visible so it was very easy to cut on grain. Also, it doesn't roll onto itself at the cut ends like other bamboo knits I've worked with.
She sized down to a size 10 based on feedback that the fabric was a bit stretchy, and made a few modifications to the pattern:
I shortened the dress to make it into a crop top! I also wanted a more modern look, so I transferred the gathers from the front yoke into a waist dart. I made it a faux wrap too by sewing each front wrap into the opposite side seam. I also omitted the neck binding and instead turned the seam allowance under and topstitched the neckline.
---
Tamsin
Tamsin made the Westcliff Dress by Friday Pattern Company in the color Heathered Grey.
It is a typical style for me, but not a color I usually wear. It is nice to have something basic that will go with everything.
This dress is perfect for twirling! She made the size XL with no modifications.
The fabric was so easy to work with. I expected it to be fiddly, but it sewed up very easily. The finished product is so comfortable! I think it will be great for warm weather.
---
Natalie
Natalie made the Seabright Swimmer from Friday Pattern Company to make a bodysuit in Burgundy. She made a size small with no modifications to the fit.
Since this pattern is made to be a swimsuit, she self-lined it, rather than using a lining fabric. To make it easier on herself she basted the two layers together before constructing the suit and serging her seams. This helped keep the layers from shifting around.
I would say that this is a little bit of a departure from my usual style, as I've mostly sewn with wovens in the past. I'm pushing myself to sew with more knits, so in that sense this project is right on target. This is the first body suit I've made and the first in my wardrobe. I like wearing it under skirts and I plan to try it with pants, too. The double layer of fabric makes it a cozy winter t-shirt option – it's like a hug
---
Color-blocked T-Shirts
Anna and Edgar both got creative with their projects and did some color-blocking. We love how this simple design choice transformed these garments into completely unique pieces.
Anna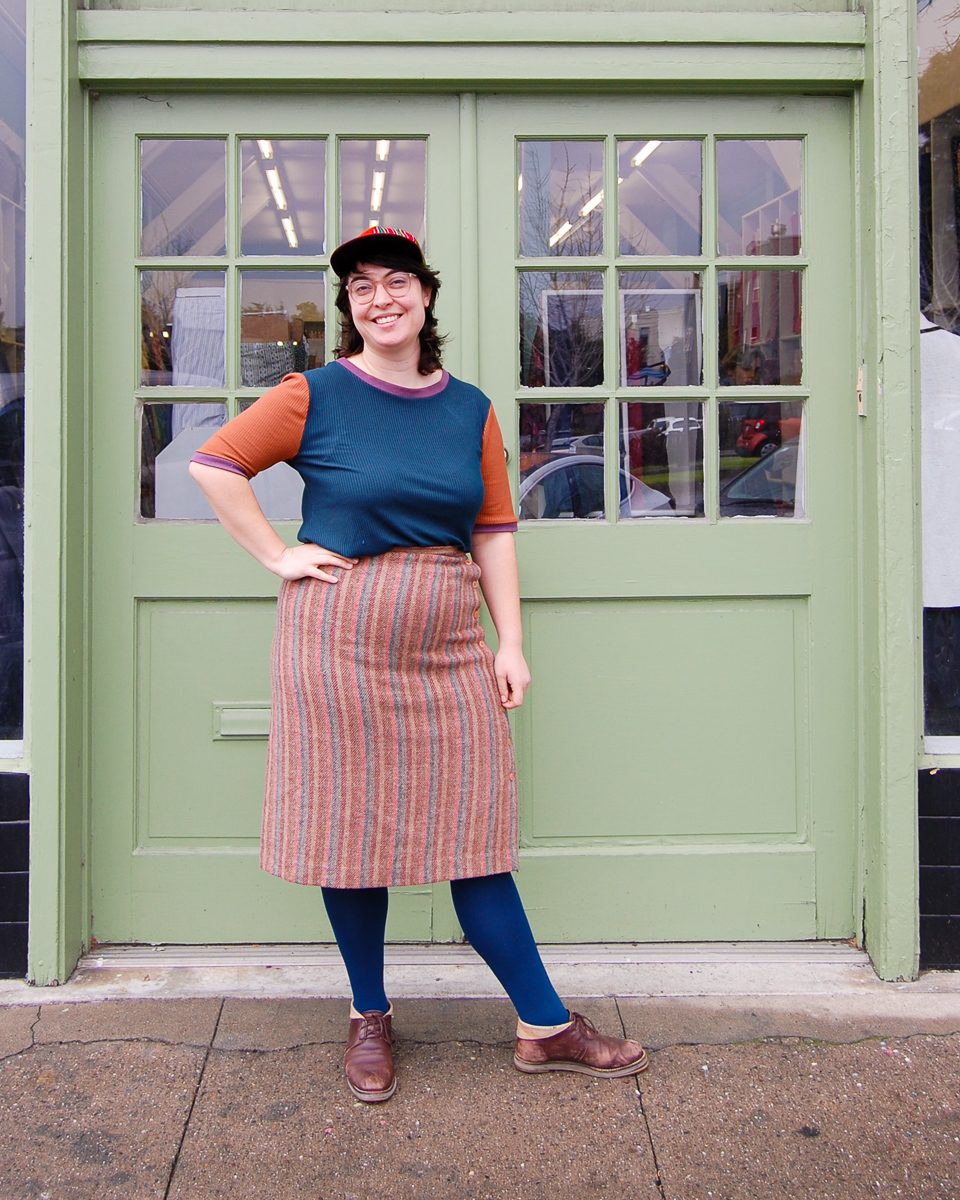 Anna made a color blocked Lark Tee by Grainline Studio that is so fun! The bodice is in Captain Blue, the sleeves in Redwood, and for the binding she used our Bamboo/Cotton Rib Knit – Thistle.
I don't usually make Tees, but thought it would be fun to color block and do a ringer style which i love!
We love how she styled it with her striped skirt, blue tights, and colorful hat! She pre-treated her fabric by washing cold and line drying, and made a size 18.
---
Edgar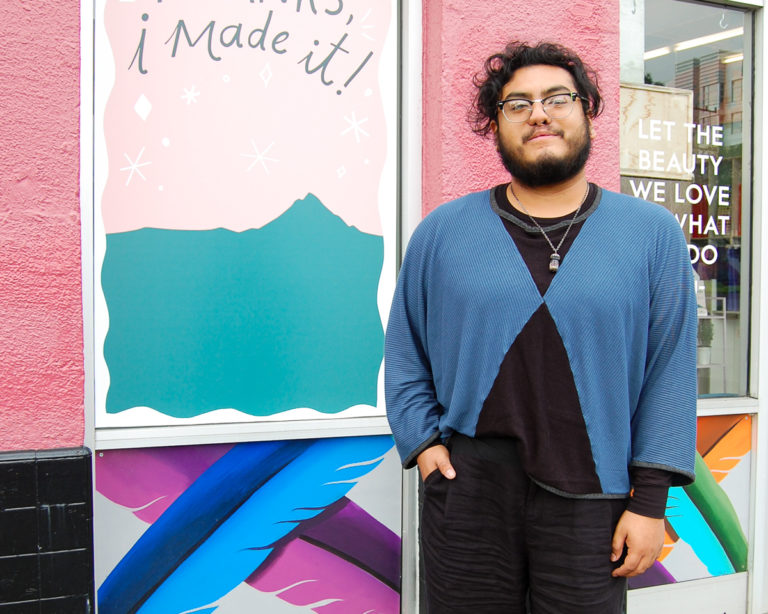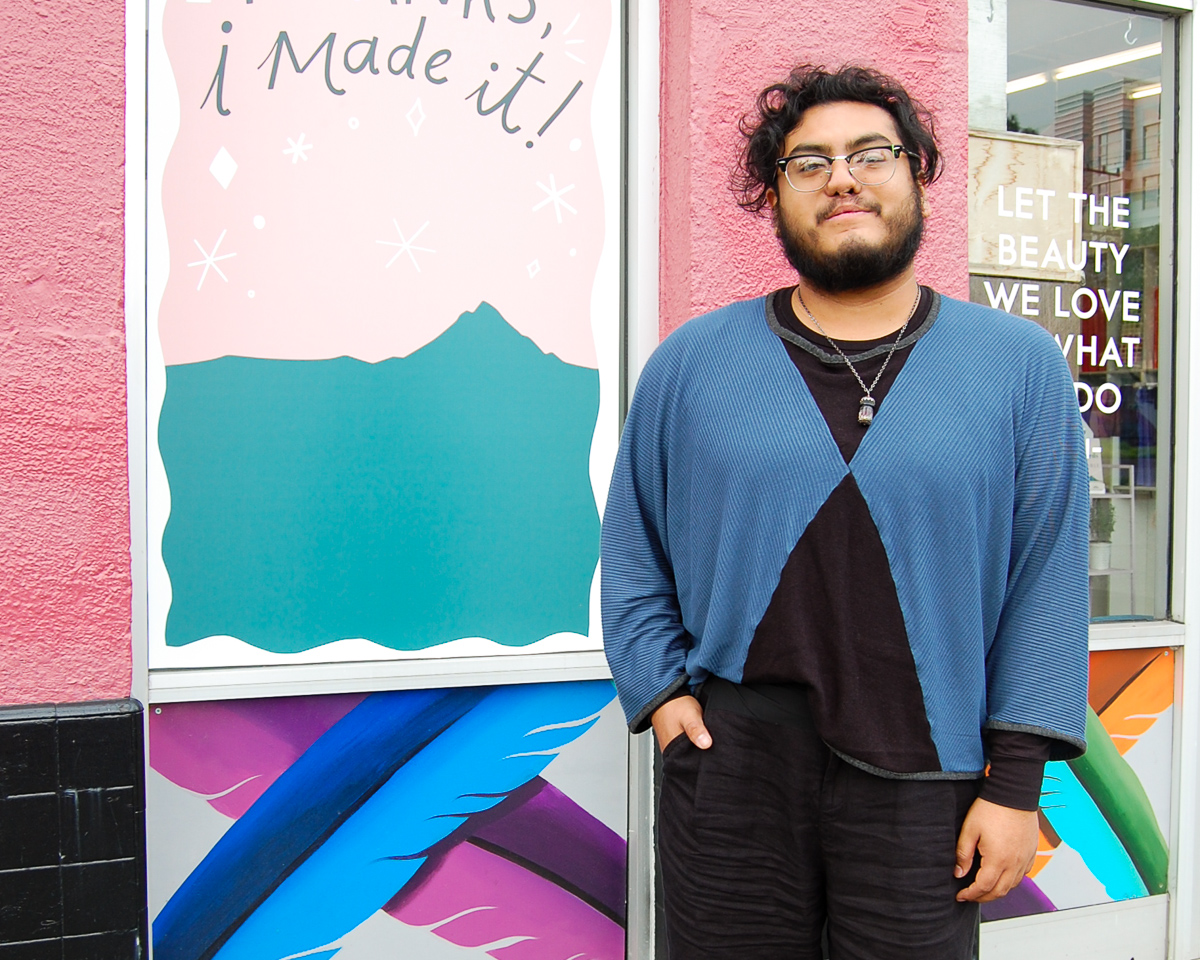 Edgar made the Pinnacle Top from Papercut Patterns in Captain Blue color. He combined the Wide Bamboo Rib Knit with a contrasting black fabric to accentuate the piecing on the pattern and finished it with a grey bias binding.
It is my typical style I just normally never work with knits so it was a good learning experience. I really enjoyed the feel and drape of the fabric, it was very easy to work with. The fit was a little loose compared to other tops I made, so I would maybe size down on pattern next time because this knit does tend to be a little heavy.
Edgar always adds his own design touches to each garment he makes and we love how this one turned out.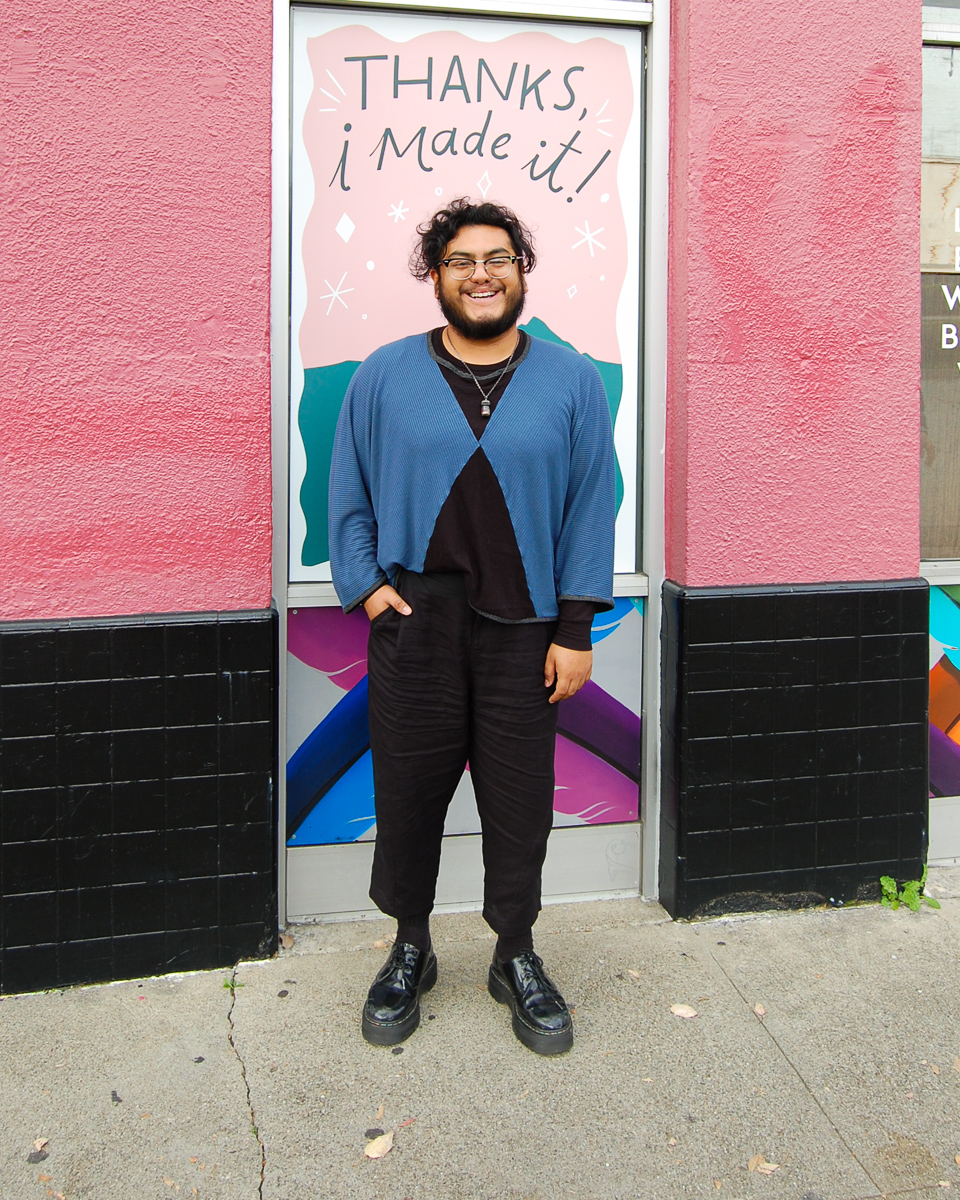 ---
A Great Lightweight Layer
Kim and Gerri both paired sweater patterns with the Wide Bamboo Rib Knit. These lightweight layering pieces make for great additions to your transitional weather wardrobe. With spring on the way, these two are bound to get a good amount of wear out of their makes.
Kim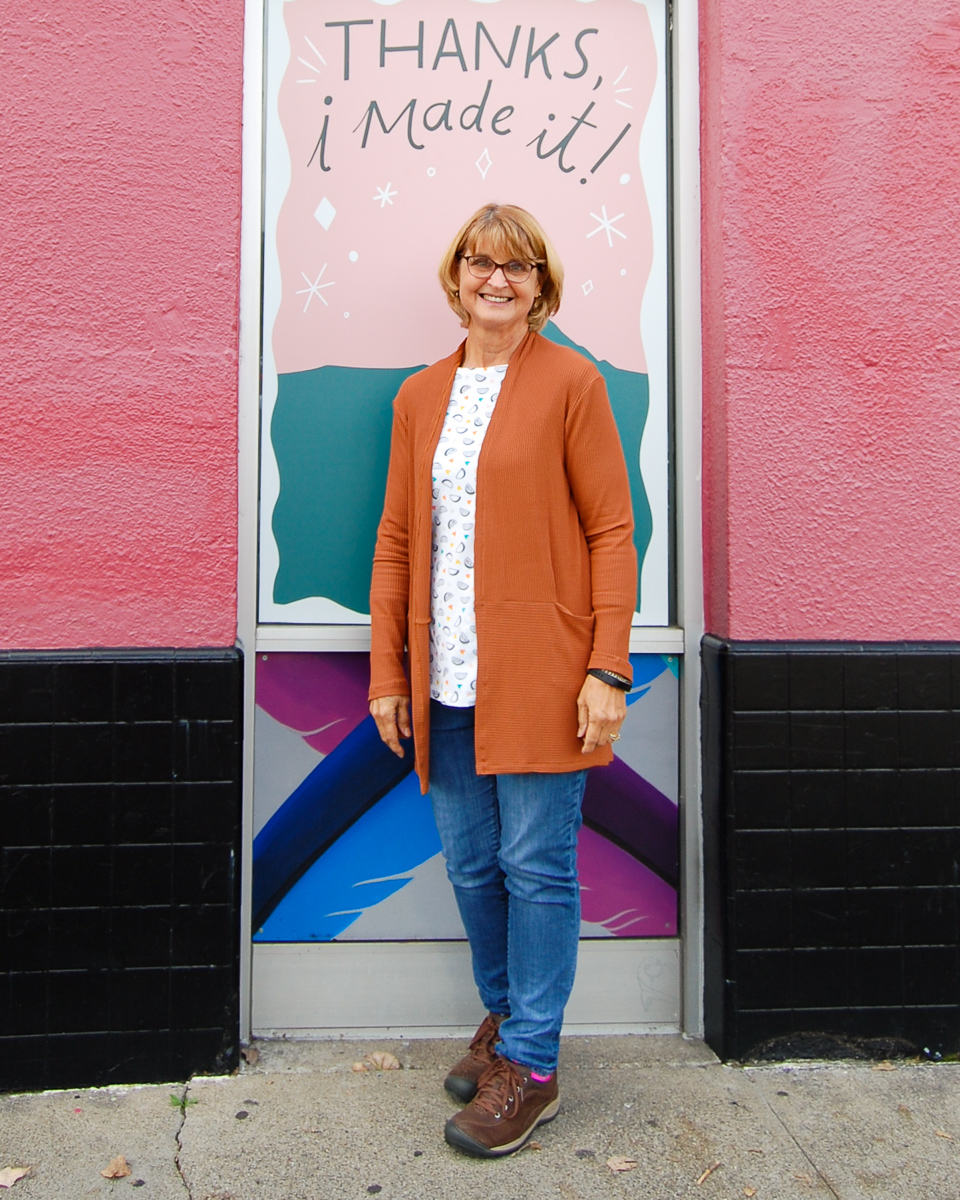 For this Stonemountain Spotlight, Kim chose to make the Helene Cardigan by Jalie in the color Redwood.
I really love the look and fit of this pattern and had fun sewing with the fabric (not something I would have even picked out for myself)
Kim's only modification to this pattern was to shorten the sleeves. She loved how easy this fabric was to sew with!
---
Gerri
Gerri made the Jarrah Sweater from Megan Nielsen in Copper. She made a size large and modified the neckline.
The weight of this fabric is so nice. I plan to wear it this summer and I will use this pattern again.
We love that she chose to finish the top with a rolled lettuce hem, courtesy of her specialty Merrow machine, which is a type of industrial serger.
---
Starting Saturday, February 15th through the 22nd save 15% off on all available colors of our Wide Bamboo Rib Knit. No coupon needed. Coupons and discounts cannot be combined. Valid on in stock items only, while supplies last.