If you can't visit the shop in person, how will you find the perfect thread match for your fabric? Not to worry—our team of expert thread-matchers at Stonemountain & Daughter is here to help! Our staff members make perfect thread matches for dozens of fabrics every day. Today we're going to take you behind the scenes and into our thread-matching process:
Can I order matching thread for my fabric?
Yes! Every fabric product on the Stonemountain & Daughter website includes the option to add a 110-yard (100 m) spool of Gutermann thread to match (see highlighted area below). When you check this box, it adds one (or more) spool of thread to your order and alerts the sales associate who is preparing the order to make a thread match.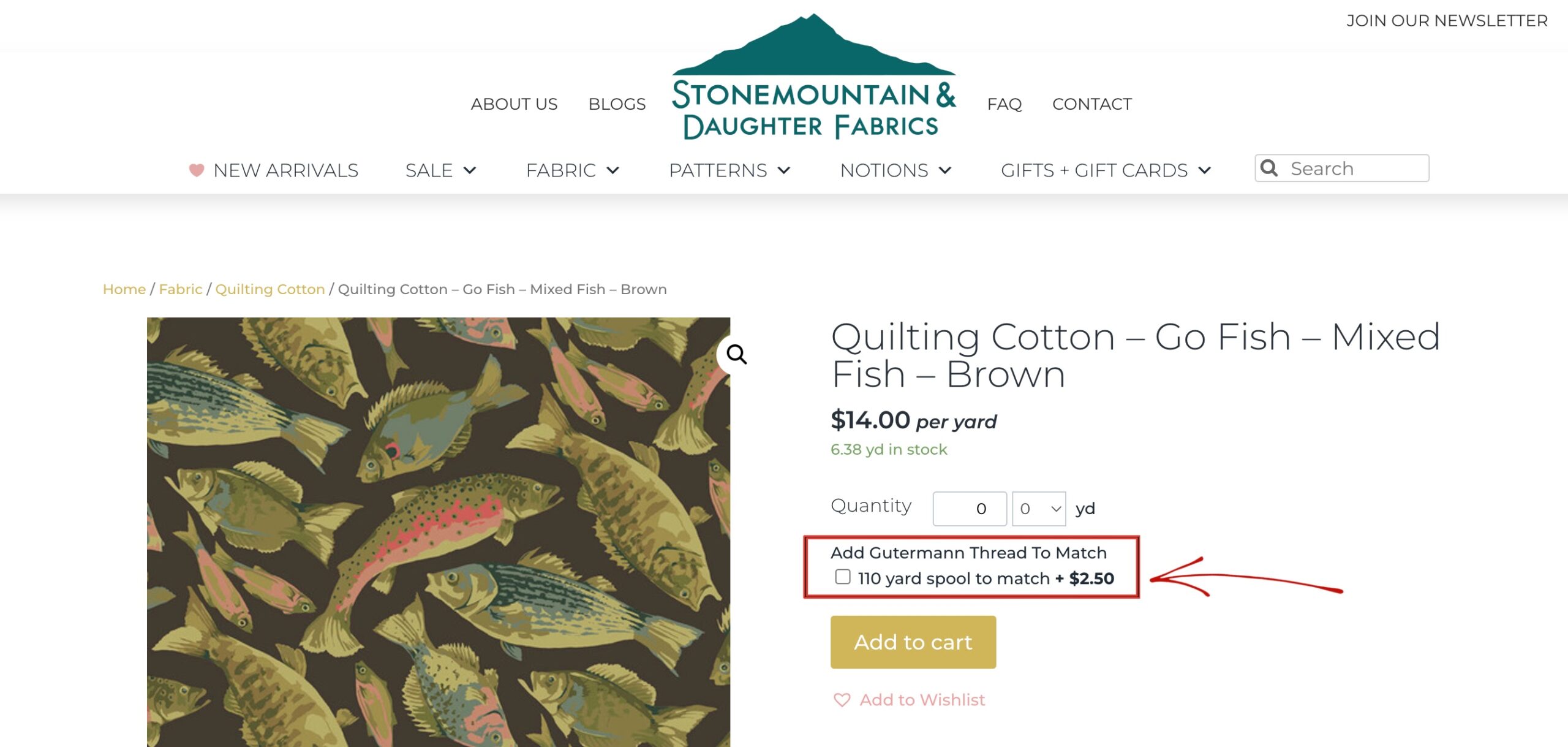 Why Gutermann thread?
Gutermann Sew-All Thread is our favorite all-purpose thread for machine and hand sewing with any fabric. Made of 100% Polyester, Gutermann Sew-All Thread is smooth, strong, and colorfast. We stock the 110-yard spools in over 250 colors, so there's sure to be a great match for your chosen fabric.
How do you make a great thread match?
That's a great question, and one that we revisit each time we have an especially tricky fabric color to match! To start, we make sure that we're in natural light, as fluorescent light can add a yellow cast to the colors we see. Then it's a question of the fabric needing matching:
Matching a solid color
If we're asked to pair a thread with solid-color fabric, making a match is usually straightforward. For this solid Cotton Couture quilting cotton, we will start by pulling a few spools of blue that seem to be in the neighborhood of the fabric color. Once we have a few different threads selected, we'll unroll a short length of thread and lay it on the fabric to compare the colors. While comparing the whole spool of thread to the fabric can help us to narrow down our color choices, the most accurate thread match is made by comparing a single strand of thread with the fabric. When making a match, we will look for a color that blends in with the fabric as closely as possible. Due to the different manufacturers of fabric and thread, this will rarely be an exact match, so we'll err on the side of caution and select a thread just a hair darker than the fabric. That way, the thread will seem to disappear into the shadows, seams, and folds of the garment, making it essentially invisible.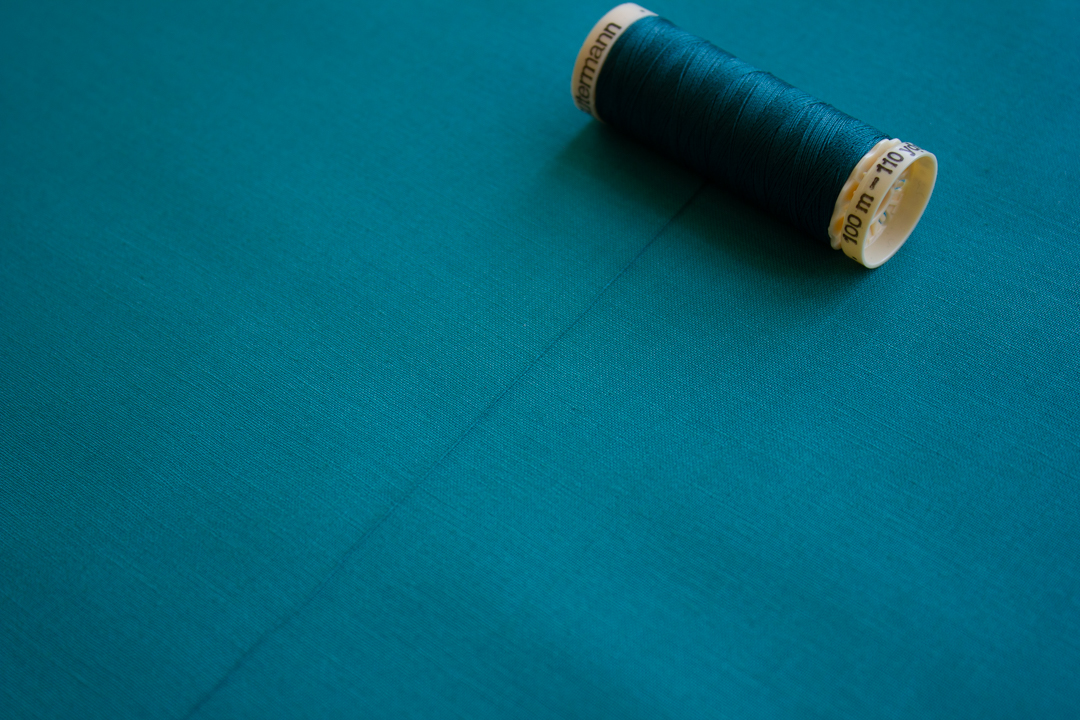 Matching a print or pattern
If we are asked to make a thread match to a fabric with a print or pattern, we will plan to match the thread to the ground color—in the example below, that is the charcoal gray of the background. While this isn't an exact match, this color should blend in with the background color when the project is sewn. As you can see below, the colors of the fish are quite light compared to that of the background, so those colors would not be our preference.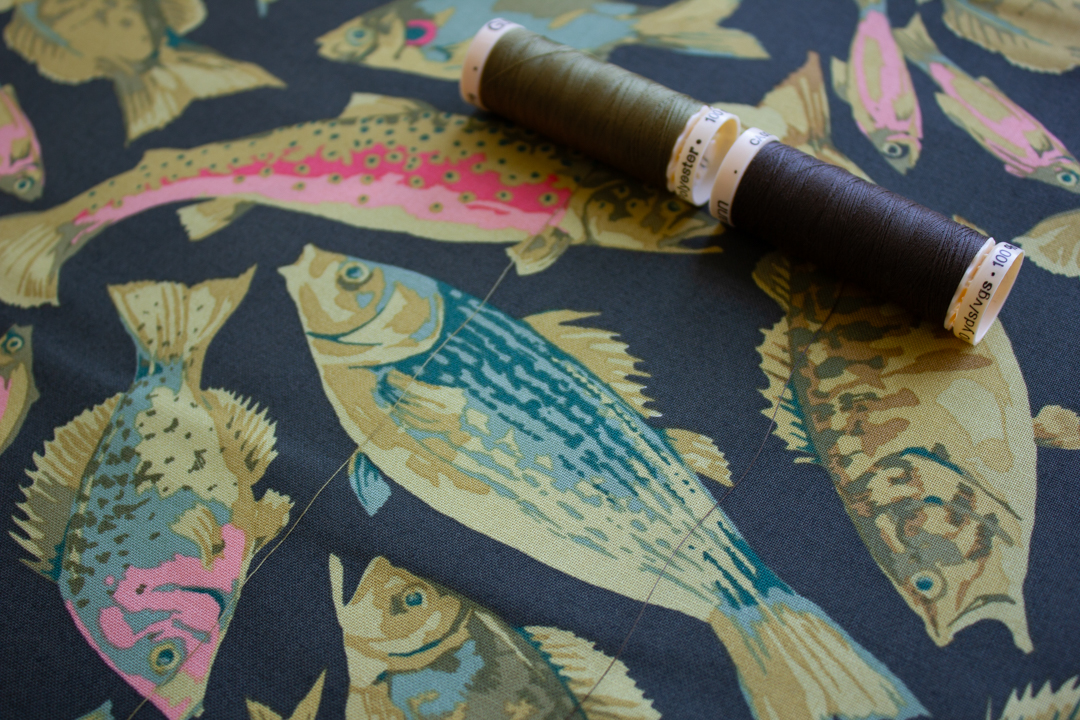 Sometimes we get a request for thread matching with a fabric with no background color and several prominent colors in the pattern. For example: in the fabric below, olive green, red-orange, light brown, and dark blue all appear prominently. Once we have unwound a bit of thread we can see that of the four colors, the dark blue thread blends with the fabric the best—dark blue is the color we would select as the best thread match.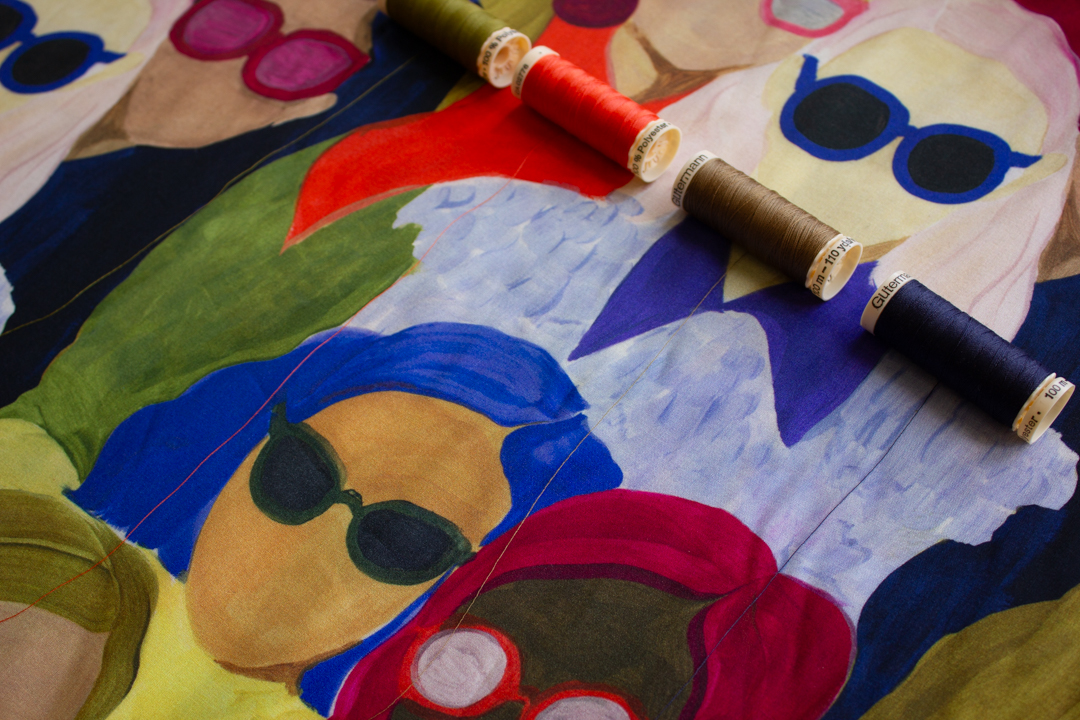 Special requests for thread matching
Sometimes sewists prefer to have the thread color match something other than the fabric's background color, and in that case, please let us know! The best way to do this is by leaving a message in the "Notes About Your Order" field on the checkout page: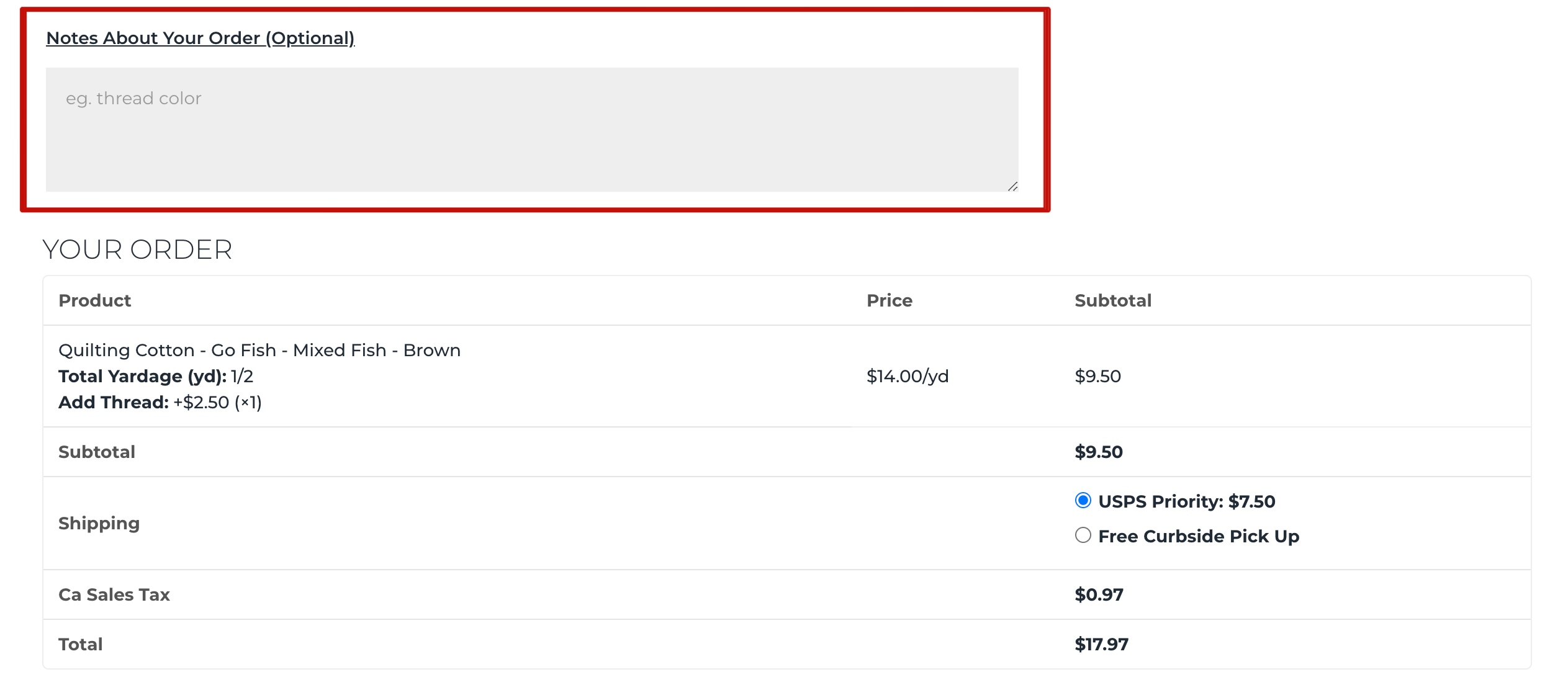 For this yarn-dyed cotton, our first choice would be to select the thread match on the right, since it blends seamlessly into the woven motif. If you want the thread to be visible on the fabric but still coordinate with the overall color palette, you could leave us a note that says "Please match thread to the lightest peach color in this fabric." This would give us a great idea of the thread color you are looking for, and we would make a match accordingly.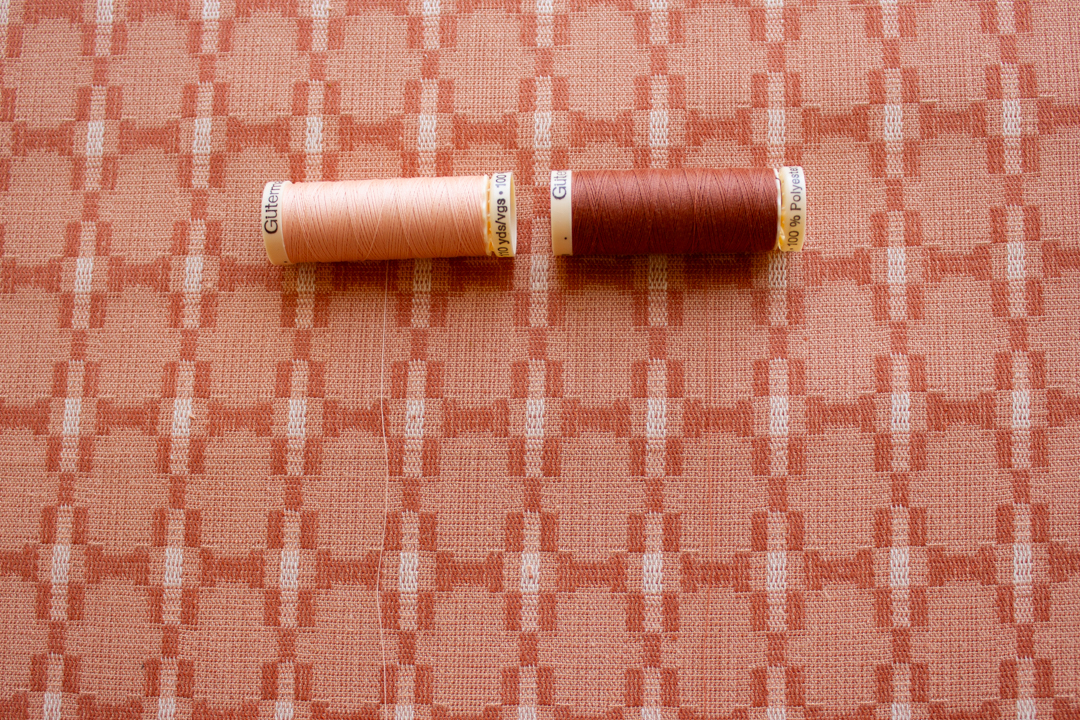 Thread matching in person
If you're shopping in person at the Berkeley shop and would like some help finding the best thread match (or contrasting topstitch thread) for your fabric, please let us know and we'll be happy to assist!
P.S. You don't have to match your thread!
We love the flexibility that comes with sewing, which includes not using an exact thread match if that's what you have on hand (or what you prefer)! Threads Magazine recommends keeping a small stash of midtone tans and grays, which blend in with many fabrics—we think supplementing those shades with black, white, navy blue, and brown is a great way to maintain a basic thread supply that will match most colors.