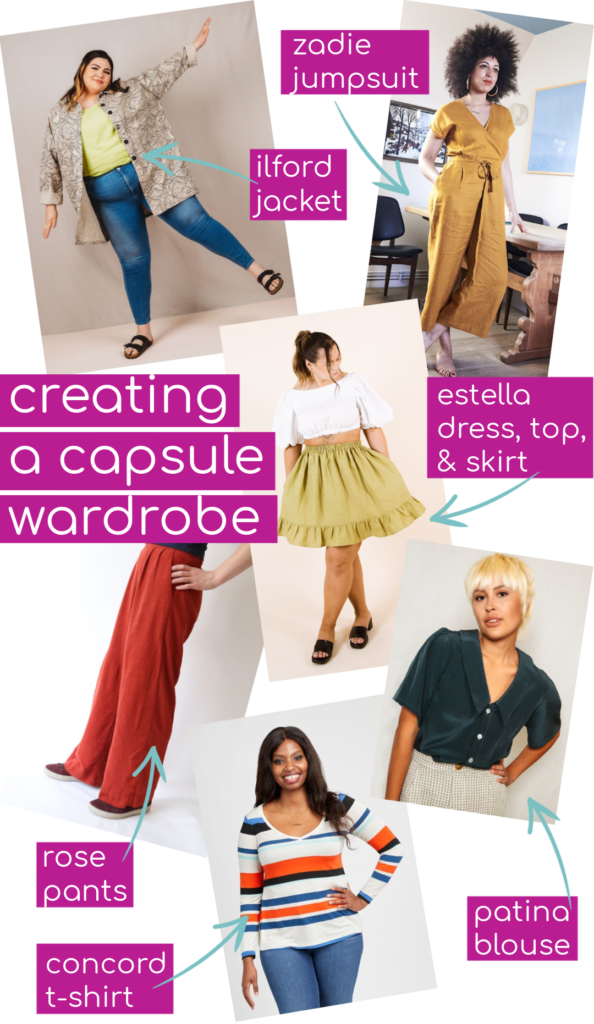 One of the best things about being at the shop is getting to know all the fabrics we carry—in addition to finding our personal favorites, it's interesting to see how fabrics by different manufacturers can work so well together. We love exploring the shop and finding fantastic fabric combinations that include different substrates (such as lawn, gauze, challis, and jersey) and different patterns (such as florals, stripes, and plaids), and we hope you'll do the same!
Once you've gathered some matching fabrics you really love, it's time to figure out which garment patterns to use. Perhaps you're thinking about creating a coordinating outfit, but what if you want to take that concept a bit further? In that case, we recommend creating a capsule wardrobe! A capsule wardrobe is made up of a few select pieces that can be worn separately or together in various combinations. It's a great way to build a versatile, functional wardrobe, and it's perfect for traveling light, since you know that everything in your suitcase will match!
For our capsule wardrobe above, we selected patterns that can be made with variations (such as short/long sleeves, pants/shorts, dress/separates) for maximum value and flexibility. These specific patterns were selected because they can be worn together in several combinations. Our picks include:
a pants/shorts pattern like Rose, a jumpsuit like Zadie, a dress/top/skirt like Estella, a t-shirt like Concord, a blouse like Patina, and a jacket like the Ilford.
If you decide to build your own capsule wardrobe, you can use this list as a starting point, but be sure to browse our pattern selection for garments that will compliment your personal look and work best for your lifestyle!