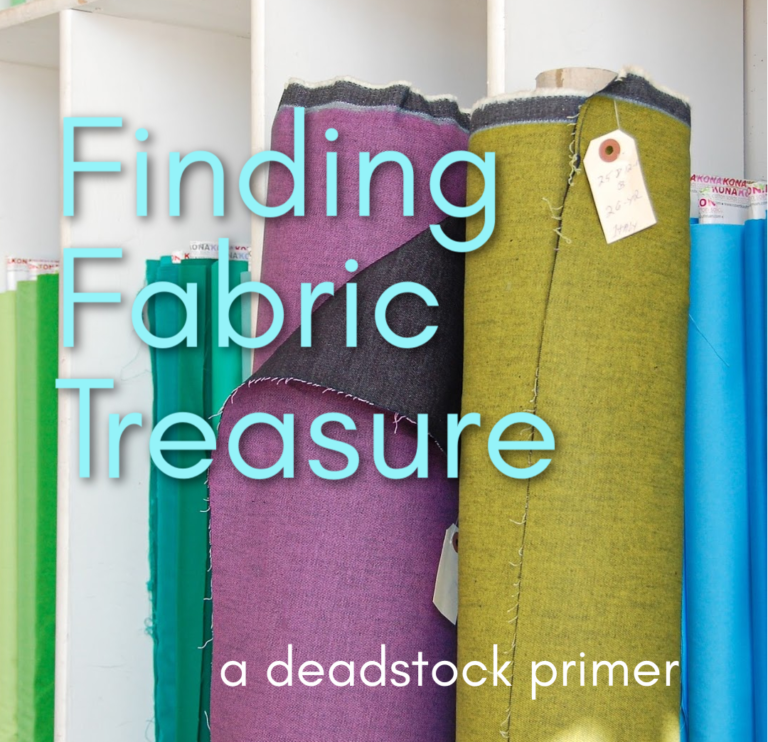 Often called sample cuts or designer ends, deadstock fabric is left over from textile mills and/or the fashion industry. By making use of deadstock, we save it from ending up in the landfill and, as a bonus, we get to bring these interesting, exclusive fabrics to you! From time to time we introduce a batch of new deadstock arrivals to the shop, so it's definitely a category you'll want to visit regularly. There's always something good to be found in there!
We receive deadstock fabric from a few different sources. Most of our deadstock comes from wholesale companies that purchase textile mill ends and designer discards and sell them to us and other fabric shops. Occasionally we are contacted directly by an independent designer who is looking to sell extra fabric from a previous season or line. This is how we were lucky enough to get our stock from Eight + Sand in March 2021! Receiving fabric directly from a designer is especially exciting because they usually have information to share about a fabric, its production, and its fiber content.
The fiber content of deadstock fabrics is sometimes known, but is often more of an educated guess (How do we determine fabric content? We perform a burn test! We very carefully burn a tiny scrap of fabric and evaluate the flame, odor, and texture of the fabric, which helps us narrow it down.). For this reason, it is especially important to test launder a small swatch of your fabric before you begin sewing with it. When in doubt, wash cold/gentle and line dry!

If you fall in love with a deadstock fabric, you might be inspired to make a garment out of a type of fabric you haven't tried before. Go for it! To find a perfect pattern match on our website, begin by selecting a garment category and then narrow the category down by wovens, stretch wovens, or knits.

Keep in mind that deadstock quantities are usually limited and will not be restocked. If you see something you absolutely can't live without, don't wait too long to purchase it, or you might miss out!
Find all the deadstock fabric we currently have in stock here.