We hope your Me Made May is off to a fantastic start! We're sharing Me Made May inspiration with you every week in the blog. This week we're sharing some favorite Stonemountain & Daughter staff makes—each maker featured this week has provided pattern and fabric info, and a little bit about what they like about the garment. Read on for all the details!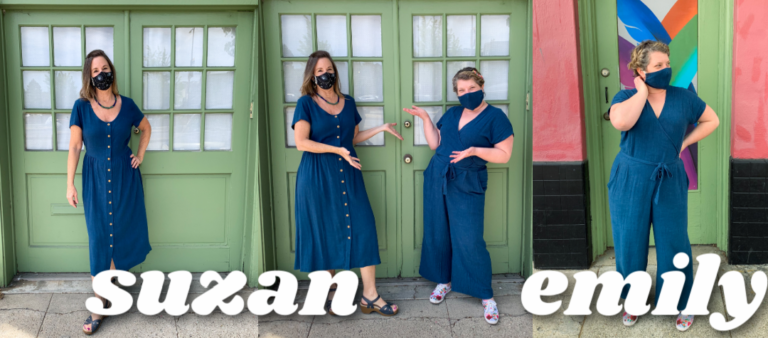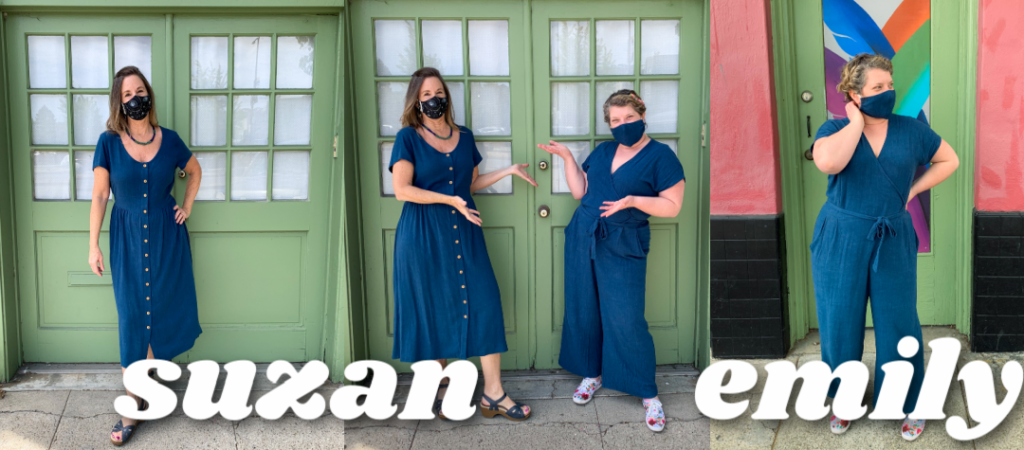 Suzan and Emily are twinning in outfits made of Mora Slub! Suzan wears the Hinterland Dress with Arrow Mountain buttons, and Emily wears the Zadie Jumpsuit from Paper Theory.
Suzan says: "I love the design of this dress—the short sleeves make it breathable, the tie accentuates my waist, the length is perfect for wearing to work, and the gathers in the skirt work perfectly with the Mora Slub, making for a soft, cozy and flowy look."
Emily says: "The thing I love about a jumpsuit is how easy it is to look put together with little effort. And in this fabric, it's like wearing secret pyjamas to work!"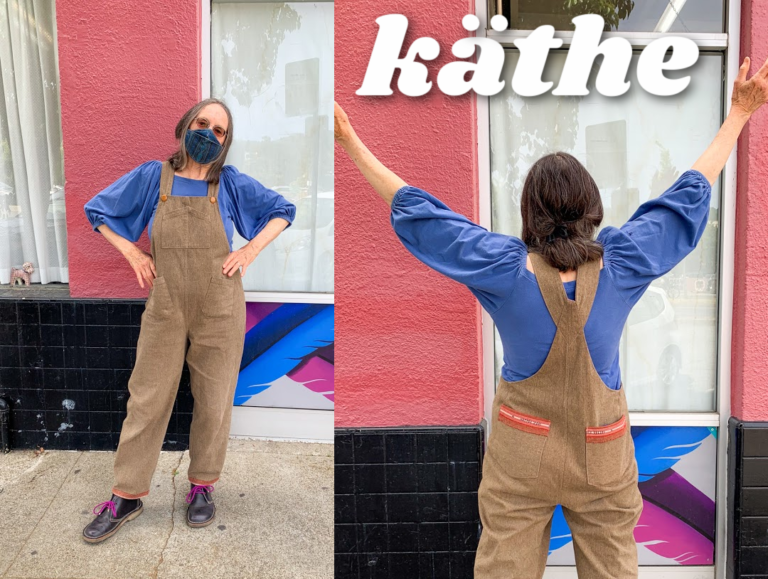 Kathe wears Helen's Closet Yanta Overalls in deadstock Italian denim and the Friday Pattern Co. Adrienne blouse in organic cotton knit.
Kathe says: "The darts in the Yanta Overalls give it a nice shape, and there is no side opening, so it's really easy to get on and off. I've made a few Adrienne blouses—they're quick and easy, and I love how they pair with overalls."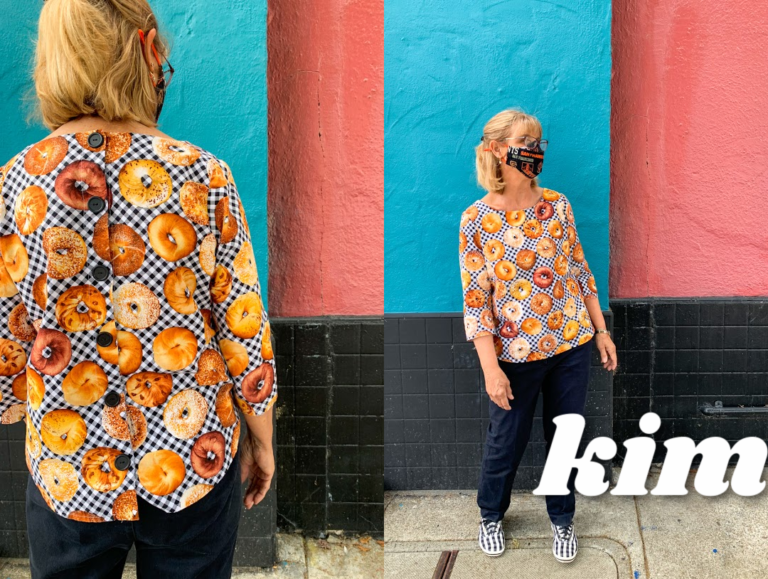 Kim wears the Beatrix Top from Made by Rae.
Kim says: "I made this so the buttons are purely decorative—I found that I could easily slip the top over my head, so I omitted the buttonholes and now don't have to ask anyone to button me up!"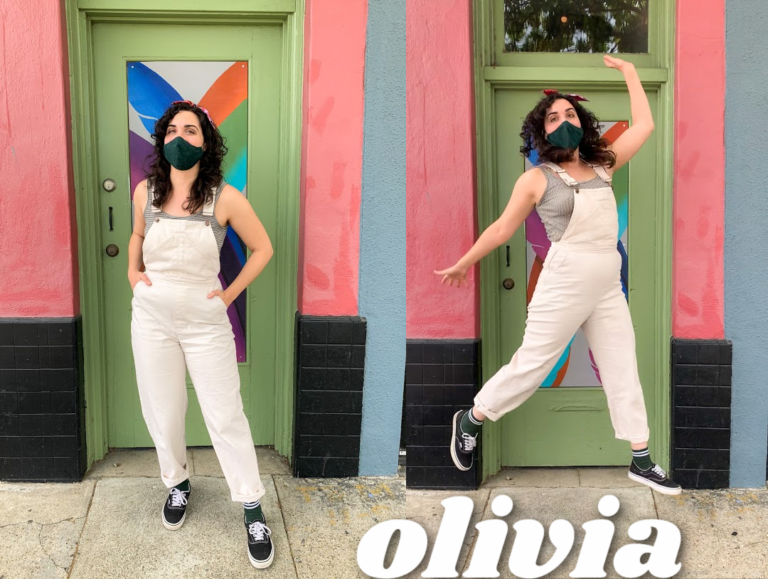 Olivia wears the Closet Core Jenny Overalls in Ventana Twill.
Olivia says: "I really like that these overalls feel utilitarian, but also feminine because of the high waist. And because my overalls are a neutral color, I feel that I can pair them with almost anything."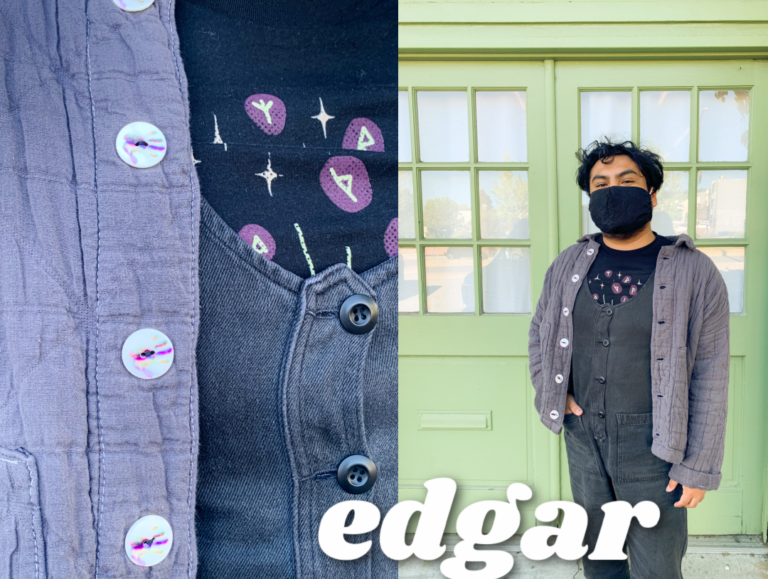 Edgar wears the Ilford Jacket by Friday Pattern Co. in Merchant & Mills Jacquard Cotton.
Edgar says: "I've made many Ilford Jackets because I really like the fit. I've made it in many different weights for different seasons—it's quick and easy, I can practically make it from muscle memory at this point."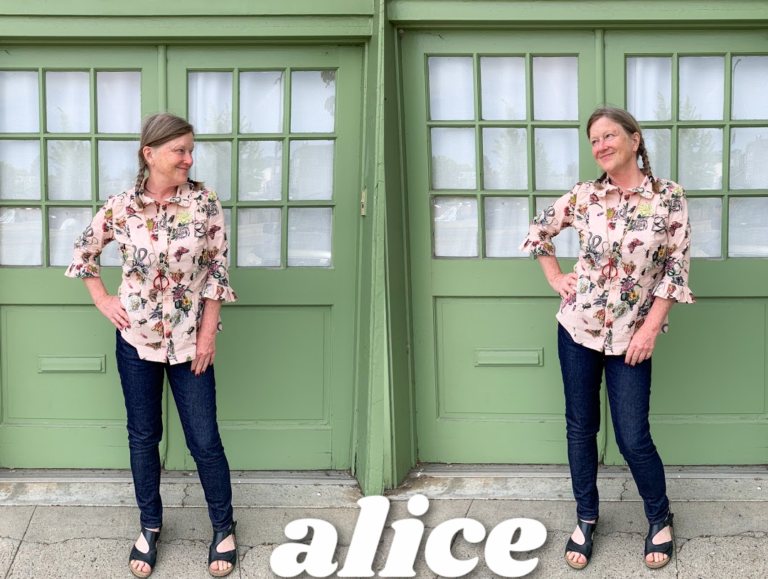 Alice wears the Jolene Top from Ready to Wear in Lady McElroy Lawn and Closet Core Ginger Jeans in stretch denim.
Alice says: "I really like the lines in this top—the princess seams are a nice alternative to darts. I added the ruffles to the sleeves and the collar to mirror the gathering along the princess seams and the peplum."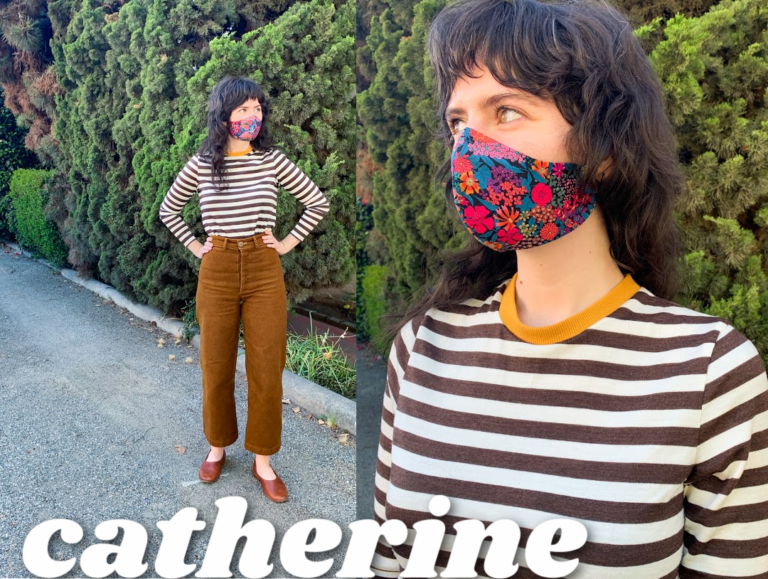 Catherine wears Persephone Pants in Japanese printed canvas and a Seamwork Neenah top, with a bamboo cotton rib knit collar.
Catherine says: "Brown is my power color—I like dressing tonally. I love making my own clothes that fit me perfectly—I find making fit adjustments really satisfying."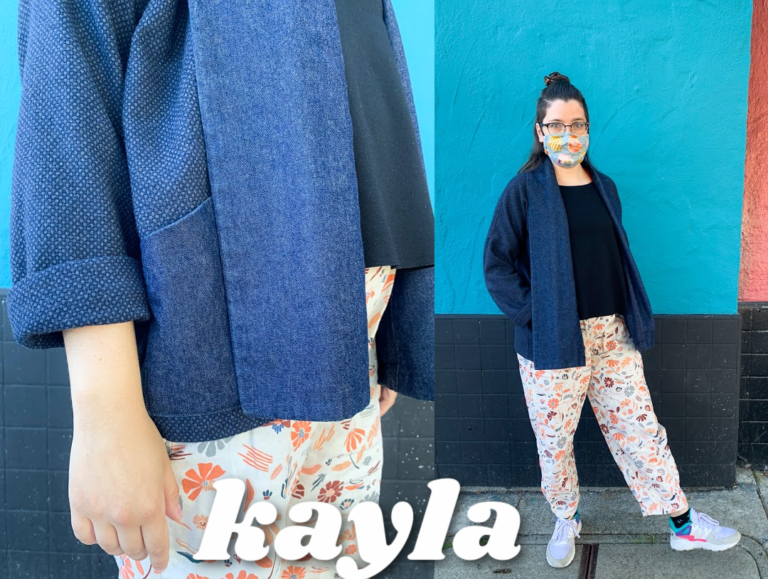 Kayla wears the Wiksten Unfolding Jacket in Merchant & Mills and Robert Kaufman denim. Kayla also wears the Style Arc Bob pants in Forage Linen/Cotton.
Kayla says: "I wore these today because they were clean! But in all seriousness, I'm trying to live that clown caricature lifestyle, and the balloon leg of the Bob pants helps me achieve that dream."
We hope this post inspires you, whether you're motivated to make something new or to wear an old favorite. We'll be back next week with more Me Made May ideas from the Stonemountain & Daughter team!