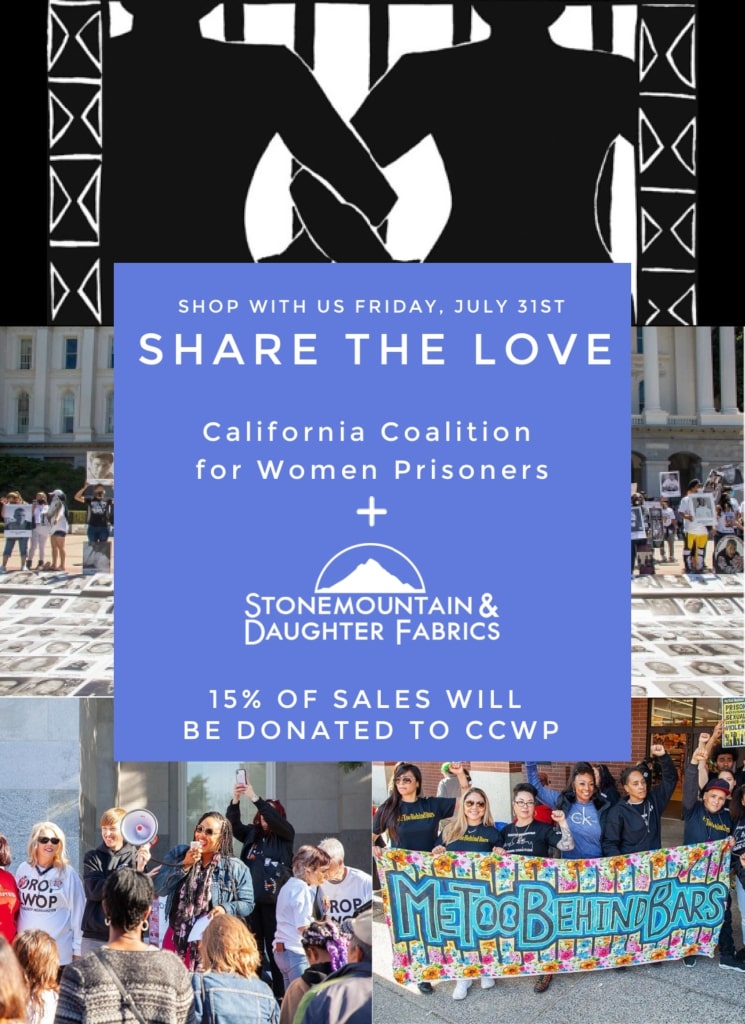 Thank you so much for your support of our store during this crucial moment in history. As a small business and institution in our community, we stand committed to making our sewing community even more inclusive. We are continuing to take steps toward a new time of social justice for Black people, people of color, trans people, and all those who go underserved and unsupported by society. As we seek to expand our circle of care in real ways, we invite you to join in our Share the Love events.
Our monthly Share the Love fundraising event in July will highlight the California Coalition For Women Prisoners (CCWP). Each month we are featuring organizations in service of BIPOC (Black, Indigenous, and people of color) and LGBTQIA+ communities. On the last Friday of the month we are donating 15% of sales to the organization to help support and further the good work they are doing for the community.
CCWP is a grassroots social justice organization, with members inside and outside prison, that challenges the institutional violence imposed on women, transgender people, and communities of color by the prison industrial complex (PIC). CCWP sees the struggle for racial and gender justice as central to dismantling the PIC and prioritize the leadership of the people, families, and communities most impacted in building this movement.
Shop with us online Friday, July 31st to support CCWP's efforts!
Please note that coupons and other discounts will not be available on Share the Love fundraising days.
---
CCWP + Sewing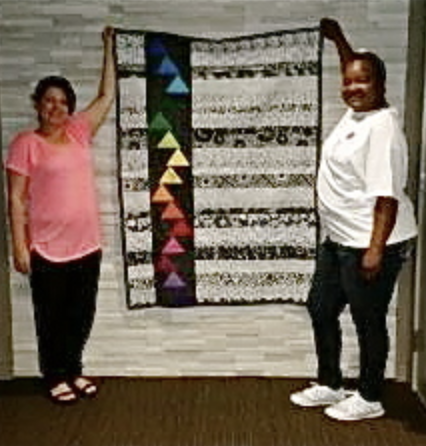 CCWP members are sewists, too! They have used Stonemountain fabrics in two of their amazing charity quilts. Read the descriptions below to learn the powerful stories behind their stitching:
"I named our 20th anniversary quilt, "Transcending," in honor of all the women and transgender people who have survived prison by transcending and transforming the prison environment. Prisoners transcend prison walls by building community and resistance through activism in CCWP. I incorporated rainbow colors to symbolize the beauty and richness that diversity brings into our lives. The triangle shapes remind us of the determination needed to transcend and overcome oppression — during the Nazi regime, different colored triangles were used to identify and stigmatize specific groups of people.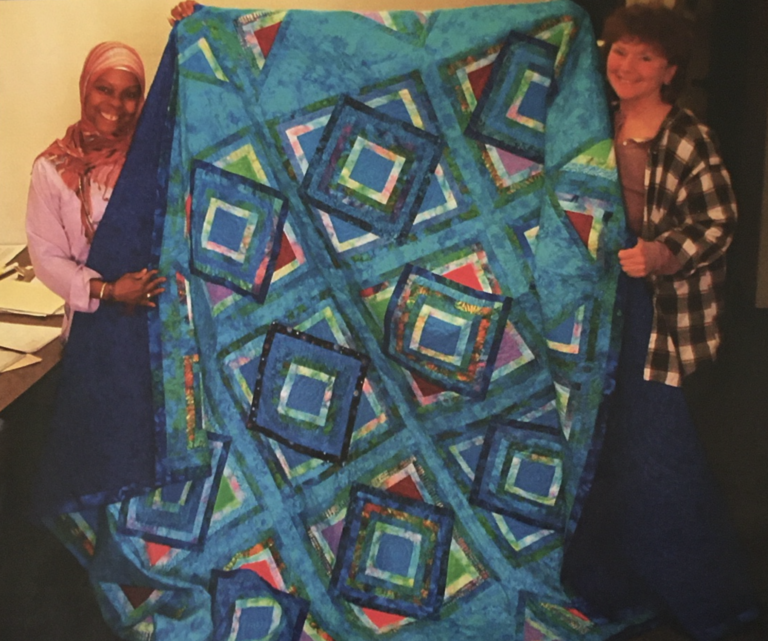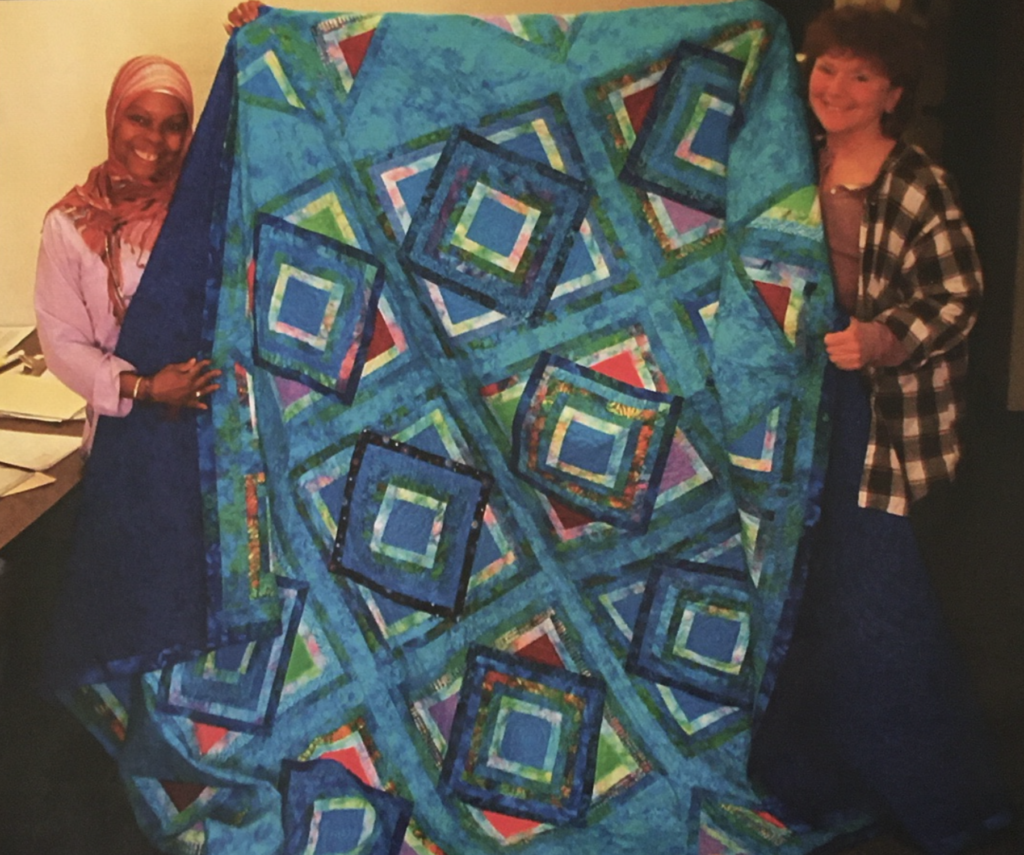 This quilt, called "Keep on Dreaming", was made by former political prisoner, Linda Evans, and represents the size of the 3-person cell she lived in for 16 years.
---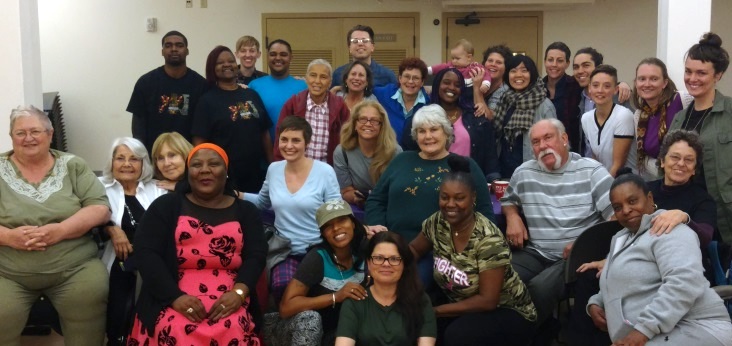 About CCWP
California Coalition for Women Prisoners was founded in May 1995 after women prisoners filed a lawsuit, Shumate v. Wilson, regarding the horrible medical care that women prisoners in California receive. Founding members of CCWP were made up of women and trans prisoners, former prisoners and supporters. Charisse Shumate: Fighting for Our Lives is a 37-minute film created in collaboration with the Freedom Archives that documents the origins of CCWP.

We want the abolition of a prison system whose purpose is punishment, control and the warehousing of human beings, the majority of whom are people of color and poor. We work for a society where education rather than incarceration is the priority, where investment goes to jobs not jails, where sexual violence is not tolerated, where human rights are a reality for all people.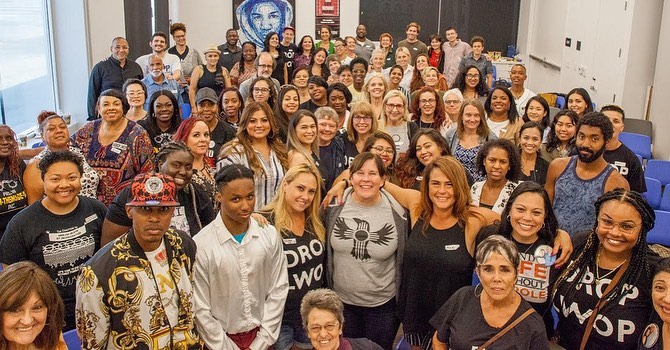 CCWP – What We Do
We monitor and challenge the abusive conditions inside the women's prisons including grossly inadequate health care services, sexual abuse and overcrowding.

We fight for the release of women and gender non-conforming prisoners, including survivors of domestic violence, elder prisoners, and youth. We advocate for reforms in the dysfunctional parole system to ensure that people are actually released. We organize to expose and eliminate the use of the LWOP (Life Without the Possibility of Parole) sentence, which condemns people to a slow death in prison and is another form of the death penalty.
We support formerly incarcerated women and gender non-conforming folks in their process of re-entering the community so they are able to survive, grow, and become involved in the struggle for civil and human rights. We advocate for resource development, offer skills and leadership training, and build community.
CCWP Efforts During COVID-19
Our work has been necessarily focused on COVID-19, which has exposed and exacerbated the always life-threatening conditions inside women's prisons.
Sign
Through Care Not Cages we are demanding COVID-19 releases for elderly/medically vulnerable people in women's prisons. Visit the Care Not Cages site to learn the stories of the elderly and medically vulnerable incarcerated people and sign petitions for their release.
Read
The SF Chronicle article, Women's Prison Journal: State Inmate's Daily Diary During Pandemic , is a very compelling and important piece featuring CCWP member April Harris, incarcerated at Central California Women's Facility.
Watch
Watch the #ActNowNewsom video recently released by CCWP, documenting the negligence of the CA Department of Corrections throughout the pandemic.


Learn About Their Programming
CCWP's Across the Walls visiting program in California's women's prisons is at the core of all our work. They partner with women and trans people inside to publish The Fire Inside newsletter to give voice to feelings, ideas and art. Together they build campaigns like DROP LWOP to win freedom. CCWP supports the Spitfire Speakers Bureau as a way for formerly incarcerated people to tell their stories and educate the public. In their FireStorm project , they study about the impact of the U.S.-led prison industrial complex on women and trans people around the world in order to build international solidarity with global movements.

Reach out CCWP at [email protected]and learn how you can become further involved!
Share with Your Loved Ones
Forward this newsletter on to your family and friends.Explore their online events that you can take part in with your loved ones from home.Follow CCWP on social media.
Donate to the Cause
Make a direct donation to CCWP here .Mark your calendar and shop with us online on Friday, July 31st, when 15% of sales will be donated to CCWP!
Thanks for being here with us.