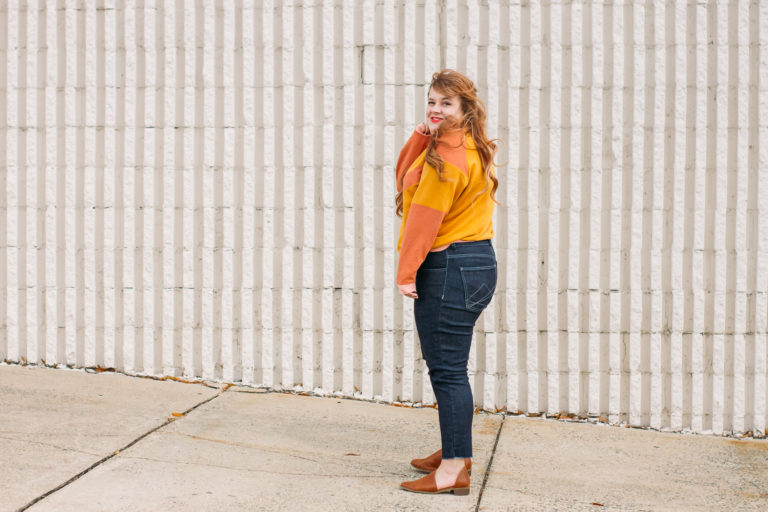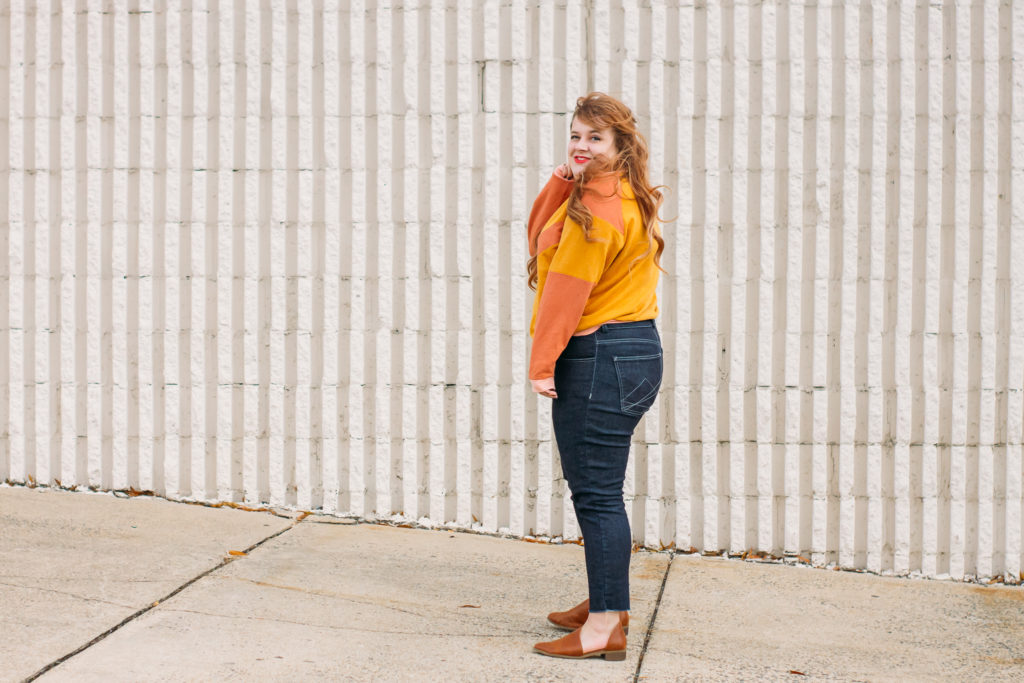 About a month ago, Meg was visiting the Bay Area from D.C. and decided to stop by the store to pick out the fabric for her Stonemountain Sewist project. Like a lot of folks, she wasn't quite prepared for the sheer volume of fabric in our store (we have THOUSANDS of fabrics!) and was understandably a little overwhelmed with both the fabric options and trying to wrangle her wiggly baby.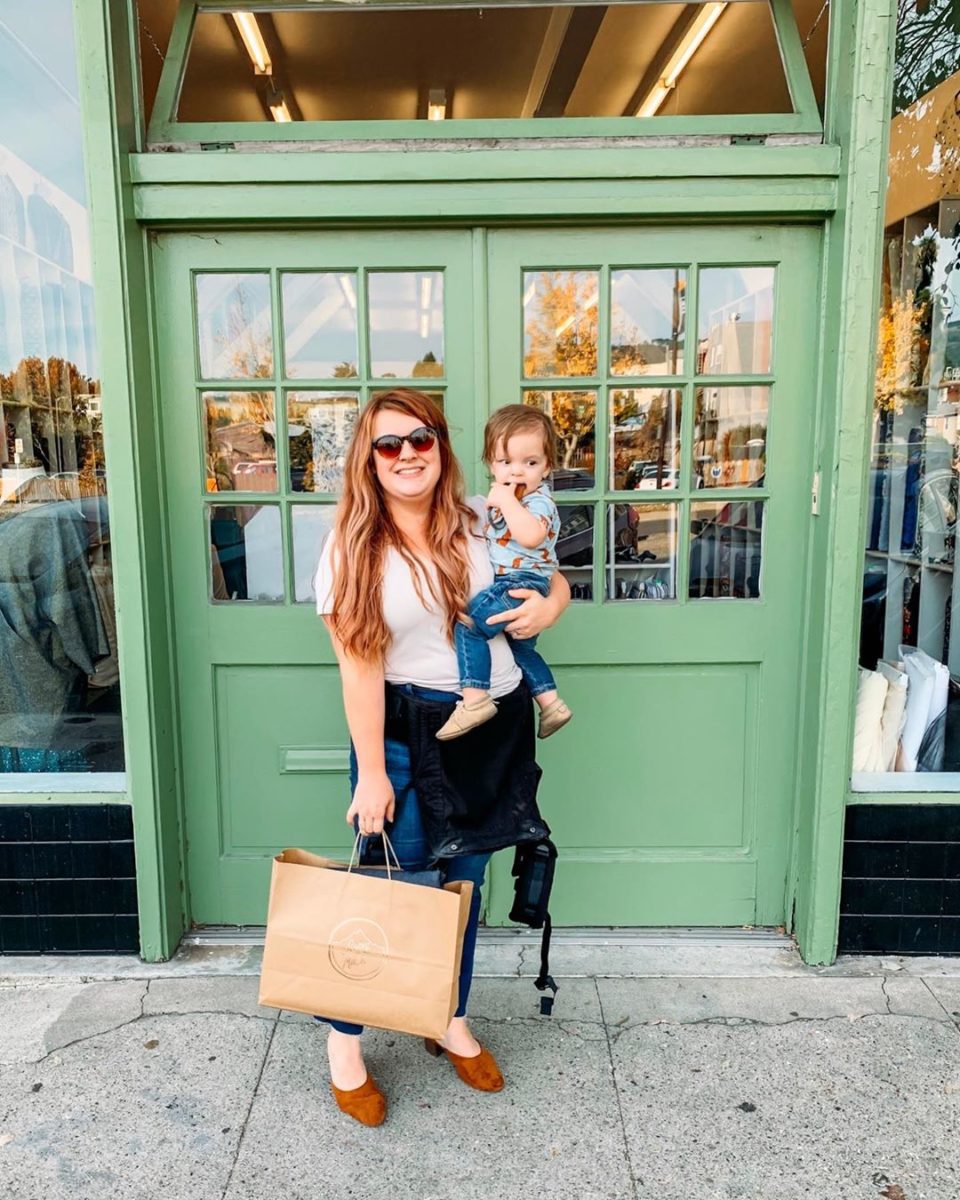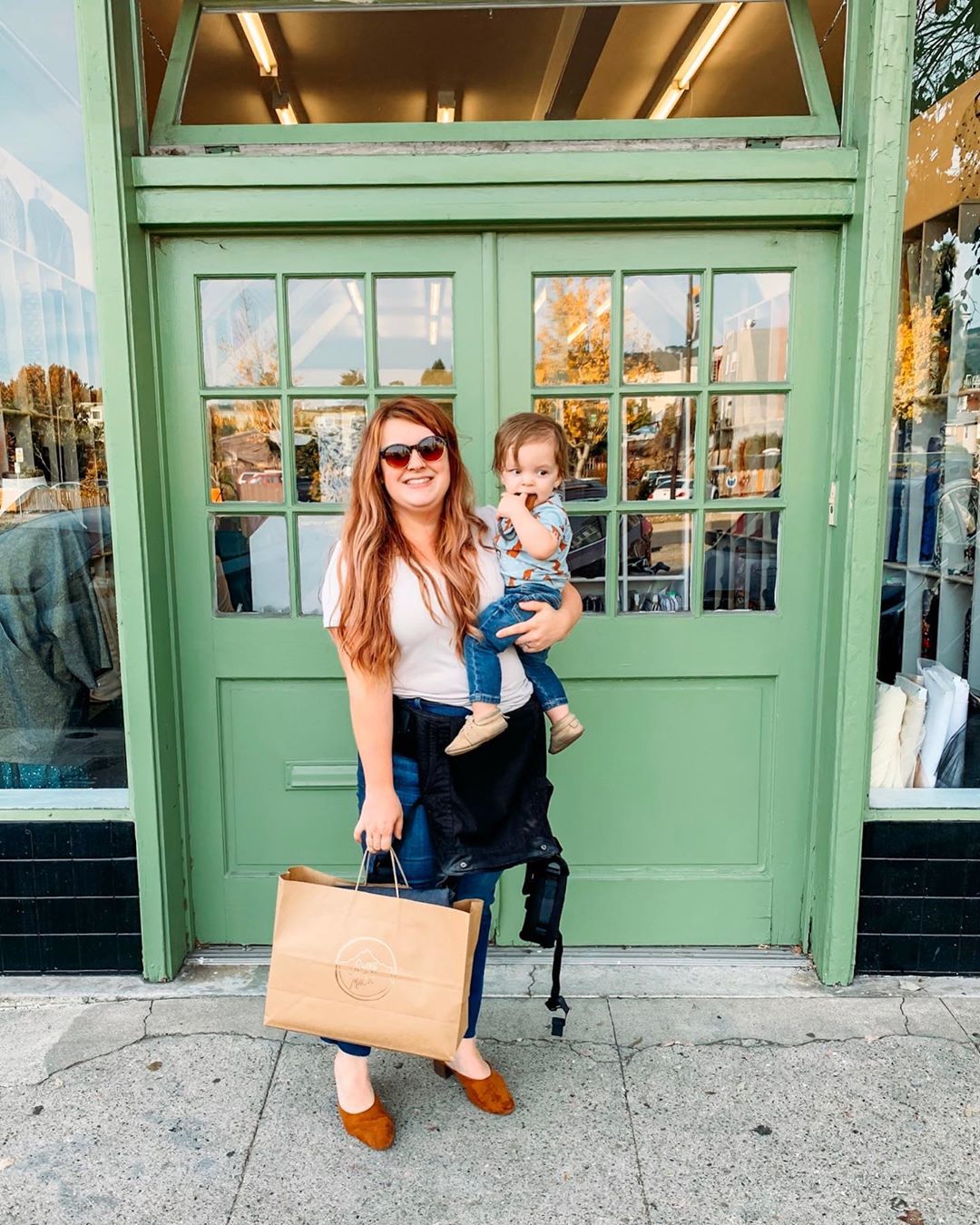 We did a little tour of the shop, talked about some project ideas, and she left with an assortment of our Bamboo/Cotton sweatshirt fleece and matching ribbing as well as a rather unusual deadstock denim. And then less than a month later Meg sent over these gorgeous photos showing off the incredible two garments she made!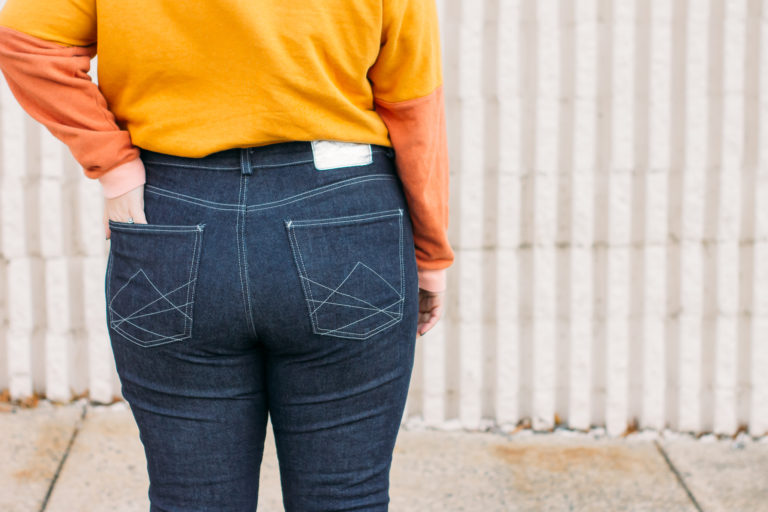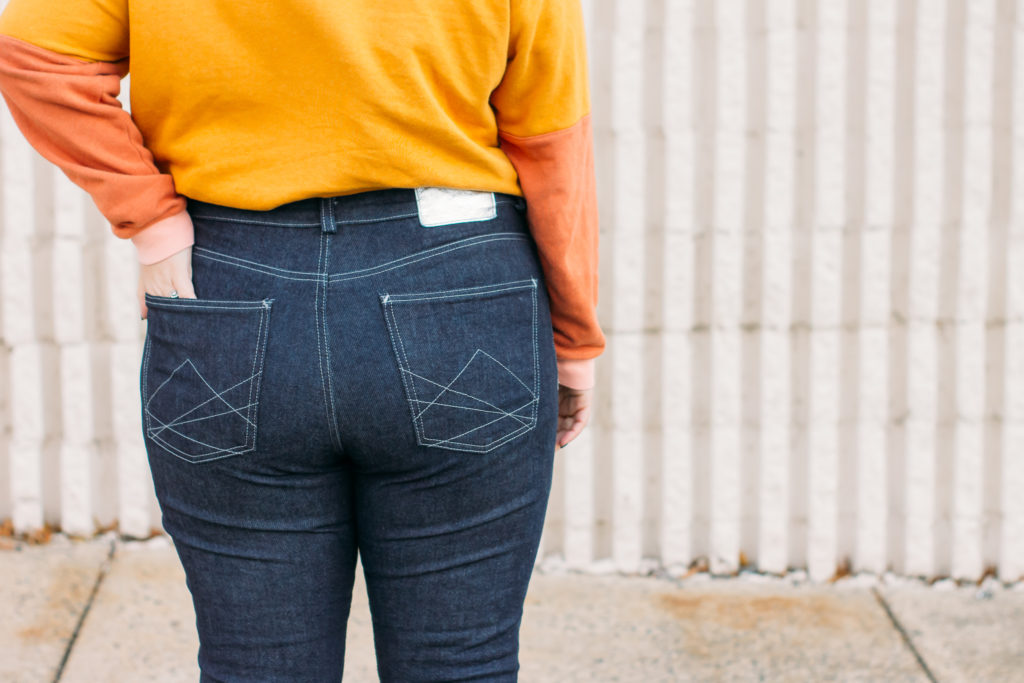 Why did you choose this fabric?
I've really been into sewing basics lately, especially sweaters and crew neck sweatshirts. I've been gravitating towards solids instead of patterns as well. And perhaps its because I was traveling far from home when I chose my fabrics, but I wanted major comfort. I happened to be in the Bay Area last month and was able to visit the shop to make my fabric picks, and I just couldn't get myself to decide on one color of Bamboo/Cotton Fleece there. So I figured I'd have my cake and eat it too by grabbing three different colors and color blocking them together! I had also been wanting to make a pair of jeans again for quite a while so making a pair to go with the sweater was a no brainer.
Meg used our Bamboo/Cotton Fleece in Saffron and Sienna with Bamboo/Cotton Ribbing in Shell.

Check out all our colors of fleece here and all the coordinating ribbing here!
What do you especially like about the fabric?
The sweatshirting is so soft on the inside but I really like that its not too thick. It feels like a cozy sweatshirt but wears like a sweater! And I was so excited to try out this Loopback Stretch Denim because its unlike anything I've seen before. The wrong side is almost fleecy, like a cold weather denim. Even though it has spandex in it its not the stretchiest, so it could even straddle the Ash and Dawn jeans for a garment that has the rigidity of the Dawn pattern with a touch of stretch comfort of the Ash pattern. Its a unique find for sure!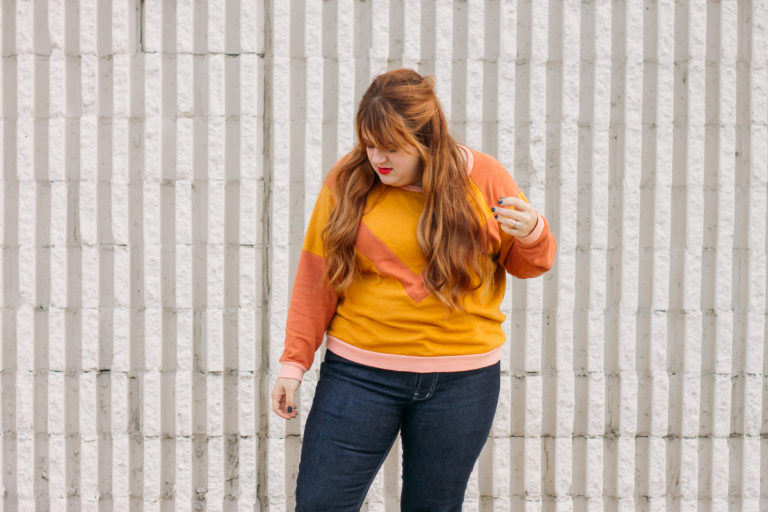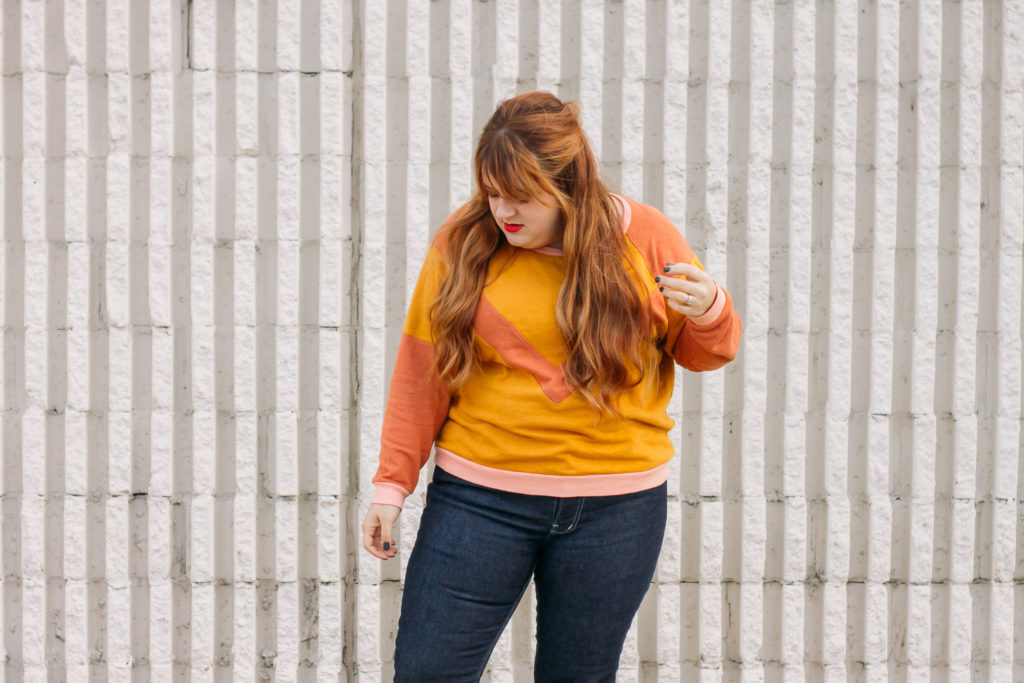 How did you pre-treat/launder the fabric?
I always wash my fabric the way I will wash the finished item. The sweatshirting and ribbing were washed in cool water with our usual detergent and dried with the rest of our laundry. Because denim is virtually guaranteed to bleed I washed that on its own and popped it in the dryer as well, just for a little bit of softening.
What pattern did you make?
I used the Isa Sweater by Bel'Etoile and the Ash Jeans by Megan Nielsen.
What size did you make?
For the Isa sweater I made a size 20, which is one size down from what I measure on the Bel'Etoile size chart. I made a size 18 in the Curve version of the Ash Jeans.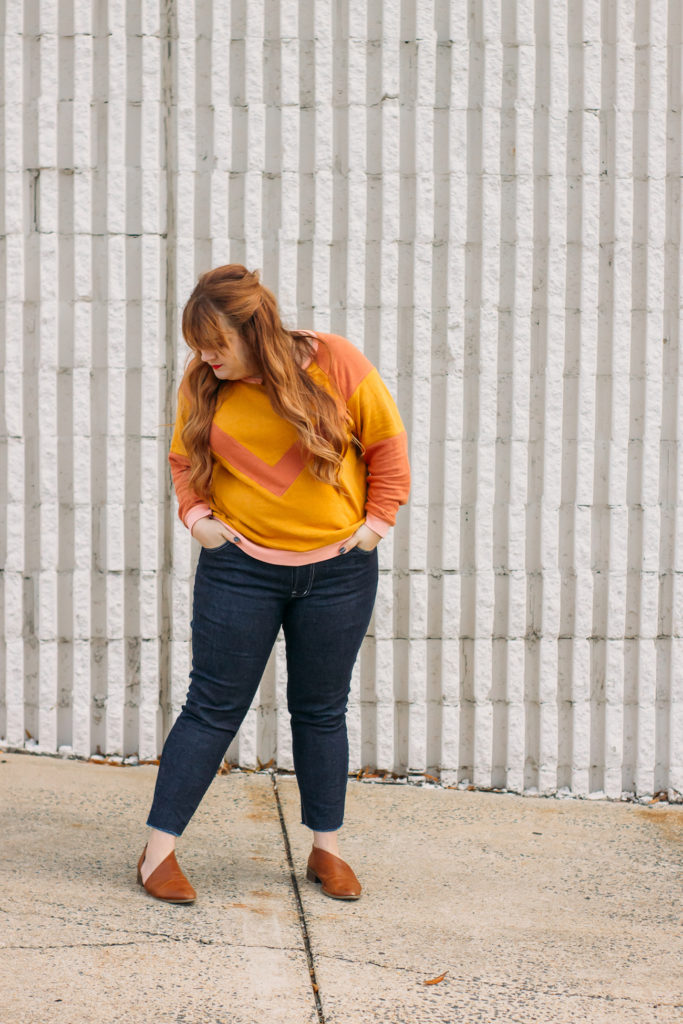 Did you make any modifications?
The Isa Sweater does not include seam allowances which I chose not to add to the size I made and just sewed with a 1/4″ seam allowance. This smaller seam allowance works great for sewing bulkier items like sweatshirting on a serger (I did add vertical seam allowances of 1/4″ to the pieces that were being blocked together). I also added an extra panel of color blocking on the sleeve, in addition to the color blocking already provided in the pattern. For the Ash jeans, I did a round pubis adjustment of about 3/8″ which is pretty standard for me. I also slimmed the pant leg from the knee down for a closer fit. I cut my pattern pieces at the "regular crop" length and finished them with a frayed hem for an ankle length pant on my 5'1″ frame. I had heard that the Ash waistband was very snug so I decided to size up one size in the waistband just to be safe, but I would've been fine with the regular waistband because this one does get a little roomy as the day wears on.
Did you use any special notions or tools for your project?
I chose to do bartacks instead of rivets on the stress points of my jeans, so the only hardware used were a metal jeans zipper and a donut style jeans button from my collection. I also used a scrap of silver metallic leather I already had for the patch on the back.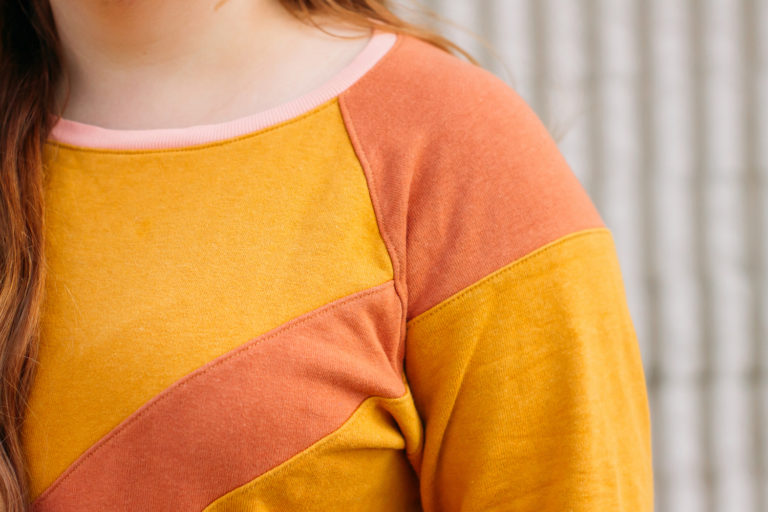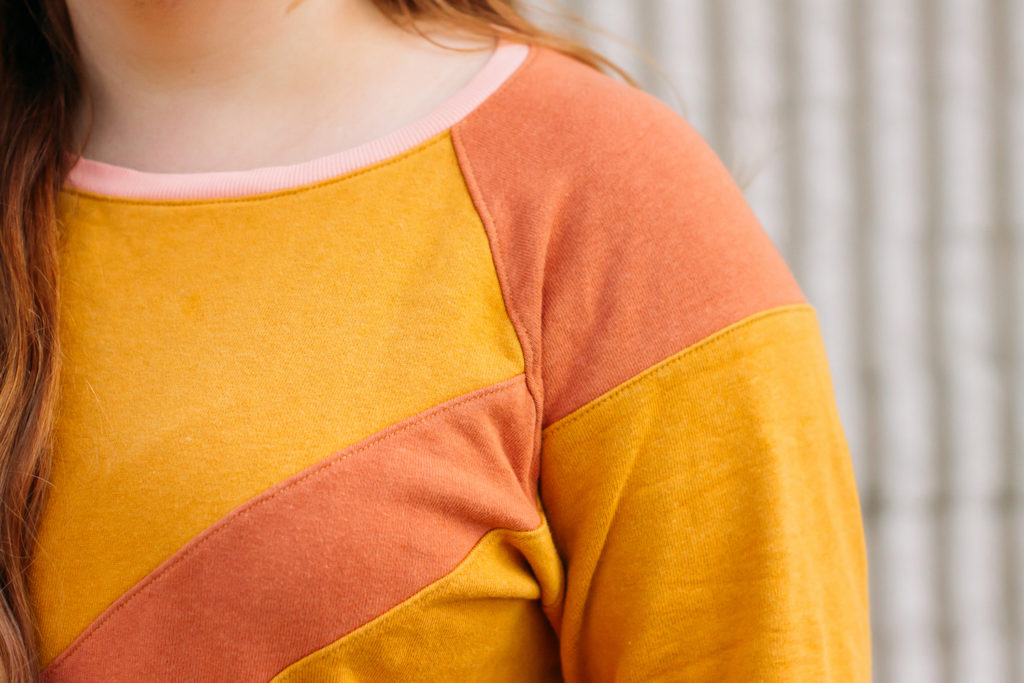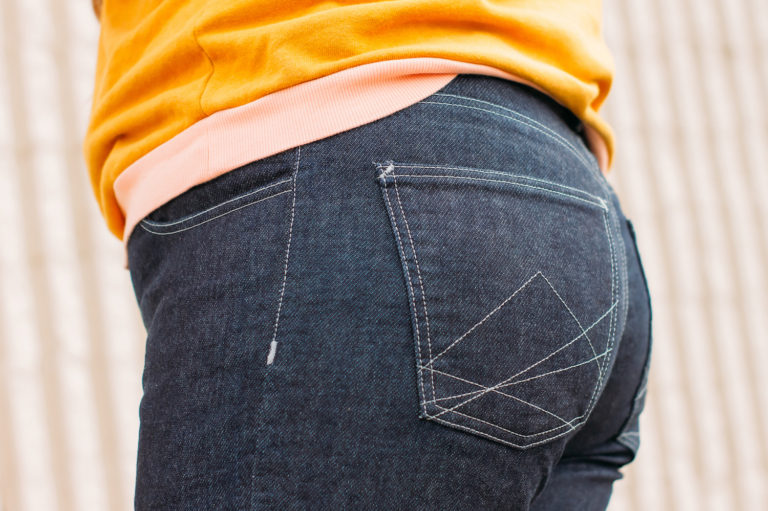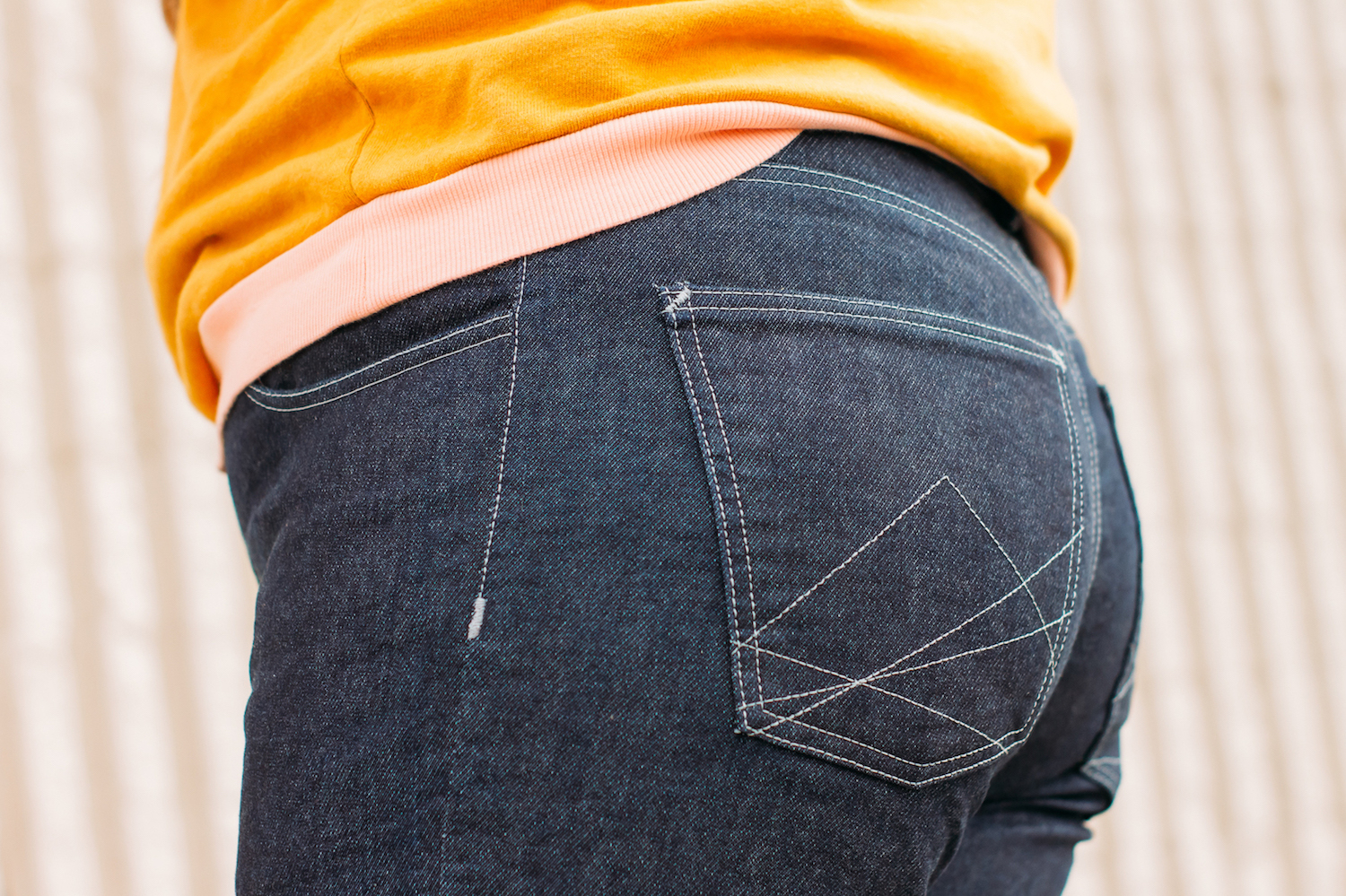 Is this garment your typical style? How will it fit into your wardrobe?
As much as I love to dream up fancy makes or "frosting", the reality is my life as a stay at home parent is all about "cake", or basics. Jeans and a tee is my staple outfit and I love this relaxed top for a cold weather option. I like the crew neck instead of a hood and the color blocking, and how they elevate the iconically casual sweatshirt. I've already worn both items several times in the last few weeks since I made them!
What else would you like to share about your project?
It was such a pleasure to work with these beautiful fabrics and make two items that integrate effortlessly with my regular wardrobe, and visiting the shop in person was the icing on top. Thank you for having me!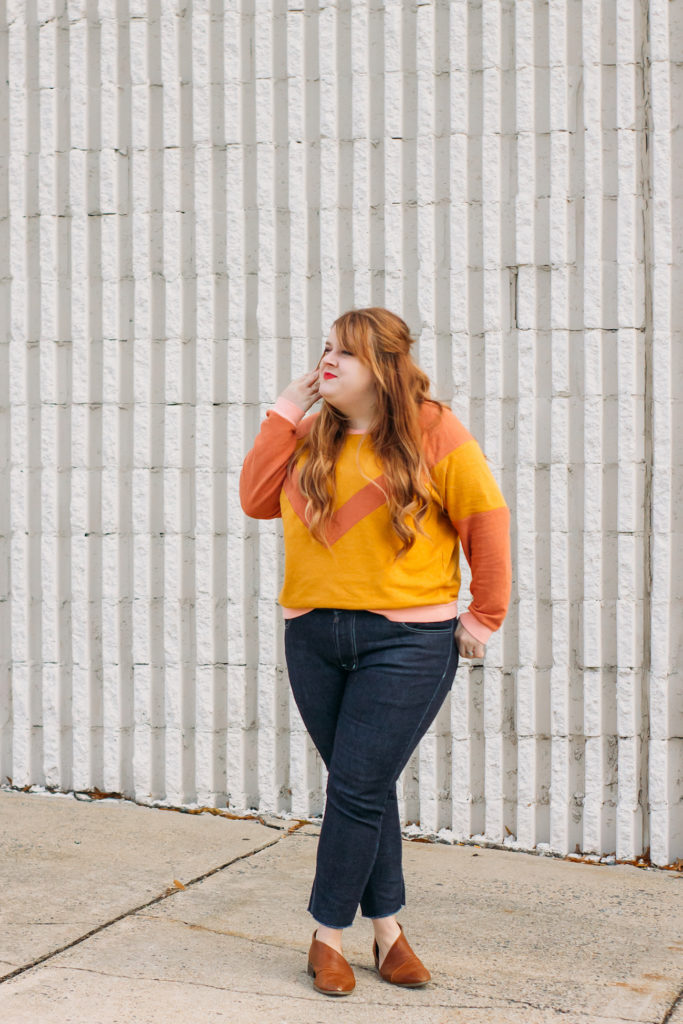 To say we're impressed by Meg's Stonemountain Sewist project is an understatement! Meg is a stay at home parent of three, yet somehow finds the time to not only sew gorgeous, inspiring garments for herself but also for the rest of her family. Not to mention co-coordinating #sewmystyle2019, running embroidery workshops, and regularly being a tester for indie pattern companies. Phew!
Thank you so much to Meg for being part of this project (and being game to brave our store with a 14-month-old!). If you're looking to be inspired, you should absolutely check out Meg's Instagram and blog.