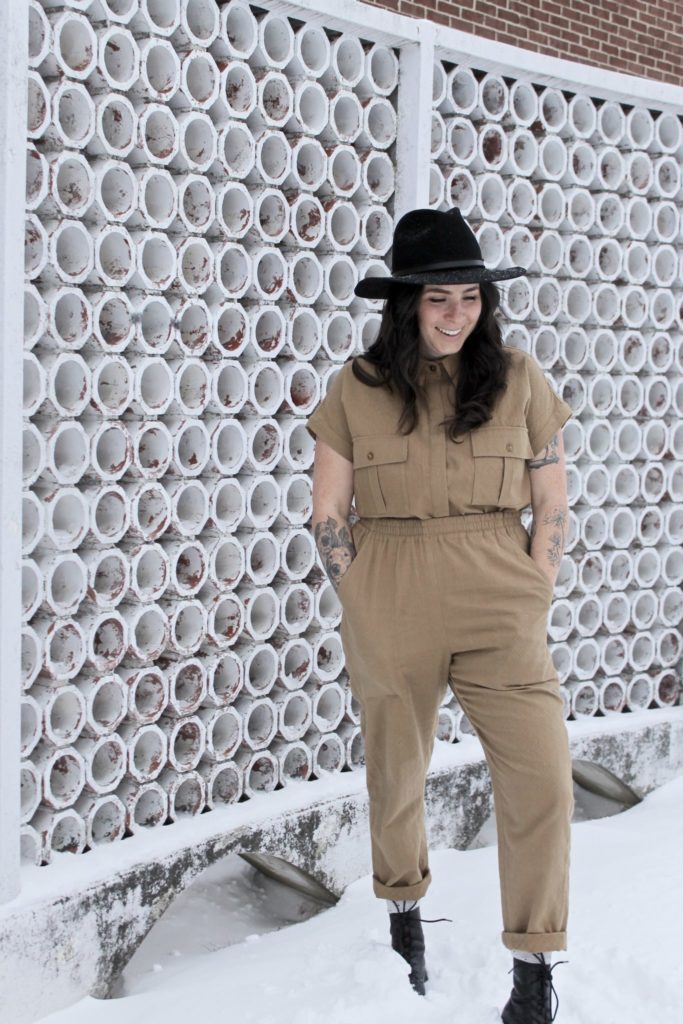 We don't know if it's her fabric choices, her sewing skills, or what, but somehow everything Merrill makes looks very RTW and on-trend without being overly trendy. You can tell that she's very thoughtful about her makes and strives to sew things that will get regular wear, rather than sewing what's new and popular. And of course, her style is on point—it's a perfect mix of 70s retro and elevated basics, with lots of linen and some thrifted fabric thrown in. Plus she has completely mastered the French tuck!
It's funny that we've now had three Stonemountain Sewists make matching sets (see Brooke's here and Isabella's here), yet each one has a very distinct style. Merrill even used the same Free Range Slacks pattern as Brooke, but with some slight differences that we think really change the look.
To complete her two-piece set, Merrill started with the Kalle Shirt but made a few changes that make it almost unrecognizable! It's amazing how altering a hemline and adding a few extra details can completely change the look of a pattern.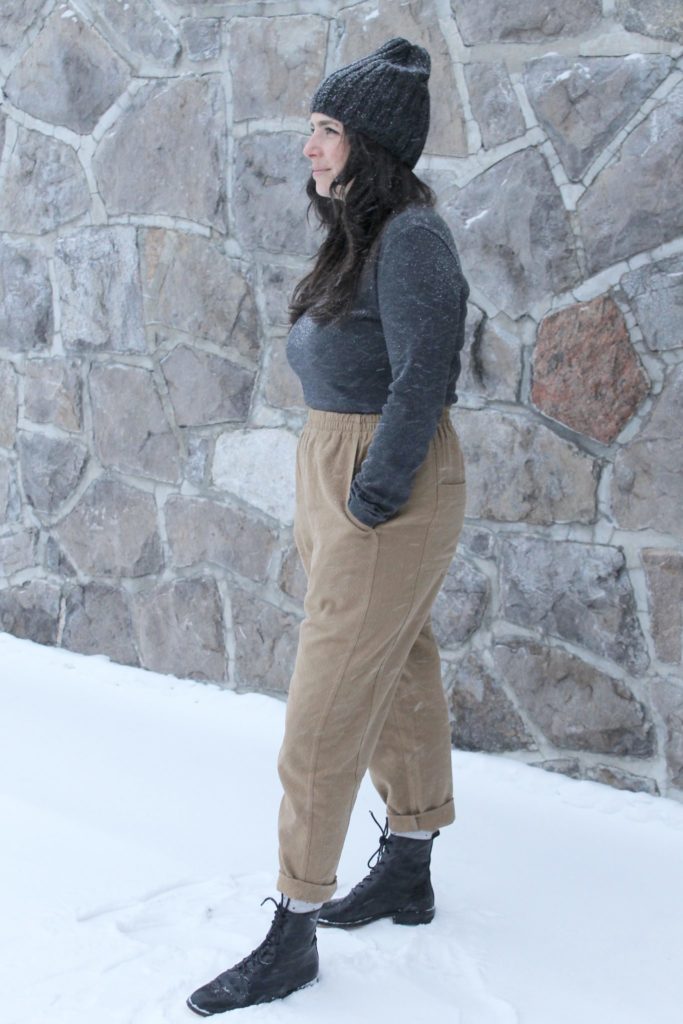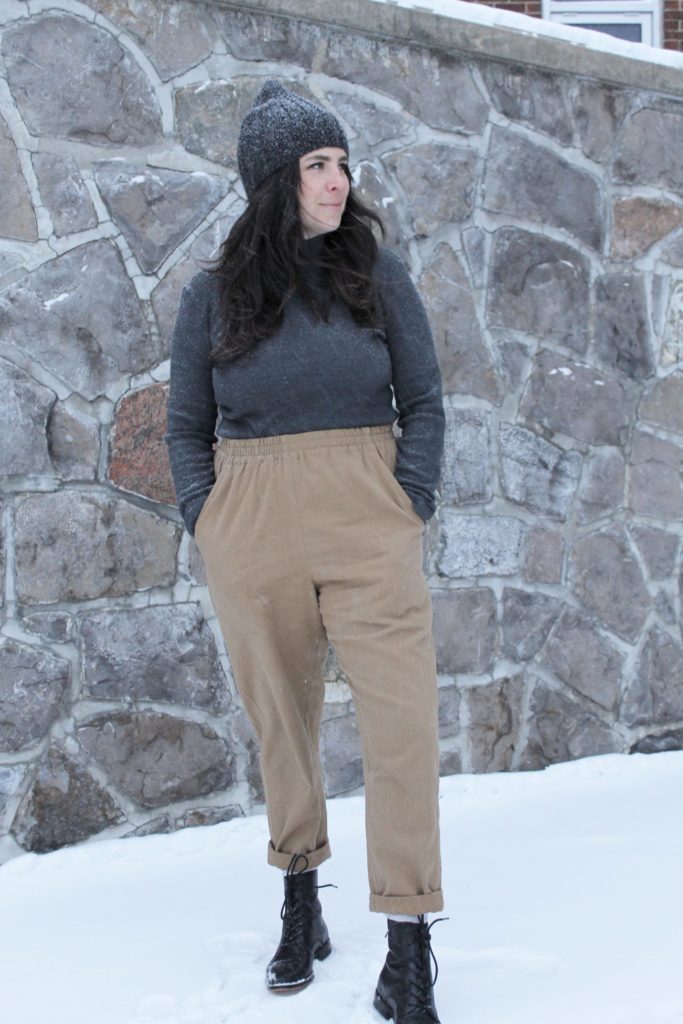 Why did you choose this fabric?
Honestly, I had a really hard time choosing my fabric! Without a specific project in mind, I was spoiled for choice and spent many hours scrolling the pages and pages of beautiful fabrics on Stonemountain's website. I am not someone who tends to choose bright colours or bold patterns but I do love some good texture! After hemming and hawing over a few favourites I eventually went with my gut, and chose the one that I just kept coming back to.
What do you especially like about the fabric?
I absolutely love the subtle diamond pattern created by the weave of this yarn dyed cotton. Its a neutral without being boring. It has a lovely texture and drape, and being 100% cotton, it pressed and sewed really nicely.
How did you pre-treat/launder the fabric?
I machine washed the fabric on cold and hung it to dry. I pretty much hang everything to dry so I don't have to worry about the fabric shrinking later on.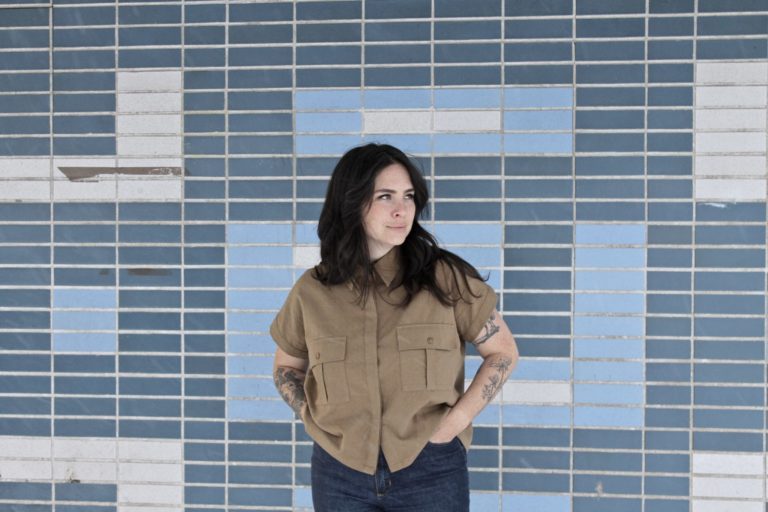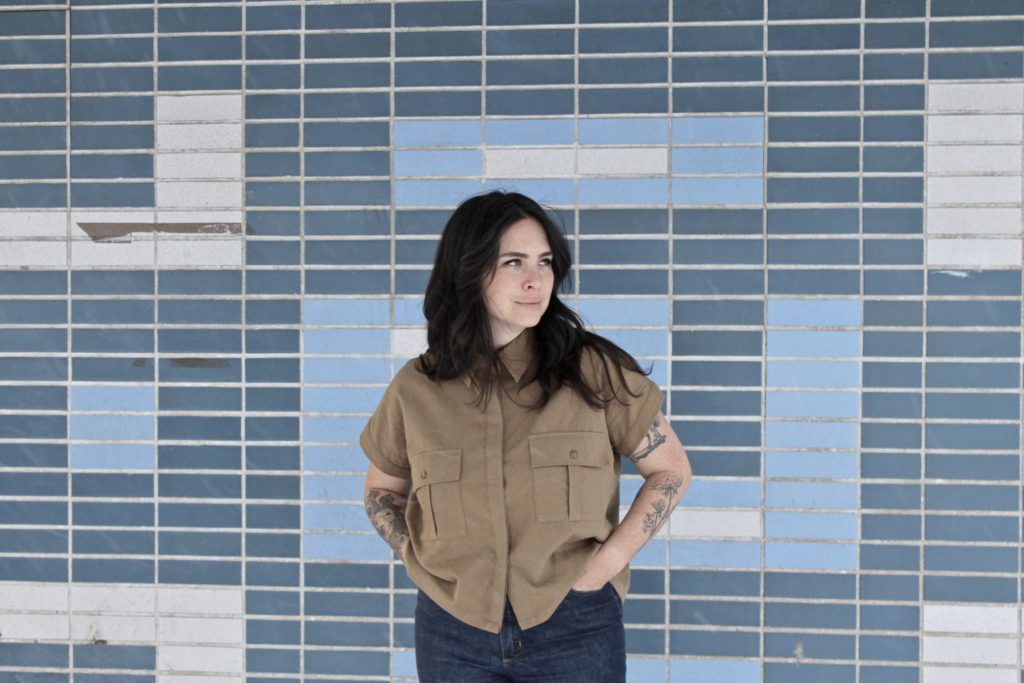 What pattern did you make?
When my package arrived, I still hadn't figured out exactly what I wanted to make, but the fabric was telling me it wanted to be a boiler suit! I knew I wanted something a bit more versatile so I decided to create a faux boiler suit of sorts using the Closet Case Patterns Kalle Shirt and the Sew House Seven Free Range Slacks.
What size did you make?
I made a size 12 in both the Kalle and the Free Range slacks.
Did you make any modifications?
Normally, the cropped Kalle shirt has a very dramatic, curved, high-low hem which is finished with a facing. To create the illusion of a one-piece, I knew I needed to add a little extra length to the front so the top could actually be tucked in to the pants. To do this I squared off the back hem, and lengthened the front hem to match it. I then easily finished it off with a simple double fold hem. I also added two over-sized box pleated pockets with flaps to the shirt to give it a workwear feel. These were made up as I went along, and I am very happy with how they turned out!
The only modification I made to the pants was to do two lines of topstitching on the waistband because one of my pet peeves is a twisted elastic!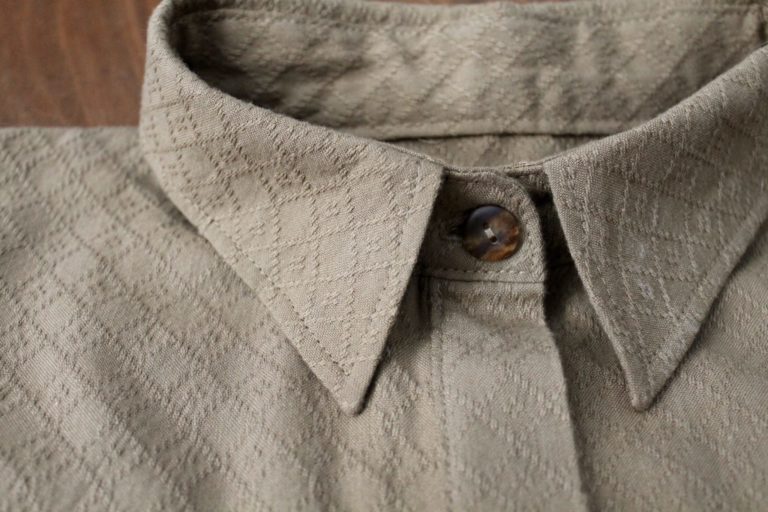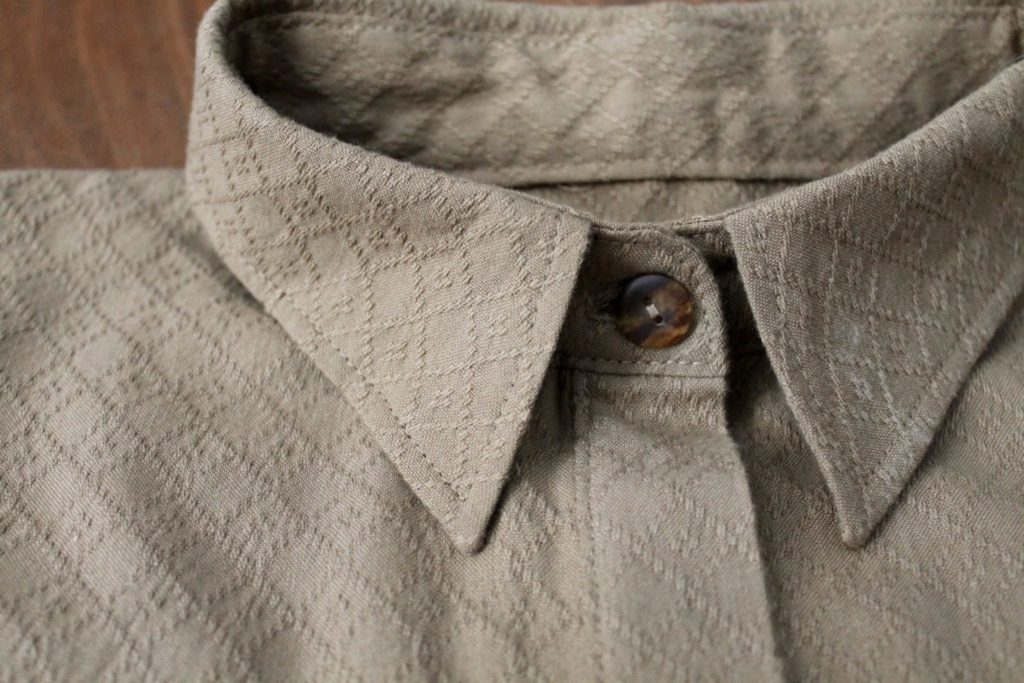 Did you use any special notions or tools for your project?
I sewed flat felled seams on both the pants and the top, so my tailors clapper and edgestitch foot came in very handy here. I also love using Wonder Tape to baste my collar stand in place when I am topstitching.
Is this garment your typical style? How will it fit into your wardrobe?
Part of the idea of making a matching set was for versatility. I wanted to be able to wear each piece on its own, as well as together and throughout several seasons. I like to wear things that are comfortable and unfussy, and each of these garments certainly tick both boxes! I do think, however, that I will get more wear from them separately, since the combination gives off a bit of a Steve Irwin vibe!
What else would you like to share about your project?
I am very grateful to have been chosen as one of the Stonemountain Sewists, and feel very honoured to get to share a space with so many talented sewists. I really enjoyed this sewing project, even if I did overthink each step!
Since it snowed over 8 inches here this week, I will daydream about one day visiting Berkley and getting to browse the stunning fabrics at Stonemountain in person! Until then, thank you for having me on the blog!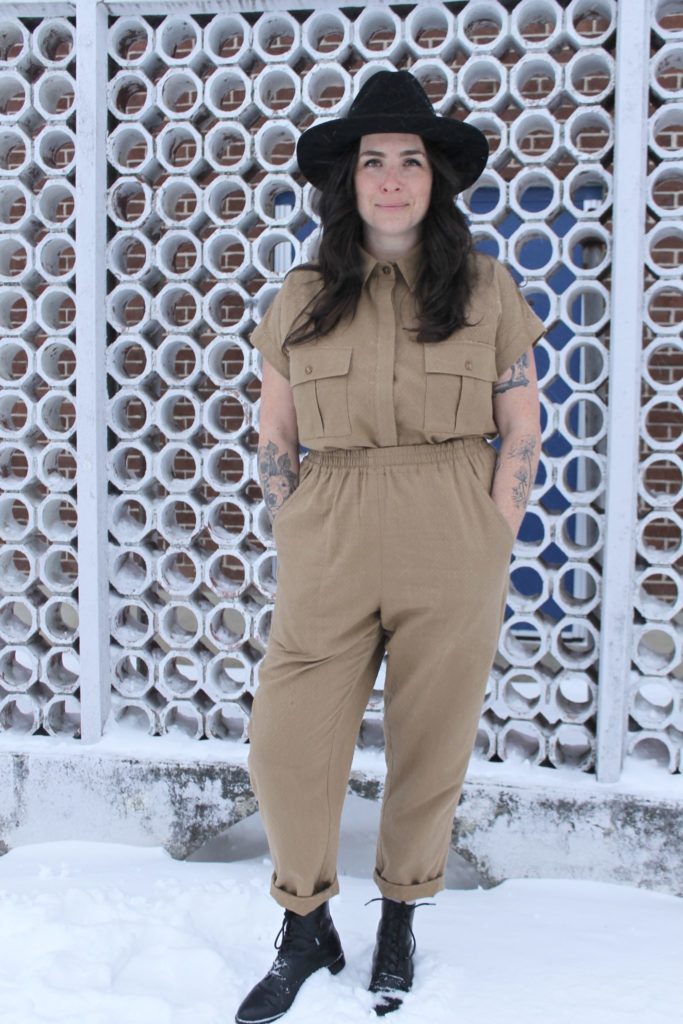 Both these pieces are so good! And we're kind of digging the Steve Irwin vibe, even if the snow is throwing us off 😉 This set seems perfect for spring/summer and in the meantime each piece can be layered & styled separately.
Definitely follow Merrill on Instagram if you love cool outfit combinations and inspiring pattern hacks. Oh, and super adorable pups, like cutie Blanche "helping" with Merrill's sewing below!