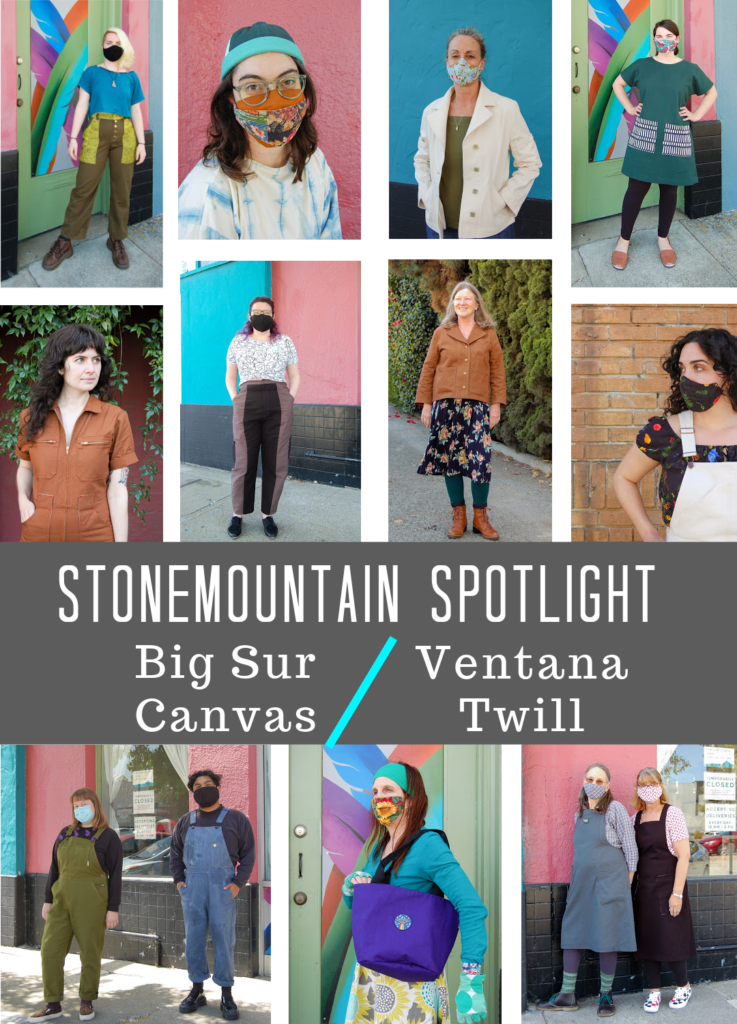 We are so excited to share the results of the Stonemountain Spotlight with you! For this spotlight, we decided to focus on two of our favorite bottomweight fabrics, Big Sur Canvas and Ventana Twill. Ventana Twill is a wonderfully versatile fabric. It has a defined twill weave and a soft hand, and at a weight of 7.9 oz per square yard it is perfect for pants, jackets, skirts, structured dresses, and more. Big Sur Canvas is a bit heavier in weight (9.6 oz per square yard), a classic tightly-woven duck canvas cotton. It is suitable for pants, skirts, jackets, overalls, and home decor. We carry both of these 100% cotton fabrics in dozens of solid colors, so you're sure to find the ideal color(s) for your project(s). Both fabrics are very easy to care for: machine wash cold/warm with gentle detergent (no bleach!), dryer on medium, and a warm iron with steam should keep your garment in great condition. And if you needed any more encouragement, don't forget that we're having a sale on these fabrics right now!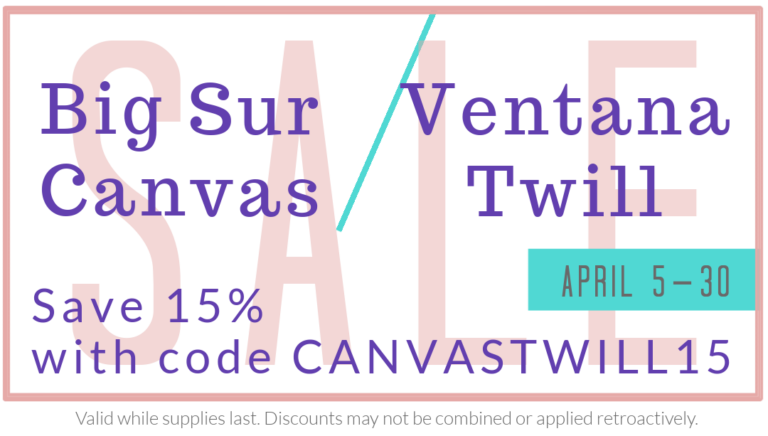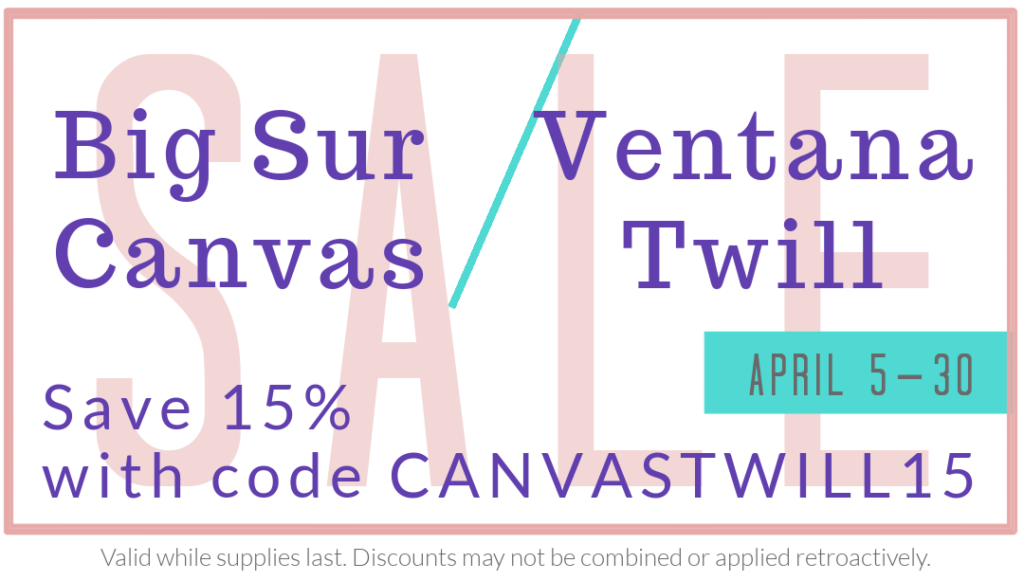 Need inspiration or a little guidance as to the best fabric + pattern combinations? Read on to learn all about the materials our staff sewists used to create their beautiful projects!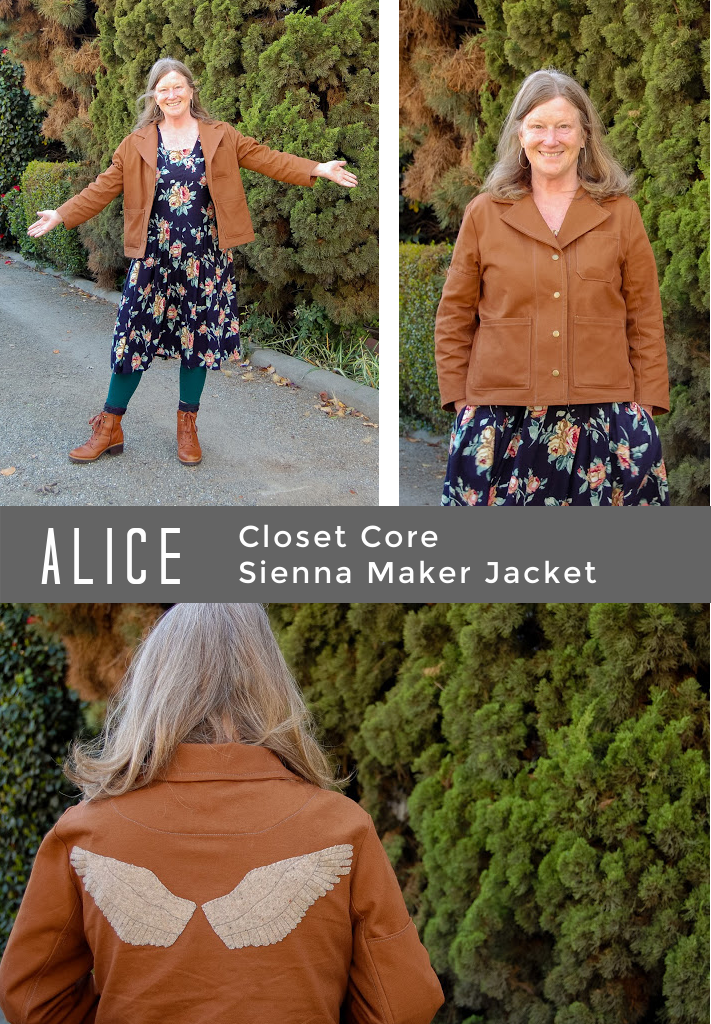 Alice made a Sienna Maker Jacket out of Big Sur Canvas in Walnut. Alice made a few changes to the pattern as written: "I left off one arm pocket, and subbed snaps for buttons. I left off the back button placket and cut it out on the fold, adding 1/2″ for just a tad more arm mobility. I also raised the arm pit area of the arm scythe by 5/8 for the same reason. Also I added a handmade applique to the back." This project inspired Alice to take her regular style to the next level: "The "blank canvas" on the back inspired me to draw a pair of bird wings from a photo of a crane and translate them into fabric. The utilitarian aspect of the design is really fun and the canvas texture feels a bit nautical to me. Me and this jacket will be going everywhere together, as the CDC recommends, of course."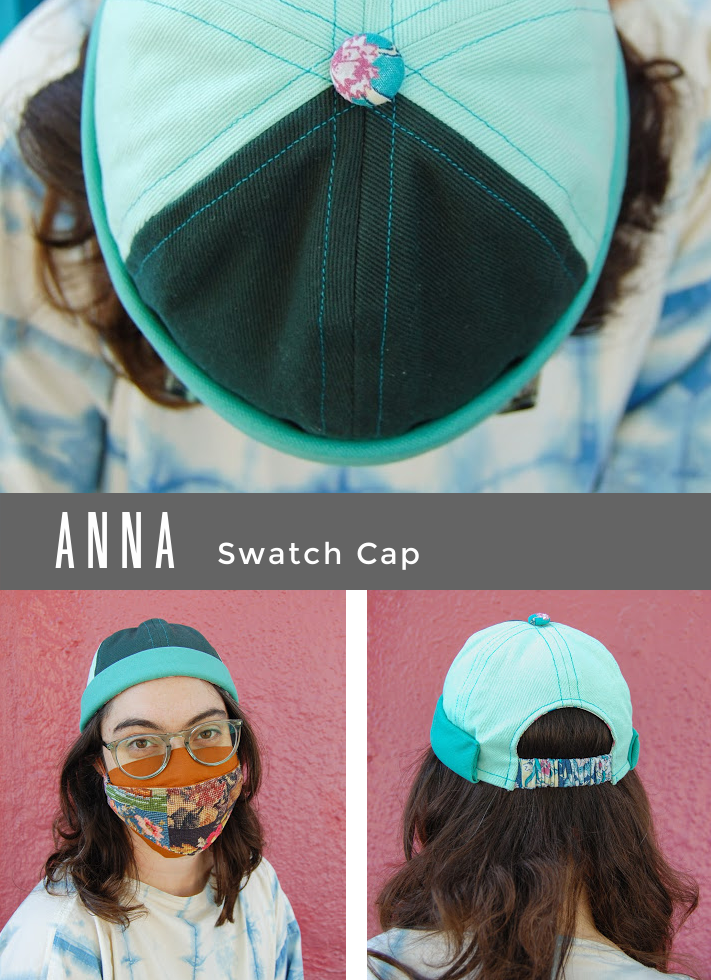 Anna used both fabrics (Ventana Twill in Mint and Dark Green, Big Sur Canvas in Mint) to create a double-mint Swatch Cap! Anna says, "This is my 5th Swatch Cap, so it's safe to say it has become a big part of my style! I love that these colors are brighter and will be great for the spring! I loved finding coordinating colors between the Ventana and Big Sur. Both were easy to sew even when I was sewing 4 layers together!" Anna made a few changes to this version of the Swatch Cap: "This time I used elastic as the back strap closure, instead of twill tape and velcro. Using my lining fabric, I created a tube, a little bit wider than my 3/4″ elastic, and gathered it so it looks like a scrunchy! Also I used the Big Sur for the cuff, so I cut the fabric on the bias to create a smoother curve once it is folded."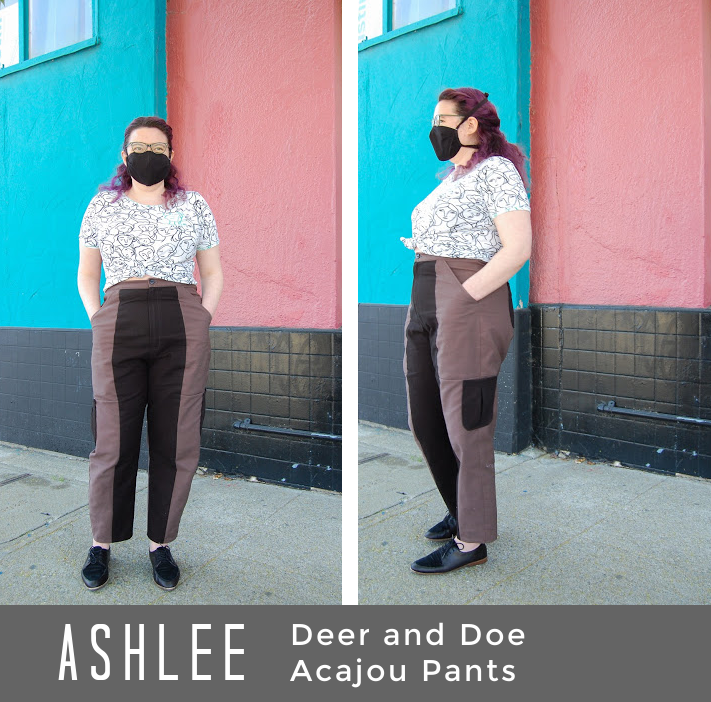 Ashlee made the Acajou Pants and incorporated some clever color blocking: the two colors meet at the center front seam, and the same contrast fabric is used for the back and side pockets. Ashlee chose Big Sur Canvas in Black and Smokey Brown for this project, and said, "I love the slight texture to the fabric, it helps elevate it beyond just a basic. It's also so easy work with!" These pants are similar to Ashlee's everyday style, but pushed just a little a bit past it. Ashlee says, "The elastic on the back waistband makes these pants so comfortable. I haven't figured out exactly how I'll style them, but I'm looking forward to figuring it out!"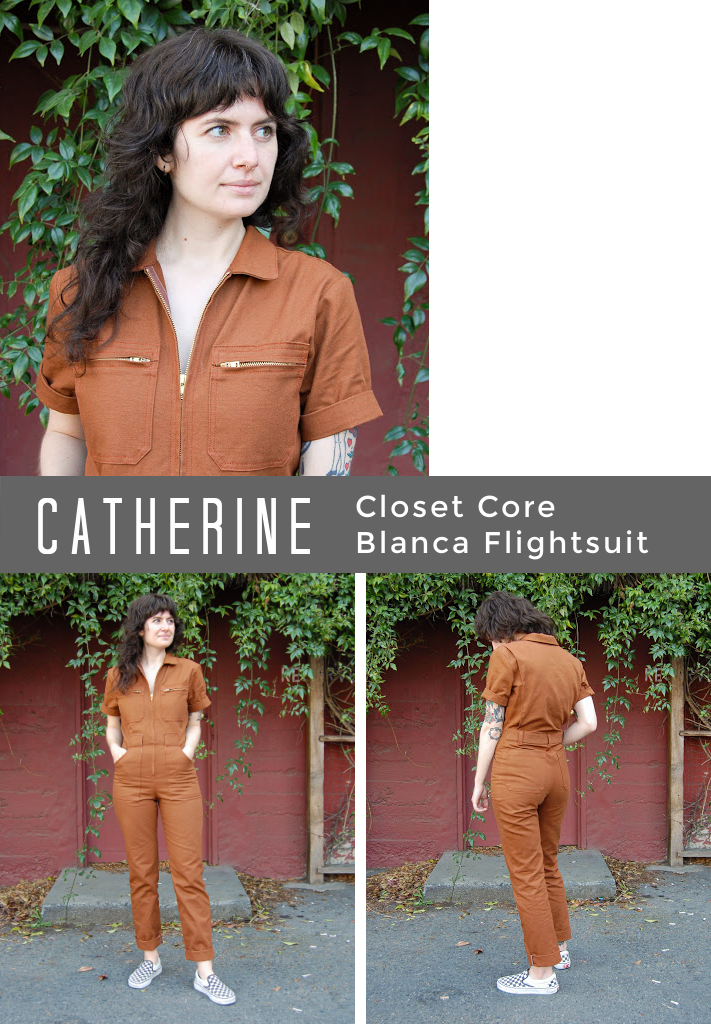 Catherine made the Blanca Flightsuit out of Big Sur Canvas in Walnut: "Big Sur Canvas is really nice to work with because it's so stable, but isn't so thick or heavy that my machine had any trouble with it." After sizing down for a closer fit, Catherine made a few additional adjustments: "I shortened the bodice by 3/4″ (I'm 5'6″), which I decided to do after reading some pattern reviews and seeing other people's Blanca Flightsuits on Instagram. I also tapered the legs to the smallest size and left off the zipper guard, both for personal style preference." Catherine is so happy with her Blanca: "The color is very me and I love how the fit turned out. I am going to wear this a lot to work with comfy sneakers, but I think it would also be fun to dress it up with nicer shoes and some jewelry."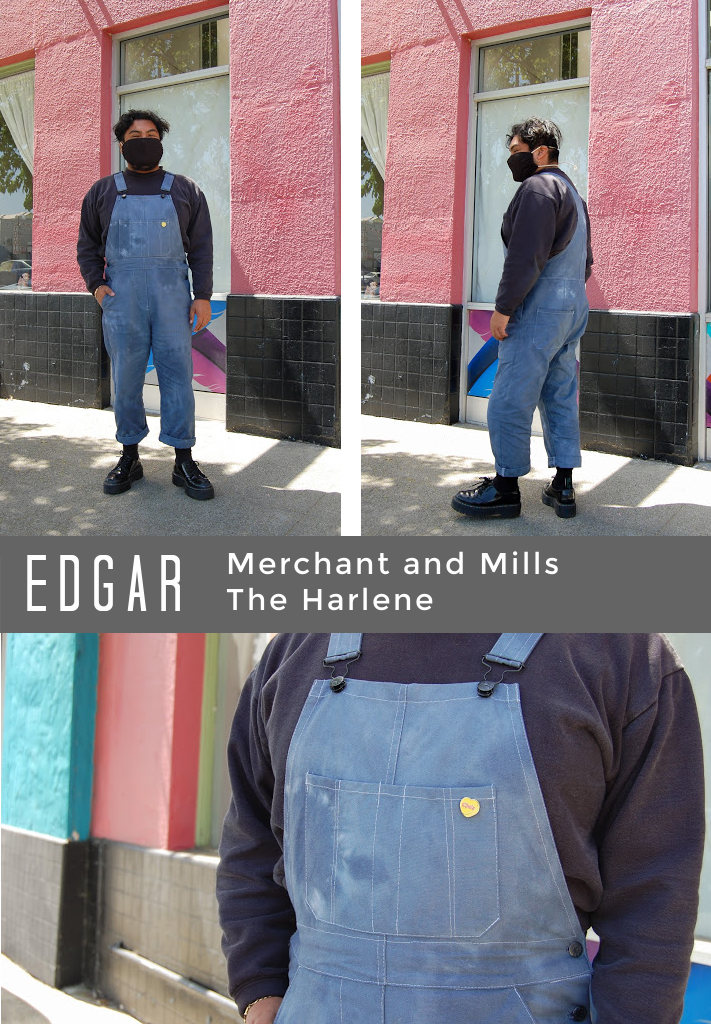 Edgar made the Harlene overalls out of Big Sur Canvas. He said of the fabric, "I really like how easy it was to sew. Cutting out my pieces went really fast, and there wasn't a lot of fraying which was really good. It's not as heavy as I thought it would be." Edgar chose to use white canvas and custom dye it with gunmetal iDye (Rit Dye would give a similar effect). As for his inspiration, Edgar said, "I always wanted a really nice pair of overalls. I wanted to try to make something I haven't before. I was inspired by different styles of street wear and workwear, and I think these overalls will be a new staple in my wardrobe."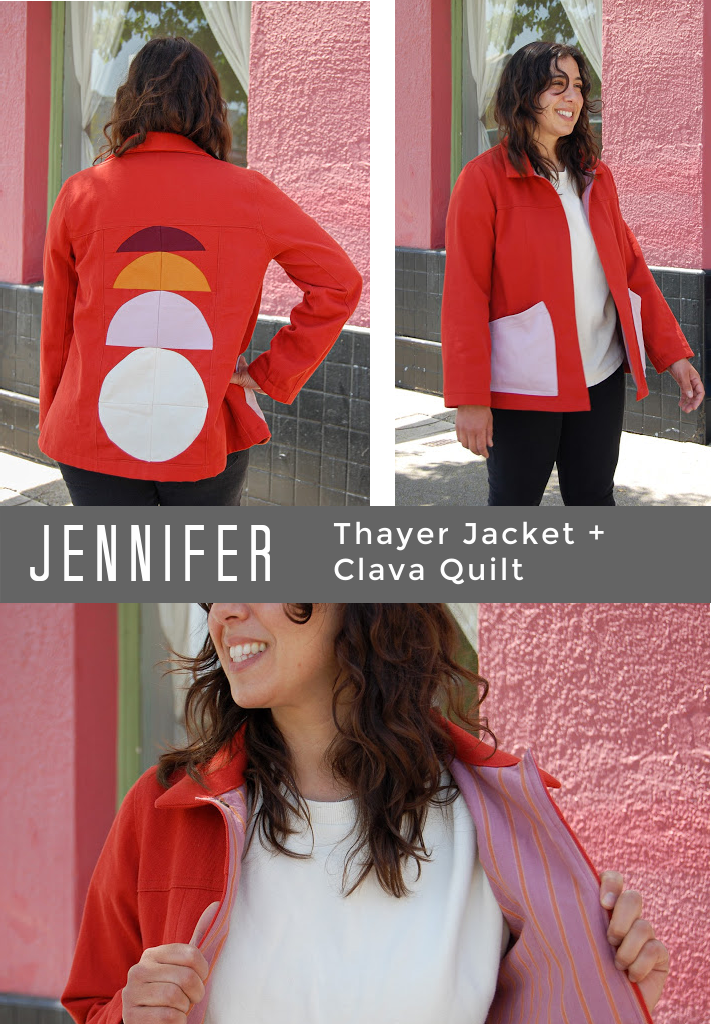 Jennifer, inspired by a quilted coat by Miss Make, combined the Thayer jacket and the Clava quilt to make an amazing custom jacket out of several colors of Ventana Twill (bordeaux, canyon red, unbleached, fox, and light purple). To make her Thayer, Jennifer scaled the Clava quilt pattern to 50% of its size, and replaced the 2-panel jacket back construction with a single panel (p.s. If you eliminate the center back seam, don't forget to take out the seam allowance at center back!). She wanted a clean, workwear-inspired look for the jacket front, so she omitted the topstitching, drafted simpler pockets, and used the jacket body fabric for the collar. Why change the pattern so much? Jennifer says, "I could have used one of those [workwear] patterns, but the shape of the Thayer has a slight A-line and it works better with my body shape. My goal was to create a statement-making outer layer that was comfortable enough to wear every day. I'd say I succeeded!"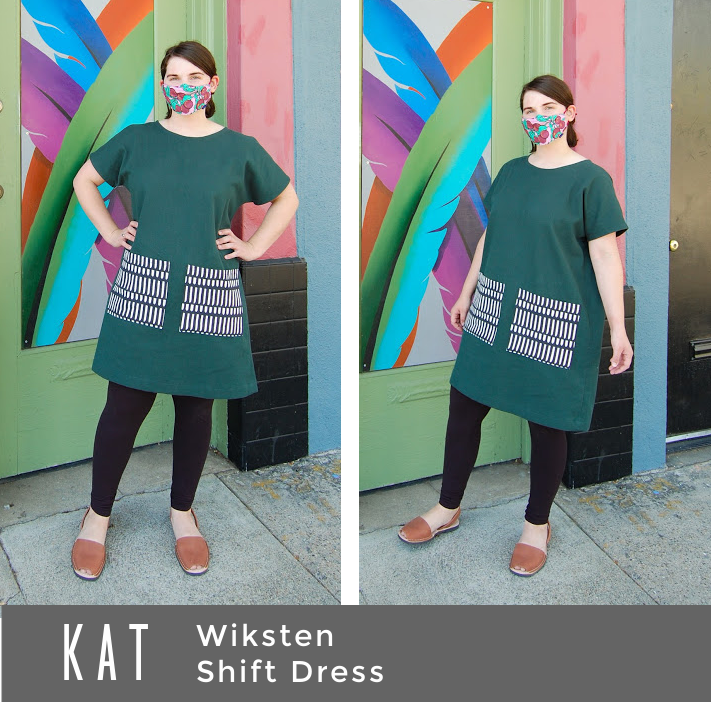 Kat sewed the Wiksten Shift Dress out of dark green Ventana Twill. Of the fabric, Kat says, "I loved the color range! It was tricky for me to decide which color to use because I loved so many of them. I also really enjoy the weight of the twill, it's not too heavy or stiff." The Wiksten is a great match for Kat's style: "It is a simple and casual design with a unique and fun detail (the oversized, patterned pockets). I also generally prefer more oversized/boxy styles which was easy to do by omitting the waist tie." To customize her dress, Kat shortened the garment length and increased the size of the patch pockets. "It was a fun and simple make and I think it's really great for beginner or more advanced sewists alike!"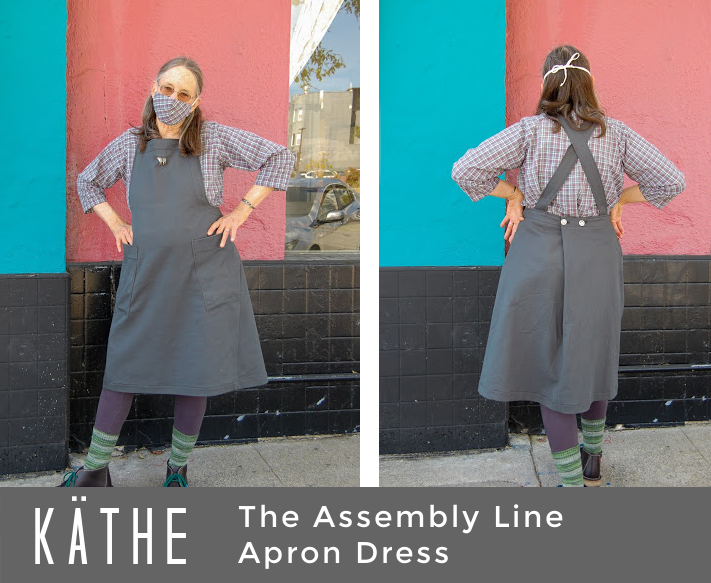 Kathe is our resident Overalls Queen, and in a slight departure from her trademark garment, chose to make the Assembly Line Apron Dress. Kathe worked with Gray Ventana Twill, which was a nice medium weight, and easy to sew. It was easy to combine the small bodice and medium body pattern pieces for a custom fit, and Kathe added cute cat buttons to further personalize her dress. She says, "It totally fits my everyday Overall style. I will wear it always, everywhere, and I will make more!"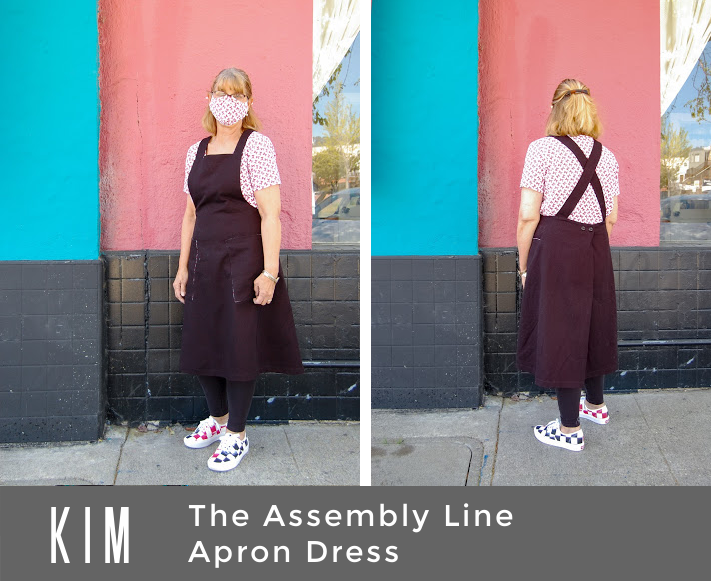 Kim also made the Assembly Line Apron Dress, and chose Ventana Twill in Black for her garment. She says of the fabric, "I love how easy it was to use, from washing it to sewing and ironing. A real dream." This dress isn't Kim's usual style, but she says "I am so in love with my new apron dress, I plan to make more!" We can totally picture Kim in this dress in every color of the rainbow to match her excellent collection of fun sneakers!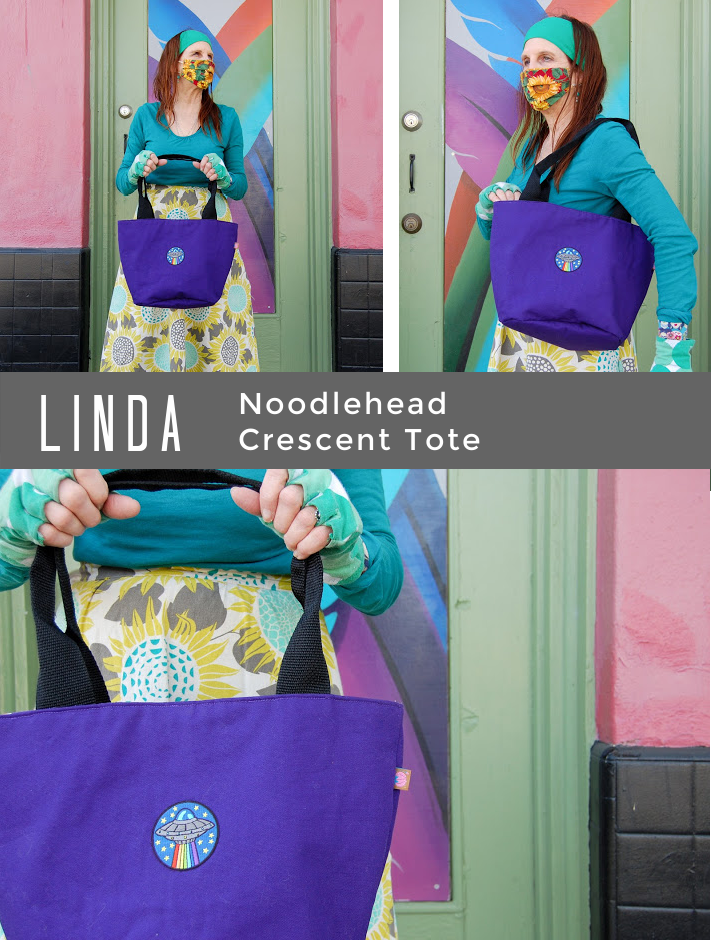 Linda used Big Sur Canvas in Purple to make the Crescent Tote by Noodlehead. Linda liked that the fabric was good quality, easy to sew and clean, and had a great color selection. She personalized her tote by using imported Japanese cotton as a liner, and adding a rainbow zipper and an iron-on applique for decoration. Linda lengthened the nylon webbing handles by 2 inches so they could fit over her shoulder comfortably.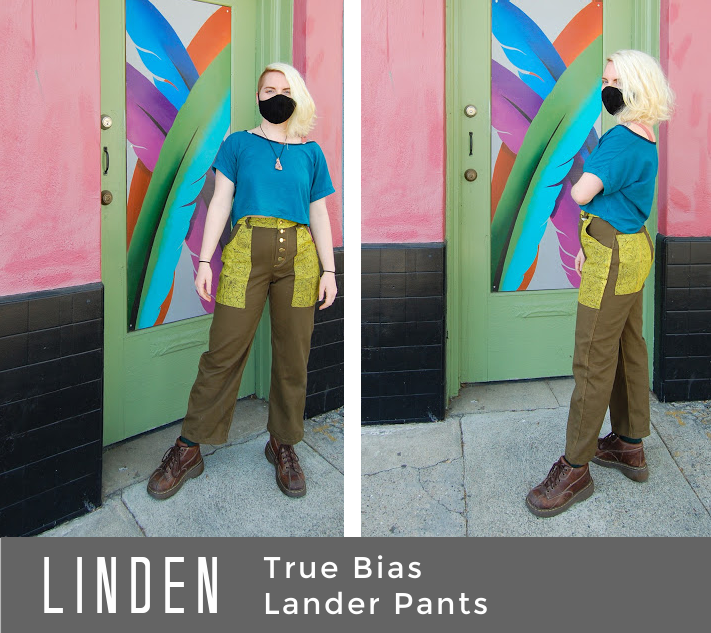 Linden made the Lander Pants in Ivy Ventana Twill. At the start of the project, Linden said, "I've been wanting to learn fitted pants/jeans for a while, it feels like my next milestone! Landers sound both accessible and challenging." Linden made a test pair of Landers out of canvas, and found that they fit really well with minimal fit adjustments. Linden personalized this pair of Landers by block-printing some of the twill to use for contrasting pockets and the waistband. These are absolutely Linden's style and turned out so great!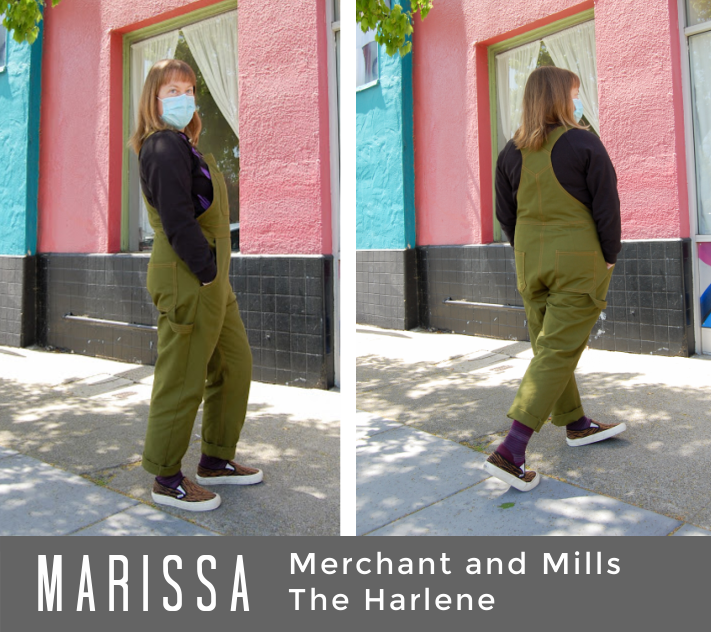 Marissa made the Harlene overalls out of Big Sur Canvas in Moss: "The color is so rich and perfect. The laundered Big Sur canvas was a lot easier to sew than I expected—it didn't give my machine any trouble at all! The Harlene instructions explained where and how to strategically removing seam bulk, which was so helpful." Marissa used the finished garment measurements to help determine her size (12), and removed 5 inches from the leg length (she's 5'2″). Marissa used some special notions for her overalls: "It was my first time using proper topstitching thread, and I unexpectedly loved the process of stitching it and the result! I used the Kylie and the Machine dungarees hardware kit, which is great quality and a snap to install. A fresh denim needle was essential."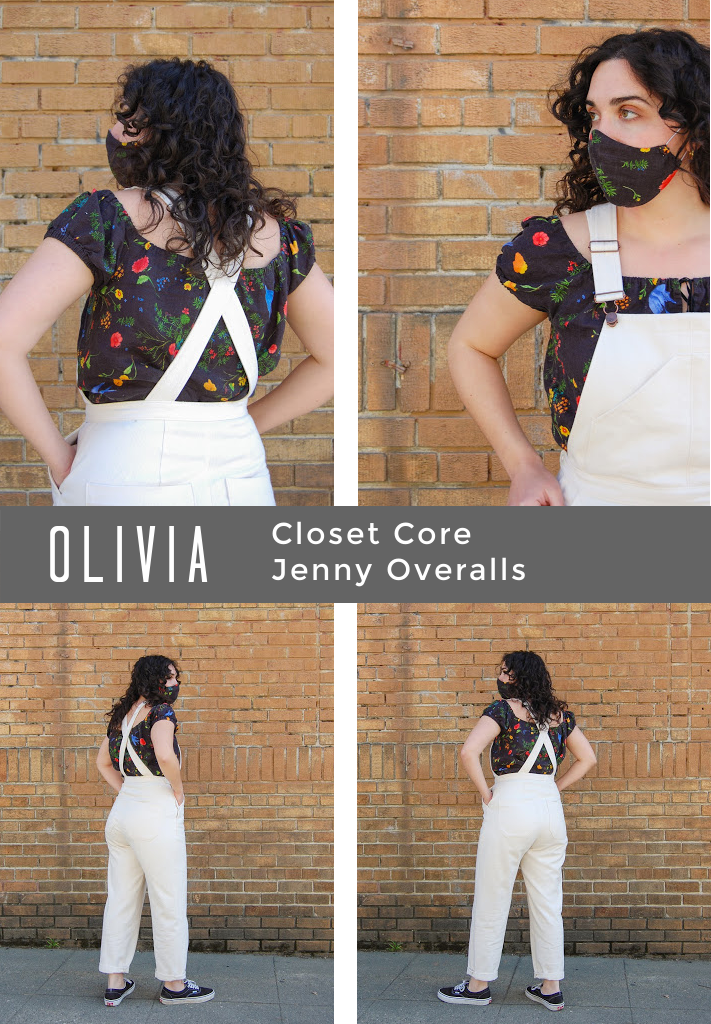 Olivia made the Jenny Overalls in unbleached Ventana Twill. She has made lots of pants before, but this time used a new strategy to get a perfect fit: "My measurements put me at a size 16 at the hips, but simply grading from a 12 at the waist to a 16 in the hips hasn't worked very well for me in the past. Instead, I traced out a 14 at the hip and did a "large prominent buttocks" adjustment from the book Fitting and Pattern Alteration. This fixed all of my usual fit issues at the hip." Olivia also moved and lengthened the back darts, made the back pockets angled instead of curved, and tapered the leg shape. Making the Jenny Overalls in a neutral color will allow Olivia to match them with many different tops: "I don't typically wear overalls, so it feels nice to have something to wear that is different than what I usually reach for in the morning. I plan to wear it a lot this summer and on days outside. I love the casual feel of them!"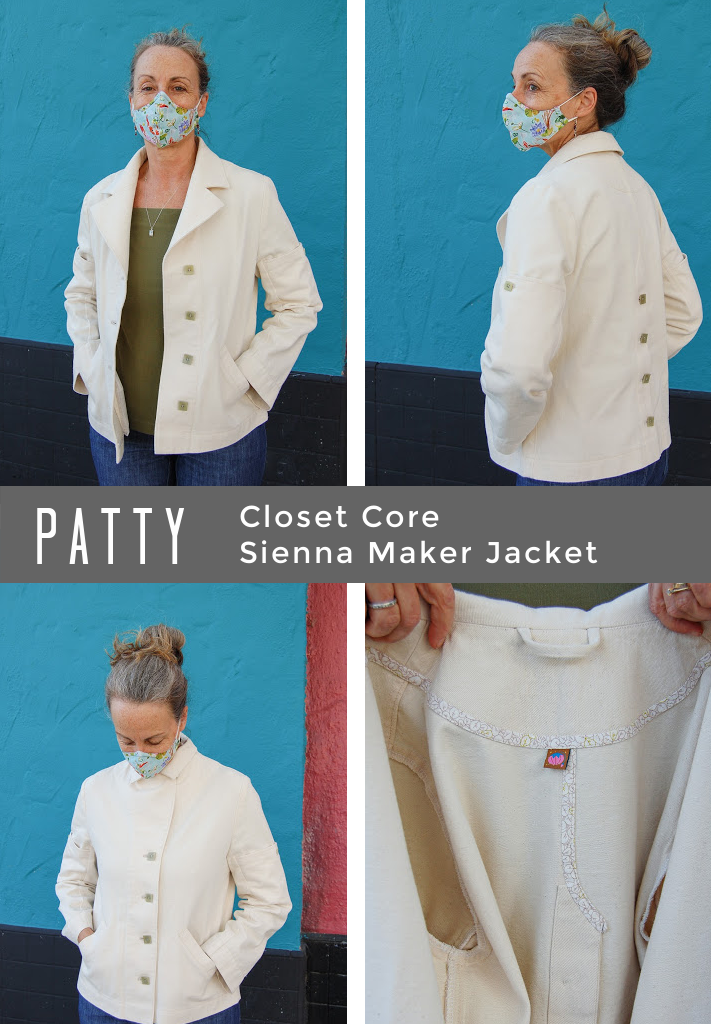 Patty sewed the cropped version of the Sienna Maker Jacket out of unbleached Ventana Twill. She found the fabric soft and easy to use, even for tricky design elements like easing in a sleeve cap. Based on the finished pattern measurements, Patty sized down from her usual size to wear this jacket over lightweight layers. Patty made several customizations to her jacket: she drafted some welt pockets (the patch pockets made the white jacket too much like a lab coat!), used an elastic loop and button for closing the top of the collar, lengthened the body of the jacket by 1.5″, and added square Corozo buttons. Patty says, "This jacket is definitely unlike anything I've ever owned before, but it's really versatile. It can be either casual or a bit dressy and I think I'll get a lot of use out of it."
We hope you've enjoyed the peek into our Big Sur Canvas/Ventana Twill projects and process. We hope you'll be inspired to make some garments of your own out of these two fabulous fabrics!