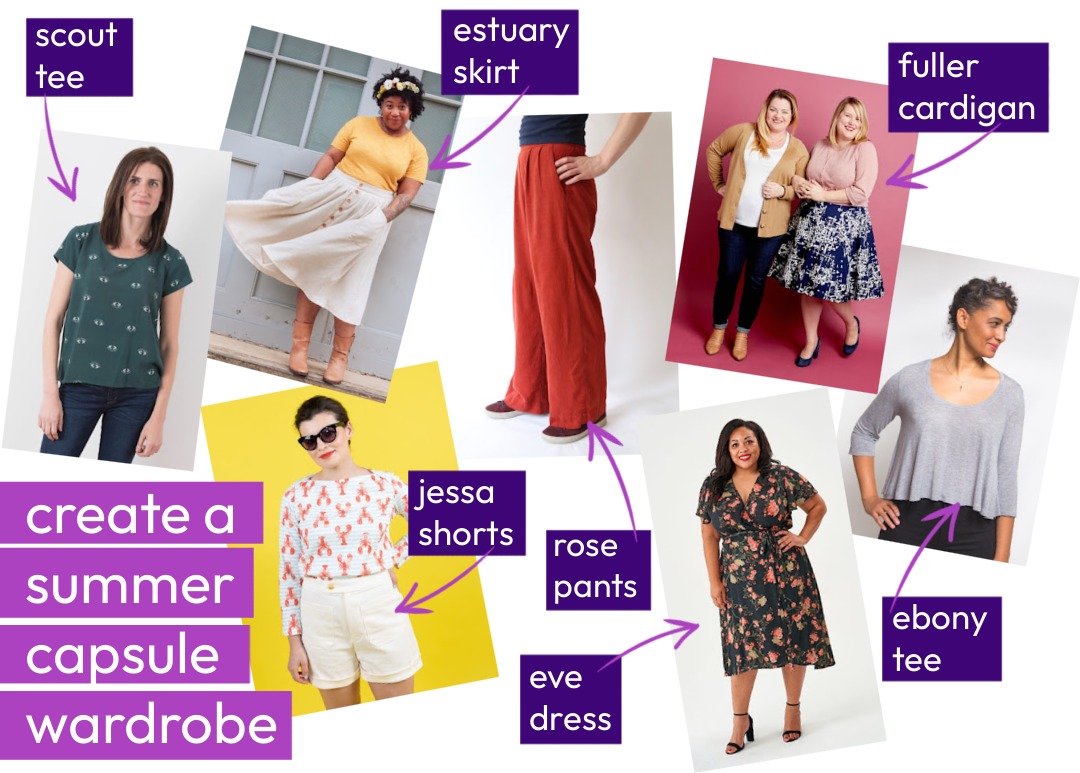 So you're headed out of town this summer and aren't sure what to pack—well, sounds like the perfect occasion for a summertime capsule wardrobe! A capsule wardrobe is made up of a few select pieces that can be worn separately or together in various combinations. It's a great way to build a versatile, functional wardrobe, and it's a great strategy for traveling light, since you know that everything in your suitcase will match! 

To start our capsule wardrobe, we thought about the garments that would be most wearable and versatile for the summer weather in our destination. We chose a pair of shorts, a pair of linen pants, a skirt, a wrap dress, a light cardigan, and two t-shirts: one woven, and one knit. We were especially careful to select fabrics with colors and patterns that would coordinate well, allowing us to create the maximum number of outfits.
Our first pick was a pair of 
Jessa Shorts
 in denim. The pattern includes a trouser as well—no matter the length you choose, we love the versatility of a dark denim. We paired our shorts with a woven 
Scout Tee
 in a cheery cotton poplin.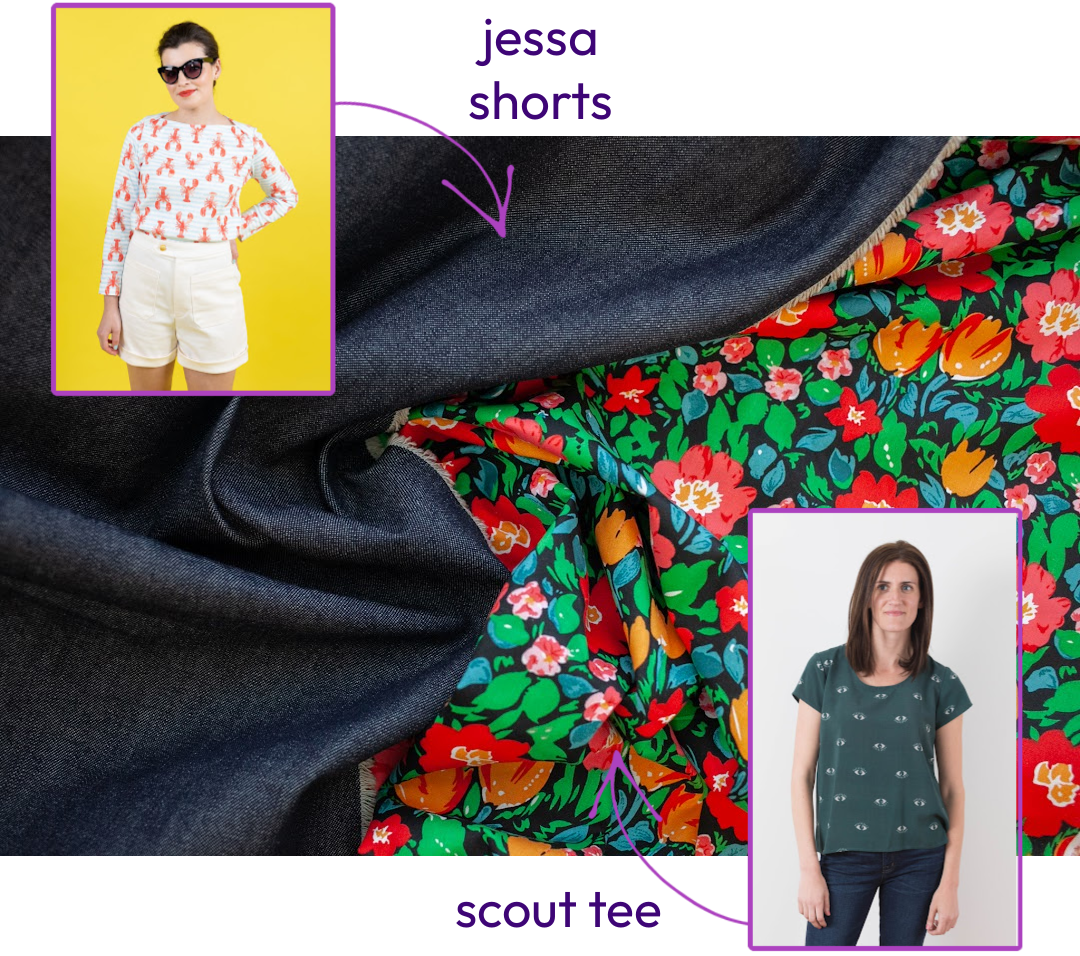 Next we decided to make 
Ebony
, a knit tee, in a spotted rayon/spandex jersey. We love that this tee looks great with a skirt or with pants, so we'll make one of each: the 
Rose Pants
 and an 
Estuary Skirt
, both in linen/rayon blends. We like this particular fiber blend because it's so comfortable for summer wear!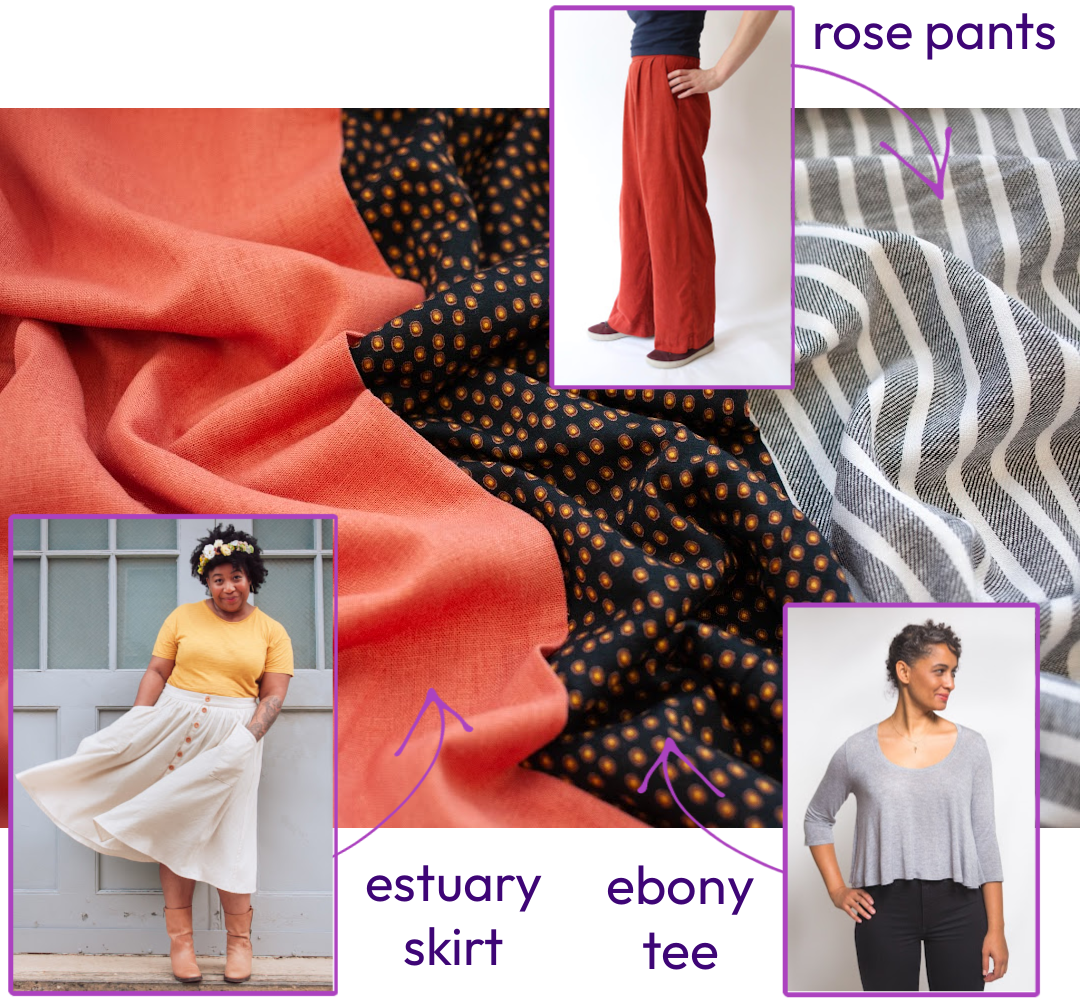 Our final look for the capsule wardrobe features a striking wrap dress—it's an 
Eve Dress
 in a gorgeous rayon we can't wait to wear all summer! Rayon is cool to the touch, which will be perfect for warmer days. We'll also sew up a 
Fuller Cardigan
 in a super lightweight bamboo/spandex knit rib—it's just enough of a layer for a cool evening or the chill of air conditioning.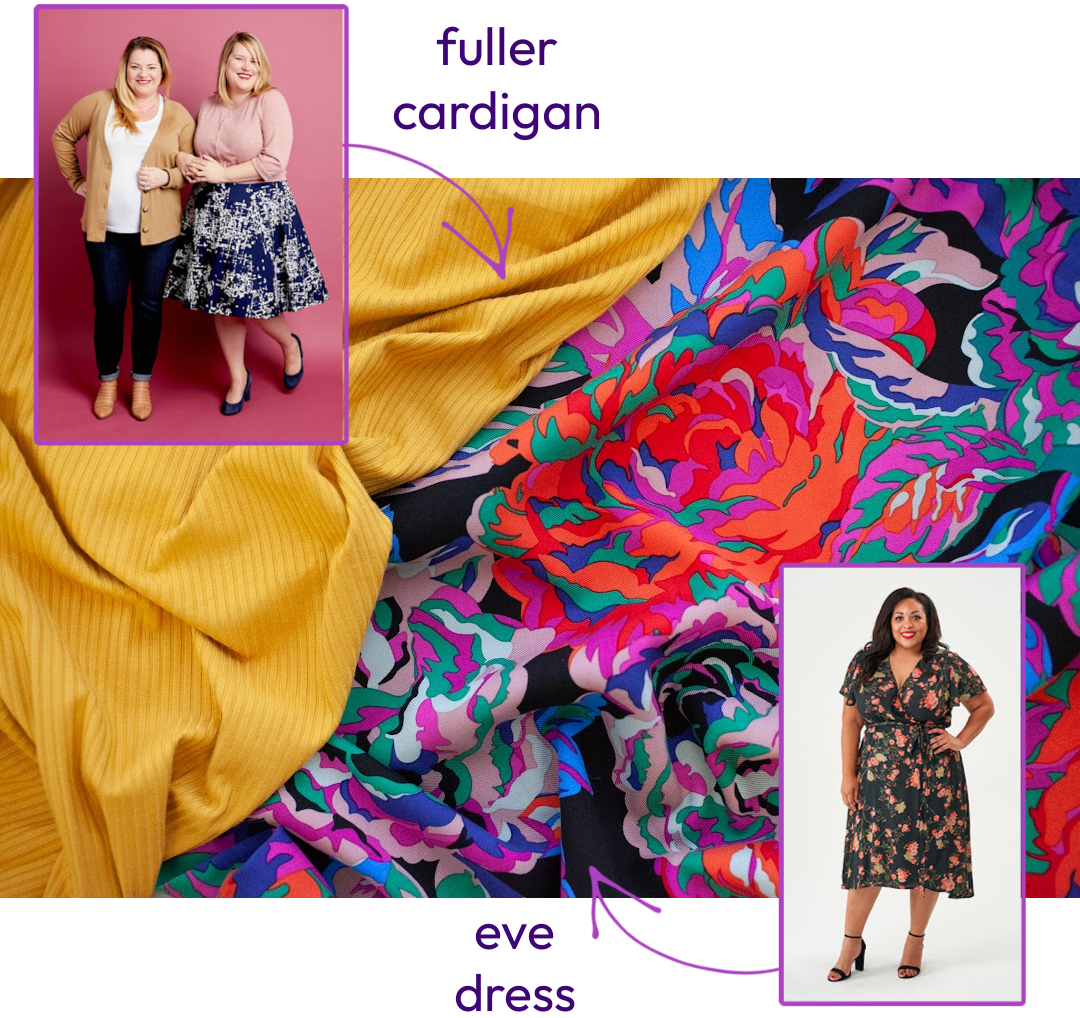 We're really pushing the palette in this group! We found some fabrics with great pinks and wanted to bring them together. While some of the colors are shared across fabrics, the slight variations in each fabric's palette keeps this look really interesting! This collection of lightweight fabrics could be a great start for a 
capsule wardrobe
 for summertime.

Feeling inspired to build your own capsule wardrobe? Check out our 
blog post
 for even more advice and ideas, then browse 
our pattern selection
 to find the garments that will be perfect for your look and lifestyle!
What's our best advice for bringing several different fabrics together? There are no hard and fast rules, but we find ourselves consulting these principles of design to get started:
It is helpful for coordinating fabrics to share some common colors. Use texture, pattern, and print to add some visual interest.
As you introduce patterned fabrics into your look, keep in mind that patterns of different scale are more visually interesting than patterns of the same scale.
If you would like to add more than one patterned fabric to your look, experiment with adding different types of patterns to one outfit. For example, try pairing florals with stripes (or florals with plaids, or plaids with stripes) based on these principles.
Remember, these guidelines are only suggestions! You may find that some of your favorite fabric combinations break one or more of these rules, and that's definitely ok. Don't be afraid to experiment!

We know it can be challenging to match fabrics online, so if you're planning a project and need some assistance, don't hesitate to reach out! We're always happy to help answer your questions about color, scale, or using a specific fabric for a garment pattern. Email us at [email protected] or ask us in person when you visit the shop.