We're back for week two of Me Made May! This week we compliment our staff sewists on their excellent (as always!) handmade outfits and ask them, How are you participating in MMM this year, and what are your goals? These are their stories: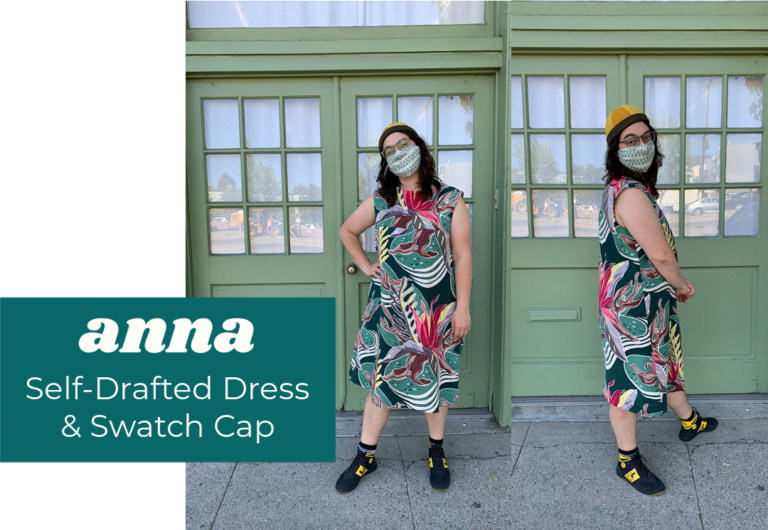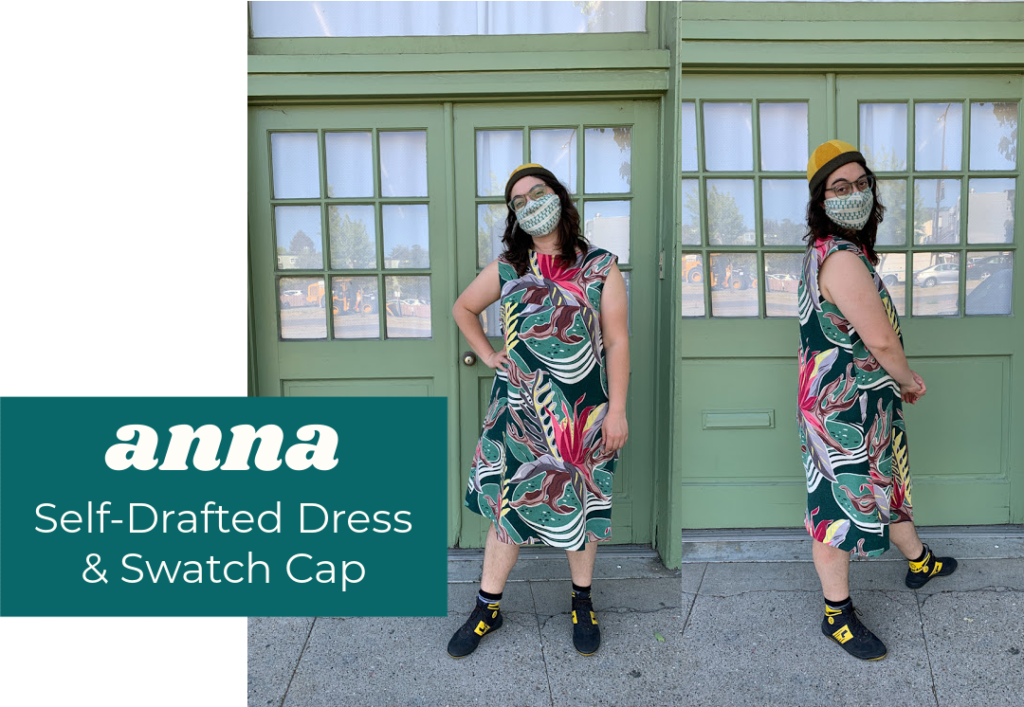 Anna wears a Self-Drafted Dress in vintage barkcloth and a Swatch Cap in boiled wool viscose
Anna says: "I've never participated in MMM daily, so I'm not super rigid about it, but I'm using this challenge to be more conscious of wearing me-mades daily this month. I'm also scheduling time to sew every week, whether by myself or with a pal."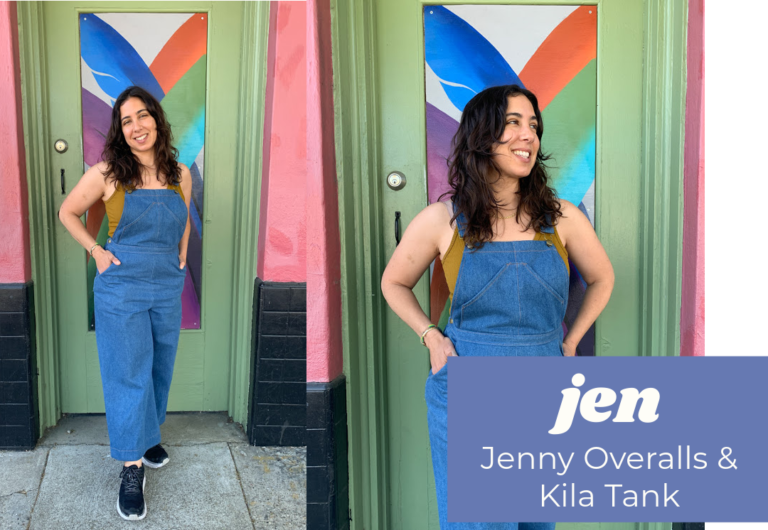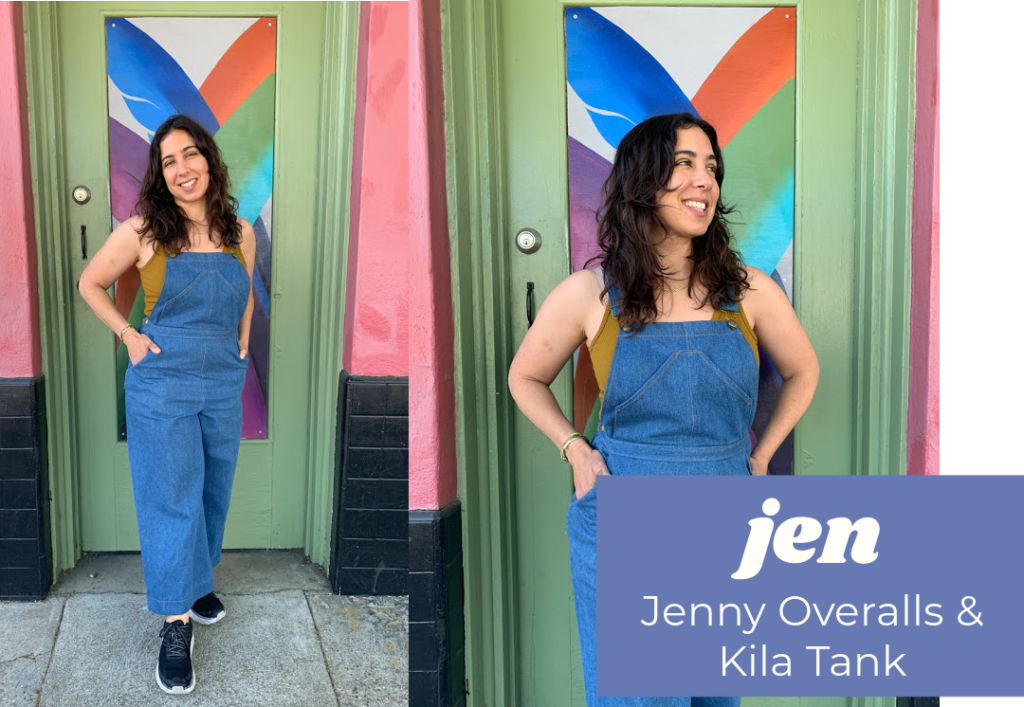 Jen wears the Jenny Overalls in Robert Kaufman 10oz Denim and the Kila Tank by Ally Olsen
Jen says: "I enjoy seeing the community sharing their makes during MMM, but I have to make sure it doesn't distract me from my own queue of things to make!"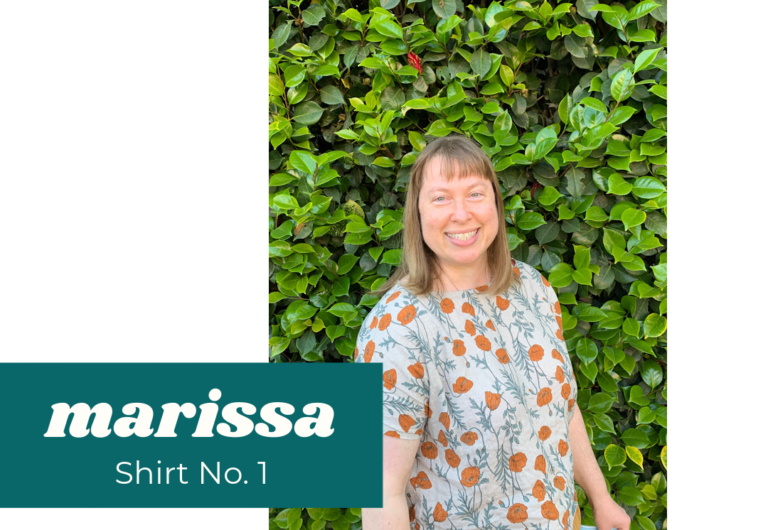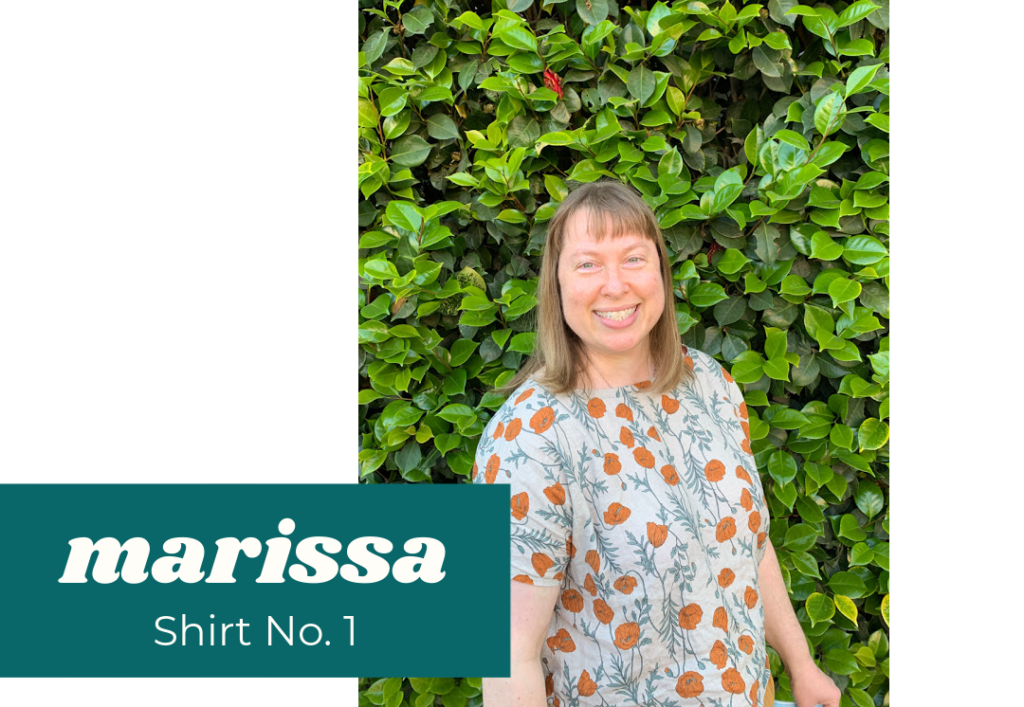 Marissa wears a Shirt #1 in Hokkoh Linen Poppies
Marissa says: "I'm using MMM to try to get back into the groove of sewing, staying motivated, and reminding myself that I really enjoy sewing. I'm currently working on a backpack for a two-year-old friend's birthday gift."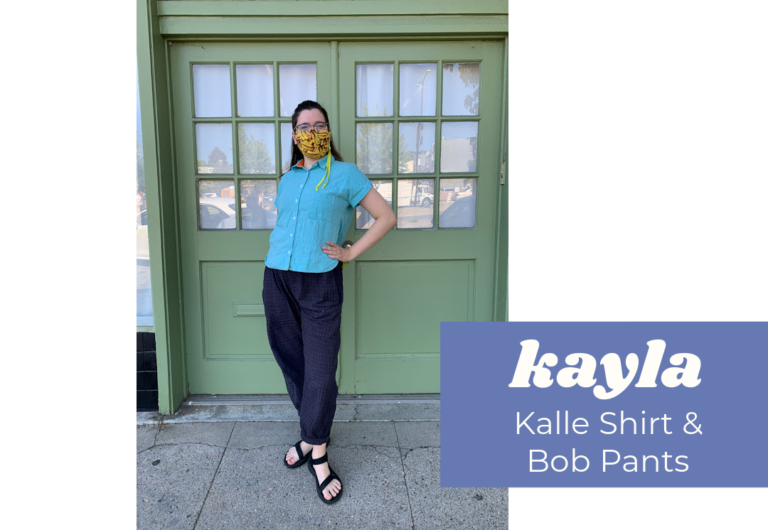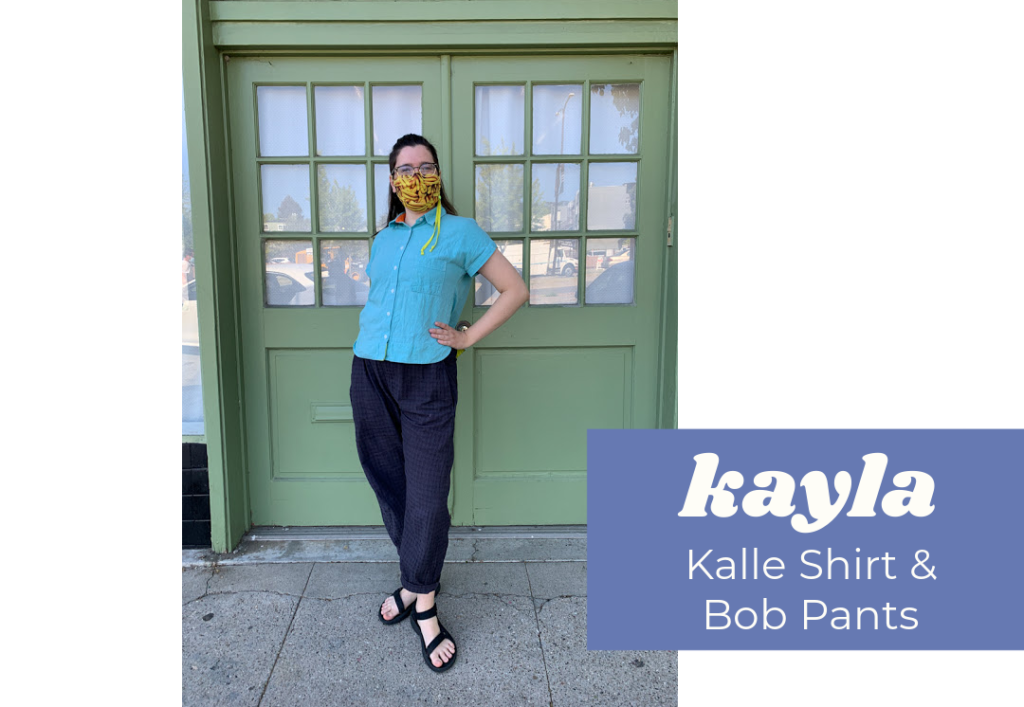 Kayla wears the Kalle Shirt in Kaleidescope by Allison Glass and Bob Pants in textured yarn-dyed fabric. The fabric was originally grey and Kayla overdyed it black!
Kayla says: "I don't really participate in MMM, but I love the overflow of inspiration from the community on Instagram."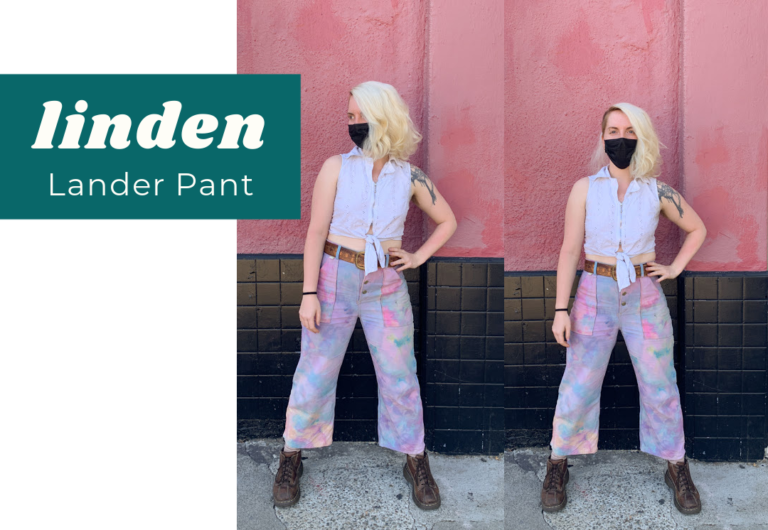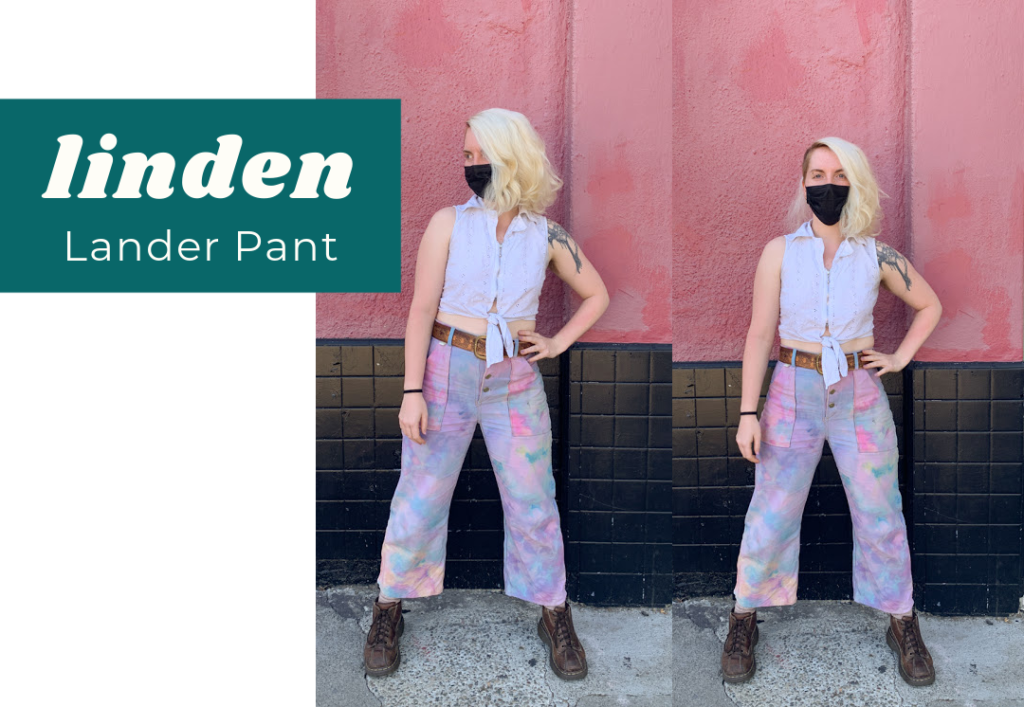 Linden wears the Lander Pant in white canvas that Linden ice dyed before sewing
Linden says: "Participating fully in MMM feels too stressful right now, so I'm using this time to prioritize wearing my past makes, and enjoying working on block printing and ice dyeing new makes."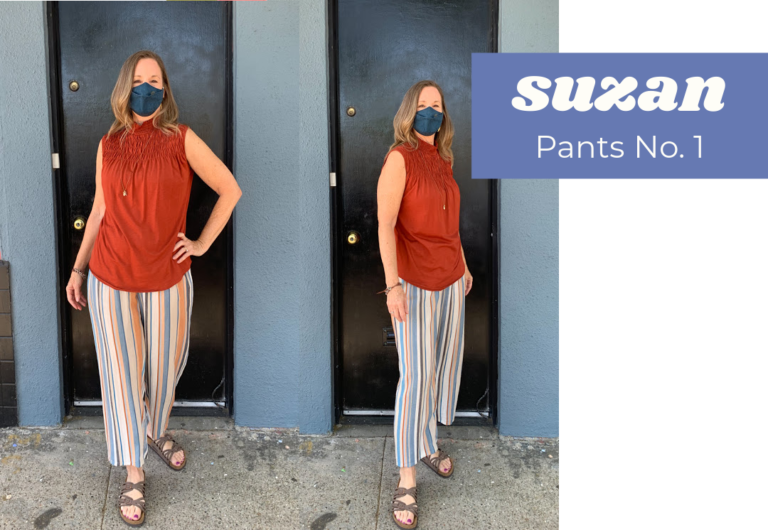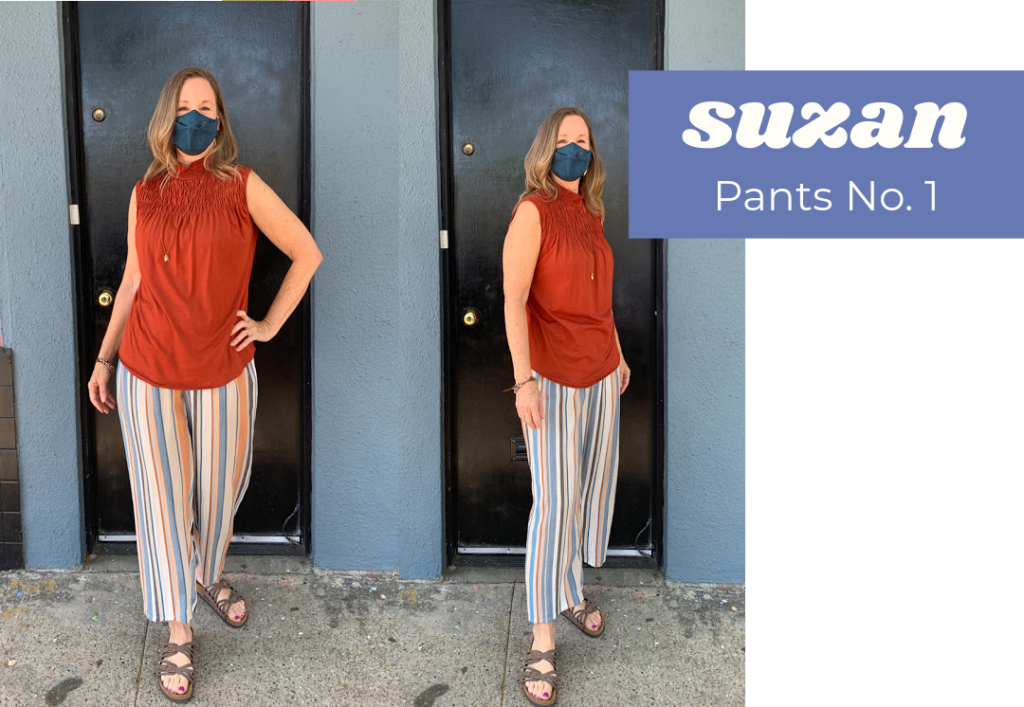 Suzan wears Pants No. 1 by 100 Acts of Sewing
Suzan says: "I am excited about this year and MMM. It is giving me an opportunity to focus on what brings me joy—great fabric and the great pattern makers out there who make all our lives better. Sonya Philip (100 Acts of Sewing's designer) has a new book and I want to highlight this great pants pattern. It's a wonderful beginner pattern that is made even more special by the fabric chosen."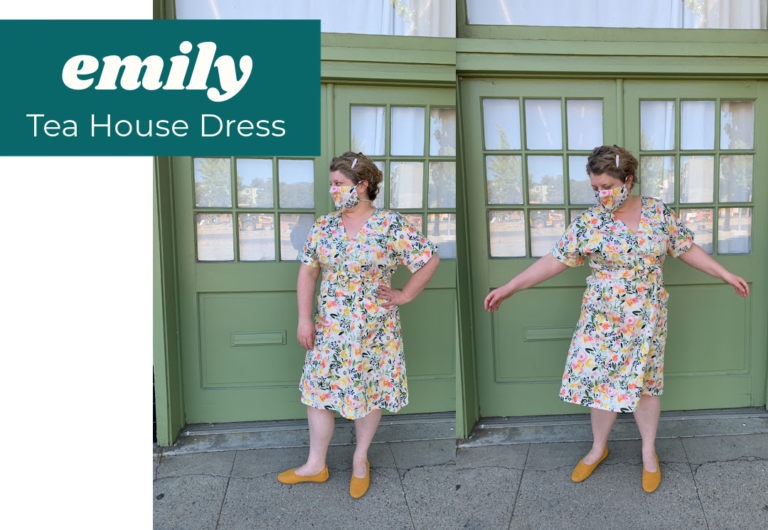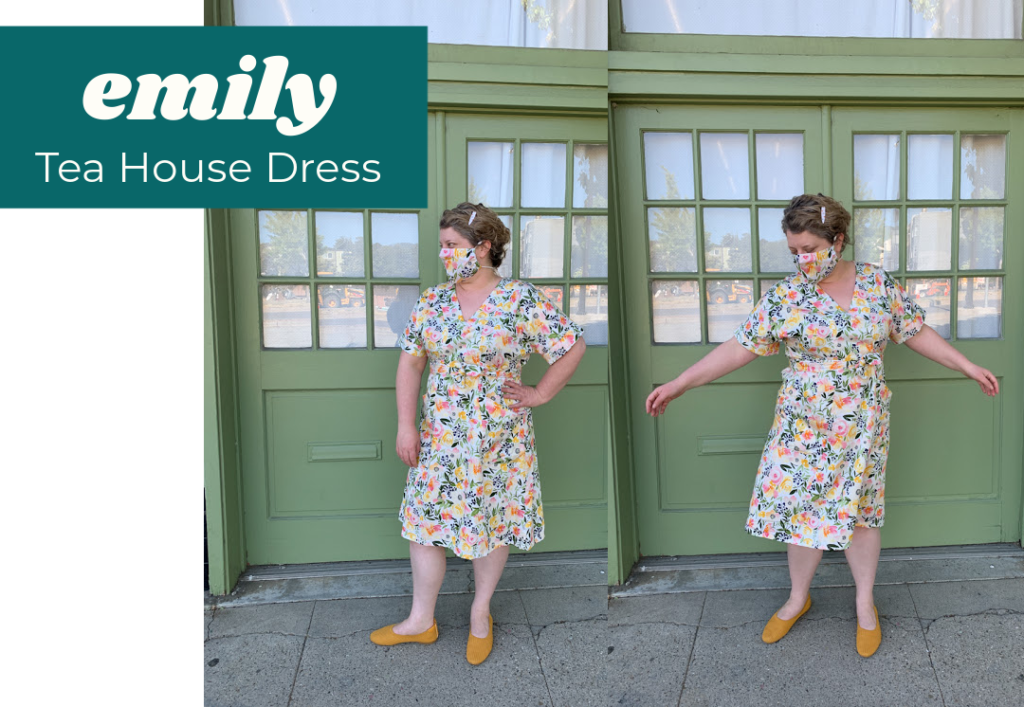 Emily wears the Sew House Seven Tea House Dress in Cloud 9 Organic Fabric
Emily says: "I participated in MMM for the first time last year, but wasn't planning to post daily pictures this year since I basically wear me mades every day. Since this last year was so chaotic, for MMM I'm working on really listening to my body and my mind—sewing when it feels good and stopping when I need a break/get frustrated/etc. Oh, and I'm working through my neverending stash!"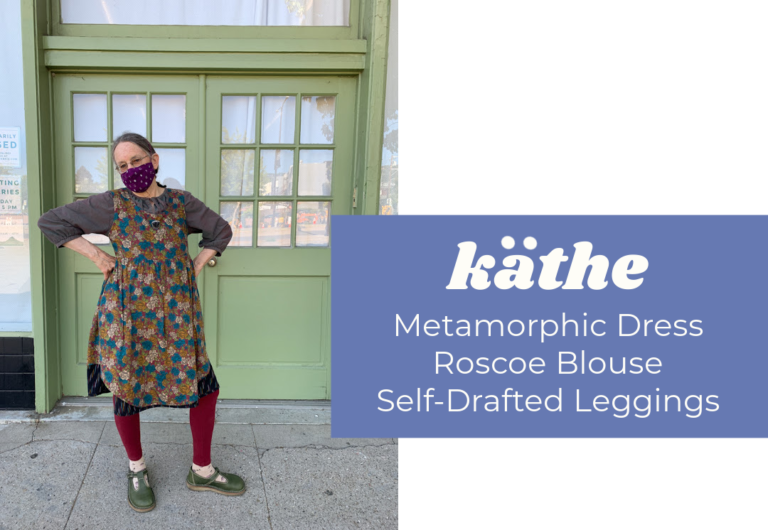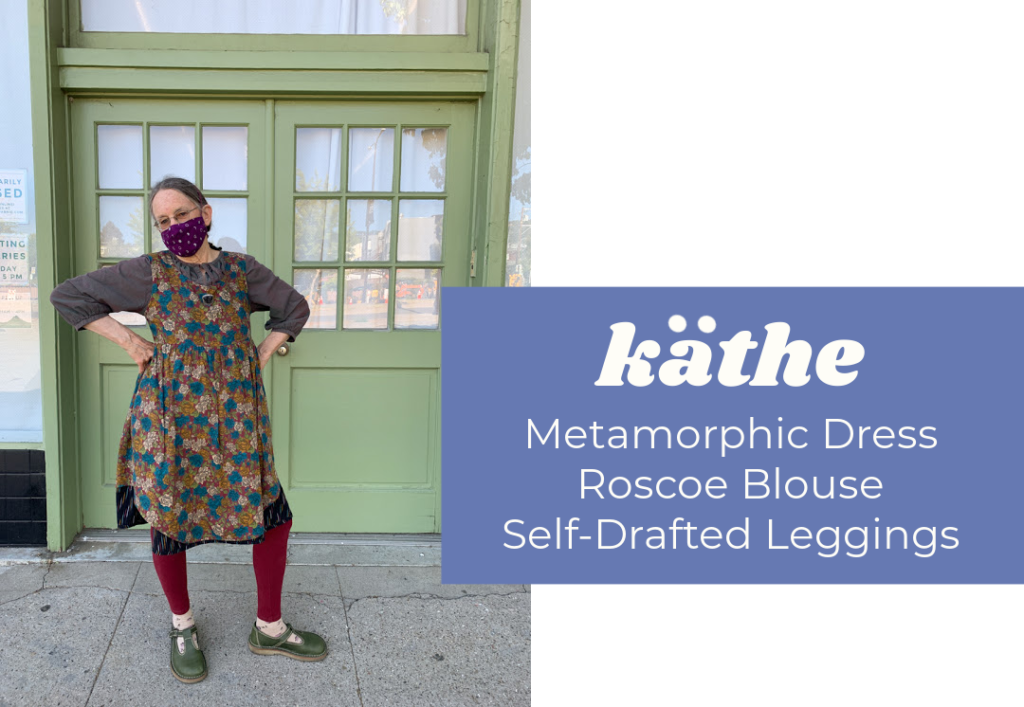 Käthe wears a Sew Liberated Metamorphic Dress, True Bias Roscoe Blouse, and self-drafted leggings
Käthe says: "I wear me-mades every day, so MMM is just part of my everyday routine."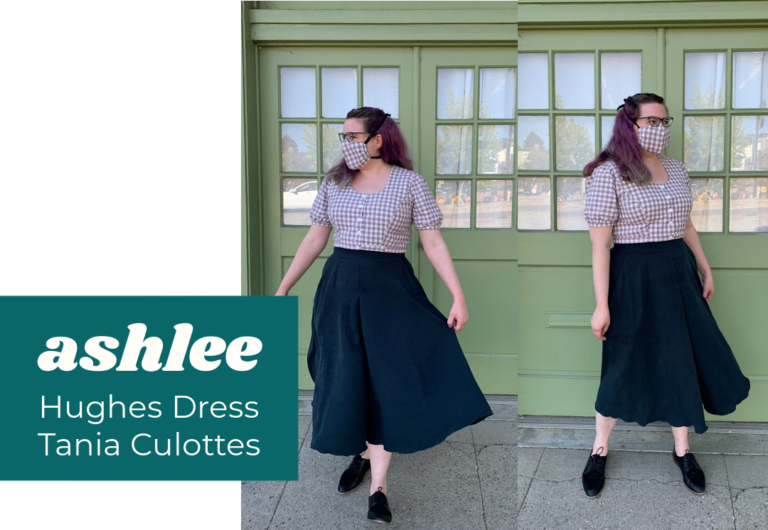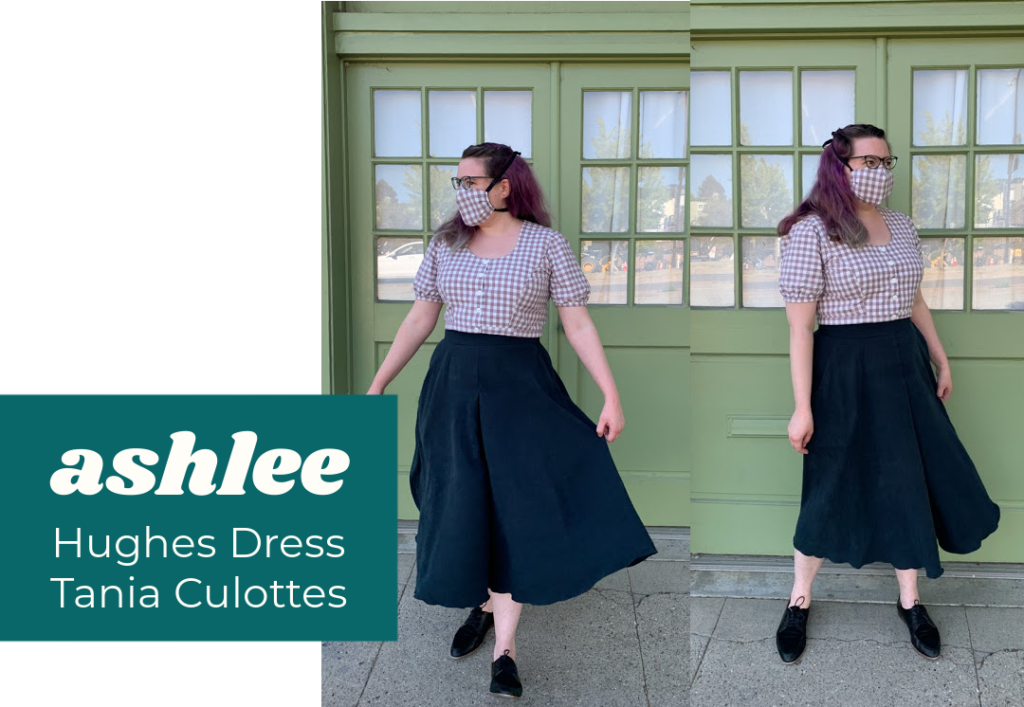 Ashlee wears a Friday Pattern Co. Hughes Dress hacked into a top and Megan Nielsen Tania Culottes.
Ashlee says: "I'm not really participating in MMM—I generally enjoy wearing my me mades, I just forget to take photos of them!"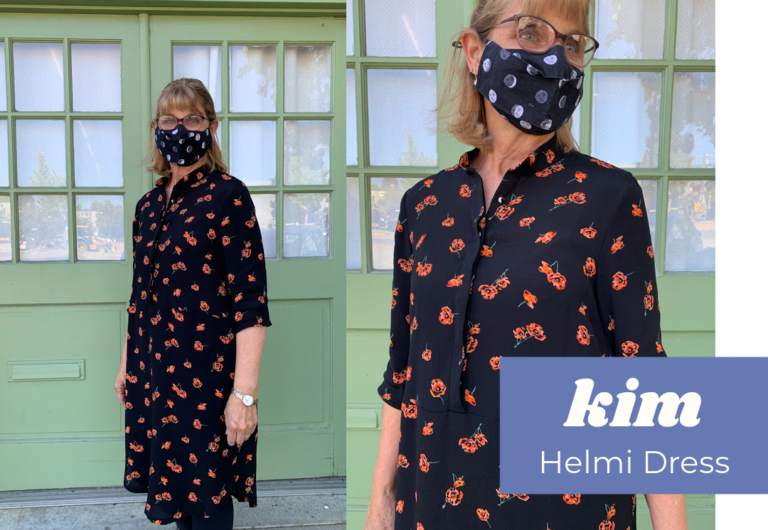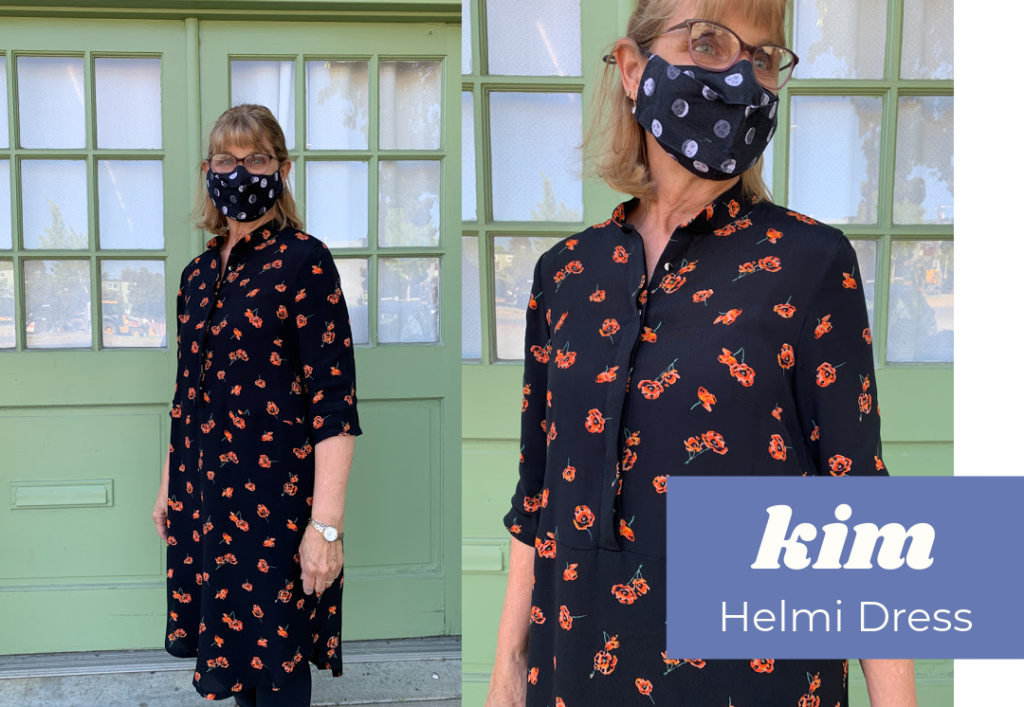 Kim wears a Helmi from Named in deadstock rayon
Kim says: "My MMM goals are to sew through my stash."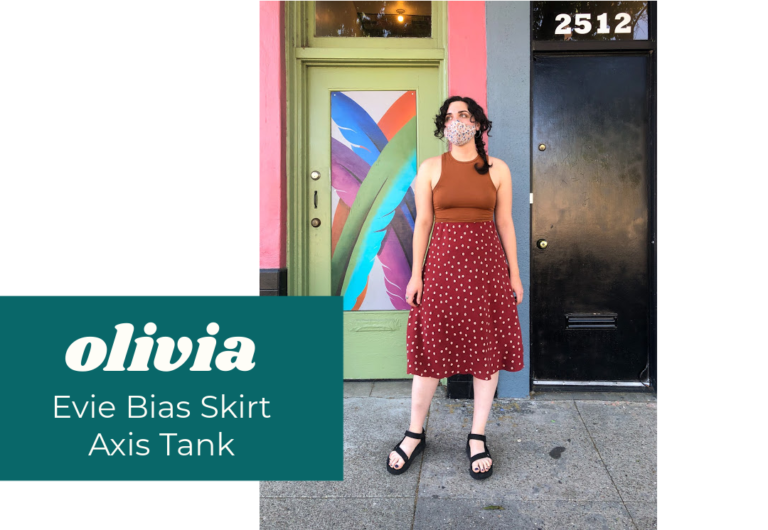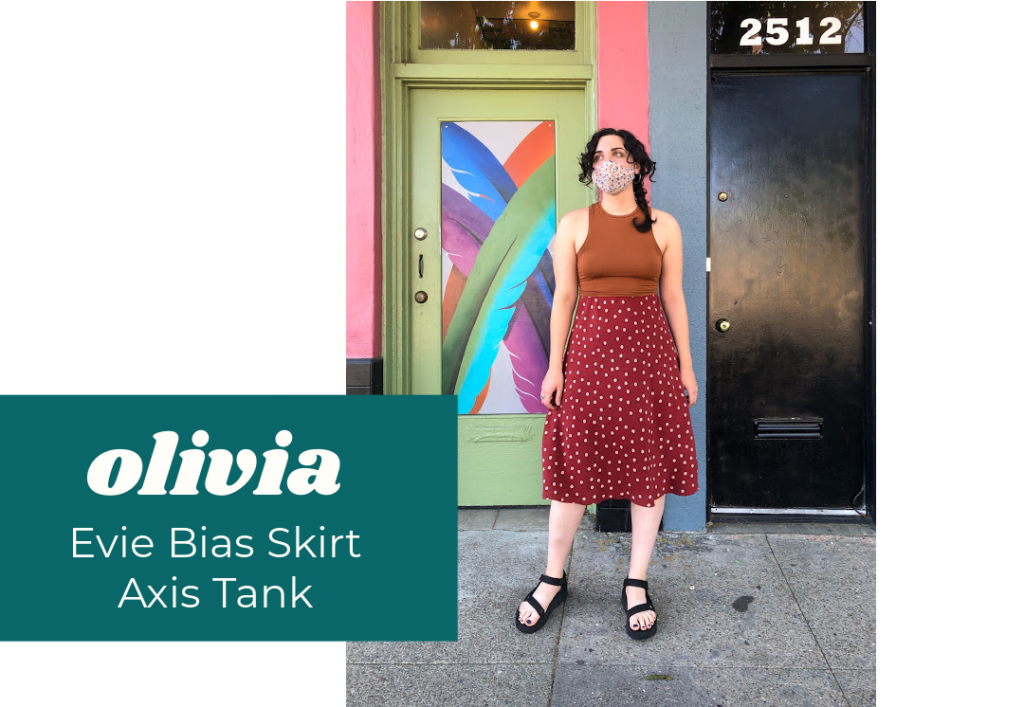 Olivia wears the Evie Bias Skirt from Tessuti Fabrics in Amour Vert Silk Crepe de Chine and a Sophie Hines Axis Tank in bamboo jersey
Olivia says: "My recent sewing projects have consisted mostly of making simple garments and staples (I made both the top and skirt this week). I haven't been motivated to sew more complicated things (pandemic fatigue?) so easy garments have been my go-to. I love that the Evie Bias Skirt is so quick to sew and shows off a beautiful silk!"
We hope you've enjoyed this peek into our Me Made May! No matter how you choose to participate, we wish you a fantastic month of sewing inspiration. We'll be back next week with more Me Made May ideas from the Stonemountain & Daughter team!